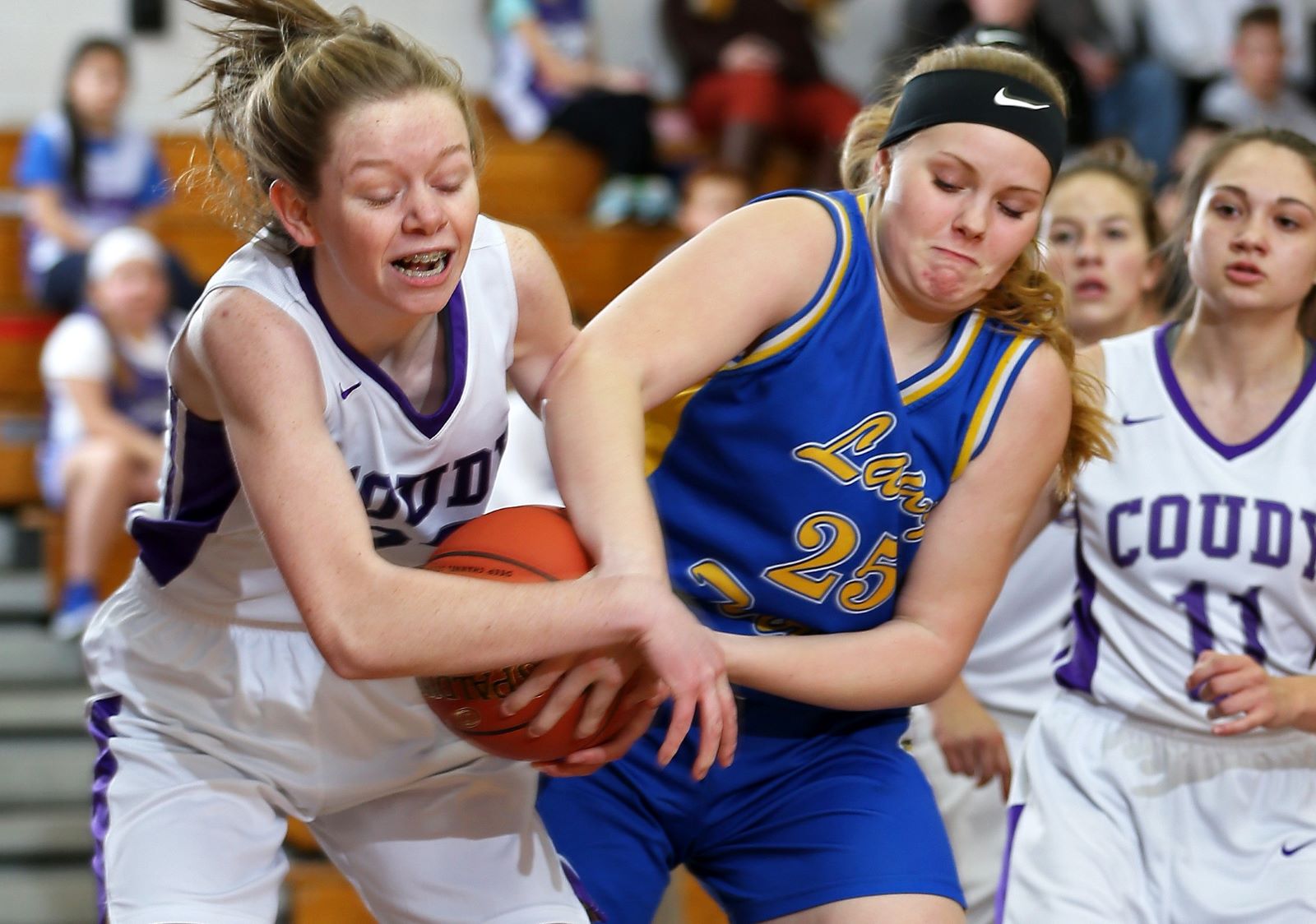 Jan. 13 girls' recaps.
(Photo: Sarah Chambers of Coudersport (in white) and Kayley Heller of Otto-Eldred fight for the basketball during Coudersport's 43-24 NTL win Monday night as Coudersport's Lauren Stimaker (No. 11) looks on. Photo by Paul Burdick. Check out more of Burdick's work here)
COUDERSPORT 43, OTTO-ELDRED 24
COUDERSPORT, Pa. – Sarah Chambers had 11 points to lead a balanced Coudersport offense in their 43-24 victory over visiting Otto-Eldred in a battle for first place in the NTL.
Lauren Stimaker had 10 points for the Lady Falcons, who improved to 8-0 in league play, while Mikayla Gunn and Elizabeth Frame each netted seven.
Katie Sheeler and Jadelyn Spinney each had five points to pace the Lady Terrors, who fell to 6-2 in NTL action, in the loss.
NORTH CLARION 48, KEYSTONE 39
KNOX, Pa. – Behind a double-double from Abby Gatesman, North Clarion stayed unbeaten with a 48-39 win over Keystone in a battle of two teams that are in first place in their respective KSAC divisions.
Gatesman had 16 points and 10 rebounds while adding four assists, two blocked shots and two steals. She is nine points from 1,000 in her career.
Haley Sherman added 13 points for the She-Wolves, who led 13-5 at the end of the first quarter 21-14 at halftime and 31-22 going to the fourth quarter, while Trinity Thompson just missed a double-double with nine points and 10 rebounds. Mackenzie Bauer chipped in six points and four steals.
Emily Lauer had a game-high 24 points for Keystone and helped keep the Lady Panthers in the game in the fourth quarter by scoring 12 points. Maddie Dunlap added eight points.
SMETHPORT 31, SHEFFIELD 27
SMETHPORT, Pa. – Smethport held off a fourth-quarter rally from visiting Sheffield to secure a 31-27 win over the Lady Wolverines.
The Lady Hubbers led 22-12 going to the fourth quarter before Sheffield closed within two late, 29-27.
The Lady Wolverines elected to go for the win with eight seconds left but missed a 3-point shot that would have given them to lead.
Sabrina Tanner hauled down the rebound off the missed shot and calmly sank both charity shots to put the game out of reach for Smethport.
Erin Herzog led the Lady Hubbers, who led 9-0 at the end of the first quarter and 15-6 at halftime, with 13 points. MyKayla Deyamin added nine points.
Marissa Grubbs tied Herzog for game-high honors with 13 points for Sheffield, including six in the fourth quarter, while Allison Schmader scored all seven of her points in the fourth quarter.
AUSTIN 30, OSWAYO VALLEY 26
AUSTIN, Pa. – Kendra Valenti netted 11 of her 12 points in the second half to help Austin outlast Oswayo Valley, 30-26, for an NTL win.
Tied 9-9 at the half, Austin outscored Oswayo Valley 21-17 in the second half and saw Valenti and Shae Setzer each score six in the third quarter.
Setzer and Taylor Brewer each finished with eight points for the Lady Panthers.
Jadyn Brabham had a game-high 14 points in the loss for Oswayo Valley.
RIDGWAY 33, JOHNSONBURG 13
JOHNSONBURG, Pa. – Christina Fullem and Gabby Rohr each scored eight points as Ridgway earned a 33-13 road victory over Johnsonburg in AML action.
Julie Peterson and Payton Delhunty each added four points for the Lady Elkers.
Tess Kojancic netted five points to pace the Rammettes.
CAMERON COUNTY 44, GALETON 17
EMPORIUM, Pa. – A 21-point performance from Mallory McKimm, who hit four 3-pointers, led Cameron County past Galeton, 44-17, in NTL play.
Kaelee Bresslin had 16 points and a pair of 3-pointers for the Lady Raiders while Morgan Lorenzo grabbed eight rebounds.
Lauren Sauley had nine points and six rebounds for Galeton in the loss. Cara Parsell had a team-high nine rebounds.
PORT ALLEGANY 47, NORTHERN POTTER 29
PORT ALLEGANY, Pa. – Bree Garzel and Cailey Barnett combined for 25 points in Port Allegany's 47-29 victory over visiting Northern Potter in NTL play.
Barnett led the Lady Gators offense with four 3-pointers and 14 points. Garzel added 11 points with Evin Stauffer netting eight tallies.
Courtney Martin had a double-double with 14 points and 12 rebounds in the loss for Northern Potter.
REDBANK VALLEY 77, VENANGO CATHOLIC 19
NEW BETHLEHEM, Pa. – Behind 27 Tara Hinderliter points Redbank Valley rolled past visiting Venango Catholic, 77-19.
Alivia Huffman added 11 points for the Lady Bulldogs with Madison Foringer scoring 10.
Emmy Ekis paced Venango Catholic with 13 points, six rebounds, two steals and a blocked shot while shooting 6 of 12 from the field. Hope Winger chipped in four points and five rebounds for the Lady Vikings.
HOLLIDAYSBURG 60, PUNXSUTAWNEY 36
PUNXSUTAWNEY, Pa. – Morin Miller led a trio of Hollidaysburg players in double digits with 17 points, as the Lady Tigers cruised to a 60-36 road win over Punxsutawney.
Allison Hileman chipped in 14 points for Hollidaysburg with Morgan O'Neill scoring 12.
Riley Presloid scored 14 points for Punxsutawney, which shot just 11 of 46 (23.9 percent) from the field, while Sarah Weaver added 10 points. Ryley Cassaday had a team-best 15 rebounds, including eight offensive rebounds, and added four points.
CLARION 71, CLARION-LIMESTONE 59
CLARION, Pa. – Kait Constantino and Jordan Best combined for 47 points to help Clarion over crosstown rival Clarion-Limestone, 71-59, at Clarion High School.
Constantino led the Lady Cats with 30 points with Best adding 18. Best completed a double-double with 12 rebounds while adding three steals.
Payton Simko also scored eight points,  to go with five rebounds, three assists and two steals for Clarion with KK Girvan chipping in seven points, five rebounds, two assists and two steals after returning from a two-game absence because of an injury, and Bekah Ketner also scored seven points to go with six rebounds.
Frances Milliron poured in a career-high 30 points for C-L while hitting 11 shots and going 8 of 12 from the free-throw line. Anna Kennemuth and Maddy Wenner each added eight points for the Lady Lions.
KARNS CITY 38, A-C VALLEY 24
KARNS CITY, Pa. – Karns City used a first-half ending 13-0 run to propel itself to a 38-24 win over visiting A-C Valley.
The Lady Gremlins trailed 14-8 late in the half before Emma Johns got hot hitting three 3-pointers in the final 2 ½ minutes of the half to give Karns City a 21-14 halftime lead.
Johns scored all of her game-high 14 points in the first half for the Lady Gremlins, while Abby Callihan and Emily Huff each added seven points. Rossi McMillen grabbed a team-best 11 rebounds to go with four points, all scored in the third quarter.
Avah Burke scored six points to lead A-C Valley with Mia Sherman chipping in five tallies.
MONITEAU 75, UNION 40
WEST SUNBURY, Pa. – Kristin Auvil scored a career-high 28 points, as Moniteau past visiting Union, 75-40, for its third straight win.
Auvil made it two in two games for career highs for the Lady Warriors, who saw Aslyn Pry score a career-best 27 points in a win over C-L Friday.
On Monday, Auvil recorded a double-double by adding 10 rebounds and also dished out five assists in the win. She connected on 10 shots from the field, including three 3-pointers, and was 5 of 7 from the free-throw line.
Pry chipped in 16 points in the victory with Abby Rottman scoring nine points and Haley Pry and Kaitee Chesonis eight each.
Moniteau started fast and led 28-15 after the first quarter and 42-21 at halftime.
Dominika Logue paced Union with 18 points while going 9 of 11 from the free-throw line. Maggie Minick chipped in eight points.
BRADFORD 60, DUBOIS CENTRAL CATHOLIC 46
BRADFORD, Pa. – Twenty-two points from Hannah Larry lifted Bradford over visiting DuBois Central Catholic, 60-46.
Larry had a game-high five 3-pointers in the win for the Lady Owls. Alanna Benson added 14 points, including three 3-pointers with Erica Marshall chipping in 12 tallies.
Shay Gulvas had 15 points in the loss for the Lady Cardinals while Sophie Ginther had 10.
CRANBERRY 51, FOREST AREA 15
SENECA, Pa. – Led by 12 points and eight rebounds from Ava Ferringer, Cranberry picked up a 51-15 win over visiting Forest Area.
Maddie Cornelius added eight points for the Berries, who had 10 different players score, while Kaia Dean had six points and a team-high 10 rebounds.
Jessica Wagner led Forest Area with four points.