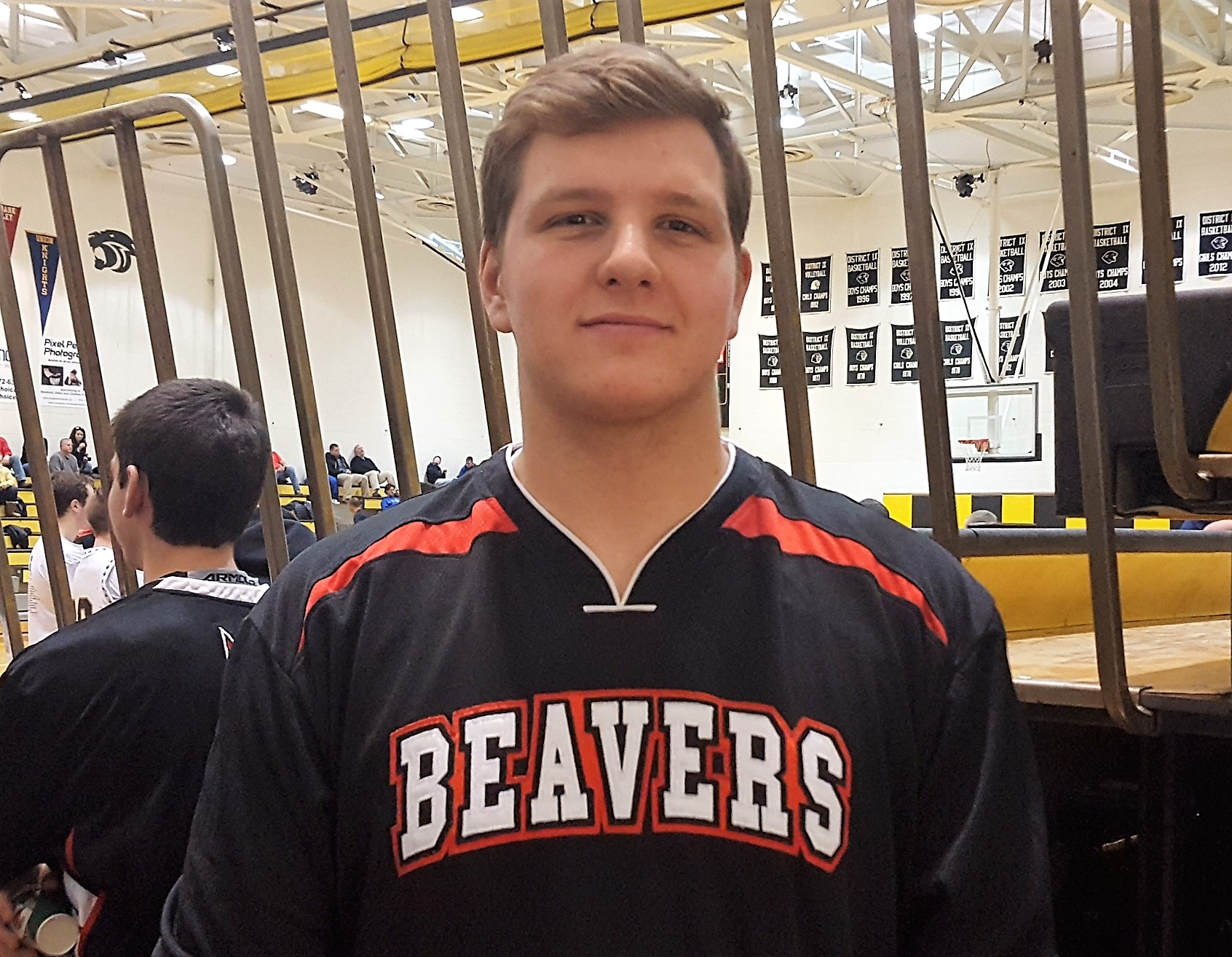 Jan. 13 boys' basketball roundup.
(Cover photo of DuBois' Nick LaBrasca)
DUBOIS 70, WARREN 63, overtime
WARREN, Pa. – Behind five points each in overtime from Alex Beers and Nick LaBrasca, visiting DuBois outscored Warren 16-9 in the extra session to take home a 70-63 win.
Warren forced overtime when Andrew Davidson hit a 3-pointer from the wing to knot the game at 54, but DuBois got the better of the Dragons in a high-scoring overtime session that saw the teams combine for 27 points in just four minutes.
Kenny Garvey led DuBois with 21 points, LaBrasca added 20, including going 12 of 16 from the free-throw line, while Beers had 13 and Bryce Bright 10.
Caleb Ei paced Warren with 18 points with Jake Kupchella adding 12 and Griffin Suppa 11.
SHEFFIELD 39, SMETHPORT 35, overtime
SMETHPORT, Pa. – Sheffield outscored Smethport 15-4 in the fourth quarter and overtime combined including shutting out the Hubbers in the fourth quarter to grab a 39-35 come-from-behind road victory.
The Wolverines trailed 31-24 going to the fourth quarter but outscored Smethport 7-0 in the quarter with Roger Dunham scoring three of his 11 points in the quarter and Cale Albaugh and Drew Higby also adding baskets to help force overtime,
Then in overtime, Dunham added five more points to help Sheffield secure the win.
Austin Simmer had a double-double for Sheffield with 10 points and 12 rebounds, while Higby added 10 points and six boards.
Eric Szarowicz paced Smethport with 12 points and Caleb Lutz added eight.
ELK COUNTY CATHOLIC 56, ST. MARYS 40
ST. MARYS, Pa. – Gabe Kraus and Nate DaCanal combined for 35 points, as visiting Elk County Catholic rolled to a 56-40 D9 League victory over a St. Marys team that it needed overtime to beat the week between Christmas and New Year's.
Ryan Newton chipped in 10 points for the Crusaders, who trailed 10-9 at the end of a quarter but took a 25-18 halftime lead that ballooned to 42-29 by the end of the third quarter.
Former ECC player Jeff Wehler led the Dutch with 21 points with Matt Marconi chipping in nine.
RIDGWAY 54, JOHNSONBURG 45
JOHNSONBURG, Pa. – Up one going to the fourth quarter, Ridgway outscored Johnsonburg by eight in the quarter to take home a 54-45 AML road victory.
The Elkers, who led 28-20 at halftime, found their lead trimmed to one, 37-36, after three but put the Rams away in the fourth.
Andy Breier led Ridgway with 18 points with Neil MacDonald adding 11.
Ryan Kilhoffer paced Johnsonburg with 13 points, and Kacey Raubenstrauch added 10.
KANE 64, DUBOIS CENTRAL CATHOLIC 45
DUBOIS, Pa. – Davis Gardner exploded for 25 points to help visiting Kane to a 64-45 win over DuBois Central Catholic in AML action.
Freshman Chad Greville added 16 points for the Wolves, who also got 11 points and 11 rebounds from Andrew Bucheit.
Noah Pettenati scored 12 points to lead DCC.
BROOKVILLE 61, BRADFORD 46
BROOKVILLE, Pa. – Freshman Aaron Park was one of three Brookville players to reach double digits with 13 points, as the Raiders knocked off visiting Bradford in a D9 League contest.
Ben Reitz added 11 points for the Raiders, who also got 10 from Colton Singleton.
Tyler Gigliotti led all scorers with 20 points for Bradford with freshman Steven Knowlton chipping in a career-high 11 points.
CURWENSVILLE 70, HARMONY 45
CURWENSVILLE, Pa. – Four Curwensville players reached double digits to lead the Golden Tide to a 70-45 victory over visiting Harmony in Moshannon Valley League action.
Zach Marshall and Josh Terry each scored 14 points to lead Curwensville with Noah VonGunden and Cameron Moore each chipping in 10 points.
Dylan Kurtz led Harmony with 12 points.
CLEARFIELD 75, PHILIPSBURG-OSCEOLA 28
PHILIPSBURG, Pa. – Evan Brown scored 22 points, hauled in nine rebounds and came up with four steals to pace visiting Clearfield to a 75-28 blowout of Philipsburg-Osceola in Mountain League action.
Tommy Hazel chipped in 15 points, nine rebounds, four assists, three blocks and two steals for the Bison, who also got 15 points, seven rebounds, five assists and two blocks from Will Myers and six rebounds, five assists and two points from Dave McKenzie.
Marcus Wisor scored 10 points for Philipsburg.
CAMERON COUNTY 67, NORTHERN POTTER 38
EMPORIUM, Pa. – Jake Walters, Derek Rieder and Adam Shaffer combined for 35 points in a 67-38 North Tier League victory for Cameron County over visiting Northern Potter.
Walters and Rieder led the Red Raiders with 12 points apiece with Shaffer adding 11.
Tucker Kosa led NoPo with 14 points with Blake Jeffers adding 10.
PORT ALLEGANY 55, AUSTIN 35
AUSTIN, Pa. – Brandon McCaslin led a trio of Port Allegany players in double digits with 18 points to give the Gators a 55-35 North Tier League road win over Austin.
Howie Stuckey chipped in 16 points for Port with Jordan Bell adding 14.
Blake Burgett, Mason Valenti and Dempsey Glover paced Austin with nine points each.
OTTO-ELDRED 57, OSWAYO VALLEY 49
SHINGLEHOUSE, Pa. – Dylan Close scored 11 of his game-high 20 points in the third quarter to help visiting Otto-Eldred to a 57-49 win over Oswayo Valley in North Tier League play.
Sawyer Drummond chipped in 11 points for the Terrors, while Theo Henry led a trio of Oswayo players in double digits with 16 points.
Garrett Babcock added 14 points for the Green Wave who also got 11 from Gavin Babcock.
COUDERSPORT 62, GALETON 19
GALETON, Pa. – Owen Chambers and Jared Green teamed up to score 39 points in a 62-19 North TIer League road blowout win for Coudersport over Galeton.
Chambers led the Falcons with a game-high 20 points with Green chipping in 19.
David Steadman and Joel Griffin led Galeton with six points each.
KEYSTONE 58, NORTH CLARION 51
FRILLS CORNERS, Pa. – Austin Ion scored 28 points and hauled down 11 rebounds to give visiting Keystone a 58-51 win over North Clarion.
Ion kept Keystone close early scoring nine of the Panthers 13 first-quarter points, but North Clarion still held an 18-13 lead at the end of the quarter.
But the second quarter was a different story for Keystone with the Panthers outscoring the Wolves 20-10 thanks to some hot outside shooting from Brooks LaVan, who scored all nine of his points in three second-quarter 3-pointers, and more steady play from Ion, who scored eight in the quarter
Tanner Wilson chipped in 13 points for Keystone, which had won 10 straight.
Nathan Banner led North Clarion with 12 points with Chase Schmader adding 11.
VENANGO CATHOLIC 49, REDBANK VALLEY 46
OIL CITY, Pa. – Josh Puleo scored a game-high 17 points to help Venango Catholic to a 49-46 win over visiting Redbank Valley.
Hunter Lancaster added 14 points and Tim Wagner 11 for the Vikings, who built a 25-16 halftime lead then held off a second-half charge by the Bulldogs.
Nick Smith led Redbank Valley with 15 points.
CLARION 80, A-C VALLEY 47
CLARION, Pa. – Led by 14 points from Cam Craig, 13 different Clarion players scored in an 80-47 home win over A-C Valley.
Spencer Miller added 13 points for the Bobcats who also got 10 from Zak Bauer and nine each from Ryan Anthony and Austin Hummel and eight from Ty Burford.
Kody Wolfe and Jeff Ginn paced A-C Valley with 10 points each, Dalton Callender added nine points and Eddie Stevanus chipped in seven points and seven rebounds.
MONITEAU 65, CRANBERRY 41
SENECA, Pa. – Another strong game from Lake Pry carried visiting Moniteau to a 65-51 win over Cranberry.
Pry had 25 points and eight rebounds for the Warriors, while Jake Jewart chipped in 17 points, six assists and six steals and Jared Lominski nine points and 10 rebounds.
Dan McQuaide had a career-high 21 points for Cranberry.
UNION 62, FOREST AREA 46
MARIENVILLE, Pa. – Behind 16 points, eight rebounds and four assists from Lucas Bowser, Union picked up a 62-46 win over Forest Area at East Forest.
Gavin Hawk added 12 points and four steals for the Golden Knights.
Seth Berlin had another monster game for Forest Area with 22 points and 20 rebounds with Cody Slater adding nine points and five boards.
CLARION-LIMESTONE 89, KARNS CITY 69
STRATTANVILLE, Pa. – A quick start helped Clarion-Limestone get some payback with an 89-69 win over visiting Karns City.
The Lions, who lost to the Gremlins 69-57 Dec. 29 at West Shamokin, wasted little time in dispatching the visitors early grabbing a 23-10 lead after a quarter on the strength of nine Christian Smith points.
Smith had himself a ballgame scoring a season-high 24 points to go with 11 rebounds and six assists.
Dan Callen also had a double-double for the Lions with 13 points and 13 rebounds, while his younger brother, Ian, added 20 points and eight assists. Sam Leadbetter joined the double-digit scoring party with 17 points.
Noah Pollock paced Karns City with 23 points with Ian McElroy adding 17 and Chandler Turner 11.
HOLLIDAYSBURG 59, PUNXSUTAWNEY 49
HOLLIDAYSBURG, Pa. – Hollidaysburg outscored visiting Punxsutawney 21-12 in the fourth quarter to take home a 10-point, 59-49, win over the Chucks.
Brandon Matthews led the Chucks with 20 points with Ethan Blose chipping in 12.