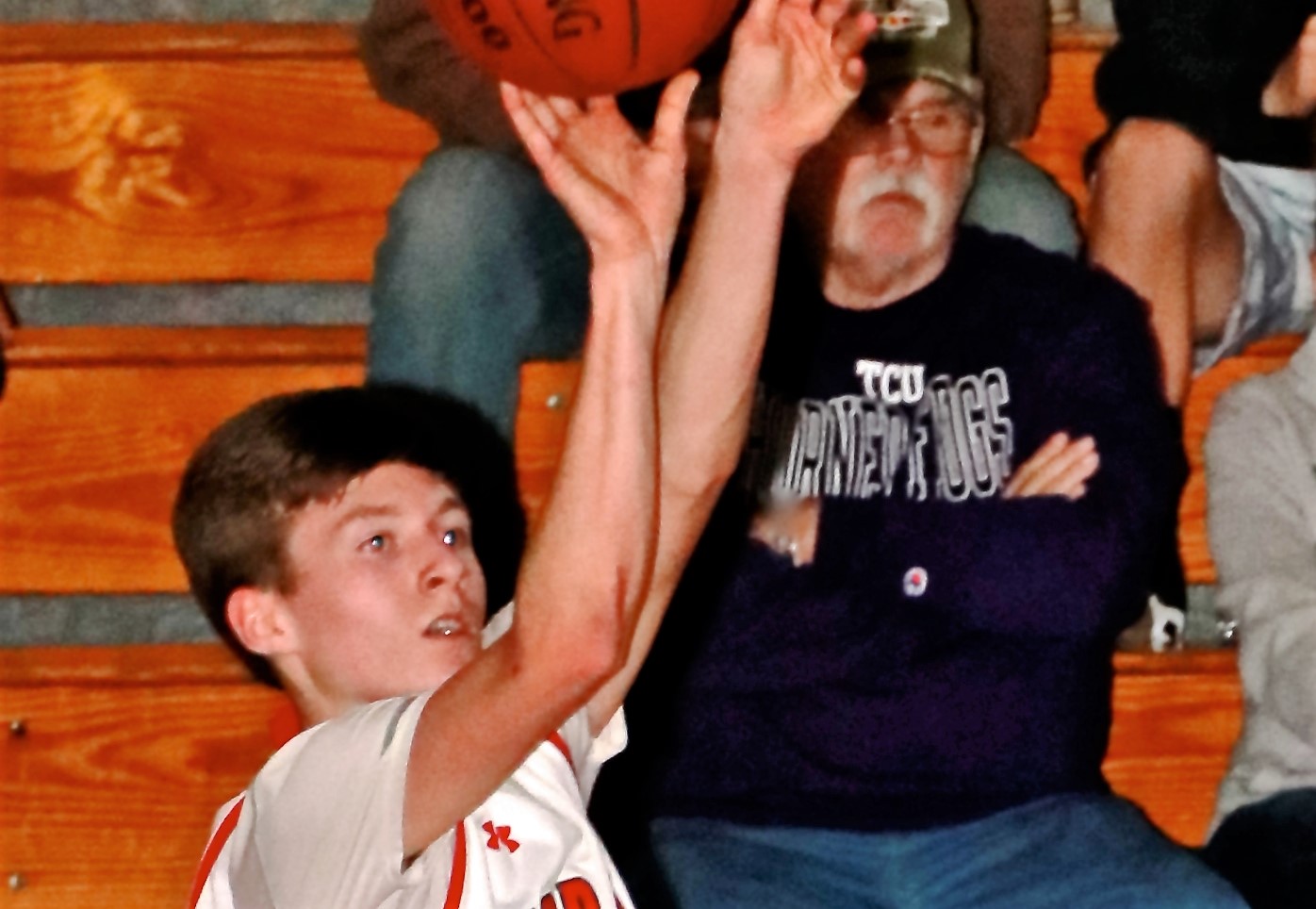 Jan. 14 boys' basketball recaps.
(Photo: Redbank Valley's Nick Smith scored a school-record 49 points in a win over Venango Catholic Monday. Photo by Mike Maslar)
REDBANK VALLEY 93, VENANGO CATHOLIC 64
OIL CITY, Pa. – Nick Smith posted a school-record 49 points to lead Redbank Valley to a 93-64 road victory over Venango Catholic.
"I want to thank my teammates for feeding me the ball," Smith said. "I was playing within the rhythm of the game, and the shots kept coming to me."
Smith's 49 points broke a school record that was held by Shawn Crissman, who scored 44 points against Moniteau in December 1991 at Redbank Valley. He is the first Bulldog to score 40 in a game since Sam Heeter posted a 42-point night Jan. 13, 2016, at Clarion.
Smith was successful from three-point range, making seven shots from that territory while making 18 totals shots and going 6 of 9 from the free-throw line. He scored 12 first-quarter points, 11 second-quarter tallies, 12 in the third quarter and 14 in the fourth.
Chris Marshall added 12 tallies while Keaton Kahle had 10 for the Bulldogs.
Venango Catholic's duo of Andrew Burda and Ben Gillispie stuffed the stat sheet with Burda posting a team-high 31 points and 11 rebounds with Gillispie was right behind his teammate posting 22 points and 17 rebounds. Brady Cicatella also grabbed 14 rebounds to go with five points.
BROOKVILLE 48, DUBOIS 45
BROOKVILLE, Pa. – David Cable's jumper with 57 seconds left put Brookville ahead for good, as the Raiders used a game-closing 8-0 run to beat visiting DuBois, 48-45, in D9 League action.
DuBois led by seven, 42-35, in the fourth quarter before Brookville rallied to get within one, 43-42.
Jonathan Cruz then hit two free throws to put the Beavers ahead three, 45-42, with 2:21 to play. But those charity shots were the final points for DuBois.
It was the second rally of the game for Brookville, which played without leading scorer and rebounder Aaron Park (knee injury).
The Raiders fell behind 19-9 after a quarter before outscoring DuBois, 14-3, in the second quarter to take a 23-22 halftime lead.
Trenton Gilhousen was the lone double-figure scorer for Brookville with 10 points. Jack Krug and Jace Miner each scored eight points.
DuBois' Chase Husted led all scorers with 18 points and 13 rebounds, eight points coming in the first quarter. Cruz scored 13 points.
NORTH CLARION 52, KEYSTONE 49
FRILLS CORNERS, Pa. – Trailing by 12 at halftime, North Clarion turned to its big man, Kyle Mills, and some hot outside shooting to rally past visiting Keystone, 52-49, and stay unbeaten.
The Wolves were down 30-18 at the break but outscored Keystone, 34-19 in the second half, including 19-7 in the third quarter to tie the game at 37 after three.
Mills scored nine of his game-high 20 points in the third quarter, while North Clarion hit four second-half 3-pointers, including a pair from Korey Mills, who finished with 10 points.
Kyle Mills finished off a double-double with 15 rebounds. Tyler McCord-Wolbert handed out five assists to go with eight points, including six in the fourth quarter, with Korey Mills and Logan Minich each dishing out four helpers. Sam Minich added six rebounds and seven points.
Troy Johnson paced Keystone with 18 points, 14 in the first half. Isaak Jones and Dawson Steele each contributed nine tallies.
COUDERSPORT 94, KANE 44
KANE, Pa. – Owen Chambers scored a game-high 36 points to lead Coudersport to a 94-44 road victory Monday night.
Coudersport had a balanced attack with Daniel Frame and Hayden Keck each scoring 14 points and Dillon Keglovits 12.
Austin Pierson led Kane with 11 points. Luke Smith also chipped in eight points.
MONITEAU 65, CRANBERRY 48
SENECA, Pa. – Balanced scoring lifted visiting Moniteau over Cranberry, 65-48.
Jared Lominski netted a game-high 17 points for the Warriors while Gage Neal tallied 13 and Ethan McDeavitt adding 12. Tyler McFadden chipped in for 10. McDeavitt also added eight assists and seven steals.
JT Stahlman paced Cranberry with a team-high 16 points while Preston Forrest added 10.
CLARION-LIMESTONE 59, KARNS CITY 35
STRATTANVILLE, Pa. – Deion Deas scored a game-high 22 points to give Clarion-Limestone a 59-35 home win over Karns City.
Hayden Callen stuffed the stat sheet with 12 points and six blocks while Curvin Goheen grabbed 12 rebounds and added five points for the Lions.
For Karns City, Chase Beighly led with 11 points and Nathan Waltman added 10. Gremlins head coach Chris Bellis got a technical foul with Karns City down 43-19 late in the third quarter that helped the push to lead to 48-19 at the end of three quarters.
TIDIOUTE CHARTER 50, SHEFFIELD 47
SHEFFIELD, Pa. – Ryan Williams netted 15 points as Tidioute Charter picked up a narrow 50-47 road victory over Sheffield.
Mason Deloe and Jared Veasey were the second- and third-leading scorers for the Bulldogs with Deloe posting 11 tallies and Veasey 10.
Sheffield had a balanced offense with Tyler Hapinger scoring a game-high 17 points while Tony Richards and Jake Vinopal each added 11 points.
UNION 74, FOREST AREA 54
MARIENVILLE, Pa. – Brock Jordan netted a career-high 20 points to help visiting Union to a 74-54 win over Forest Area at East Forest.
Truman Vereb added 18 points for the Golden Knights with Karter Vogle scoring 10 and Gavin Bowser eight. Union was without leading scorer Caiden Rainey as well as second-leading scorer Nolan Cumberland.
Franklin Meals had a double-double of 18 points and 11 assists for Forest Area with Noah Burke adding 11 points, Jonah Spuck nine and Allen Johnson seven.
CLARION 72, A-C VALLEY 42
CLARION, Pa.- Cal German and Nick Frederick each had 23 points to lead Clarion to a 72-42 victory over A-C Valley Monday night.
Jake Burns also chipped in nine tallies and Josh Craig added five for the Bobcats.
Levi Orton paced A-C Valley with 15 points while Austin Cratty and Cole Delhart each chipped in eight.