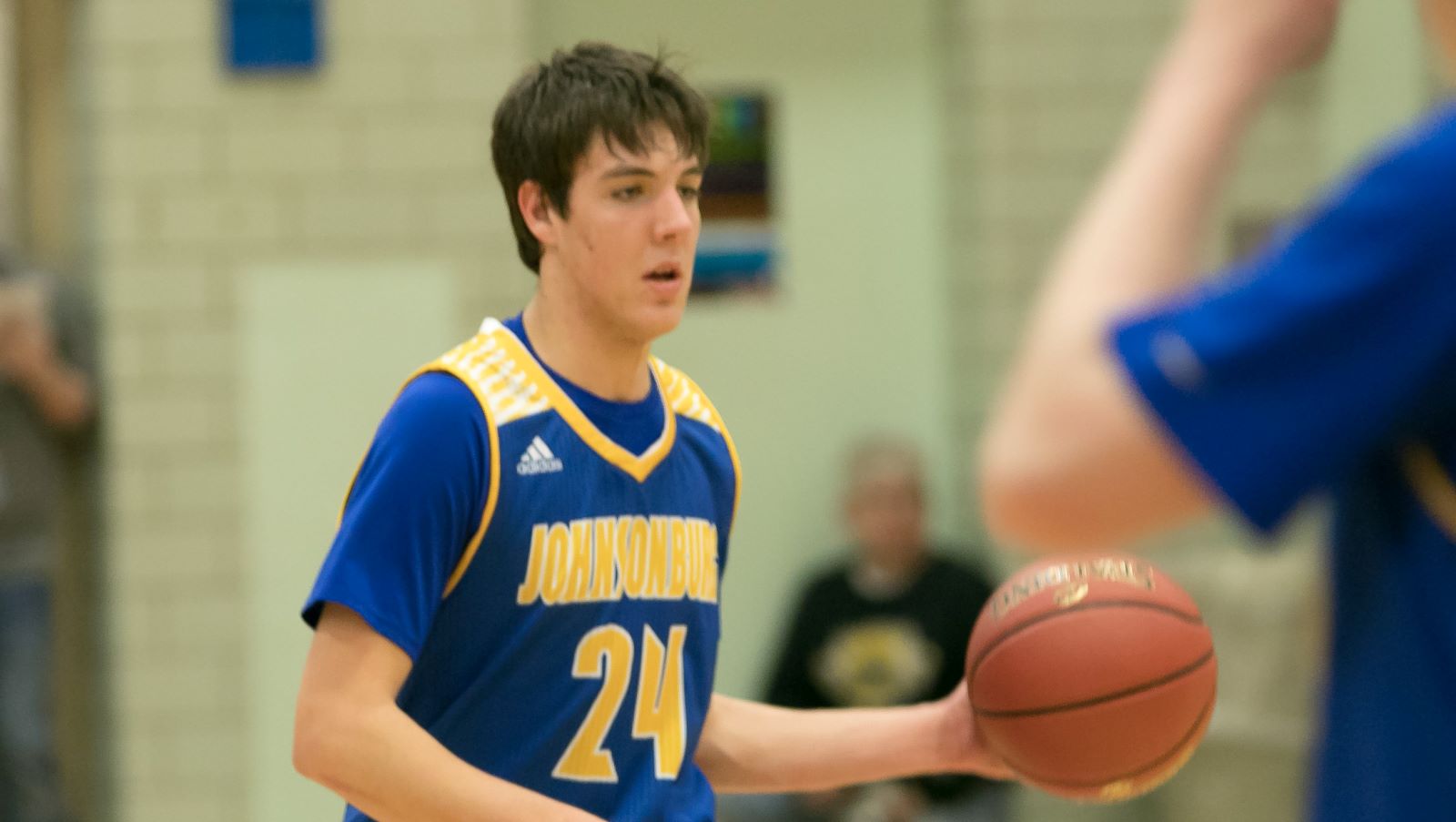 Jan. 14 boys' and girls' basketball recaps.
(Photo – Austin Green of Johnsonburg hit a half-court shot to beat Brockway Tuesday night. Photo by Jared Bakaysa of JB Graphics. See more of Bakaysa's work here)
BOYS
JOHNSONBURG 48, BROCKWAY 45
JOHNSONBURG, Pa. – Austin Green banked home a shot from midcourt at the horn to lift Johnsonburg to a come-from-behind 48-45 win over visiting Brockway in AML action.
The Rams trailed 37-35 going to the fourth quarter but forged a 45-all tie behind seven points from Green in the quarter.
Then the senior, who just scored his 1,000th career point Friday, got the ball on an inbounds play that originated by his own hoop, took three dribbles and fired up the half-court shot that banked in to win the game.
Watch the game-winning shot via Russ Myers's Twitter account.
Austin Greene at the Buzzer for the win. Johnsonburg vs Brockway @D9Sports @TheSkinny1969 pic.twitter.com/7JcoNm3Qd9

— Russ Myers (@RussM53) January 15, 2020
Green finished with 20 points, 10 in the fourth quarter, to lead Johnsonburg while Gabe Watts, who scored the other three fourth-quarter points for the Rams, finished with 12 points and Garrett Gregori added 11 points.
Alec Freemer paced Brockway with 14 points with Marcus Copelli and Jon Wood, who hit three 3-pointers, each adding 12 points.
Watch a different angle of the game-winning shot via Cole Kilhoffer's Twitter account.
That's cold🥶 @Ajg27Green @D9Sports pic.twitter.com/dnN6aGP6Tu

— Cole Kilhoffer (@cole_kilhoffer) January 15, 2020
And another angle from Scott Martinez's Twitter account.
Austin Green game-winning buzzer beater for Johnsonburg as they defeat Brockway 48-45. #d9basketball #SCTop10 @SportsCenter pic.twitter.com/qaoX54ySH8

— Scott Martinez (@the_smartinez) January 15, 2020
RIDGWAY 45, DUBOIS CENTRAL CATHOLIC 26
DUBOIS, Pa. – Zach Zameroski scored 16 points to lift visiting Ridgway to a 45-26 AML victory over DuBois Central Catholic.
Matt Dush added 12 points in the win for the Elkers with Dan Park scoring eight and Domenic Allegretto seven.
Dante Armanini scored seven points to pace DCC.
ELK COUNTY CATHOLIC 64, CURWENSVILLE 4
ST. MARYS, Pa. – Elk County Catholic held Curwensville without a field goal for the game and rolled to a 64-4 win over the visiting Golden Tide in AML action.
ECC limited the visitors to one free throw in each of the four quarters to account for the four points against.
Mark Kraus led the Crusaders with 14 points with Regis Wortman scoring 10 and Charlie Breindel seven.
Scott Condon had three points for Curwensville.
ST. MARYS 77, PUNXSUTAWNEY 49
ST. MARYS, Pa. – Cahil Parrish exploded for a game-high 27 points – all in the first three quarters – to lead St. Marys to a 77-49 home D9 League victory over Punxsutawney.
Nick Catalone and Drake Caskey each added eight points in the win for the Dutch.
Daren Byers paced Punxsutawney with 23 points with Ethan Presloid scoring nine and Andrew Wehrle eight.
PORT ALLEGANY 57, NORTHERN POTTER 47
ULYSSES, Pa. – Behind a game-high 22 points from Jordan Card, visiting Port Allegany slowly pulled away from Northern Potter for a 57-47 win in NTL action.
The Gators led by four, 40-36, going to the fourth quarter but got six points from Card in the fourth quarter to push the final margin to double digits.
Howie Stuckey added 15 points for Port Allegany with Carter Moses scoring eight.
Carter Anderson had a double-double with 17 points and 11 rebounds for Northern Potter with Ryan Langworthy throwing in 11 points and Tre Slawson nine.
COUDERSPORT 57, OTTO-ELDRED 41
DUKE CENTER, Pa. – A 21-point night from Hayden Keck helped Coudersport pick up a 57-41 road NTL win over Otto-Eldred.
In all, four Falcons reached double digits with Kolby VanWhy adding 12 points and Dillon Keglovits and Dalton Keglovits 11 each.
Jake Merry hit four 3-pointers to finish with a team-best 12 points for Otto-Eldred. Braden Maholic added 10 points and Cole Sebastian and Gavin Jimerson scored eight each.
CAMERON COUNTY 74, GALETON 28
GALETON, Pa. – Dino Brown and Caden Beldin combined to score 43 points to lead visiting Cameron County to a 74-28 win over Galeton in NTL action.
Brown led the Red Raiders with 23 points with Beldin adding 20.
Ty Stover led Galeton with nine points with Noah Shutt scoring eight.
OSWAYO VALLEY 57, AUSTIN 55
SHINGLEHOUSE, Pa. – Gunner Bean scored a team-high 22 points, as Oswayo Valley held off visiting Austin, 57-55, for an NTL victory.
Leading by four in the final seconds, Oswayo Valley conceded a 3-pointer to Jackson Glover with 2.4 seconds left that cut the Green Wave lead to 56-55.
Bean was then fouled and missed the first of the double bonus before hitting the second one to make it a two-point game.
Austin got the ball into Skylar Crawford who put up a half-court shot as time expired. But it was off the mark.
Noah Wichert added 16 points and 13 rebounds in the win for the Green Wave while Cayden Black chipped in four points and six assists.
Parker Glover netted a game-high 23 points for Austin with Jackson Glover adding 22 points, 11 rebounds, seven steals and two assists
SHEFFIELD 66, TIDIOUTE CHARTER 22
TIDIOUTE, Pa. – Tyler Hepinger led a trio of Sheffield players in double digits with 19 points, as the visiting Wolverines beat Tidioute Charter, 66-22.
Jake Vinopal added 15 points and eight rebounds for Sheffield with Tony Richards scoring 11 points and Connor Johnson adding two points and five assists. Also for the Wolverines, Alex Benjamin scored eight points.
Derek Kias paced Tidioute Charter with 13 points.
GIRLS
DUBOIS CENTRAL CATHOLIC 42, RIDGWAY 40
RIDGWAY, Pa. – Three players reached double figures, as visiting DuBois Central Catholic held off Ridgway, 42-40, in AML action.
The Lady Cardinals led by 15 points in the fourth quarter before Ridgway rallied to within seven, 42-35, late in the game. The Lady Elkers then scored five points in the final 13 seconds of the contest, including a 3-pointer at the horn by Christina Fullem to make it a two-point game.
Shay Gulvas led DCC with 15 points, Martina Swalligan added 12 points and Maia Cogley scored 11 points.
Gabbi Rohr paced Ridgway with 10 points, Fullem scored nine, five in the fourth quarter, and Julie Peterson added eight.
ELK COUNTY CATHOLIC 27, CURWENSVILLE 14
CURWENSVILLE, Pa. – Behind 14 points and 13 rebounds from Taylor Newton, visiting Elk County Catholic picked up a 27-14 AML victory over Curwensville.
Tami Geci added seven points in the win for the Lady Crusaders.
Tarah Jacobson led Curwensville with six points.
ST. MARYS 58, KANE 38
KANE, Pa. – Kaylee Muccio and Kyla Johnson each scored 13 points to pace a 58-38 road win for St. Marys over Kane.
Megan Quesenberry added 11 points for the Lady Dutch.
Sarri Swanson, who hit 16 of 18 free throws, led Kane with a game-high 24 points.
DUBOIS 43, CLEARFIELD 31
DUBOIS, Pa. – Abby Guiher and Saige Weible each scored 14 points to lead DuBois to a 43-31 win over visiting Clearfield.
Guiher hit four 3-pointers on her way to the 14, while Weible scored four points in each of the last three quarters after scoring a bucket in the first quarter as well.
Tesa Miller paced Clearfield with 11 points with Emma Hipps scoring seven.