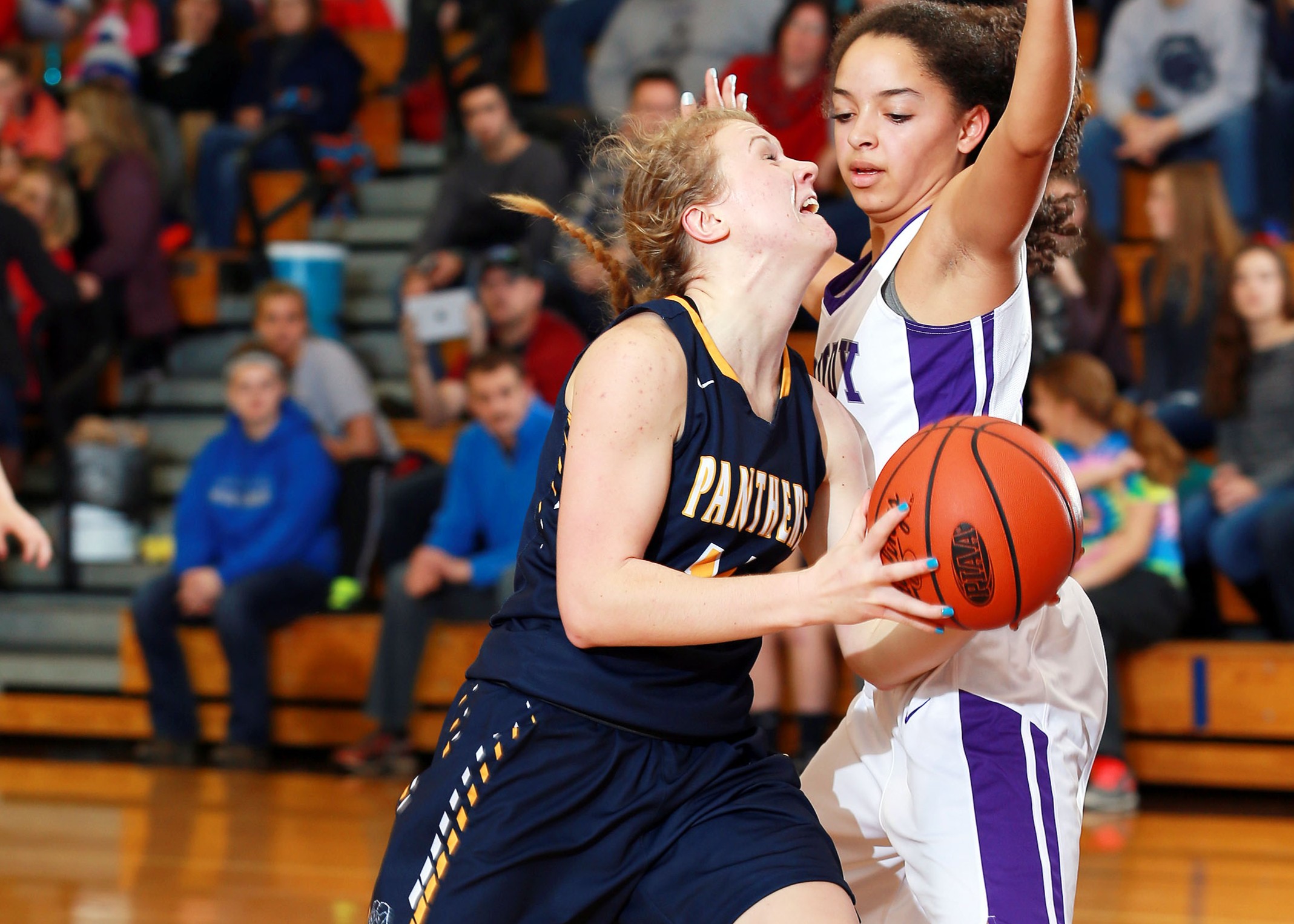 NORTHERN POTTER 54, GALETON 36
GALETON, Pa. – Gracie Hamilton scored 21 points, grabbed 16 rebounds and had five steals as visiting Northern Potter used a strong second half to beat Galeton, 54-36, in North Tier League action.
The Lady Panthers led by seven, 26-19, at halftime before outscoring the Lady Tigers 38-17 in the second half.
Kalie Cowburn chipped in 15 points and 12 rebounds for NoPo with Demi Youse adding 10 tallies.
Makaya Shadle led Galeton with 15 points.
CAMERON COUNTY 35, OSWAYO VALLEY 29
EMPORIUM, Pa. – Kendyl Guisto and Madison Harrier each scored seven points to lead Cameron County to a 35-29 win over visiting Oswayo Valley in North Tier League play.
Kelsie Pease led Oswayo with a game-high 14 points.
OTTO-ELDRED 57, AUSTIN 19
AUSTIN, Pa. – Alli Cousins dropped in 20 points to lead visiting Otto-Eldred past Austin, 57-19, in North Tier League play.
Camryn Thomas added 11 points for the Lady Terrors with Kylie Stuck chipping in seven.
Jordan Brewer paced Austin with six points and Allyson Rotello added five.
SMETHPORT 48, PORT ALLEGANY 39
SMETHPORT, Pa. – Abbey Woodard scored 14 points to help Smethport knock off visiting Port Allegany, 48-39, in North Tier League action.
Emily and Katie Treat each added 11 points for the Lady Hubbers, who led 24-12 at halftime.
Autumn Buchsenschutz led all scorers with 21 points for Port Allegany, including 11 in the fourth quarter, while adding four assists and four steals. Hannah Lathrop chipped in eight tallies for the Lady Gators.
DUBOIS CENTRAL CATHOLIC 55, SHEFFIELD 9
SHEFFIELD, Pa. – Behind 13 points from Riley Assalone, DuBois Central Catholic took care of business on the road beating Sheffield, 55-9, in AML action.
Stephanie Rossi added 12 points for the Lady Cardinals, who had eight different players scored including Jordy Frank with nine.
Eliza Davidson and Lexi Lyon each scored four points for Sheffield.
JOHNSONBURG 40, RIDGWAY 32
JOHNSONBURG, Pa. – Behind a double-double from Skylar Sherry, Johnsonburg knocked off rival Ridgway, 40-32, in AML play at Johnsonburg.
Sherry had 12 points and 12 rebounds to lead the Ramettes, who also got nine points from Nicole Myers and seven from Ashton Watts.
Trailing 28-27 midway through the fourth quarter, Johnsonburg used a 7-0 run to take the lead.
Emily Fullem paced Ridgway with 11 points with Hannah Park adding seven and Jessica Kifer six.
PUNXSUTAWNEY 46, BRADFORD 27
BRADFORD, Pa. – Leah Miller and Kylee Lingenfelter each scored in double digits to lead Punxsutawney to a 46-27 D9 League road win at Bradford.
Miller led all scorers with 14 points with Lingenfelter adding 10 tallies. Hope Bridge chipped in with eight points.
Bri Wells led Bradford with eight points.  
NORTH CLARION 56, A-C VALLEY 44
FRILLS CORNERS, Pa. – The double-double machines known as North Clarion sophomore Tori Obenrader and senior Abbie Schmader each recorded another double-double to lead the She-Wolves to a 56-44 win over visiting A-C Valley in KSAC Crossover play.
Obenrader had 24 points and 19 rebounds to record her 14th double-double in 15 games and her ninth in a row. She is averaging 16.7 points and 17.7 rebounds per game on the season.
Schmader, meanwhile, had her 12th double-double of the year with 19 points and 15 rebounds. It was the 11th time this year the duo has each had a double-double in the same game.
Ellie Thompson led A-C Valley with 14 points with Morgan Cratty adding 13.
REDBANK VALLEY 54, CRANBERRY 37
SENECA, Pa. – Brooke Hinderliter and Becca Dougherty combined to score 35 points to lead visiting Redbank Valley to a 54-37 win over Cranberry in KSAC Crossover action.
Hinderliter led all scorers with 21 points with Dougherty adding 14.
Kenda Schreck led Cranberry with 10 points with Malliah Schreck adding nine.
KARNS CITY 64, VENANGO CATHOLIC 22
OIL CITY, Pa. – LeeAnn Gibson led a trio of Karns City players in double figures with 20 points as the visiting Lady Gremlins beat Venango Catholic, 64-22, in KSAC Crossover play.
Alyssa Gibson added 13 points and Emily Hegedus 11.
Ava Homan had nine points to lead Venango Catholic.  
KEYSTONE 71, FOREST AREA 25
MARIENVILLE, Pa. – Josselin Geer and Taylor Geer combined to score 37 points, grab 24 rebounds and come away with nine steals to lead Keystone to a 71-25 win over Forest Area at East Forest in KSAC Crossover action.
Josselin Geer had a game-high 19 points to go with eight rebounds and four steals.
Taylor Geer, no relation, added 16 points, 16 rebounds and five steals.  
McKenzie Hovis also contributed nine points and nine steals for the Lady Panthers.
Morgan Silvis and Bianca Hetrick each had seven points for Forest Area.
MONITEAU 69, CLARION-LIMESTONE 29
STRATTANVILLE, Pa. – Alazia Greaves scored 20 points to lead Moniteau to a 69-29 win over Clarion-Limestone in KSAC Crossover play at C-L.
Kristina DeMatteis added 17 points for the Lady Warriors with Sara Hull chipping in seven points and 10 rebounds.  
Paige Aaron and Karleigh Aaron each had eight points for C-L with Josie Stitt adding seven points for the Lady Lions.
CURWENSVILLE 51, HARMONY 38
WESTOVER, Pa. – Hannah Dixon and Christine Limbert both went over 20 points to help Curwensville grab its first win of the season and the first win of the Erik Duriancik Era with a 51-38 win at Harmony.
Dixon had 22 points to lead the Lady Tide with Limbert adding 20.
Amanda Pennyton led Harmony with 11 points.   
KANE 43, BROCKWAY 32
BROCKWAY, Pa. – Kane outscored Brockway 19-5 in the fourth quarter to pull out a 43-32 win at Brockway in non-conference action.
The Lady Wolves trailed 27-24 going to the final eight minutes before continuing a trend that started in a 15-point third quarter after scoring just nine first-half points.
Trinity Clark led Kane with 14 points and 18 rebounds. Sydney Dyne added eight points and eight rebounds with Ella Marconi chipping in seven rebounds and five points.
Leah Lindemuth paced Brockway with a game-high 17 points.
INDIANA 48, DUBOIS 42
DUBOIS, Pa. – Dayna DeSalve and Courtney Chandler each scored 10 points, but an eight-point third-quarter deficit was too much for DuBois to overcome in a 48-42 non-conference loss to visiting Indiana.
The Lady Beavers trailed by just one, 24-23, at halftime before getting outscored 16-8 in the third quarter.
Jess Stever led all scorers with 18 points for the Little Indians.