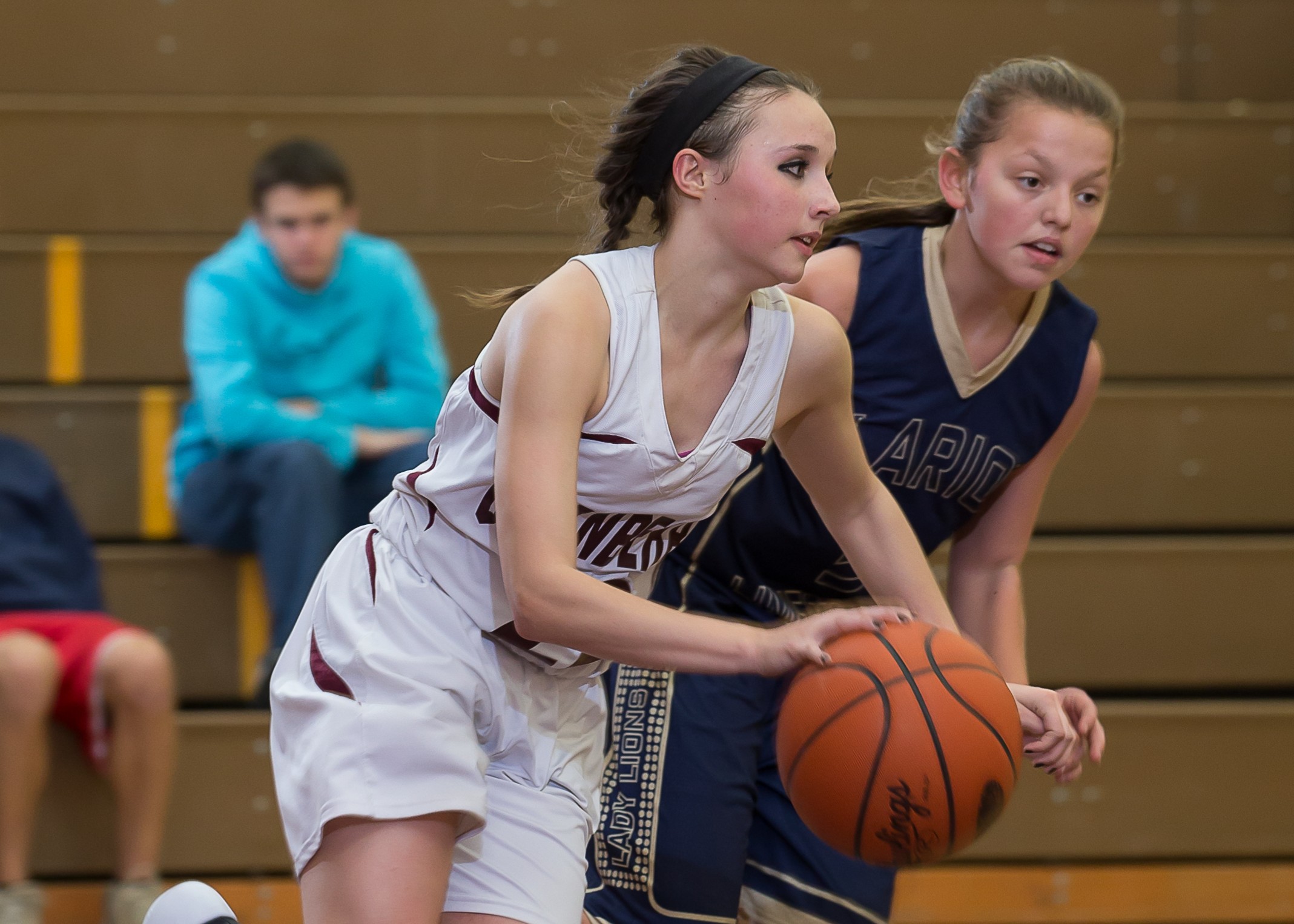 Jan. 15 recaps.
(Photo of Cranberry's Erin Merryman. Photo by Eric Elliott)
CRANBERRY 51, KARNS CITY 49, OVERTIME
SENECA, Pa. – Erin Merryman hit two free throws with four seconds left in overtime to give Cranberry a 49-47 win over visiting Karns City.
The game was tied at 47 at the end of regulation with each team getting a basket in overtime before Merryman's two free throws won the game.
Malliah Schreck led the Berries with 23 points and 12 rebounds, while Hannah Duncan added eight points. Merryman had only four points, two in the first quarter and the overtime free throws, but added six steals.
Karns City, which has had it's last five games – two wins and three losses – decided by a grand total of seven points (three one-point games and two two-point games) including two overtime games, was paced by Emily Hegedus' 28 points. Hegedus has now scored 146 points (29.2 ppg) over that stretch.
KANE 74, JOHNSONBURG 31
JOHNSONBURG, Pa. – Ella Marconi and Trinity Clark each had double-doubles to lead Kane to a 74-31 road AML win over Johnsonburg.
Marconi had 18 points, 14 rebounds and six blocked shots with Clark adding 18 points, 10 rebounds, five steals and four assists. Hannah Buhl added 11 points and five assists with Rachael Morgan adding 10 points and eight rebounds. Caitlin O'Hara had four points and four assists.
Cassidy King had 11 points to lead Johnsonburg.
NORTHERN POTTER 56, AUSTIN 15
AUSTIN, Pa. – Mikayla Lewis had 13 points and 10 rebounds to help visiting Northern Potter to a 56-15 win over Austin in North Tier League action.
Rebecca Morgan added eight points and 14 assists for the Lady Panthers with Kalie Cowburn scoring a game-high 18 points and Abbi Anderson 14 points.
Jordan Brewer had six points to pace Austin.
OTTO-ELDRED 57, PORT ALLEGANY 37
DUKE CENTER, Pa. – Alyssa Shelander had 16 points to lead Otto-Eldred to a 57-37 win over visiting Port Allegany in North Tier League play.
Ali Cousins added 14 points for the Lady Terrors with Britney Greeley chipping in four points, four steals and 13 rebounds and Camryn Thomas 12 points, eight rebounds and four steals.
Cailey Barnett paced Port Allegany with 19 points.
COUDERSPORT 54, CAMERON COUNTY 14
COUDERSPORT, Pa. – Shaelyn Black had 16 points, 10 rebounds and five steals to help Coudersport to a 54-14 North Tier League win over Cameron County.
Haley Keck also scored 16 points for the Lady Falcons with Sarah Chambers chipping in with eight tallies.
Amily Schatz and Kamme Guisto each scored three points to lead Cameron County.
UNION 69, TIDIOUTE CHARTER 28
RIMERSBURG, Pa. – Four different Union players scored in double digits to help the Golden Damsels to a 69-28 win over visiting Tidioute Charter.
Bryn Davis led Union with 16 points, Frankee Remmick added 14 tallies and Hannah Atzeni and Morgan Cumberland each had 10 points.
Nakiesha Krouse led Tidioute Charter with 13 points with Greysen Fors adding 10 points.
DUBOIS CENTRAL CATHOLIC 44, HARMONY 35
WESTOVER, Pa. – Shay Gulvas led a balanced DuBois Central Catholic effort with nine points in a 44-35 road win at Harmony.
Haley Pettenati added eight points for the Lady Cardinals with Abbey Pettenati and Ashley Wruble each scoring seven.
BROOKVILLE 72, PHILIPSBURG-OSCEOLA 51
PHILIPSBURG, Pa. – Kira Powell scored a career-high 24 points to lead visiting Brookville to a 72-51 win at Philipsburg-Osceola.
Powell scored 15 of her 24 in the second half drilling five 3-pointers. Morgan Johnson also reached double digits for Brookville with 13 points.
Halle Herrington had a game-high 39 points for the Lady Mounties.
BROCKWAY 49, CLARION 29
BROCKWAY, Pa. – Behind double-doubles from Kaitlyn Morelli and Leah Lindemuth, Brockway rolled to a 49-29 win over visiting Clarion.
Leah Lindemuth led the Lady Rovers with 1 points, 14 rebounds, seven steals and seven assists with Morelli adding 13 points and 13 rebounds. Morgan Lindemuth chipped in six points and 10 rebounds for Brockway.
Kait Constantino had six points, seven rebounds and six steals for Clarion with Wendy Beveridge adding seven points and nine blocked shots, Ali Troese four points and eight rebounds and Sadie Rudesyle four points and seven boards.
ST. MARYS 52, CLEARFIELD 35
ST. MARYS, Pa. – Becca Bauer netted 15 points to help St. Marys to a 52-35 win over visiting Clearfield.
Megan Quesenberry added 13 points for the Lady Dutch who also got nine from Lauren Eckert
Alayna Ryan had a game-high 17 points for Clearfield with Megan Durandetta adding eight.
SMETHPORT 58, OSWAYO VALLEY 50
SMETHPORT, Pa. – Abbey Woodard knocked down 30 points to lift Smethport to a 58-50 win over visiting Oswayo Valley in North Tier League action.
Hailey Wright added 13 tallies and Erin Herzog 10 for the Lady Hubbers, while Shayla Bickel matched Woodard for game-high honors with 30 points to Oswayo Valley.