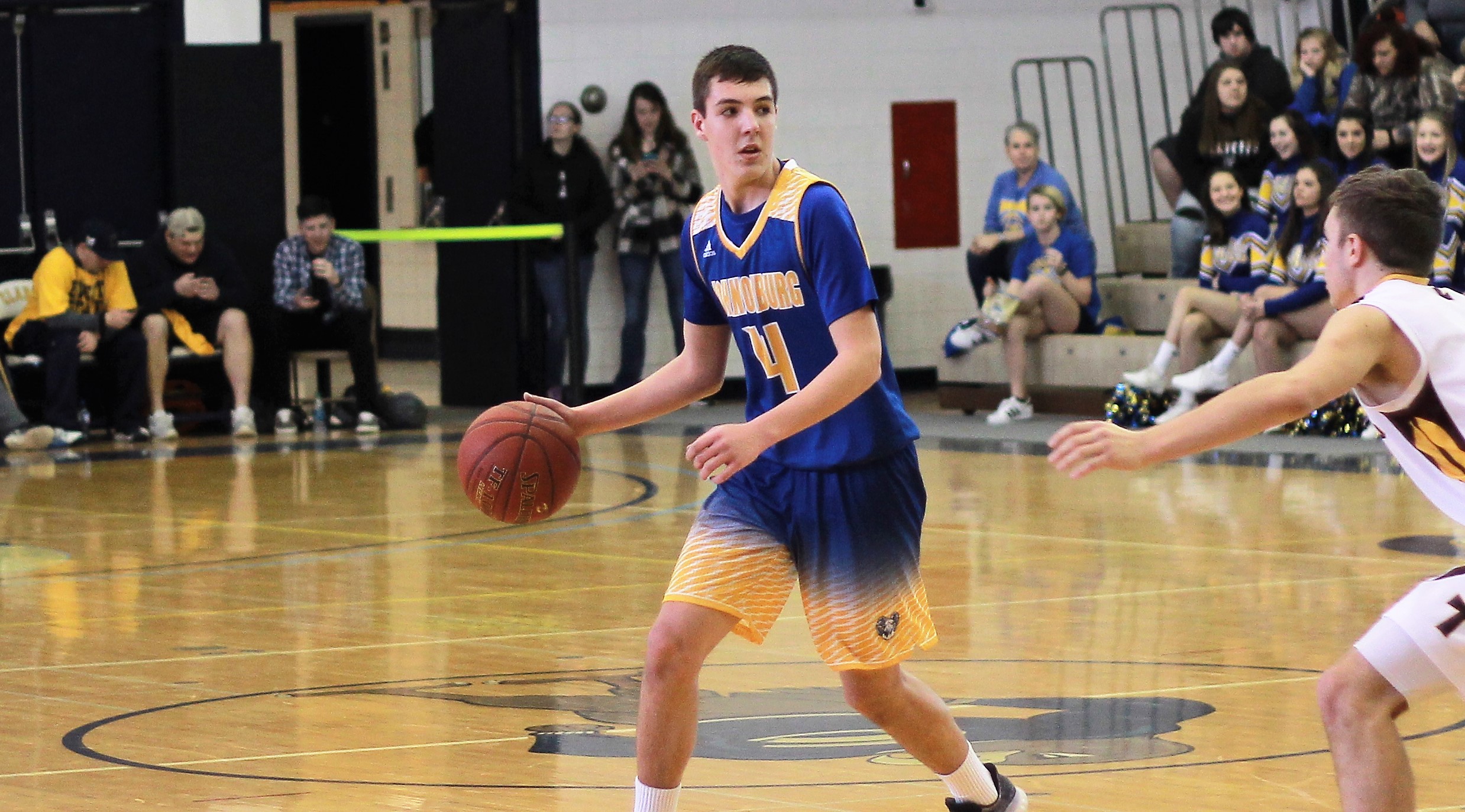 Jan. 15 boys' and girls' recaps.
(Photo: Austin Green scored 17 points to lead Johnsonburg to a double-overtime win at Brockway. Photo by Jared Bakaysa of JB Graphics. See more of Bakaysa's work here)
BOYS' RECAPS
JOHNSONBURG 52, BROCKWAY 46, 2 OVERTIMES
BROCKWAY, Pa. – Outscoring Brockway 12-6 in the second overtime, visiting Johnsonburg escaped an upset bid from the Rovers, 52-46, in AML play.
All 14 of the points scored by the Rams in overtime came from the free-throw line with Isaac Scholder scoring five of his seven points in the game in the two extra sessions going 5 of 10 from the line.
Austin Green was 4 of 4 from the line in the two overtimes and had a team-high 17 points for Johnsonburg.
Cameron Stelene added 12 points for the Rams, including eight in the third quarter, and Gabe Watts chipped in nine points.
Alec Freemer netted a game-high 19 points for Brockway while hitting four 3-pointers. Two of those triples came in a 15-point fourth quarter for the Rovers, who trailed, 28-23, entering the fourth before forcing overtime by outscoring Johnsonburg 15-10 in the quarter.
Jon Wood and Zane Puhala each chipped in eight points for Brockway.
GALETON 44, OTTO-ELDRED 40
DUKES CENTER, Pa. – Isaiah Shuemaker and Joel Griffen combined for 25 points to lift visiting Galeton to a 44-40 NTL win over Otto-Eldred.
Shuemaker led the Tigers with 13 points with Griffen adding 12.
Otto-Eldred was paced by Cole Sebastian's game-high 18 tallies.
RIDGWAY 53, DUBOIS CENTRAL CATHOLIC 37
RIDGWAY, Pa. – Balanced scoring lifted Ridgway over visiting DuBois Central Catholic, 53-37, in AML action.
Daunte Allegretto netted 13 points for the Elkers with Will Thompson adding 12. Jake Reynolds and Parker Rohr chipped in for 10 points apiece.
Justin Miknis led DCC with 10 points.
PUNXSUTAWNEY 68, ST. MARYS 63
PUNXSUTAWNEY, Pa. – Led by Ethan Blose's 22 points, Punxsutawney defeated visiting St. Marys, 68-63, in D9 League action
Daron Byers tallied 16 points for the Chuks and Carter Newcomb chipped in for 10.
Cahill Parrish had 20 points to pace St. Marys with Mitchell Reiter adding 13.
COUDERSPORT 91, PORT ALLEGANY 25
COUDERSPORT, Pa. – Owen Chambers went off for 38 points in just three quarters to help Coudersport to a 91-25 victory over visiting Port Allegany in NTL play.
Kolby VanWhy netted 12 points for the Falcons with Dalton Keglovits adding 10.
Howie Stuckey paced the Gators with a team-high 10 points.
SMETHPORT 67, NORTHERN POTTER 53
SMETHPORT, Pa. – Thanks to a game-high 30 points from Caleb Lutz, Smethport defeated Northern Potter, 67-53.
Ian Woodruff and Connor Alfieri each added 14 points for the Hubbers.
Carter Anderson paced Northern Potter with a team-high 27 points.
ELK COUNTY CATHOLIC 64, CURWENSVILLE 48
CURWENSVILLE, Pa. – A team-wide effort helped Elk County Catholic pick up a 64-48 road AML win over Curwensville.
Alec Wehler led the Crusaders with 11 points, Alex Breindel tallied 10 and Ben Hoffman had nine.
Christian Bakaysa had a game-high 19 points to pace Curwensville.
CAMERON COUNTY 82, OSWAYO VALLEY 23
EMPORIUM, Pa. – Jake Walters and Marcus Brown explode for 46 combined points to lead Cameron County past Oswayo Valley, 82-23.
Walters had a game-high 24 points for the Red Raiders with Brown chipping in for 22. Caden Beldin and Ty Bauer tallied nine points apiece.
Honor Gross paced Oswayo Valley with a team-high six points.
BELLEFONTE 78, CLEARFIELD 56
BELLEFONTE, Pa. – Noah Badger and Ben McCartney combined to score 48 points to lead Bellefonte to a 78-56 home Mountain League win over Clearfield.
Badger scored a team-high 25 points, including 14 in the fourth quarter, with McCartney adding 23 tallies while hitting five 3-pointers.
Also for the Red Raiders, Nate Tice added 12 points.
Cade Walker had a game-high 32 points for Clearfield while adding nine rebounds. Karson Rumsky added 17 points for the Bison, who got just seven points from the rest of the team.
GIRLS' RECAPS
DUBOIS CENTRAL CATHOLIC 39, RIDGWAY 26
DUBOIS, Pa. – Alyssa Bittner helped DuBois Central Catholic defeat visiting Ridgway, 39-26, in AML action.
Bittner tallied a game-high 12 points for the Lady Cardinals with Shay Gulvas netting seven.
Eve Cobaugh paced Ridgway with 10 points and Christiana Fullem added six points and eight rebounds.
ELK COUNTY CATHOLIC 61, CURWENSVILLE 42
ST. MARYS, Pa. – Taylor Newton's double-double helped Elk County Catholic defeat visiting Curwensville, 61-42.
Newton netted 26 points to go along with 14 rebounds for the Lady Crusaders. Maddie Kear added 10 tallies.
Madi Weber paced the Lady Tide with a game-high 27 points.
BROOKVILLE 46, INDIANA 35
INDIANA, Pa. – Behind 16 Marcy Schindler points visiting Brookville picked up a 46-35 win over Indiana.
Lexis Hatzinikolas added eight tallies for the Lady Raiders with Madison Johnson chipping in seven points.
Hope Cook led Indiana with 12 points with Haleigh Zimmerman chipping in nine.