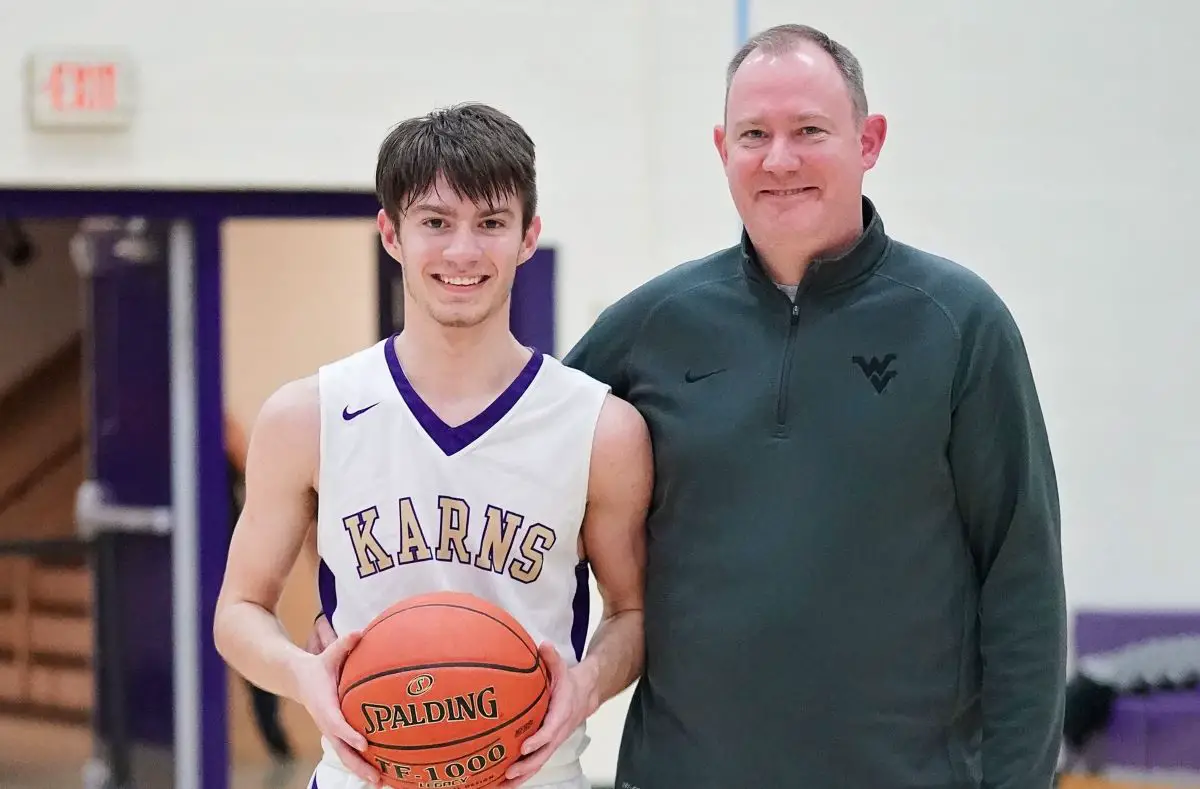 Jan. 15 boys' basketball recaps.
(Photo of Chase Beighley of Karns City, who scored his 1,000th career point Wednesday night, with his dad Dave Beighley. Photo by Holly Mead. See more of Mead's work here.)
KARNS CITY 80, FOREST AREA 59
KARNS CITY, Pa. – Needing 26 points to reach 1,000 in his career, Karns City junior Chase Beighley exploded for 29 points, including 18 in the third quarter, to lead the Gremlins to an 80-59 win over visiting Forest Area.
Beighley reached the milestone in his unreal third quarter with his final basket of the frame. He went on to score three more points in the fourth quarter to give him 1,003 in his career.
He is the 12th Gremlin boys' player to reach 1,000 points and the first since Tyler Kepple (1,118 career points) hit the mark in 2014.
Beighley's monster third quarter was needed, as Karns City led by just a point, 24-23, at halftime before expanding the lead to 59-37 after the third thanks to a 35-point third quarter that also saw Ethan McElroy score nine points in the quarter.
McElroy added 16 points and seven assists in the victory for Karns City with Micah Rupp scoring 11 points and Luke Garing climbing the boards for a game-high 15 rebounds to go with five points.
Jullian Gillenwater, who was 8 of 8 from the free-throw line in the fourth quarter and 11 of 12 from the line in the game, paced Forest Area with 23 points while adding five rebounds. Franklin Meals chipped in 19 for the Fires with Noah Burke adding five points, six steals and five rebounds.
The other 1,000-point scorers for Karns City with their graduation year include Tyler Callihan (2005, 1,554 points), Doug Rodgers (1998, 1,445 points), Jeff Craig (1982, 1,366 points), Mark Lankitus (1982, 1,339 points), Patrick Craig (2002, 1,336 points), Tom Gaiser (1964, 1,160 points), Robert Zanella (1979, 1,110 points), Adam Cramer (1991, 1,045 points), Mark Whitmer (1973, 1,038 points) and Darren Callihan (1988, 1,030 points).
DUBOIS 54, BRADFORD 46
DUBOIS, Pa. – Nick Felix led a balanced offensive attack to help Dubois earn a 54-46 victory over visiting Bradford in D9 League action.
Felix had 16 points with three 3-pointers for the Beavers. Chase Husted added 14 points while Lennon Lindholm had 13 points and went 5-for-6 at the line.
Tyler Gigliotti went 8-for-8 at the line and finished with 17 points to pace the Owls in the loss.
GLENDALE 66, CURWENSVILLE 52
FLINTON, Pa. – Ryan Sinclair exploded for 28 points as Glendale outlasted visiting Curwensville, 66-52, in Moshannon Valley League play.
Justin Jasper had three 3-pointers and finished with 16 points for the Vikings while Logan Cree and Colt Bickford each had four.
Trevor Lansberry had 17 points for the Ride in the loss while Adam Miller added 13. Danny McGarry tallied 10 while Ty Terry chipped in six.
CLEARFIELD 58, BELLEFONTE 51
HYDE, Pa. – Karson Rumsky had a double-double in Clearfield's 58-51 victory over visiting Bellefonte, in Mountain League action.
Rumsky had 15 points and 10 rebounds to lead the Bison offense. Cade Walker added 15 points and went 7-for-9 from the charity stripe while Andrew Lopez chipped in 10 points and eight assists.
Ben McCartney exploded for a game-high 28 points for the Red Raiders in the loss.
CLARION 57, UNION 34
RIMERSBURG, Pa. – Using balance on offense visiting Clarion beat Union, 57-34.
Cal German paced the Bobcats with 16 points, eight assists and five steals. Hunter Craddock added 10 points and seven rebounds with Nick Frederick also scoring 10 points and Skylar Rhoades chipping in eight points and a team-best eight rebounds.
Truman Vereb had 13 points for Union with Isaac Saylor adding seven.
CRANBERRY 58, VENANGO CATHOLIC 39
SENECA, Pa. – A 20-point performance from JT Stahlman helped Cranberry upend Venango Catholic, 58-39.
Matt McQuaide added 11 points for the Berries with Cam Russell chipping in 10. Preston Forrest had a 3-pointer and finished with nine points.
Andrew Burda netted 20 points in the loss for the Vikings.
KEYSTONE 59, A-C VALLEY 46
KNOX, Pa. – Behind 16 points each from Troy Johnson and Marc Rearick, Keystone knocked off visiting A-C Valley, 59-46.
Colin Say added eight points for the Panthers with Alex Rapp chipping in six points, five assists and three steals.
Levi Orton led A-C Valley with 18 points with Eddie Stevanus adding 12.
CLARION-LIMESTONE 79, REDBANK VALLEY 56
NEW BETHLEHEM, Pa. – Hayden Callen and Deion Deas combined to score 51 points, as visiting Clarion-Limestone raced past Redbank Valley, 79-56.
Callen led the way for the Lions with 28 points, 12 rebounds and two blocked shots with Deas adding 23 points, six assists and two steals.
Also for C-L, Jordan Hesdon had eight points and four steals and Braden Rankin also scored eight points.
Owen Magagnotti led Redbank Valley with 17 points with Bryson Bain adding 11 and Chris Marshall 10.
NORTH CLARION 48, MONITEAU 35
WEST SUNBURY, Pa. – Drew Gatesman scored a career-best 22 points and added eight rebounds to lead visiting North Clarion to a 48-35 win over Moniteau.
Matson Higgins added 15 points and five assists in the win for the Wolves.
Ethan McDeavitt led Moniteau with 12 points with Gage Neal chipping in nine and Quinton Scriven eight.