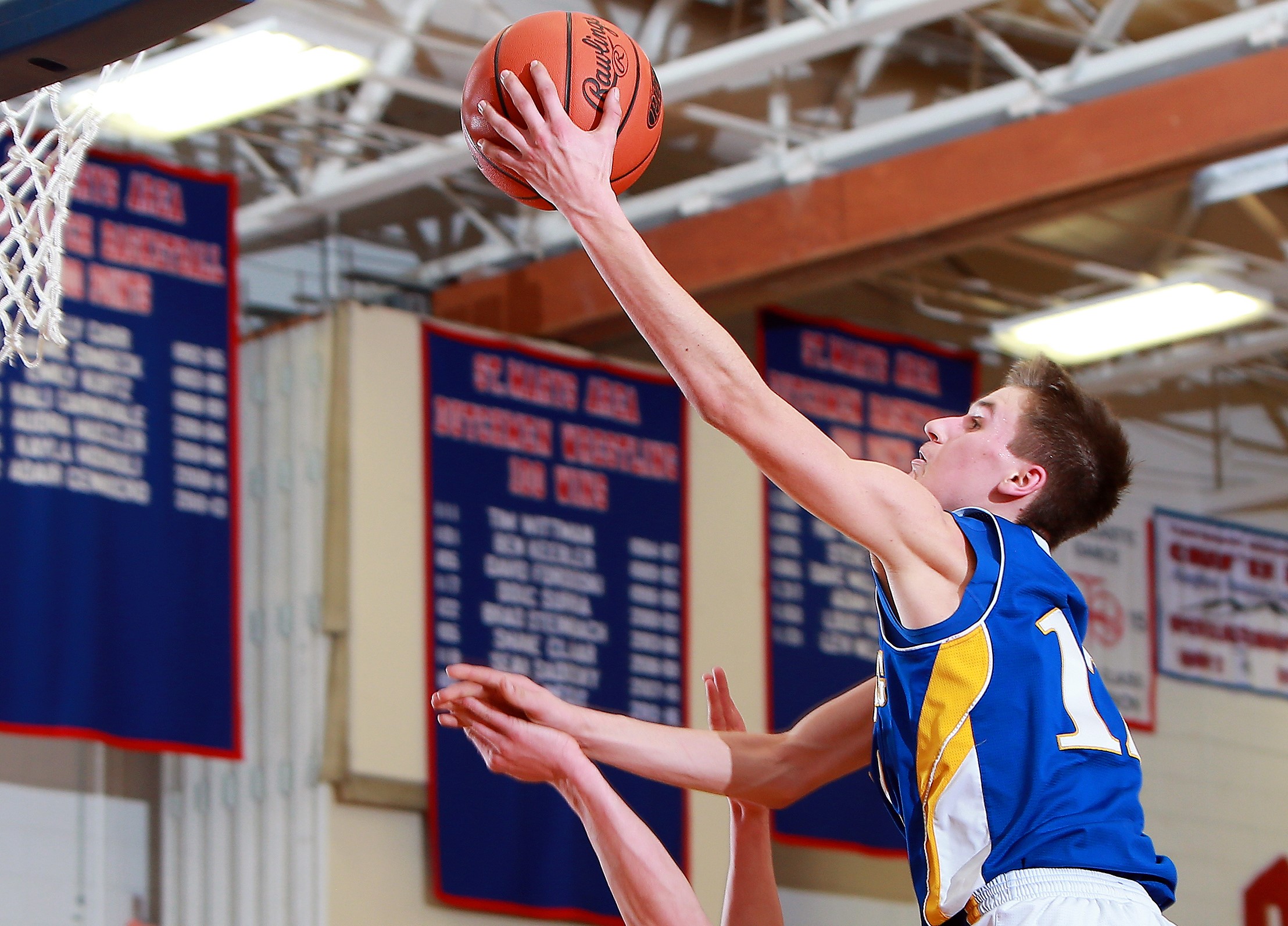 Jan. 16 recaps.
(Photo of Johnsonburg's Kacey Raubenstrauch. Photo by Paul Burdick. Check out more of Burdick's work here)
JOHNSONBURG 55, BROCKWAY 44
JOHNSONBURG, Pa. – Austin Green, Ben Freeburg and Kacey Raubenstrauch combined to score 38 points to lift Johnsonburg to a 55-44 home AML win over Brockway.
Green and Raubenstrauch led the balanced Rams with 13 points each with Freeburg adding 12.
Carter Adams had a game-high 22 points for Brockway. Noah Vokes added eight tallies for the Rovers.
The game was low scoring until the fourth quarter with Johnsonburg leading 30-22 going to the fourth quarter before the teams combined for 47 points in the quarter, 25 by Johnsonburg.
ELK COUNTY CATHOLIC 78, CURWENSVILLE 46
ST. MARYS, Pa. – Ryan Newton led a trio of Elk County Catholic players in double digits with 16 points to help the Crusaders roll past visiting Curwensville, 78-46, in AML action.
Logan Hoffman added 13 points for ECC with Brady Schneider chipping in 10.
Devon Barrett scored 10 points for Curwensville, which played the final three quarters without leading scorer Josh Terry who was injured early in the game. Christian Bakaysa added nine tallies and Avery Francisco seven.
BROOKVILLE 57, DUBOIS 44
DUBOIS, Pa. – Aaron Park and Bryan Dworek combined for 33 points to lead visiting Brookville to a 57-44 win at DuBois in D9 League action.
Park led the Raiders with 18 points with Dworek adding 15. Trenton Gilhousen chipped in with 11 tallies.
Kenny Garvey's 14 points paced DuBois with Justin Manduley adding 11.
CLEARFIELD 49, PHILIPSBURG-OSCEOLA 42
PHILIPSBURG, Pa. – Reese Wilson recorded a double-double of 20 points and 10 rebounds to lead visiting Clearfield to a 49-42 Mountain League win over Philipsburg-Osceola.
Cade Walker added nine points for the Bison while Ryan Chew had four points, four assists, four steals and three rebounds.
Carson Jones led P-O with 13 points.
RIDGWAY 47, DUBOIS CENTRAL CATHOLIC 31
DUBOIS, Pa. – Visiting Ridgway got 16 points from Neil MacDonald on its way to a 47-31 AML victory over DuBois Central Catholic.
Johnny Mitchell added 10 points in the win for the Elkers.
Justin Miknis led DCC with 15 points.
ST. MARYS 64, PUNXSUTAWNEY 45
ST. MARYS, Pa. – Nathan Schneider exploded for 29 points to lift St. Mary to a 64-45 win over visiting Punxsutawney in D9 League action.
Jared Groll chipped in 16 points for the Dutch.
Brandon Matthews netted a team-best 28 points for Punxsutawney.
COUDERSPORT 80, CAMERON COUNTY 57
EMPORIUM, Pa. – In a battle for first place in the North Tier League between a pair of 8-1 overall and 6-0 league squads, visiting Coudersport was way too much for Cameron County picking up an 80-57 win.
Jared Green led four Falcons in double digits with a game-high 20 points. Owen Chambers chipped in 15 tallies, Derek Keglovits scored 14 and Hunter Ricke had 10.
Marcus Brown, Adam Shaffer and Ty Bauer each scored 14 points for Cameron County.
Eight of Keglovits' points and seven of Green's game in a 28-point first quarter for Coudersport, which led 28-19 after one and 45-31 at halftime.
SMETHPORT 37, OSWAYO VALLEY 34
SHINGLEHOUSE, Pa. – Visiting Smethport outscored Oswayo Valley by nine points in the second half to overcome a six-point halftime deficit and pick up a 37-34 North Tier League victory.
The Hubbers trailed 14-8 at the break but tied the game at 20 after three quarters before outscoring the Green Wave 17-14 in the fourth quarter behind seven points from Caleb Lutz, who finished with 12.
Ian Woodruff chipped in seven points for Smethport.
Theo Henry led Oswayo Valley with 12 points with Gavin Babcock adding 10.
Babcock had a guarded look to tie the game at the end but was off the mark.
AUSTIN 75, NORTHERN POTTER 45
ULYSSES, Pa. – Getting 49 points from the trio of Jackson Glover, Mason Valenti and Dempsey Glover, visiting Austin rolled to a 75-45 win over Northern Potter in North Tier League action.
Jackson Glover led the Panthers with 17 points with Valenti and Dempsey Glover each scoring 16.
Tristan Bryon had 18 points to lead Northern Potter.
OTTO-ELDRED 49, PORT ALLEGANY 28
PORT ALLEGANY, Pa. – Behind 23 points from Sawyer Drummond visiting Otto-Eldred cruised to a 49-28 North Tier League win over Port Allegany.
Andrew Sheeler added seven points for the Terrors.
David Talkington led Port Allegany with 10 points.