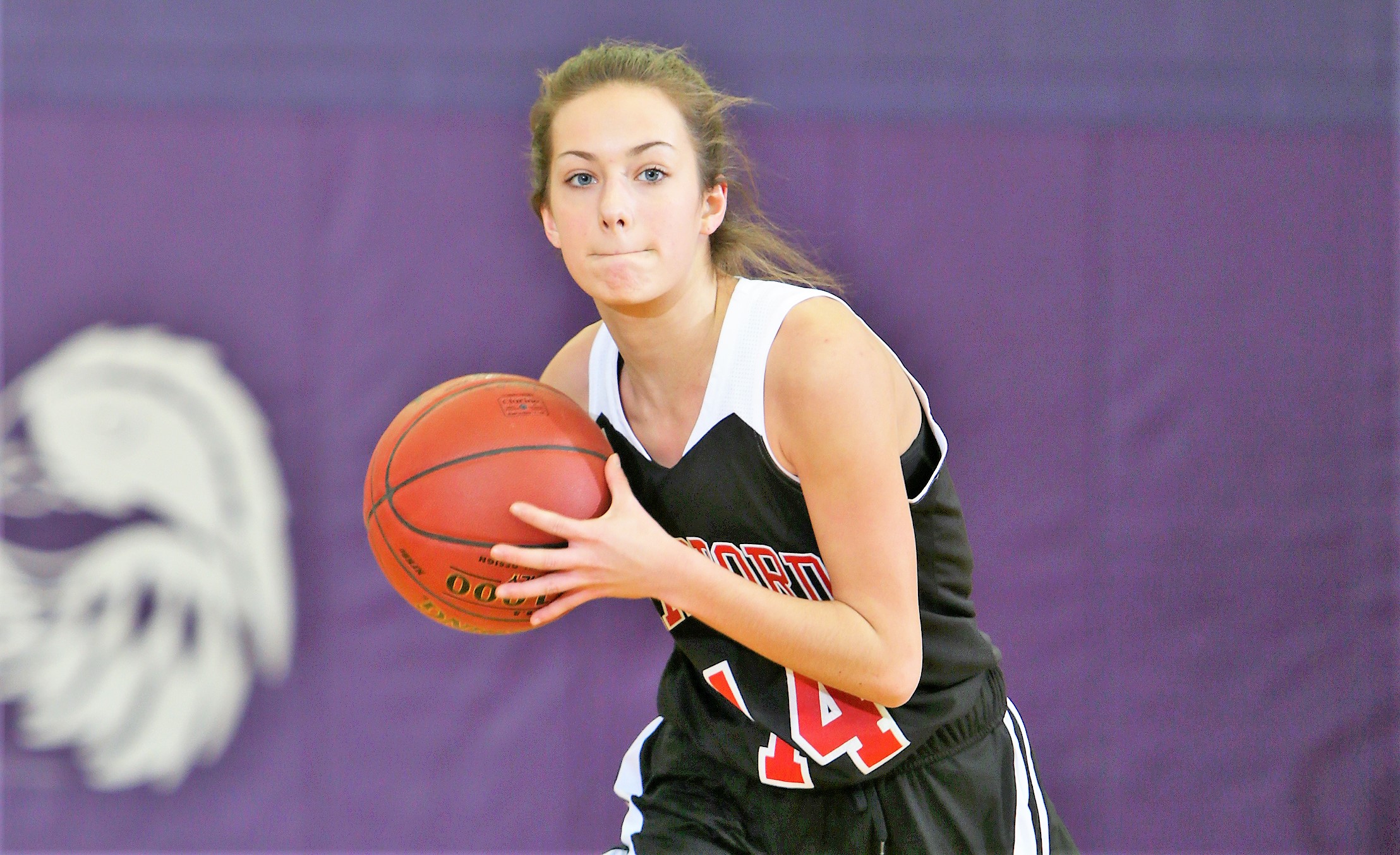 Jan. 16, girls' and boys' basketball recaps.
(Photo of Bradford's Erica Marshall who helped the Lady Owls to an overtime win at DuBois Wednesday. Photo by Paul Burdick. Check out more of Burdick's work here)
GIRLS
BRADFORD 42, DUBOIS 37, OVERTIME
DUBOIS, Pa. – Erica Marshall scored four of Bradford's five overtime points to help the Lady Owls to a 42-37 D9 League road win over DuBois.
The game was tied at 37 at the end of regulation after DuBois rallied from a 31-24 deficit after three, but the visitors shut out the Lady Beavers in overtime to gain the win.
Marshall and Hannah Lary each scored 15 points for Bradford, which trailed by a point, 16-15, at halftime before outscoring DuBois, 16-8, in the third quarter to take the seven-point lead.
Chelsea DeSalve and Sarah Henninger led the DuBois' fourth-quarter comeback with four points each in the frame.
Maddie Smith led the Lady Beavers with 10 tallies with Olivia Johnson adding eight.
CAMERON COUNTY 38, PORT ALLEGANY 25
EMPORIUM, Pa. – A big game from Hailey Hilfiger helped Cameron County to a 38-25 home NTL win over Port Allegany.
Hilfiger scored eight points, grabbed 16 rebounds and blocked three shots. Kamme Guisto had a game-high 10 points for the Lady Raiders while handing out four assists, Alyvia McKimm chipped in nine points and Kaelee Bresslin added seven tallies.
Cailey Barnett led Port Allegany with eight points and six rebounds. Bree Garzel chipped in six points and four rebounds and Jenna Sprankle had four steals and a point.
PUNXSUTAWNEY 46, ST. MARYS 28
ST. MARYS, Pa. – In a matchup of perhaps the top two teams in the D9 League, visiting Punxsutawney rode a hot start to a 45-28 win over St. Marys.
The Lady Chucks grabbed an 18-5 lead after a quarter and extended the advantage to 31-15 by halftime.
Sarah Weaver led Punxsutawney with 10 points with Kate Horner and Abby Gigliotti each adding nine tallies and Riley Presloid eight. Gigliotti also added six rebounds to help the Lady Chucks stay unbeaten.
Allison Schlimm paced St. Marys with 11 points with Britney Shaw adding eight.
OTTO-ELDRED 56, AUSTIN 13
DUKE CENTER, Pa. – Jadelyn Spinney recorded 18 points, six rebounds and five steals to help Otto-Eldred to a home NTL victory over Austin, 56-13.
Kayley Heller added eight points and nine rebounds for the Lady Terrors with Hayley Cousins chipping in eight points and Emmalee Sheeler two points, four assists, three rebounds and two steals.
Taylor Brewer had 10 of Austin's points.
COUDERSPORT 58, NORTHERN POTTER 24
COUDERSPORT, Pa. – Sarah Chambers scored a game-high 35 points to lead Coudersport past visiting Northern Potter, 58-24, in NTL play.
Chambers scored 28 points after halftime to help the Lady Falcons build on a 19-10 lead at the break.
Abbi Anderson led Northern Potter with 10 points while Courtney Martin added nine.
JOHNSONBURG 48, BROCKWAY 22
JOHNSONBURG, Pa. – Lindsay Kocjancic was one of four Johnsonburg players in double digits with a game-high 13 points to help the Ramettes top visiting Brockway, 48-22, in AML action.
Cassidy King added 12 points for the victors with Rylee Casilio and Maria Jones each scoring 10 points.
Danielle Wood paced Brockway with nine points with Selena Buttery adding seven points.
BELLEFONTE 54, CLEARFIELD 48
HYDE, Pa. – A 20-point effort from Maddie Tice led visiting Bellefonte to a 54-48 win over Clearfield in Mountain League action.
Sara Detlaas added nine points for the Lady Raiders with May Smith chipping in seven.
Alayna Ryan had a game-high 22 points for Clearfield with Emma Hipps adding 11 and Megan Durandetta eight.
GALETON 47, SMETHPORT 15
SMETHPORT, Pa. – Katelyn Pagano scored 11 points and came away with six steals to lead visiting Galeton to a 47-15 win over Smethport in NTL action.
Haylee Ludington and Brielle Kalacinski each scored 10 points for the Lady Tigers with Cara Parsell adding an overall strong game with six points, 10 steals, seven rebounds and five assists.
Mykayla Deyarmin had five points to lead Smethport.
YOUNGSVILLE 38, SHEFFIELD 19
SHEFFIELD, Pa. – Sadie Hoffman and Erin Dunn combined for 26 points to pace a 38-19 win for visiting Youngsville over Sheffield.
Hoffman led the Lady Eagles with 15 points with Dunn adding 11.
Allison Schmader, Emily Leichtenberger and Annabel Sheldon each scored five points for Sheffield.
GLENDALE 53, CURWENSVILLE 40
FLINTON, Pa. – Olivia Reese netted 17 points to lead Glendale past visiting Curwensville, 53-40, in Mo Valley League action.
Kyla Campbell added 12 points for the Lady Vikings with Sydney Lumadue chipping in 10 tallies.
Madi Weber led Curwensville with 19 points with Briana Swindell adding 13.
BOYS
BRADFORD 60, DUBOIS 56, OVERTIME
BRADFORD, Pa. – Gavin Babcock scored four of his 16 points in the final 12 seconds of overtime to help Bradford knock off visiting DuBois, 60-56, in D9 League action.
Babcock's layup with 12 seconds to play in overtime broke a 56-all tie and it came on the back end of a strong defensive play by Bradford.
With 17 seconds left and the score all tied up, Danny Mannion tipped a ball that Steve Knowlton corralled. Knowlton then fed Babcock for the go-ahead basket.
Donny Pattison then sealed the win when he took a charge on Alex Beers with 2.5 seconds left. Babcock was fouled on the inbounds and made both charity shots to set the final score.
The Owls led by seven, 26-19, at halftime, but trailed by four, 43-39, going to the fourth quarter before rallying to win.
Babcock and Caleb Nuzzo both scored four points in the fourth quarter to help knot the game at 50 after regulation.
Tyler Gigliotti paced Bradford with 17 points with Owen Kane adding nine. Pattison collected a team-high 10 rebounds with Babcock adding seven boards. Gigliotti also had four assists and three steals.
Justin Manduley scored seven of his team-high 14 points in the third quarter to help DuBois get back in the game after the slow first half. Chase Husted added six of his 10 points in the third quarter.
Also for the Beavers, Beers and Jonathan Cruz each tallied 13 points.
BROOKVILLE 71, SHEFFIELD 39
BROOKVILLE, Pa. – Behind 16 points from David Cable, Brookville topped visiting Sheffield, 71-39.
Robert Keth added 12 points for the Raiders with Jace Miner adding 11 and Trenton Gilhousen 10.
Tyler Hepinger had 11 points for Sheffield.
WEST BRANCH 56, CURWENSVILLE 40
MORRISDALE, Pa. – David Guerra and Larry Cowder combined for 31 points to lead West Branch past visiting Curwensville, 56-40, in Mo Valley League action.
Guerra led the Warriors with 18 points with Cowder chipping in 13.
Ty Terry tied for game-high honors with 18 points for Curwensville with Christian Bakaysa adding 12 points for the Golden Tide.