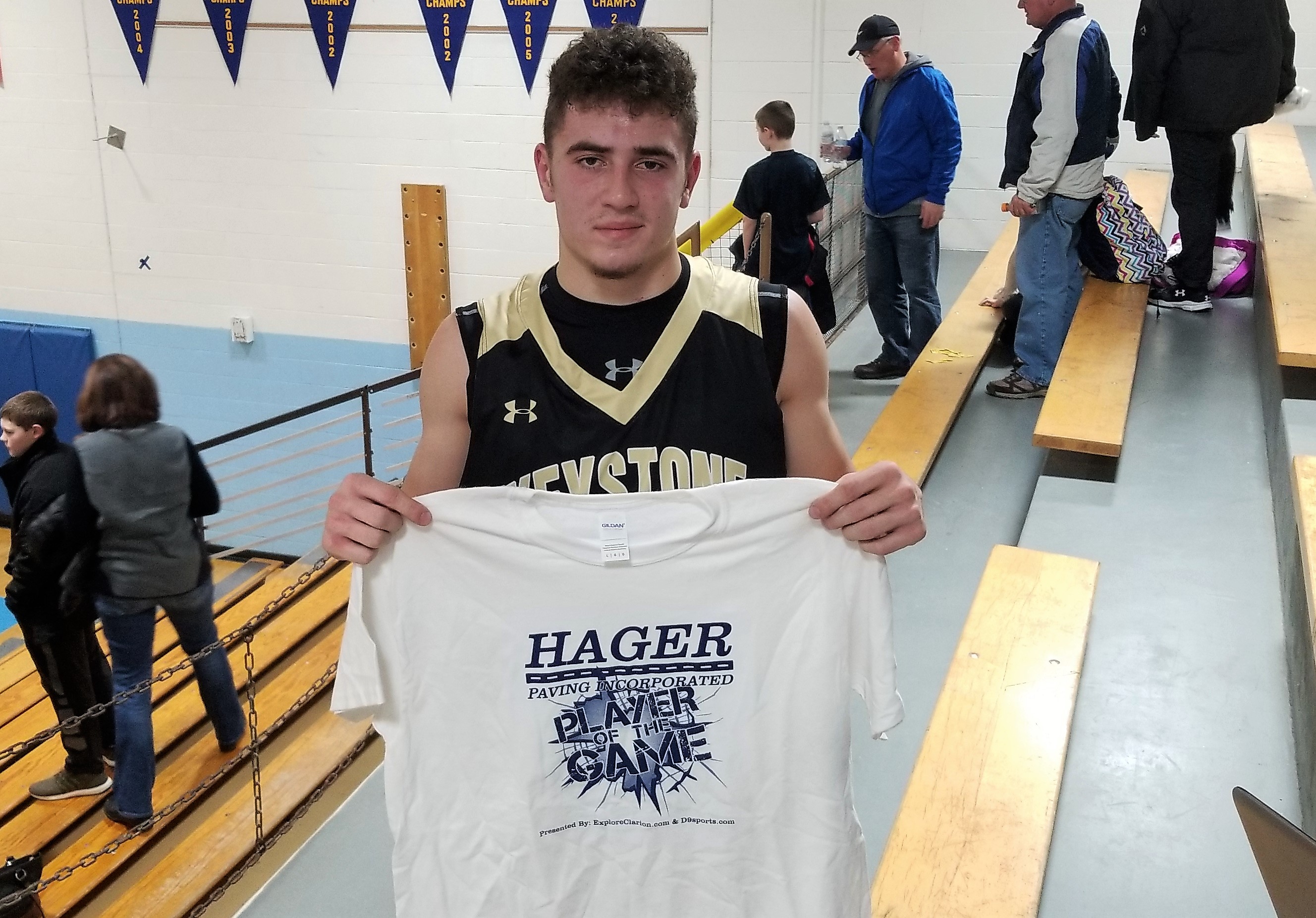 Jan. 17 recaps.
(Photo: Corey Rapp of Keystone)
KEYSTONE 62, CLARION-LIMESTONE 52
STRATTANVILLE, Pa. – In a battle of a pair of Allegheny Grille of Foxburg Top 5 rated teams, No. 5 Keystone got 21 points and nine rebounds from Corey Rapp to down No. 2 Clarion-Limestone, 62-52, at C-L.
The Panthers used a 23-5 run to close out the first half with a 41-25 lead and then held off a Lions comeback that saw C-L, which has lost two straight, get within five, 48-43, going to the fourth quarter and still be within five, 53-48, with 5 ½ minutes left but get no closer.
Rapp, who scored his 21 points in the first three quarters including Keystone's final 11 of the second quarter, talked about the victory after being named the Hager Paving Player of the Game.
Nate Wingard also reached double digits for Keystone with 11 points while adding six rebounds, and Isaak Jones chipped in nine points.
Ian Callen, who was in foul trouble most of the game and fouled out with just under three minutes left, paced C-L with 17 points, four rebounds, four steals and an assist. Christian Smith added 10 points, five rebounds, two steals and an assist for the Lions with Julian Laugand chipping in nine points, five rebounds, four steals and a helper.
A-C VALLEY 73, CRANBERRY 67, OVERTIME
SENECA, Pa. – Eddie Stevanus scored four of his career-high 22 points in overtime to help visiting A-C Valley to a 73-67 win over Cranberry.
Stevanus completed a double-double with 11 rebounds.
A-C Valley led 37-31 at halftime and 48-45 going to the fourth quarter before Cranberry rallied to tie the game at 63 at the end of regulation with Dan McQuaide scoring 11 of his game-high 23 points in the fourth quarter.
But in overtime, A-C Valley hit a pair of two-point shots and went 6 of 10 from the line to close out the win.
Russ Carr chipped in 17 points, 14 in the first half, five rebounds and four helpers for A-C Valley with Jeff Ginn also getting a double-double with 10 points and 15 rebounds.
Matt McQuaide joined his older brother in leading Cranberry scoring 20 points, including all four of the Berries points in overtime. J.T. Stahlman added 11 points.
BRADFORD 65, DUBOIS 34
DUBOIS, Pa. – Led by 16 points from Tyler Gigliotti, Bradford had four players reach double figures as the Owls rolled to a 65-34 road D9 League win over DuBois.
Deondre Terwilliger added 14 points for Bradford with Alec Kuzmeskas and Donny Pattison each contributing 10 tallies. Pattison and Terwilliger also had four rebounds apiece with Terwilliger handing out four assists and coming away with two steals. Dan Manion had an all-around solid game with two points, six rebounds, three assists and two steals
Chase Husted paced DuBois with 12 points.
VENANGO CATHOLIC 68, UNION 57
OIL CITY, Pa. – Behind a career-high 30 points from Josh Puleo Venango Catholic downed visiting Union, 68-57.
Ben Gillispie and Andrew Burda each added 14 points for the Vikings, who outscored Union by 11 in the second half after the game was tied at 29 at halftime, with Parker Slagle chipping in eight points.
Lucas Bowser led Union with 27 points and 11 rebounds.
KARNS CITY 78, FOREST AREA 56
MARIENVILLE, Pa. – Karns City overcame a slow start to pick up a 78-56 road win over Forest Area at East Forest.
The Gremlins trailed 16-13 at the end of a quarter but grabbed a 34-23 halftime lead and pulled away from there.
Jacob Friel had a double-double for Karns City with 12 points and 10 rebounds, while Chase Beighley continued his outstanding freshman season with 17 points and six assists. Nolan Riley also reached double digits with 11 points, and Logan Pistorius chipped in nine tallies.
Seth Berlin led Forest Area with 19 points, 16 rebounds and three blocked shots. Dillion DiCorpo added 15 points and three assists and Franklin Meals had 12 points and three blocked shots.
NORTH CLARION 62, MONITEAU 17
FRILLS CORNERS, Pa. – North Clarion scored as many points in the first quarter as Moniteau scored in the game in rolling to a 62-17 win over the visiting Warriors.
Ten different Wolves scored led by 16 points from Kyle Mills, and North Clarion led 17-2 at the end of a quarter and 40-8 at halftime.
Logan Minich chipped in with nine points for North Clarion with Nathan Banner and Keeven Weaver each adding eight. Weaver also had five assists.
Ross Tenney paced Moniteau with nine points.
CLARION 74, REDBANK VALLEY 36
CLARION, Pa. – Cam Craig and Austin Hummell combined for 50 points to lead Clarion to a 74-36 win over visiting Redbank Valley.
Craig led the Bobcats with a game-high 27 points while hitting four 3-pointers with Hummell chipping in with 23 points.
Calvin German chipped in nine points for Clarion.
Logan Wadding led Redbank Valley with eight points with Keaton Kahle adding seven.
JOHNSONBURG 59, KANE 29
KANE, Pa. – Visiting Johnsonburg got 12 points from Trevor Lobaugh and 10 from Ben Freeburg in rolling to a 59-29 AML win over Kane.
In all, 10 different Rams scored with Kacey Raubenstrauch adding eight points and Austin Green seven.
Al Rezzelle led Kane with nine points with Chad Greville adding eight.