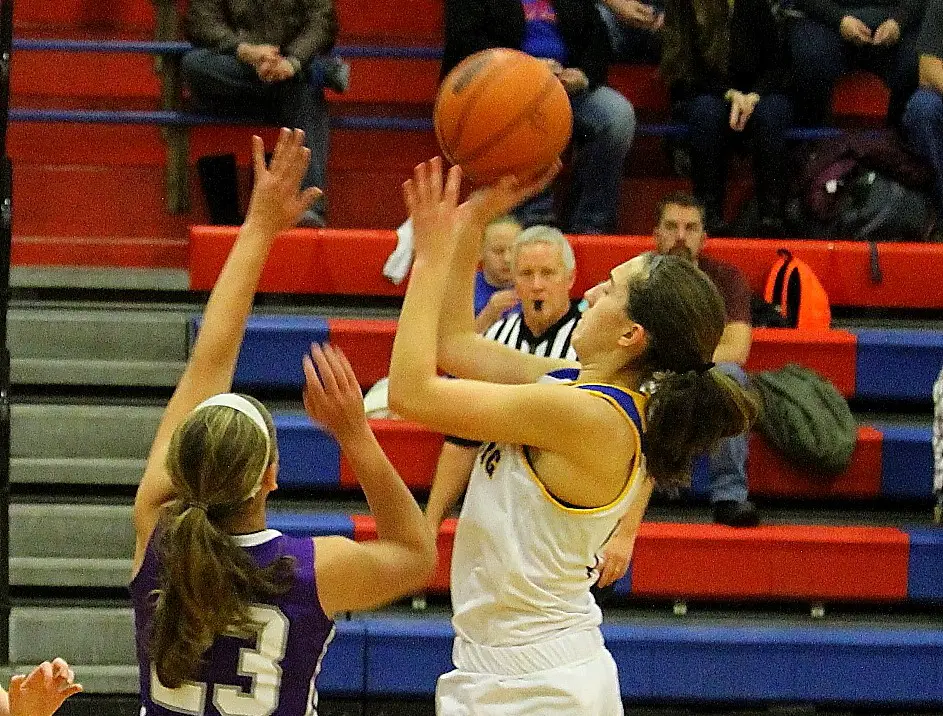 Jan. 17 recaps.
(Photo of Johnsonburg's Cassidy King. Photo by Rich Quiggle)
JOHNSONBURG 44, BROCKWAY 42
BROCKWAY, Pa. – Rylee Casilio came away with a steal with 11 seconds left and fed Cassidy King for the game-winning basket with nine seconds to play, as visiting Johnsonburg beat Brockway, 44-42, in AML action.
Brockway led early, 10-3 after a quarter, but Johnsonburg took a 20-18 halftime lead behind eight second-quarter points from Maria Jones and then extended the lead to five, 35-30, after three quarters with King scoring six third-quarter points.
Brockway, however, rallied in the fourth behind six points from Kaitlyn Morelli to tie the game at 42 and then had the ball and a chance to win before Casilio's defensive heroics led to King's winning basket.
King led Johnsonburg with 17 points with Jones adding 12.
Morelli and Leah Lindemuth both had double-doubles for Brockway with Morelli finishing with 18 points and 10 steals and Lindemuth with 16 points and 17 rebounds.
PUNXSUTAWNEY 47, ST. MARYS 35
PUNXSUTAWNEY, Pa. – Overcoming a slow start, Punxsutawney got a 47-35 D9 League win over visiting St. Marys.
The Lady Chucks trailed 13-6 after a quarter but outscored St. Marys 32-13 over the middle two frames to take the lead.
Leah Miller scored seven of her game-best 13 points in the second quarter to help Punxsutawney tie the game at 21 at halftime. Miller finished a double-double with 10 rebounds and added five blocked shots and three steals.
Kate Horner and Riley Presloid then took over in the third quarter combing to score 13 of the Lady Chucks 17 points in the quarter as they took a 38-26 lead going to the fourth.
Horner, who finished with 11 points, six assists and four steals, had seven third-quarter tallies, while Presolid, who finished with nine points, six rebounds and three swipes, had six points in the quarter.
Elyse White also had a solid game for Punxsutawney with nine points, three blocked shots, two rebounds and two assists.
Lauren Eckert paced St. Marys with nine points with Megan Quesenberry and Samantha Hayes each adding eight points.
DUBOIS 50, BRADFORD 31
BRADFORD, Pa. – Chelsea DeSalve netted a game-high 16 points to help visiting DuBois to a 50-31 D9 League victory over Bradford.
Ashley Hallowell, still feeling the effects of an illness, had a double-double nevertheless with 11 points and 13 rebounds and Sarah Snyder added 11 points for the Lady Beavers as well.
Kate Huber paced Bradford with 11 points with Hannah Lary adding seven.
CLEARFIELD 65, PHILIPSBURG-OSCEOLA 58
HYDE, Pa. – Alayna Ryan, Megan Durandetta and Nicollette Brossard all scored at least 16 points to lift Clearfield to a 65-58 win over visiting Philipsburg-Osceola in Mountain League action.
Ryan led the Lady Bison with 19 points, Brossard added 18 points and Durandetta had 16 points while hitting four 3-pointers. Brooke Cline also reached double figures for Clearfield with 10 points.
Halle Herrington had a game-high 26 points for Philipsburg-Osceola while Lacey Potter added 19 points.
GLENDALE 52, CURWENSVILLE 37
FLINTON, Pa. – Olivia Reese scored 17 points to lead Glendale to a 52-39 Moshannon Valley League win over visiting Curwensville.
Makenzie Lukehart added 14 points for Glendale.
Madi Weber had 14 points for Curwensville with Tarah Jacobson adding 12 points.
COUDERSPORT 76, OSWAYO VALLEY 21
SHINGLEHOUSE, Pa. – Haley Keck, Sarah Chambers and Shaelyn Black combined for 46 points, as visiting Coudersport rolled to a 76-21 North Tier League win over Oswayo Valley.
Keck led the Lady Falcons with a game-high 17 points, Chambers added 15 points and Black 14 points. EmmaRae Easton added eight points for Coudersport with Adrian Page chipping in with seven.
Shayla Bickel led Oswayo Valley with 14 points.
GALETON 61, AUSTIN 30
GALETON, Pa. – Makaya Shadle netted 18 points to lead Galeton to a 61-30 home North Tier League win over Austin.
Katelyn Pagano added 11 points for the Lady Tigers with Cara Parsell adding nine points.
Julia Latimore and Jordan Brewer each scored 12 points for Austin.
PORT ALLEGANY 47, SMETHPORT 40
PORT ALLEGANY, Pa. – Port Allegany used a balanced effort to knock off visiting Smethport, 47-40, in North Tier League action.
Bree Garzel led the Lady Gators with 12 points, Erin Stauffer and Cailey Barnett each added 11 points.
Abbey Woodard led Smethport with 21 points with Hailey Wright chipping in 11 tallies.
OTTO-ELDRED 47, NORTHERN POTTER 44
ULYSSES, Pa. – Camryn Thomas scored seven of her game-high 20 points in the fourth quarter to lead Otto-Eldred to a 47-44 win at Northern Potter in a key mid-season North Tier League game.
Thomas, who added 11 rebounds, had to help the Lady Terrors back from a 34-32 deficit going to the fourth quarter.
Otto-Eldred led 24-21 at halftime but was outscored 13-8 in the third quarter.
Ali Cousins added 11 points for Otto-Eldred with Jadelynn Spinney chipping in with nine.
Kalie Cowburn had 18 points and 10 rebounds for Northern Potter with Becca Morgan adding 13 points and six assists with Mikayla Lewis chipping in nine points.
REDBANK VALLEY 57, CLARION 40
CLARION, Pa. – Lexi Holt exploded for 25 points to lead visiting Redbank Valley to a 57-40 win over Clarion.
Tara Hinderliter and Kelsie Elmer each added 11 points for the Lady Bulldogs.
Wendy Beveridge had 18 points and nine rebounds for Clarion with Kait Constantino adding 16 points.
NORTH CLARION 54, MONITEAU 38
WEST SUNBURY, Pa. – Behind 26 points and 22 rebounds from Tori Obenrader visiting North Clarion stayed unbeaten with a 54-38 win over Moniteau.
Gabby Carll added 10 points for the She-Wolves with Haley Sherman chipping in with eight.
Emma Bair paced Moniteau with 12 points with Izzy Bair adding six points and eight rebounds.
KARNS CITY 52, FOREST AREA 27
KARNS CITY, Pa. – Thanks to 24 points and 12 rebounds from Emily Hegedus Karns City rolled past visiting Forest Area, 52-27.
Livia Andreassi also had a double-double for the Lady Gremlins with 12 points and 10 rebounds with Alyssa Stitt adding 11 points.
Lorraine Pederson's six points led Forest Area.