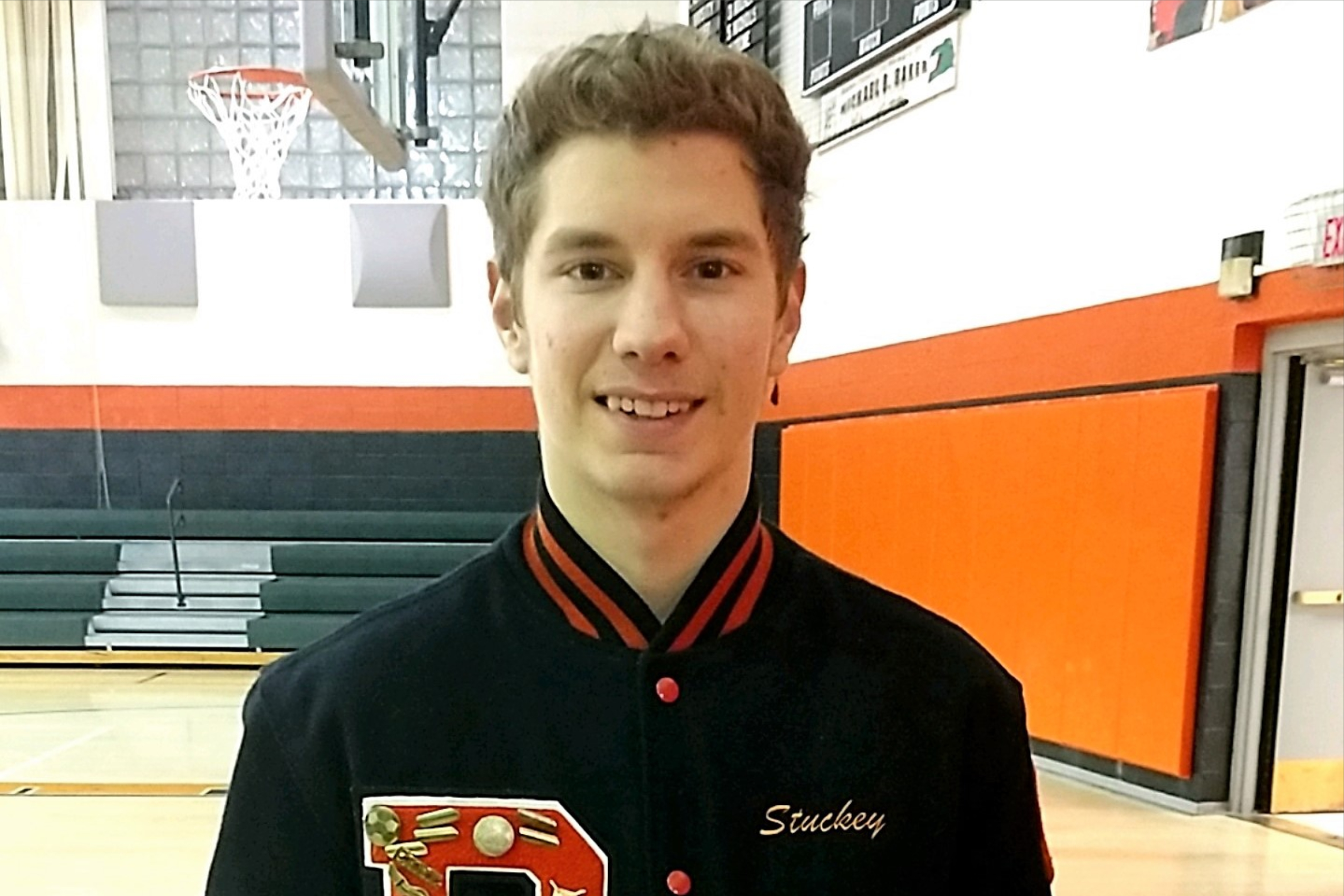 Jan. 17, 2019 boys' and girls' recaps.
(Photo: Howie Stuckey scored his 1,000th career point for Port Allegany)
BOYS
CAMERON COUNTY 74, PORT ALLEGANY 58
POR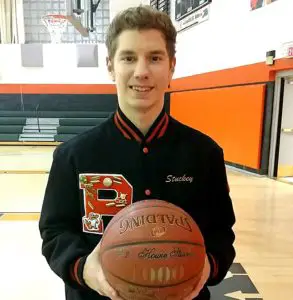 T ALLEGANY, Pa. – Howie Stuckey scored his 1,000th career point in a 74-58 loss to visiting Cameron County in NTL play.
Stuckey, who also hit his 200th career 3-pointer in the contest, scored a game-high 27 points for the Gators while nailing three 3-pointers. Stuckey needed 26 points entering the game to become the first Port Allegany player since Jordan Seefeld in 2016 to reach 1,000 career points an achieved the mark on a fourth-quarter 3-pointer.
Jake Walters had a monster game for Cameron County in the win with 21 points and 20 rebounds. Marcus Brown added 18 points and 10 rebounds, Dine Brown 15 points, Caden Beldin 11 points and Matt Swartz eight points for the Red Raiders.
Also for Port Allegany Jordan Card scored 12 points and Domenic Guerrero added seven.
AUSTIN 64, OTTO-ELDRED 49
AUSTIN, Pa. – Behind 27 points and eight rebounds from Dempsey Glover, Austin picked up a 64-49 home NTL victory over Otto-Eldred.
Blake Burgett added 12 points for the Panthers with Jackson Glover chipping in eight points and 11 assists and Garret Rees collecting 10 rebounds to go with eight points.
Andrew Sheeler and Cameron Grigsby each scored 14 points for Otto-Eldred with Gavin Jimerson chipping in with 10 tallies for the Terrors.
COUDERSPORT 91, NORTHERN POTTER 31
ULYSSES, Pa. – Another big three quarters from Owen Chambers helped visiting Coudersport roll to a 91-31 win over Northern Potter in NTL action.
Chambers drained 10 3-pointers on his way to a game-high 39 points despite not playing in the fourth quarter because of the score.
Hayden Keck added 22 points in the win for the Falcons.
Carter Anderson led Northern Potter with eight points.
BROOKVILLE 42, JOHNSONBURG 34
JOHNSONBURG, Pa. – Jace Miner scored eight of his team-high 10 points in the second half to lead a balanced Brookville effort in a 42-34 road win for the Raiders at Johnsonburg.
Playing again without leading scorer Aaron Park due to a knee injury, Brookville also got nine points each from Jack Krug and Logan Byerly and seven from Bryce Baughman.
Austin Green's 13 points led Johnsonburg.
SMETHPORT 55, GALETON 41
GALETON, Pa. – Caleb Lutz knocked down 20 points to lead Smethport to a 55-41 win at Galeton in NTL play.
Conner Alfieri added 13 points for the Hubbers with Eric Szarowicz adding nine.
Joel Griffen paced Galeton with 15 points.
WEST BRANCH 49, ST. MARYS 38
MORRISDALE, Pa. – Larry Cowder scored 15 points to lead West Branch to a 49-38 win over visiting St. Marys.
David Guerra added 12 points for the Warriors.
Mitchell Reiter paced St. Marys with 13 points with Nick Catalone adding eight tallies and Anthony Cortina seven.
GIRLS
ELK COUNTY CATHOLIC 41, RIDGWAY 25
ST. MARYS, Pa. – Eighteen points and 17 rebounds from Taylor Newton gave Elk County Catholic a 41-25 home AML victory over Ridgway.
Sady VanAlstine chipped in 12 points on four 3-pointers for the Lady Crusaders.
Casey Woodford paced Ridgway with seven points and six rebounds. Christina Fullem added five points, seven rebounds and three blocked shots and Gabby Rohr had six points and three boards.
KANE 75, OTTO-ELDRED 52
KANE, Pa. – Another big night from Ella Marconi helped Kane topple visiting Otto-Eldred, 75-52.
Marconi had a game-high 28 points to go with 16 rebounds.
Also for the Lady Wolves, Hannah Buhl scored 17 points while hitting three 3-pointers and adding eight assists and four steals, while Emily Bucheit chipped in 14 points while also hitting three triples and adding seven rebounds and three steals.
Haylee Frederick led Otto-Eldred with 14 points with Britney Greeley adding 13 tallies. Autumn Smith chipped in four points, five rebounds, three assists and a steal.