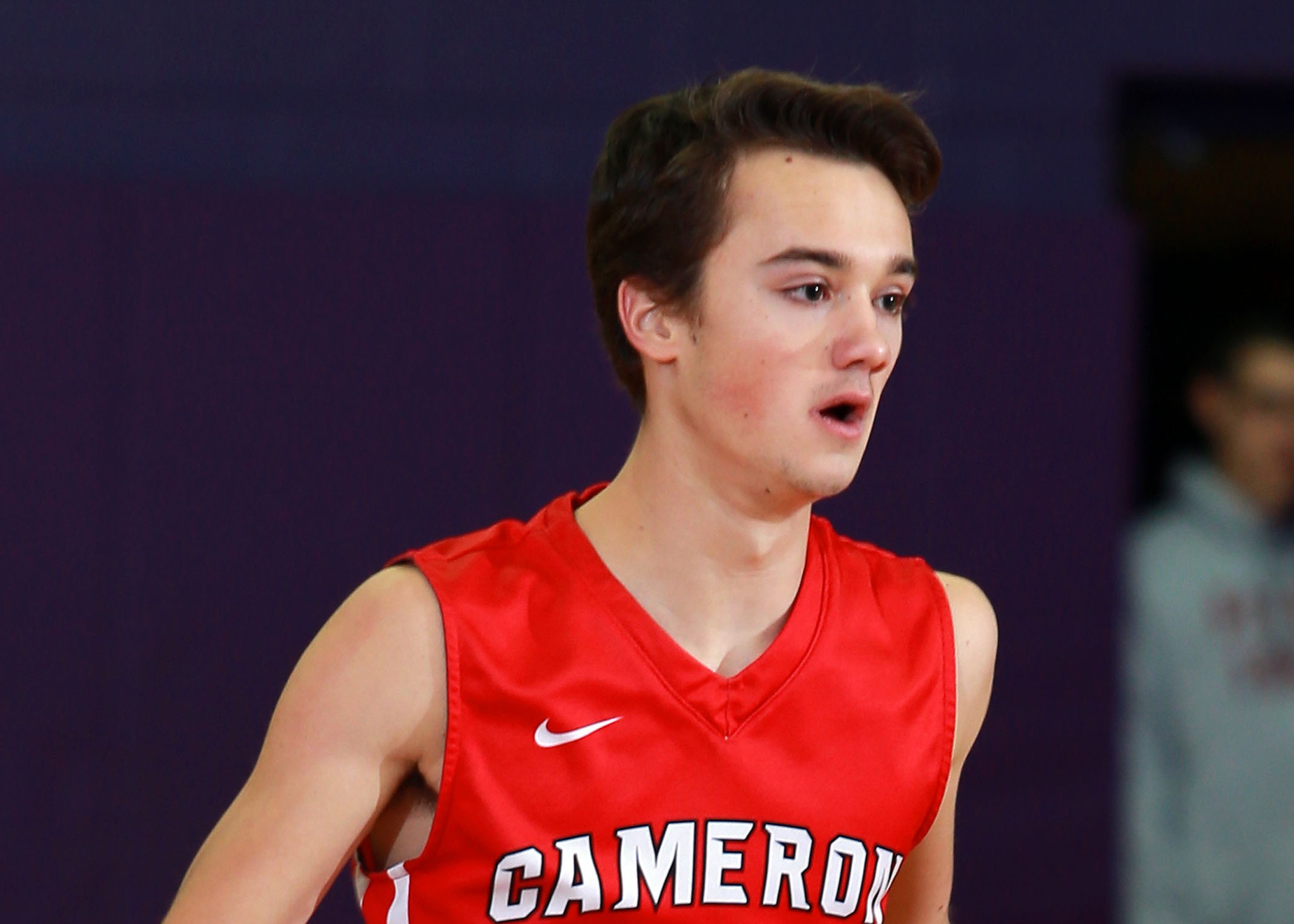 CAMERON COUNTY 44, JOHNSONBURG 28
EMPORIUM, Pa. – Trae Smith scored 18 points to lead Cameron County to a 44-28 non-conference win over visiting Johnsonburg.
Smith hit 11 of 14 free-throw on his way to the game-high points.
Vinny Olivett and Derek Rieder each added eight points for the Red Raiders.
Ryan Kilhoffer paced Johnsonburg with eight points with Kevin Benson adding seven.  
OSWAYO VALLEY 72, AUSTIN 41
SHINGLEHOUSE, Pa. – Five Oswayo Valley players scored in double figures to lead the Green Wave to a 72-41 North Tier League win over visiting Austin.
Theo Henry scored 14 points to lead the way for Oswayo with Brandon Brabham, Ricardo Gross and Ty Sturdevent each adding 13 points and Dylan Buchholz 10 points.
Anderson Nicka led Austin with 11 points. Blake Burgett added 10 and Brian Shupe nine for the Panthers.
ELK COUNTY CATHOLIC 57, KANE 37
ST. MARYS, Pa. – Three Elk County Catholic players reached double digits led by 15 points from Nate DaCanal, as the Crusaders downed visiting Kane, 57-37, in AML action.
Gabe Kraus added 12 points and Kyle Huff 10 for the Crusaders, who put the game away early taking a 31-13 halftime lead.  
Andrew Bucheit paced Kane with nine points. Frank Truden added eight and Shane Rolick seven.
CURWENSVILLE 84, GLENDALE 54
CURWENSVILLE, Pa. – RJ Olson recorded a double-double with 10 points and 12 rebounds, and Jake Terry scored a game-high 18 points to lead Curwensville to its first win of the season with an 84-54 victory over visiting Glendale in Moshannon Valley play.
Nick Stewart chipped in 15 points for the Golden Tide with Devan Barrett adding 13.
Dane Mencer paced Glendale with 15 points.
Curwensville led 48-27 at halftime.
COUDERSPORT 41, PORT ALLEGANY 28
PORT ALLEGANY, Pa. – Despite being held to 30 points below its season average, Coudersport stayed unbeaten with a 41-28 road win at Port Allegany in North Tier League action.
The 41 points were the fewest of the season for the Falcons and marked just the second time this year they were held under 60.
Owen Chambers led the way for the victors with a game-high 17 points, while Jared Green added 11 tallies.
Tre Garzel had 12 points and 14 rebounds to pace Port Allegany.  
SMETHPORT 51, NORTHERN POTTER 48
ULYSSES, Pa. – Caleb Lutz scored 15 points and Bryce Nelson 13 to lead visiting Smethport to a 51-48 win over Northern Potter in North Tier League play.
Tucker Kosa led all scorers with 27 points for Northern Potter with Frank Gardner adding 14 points.
OTTO-ELDRED 59, GALETON 35
DUKE CENTER, Pa. – Heath Stewart scored 16 points to go with six rebounds, six assists and four steals to lead Otto-Eldred to a 59-35 win over visiting Galeton in North Tier League action.
Dylan Close added 15 points for the Terrors, while Mitchell Smith led the Tigers with 14 points.
HOMER-CENTER 58, PUNXSUTAWNEY 55
PUNXSUTAWNEY, Pa. – Homer-Center rode the wave of a strong third quarter to a 58-55 road victory over Punxsutawney.
The Chucks led 28-22 at halftime but were outscored 23-11 in the third quarter.
Punxsy tried to rally in the fourth quarter, but a last-second 3-pointer from Brandon Matthews as time expired was no good.
Devin Kelly and Ethan Riley each had 13 points to lead Punxsutawney, while Dylan Huey added 12 points.
John Ireland paced all scorers with 17 for Homer-Center.  
CLEARFIELD 71, DUBOIS 42
CLEARFIELD, Pa. – Tommy Hazel and Will Myers led Clearfield to a convincing 71-42 over visiting DuBois.
Hazel scored 22 points and added five rebounds with Myers scoring 17 points to go with seven rebounds.
Bradyn Schwabenbauer scored 12 points to lead DuBois.
DUBOIS CENTRAL CATHOLIC 63, BROOKVILLE 56
BROOKVILLE, Pa. – Joey Varischetti scored 23 points and pulled down 12 rebounds helping DuBois Central Catholic hold off Brookville in a 63-56 non-league win.
The Cardinals started the game with a 17-3 lead before the Raiders managed to tie it at 19-19. Then DCC led by as many as 16 points in the second half before the Raiders got within four points late only to have their rally fall short.
DCC won despite 27 turnovers, outscoring the Raiders 35-11 in the first and
third quarters. Justin Miknis and Christian LaParne scored 19 and 15 points
respectively.
Jimmy Moore had his third straight game with 24 or more points, finishing with 25 points for Brookville. Ben Reitz and Kurt Schindler each scored 12 points. Schindler nearly had a triple-double with 10 steals and eight rebounds.