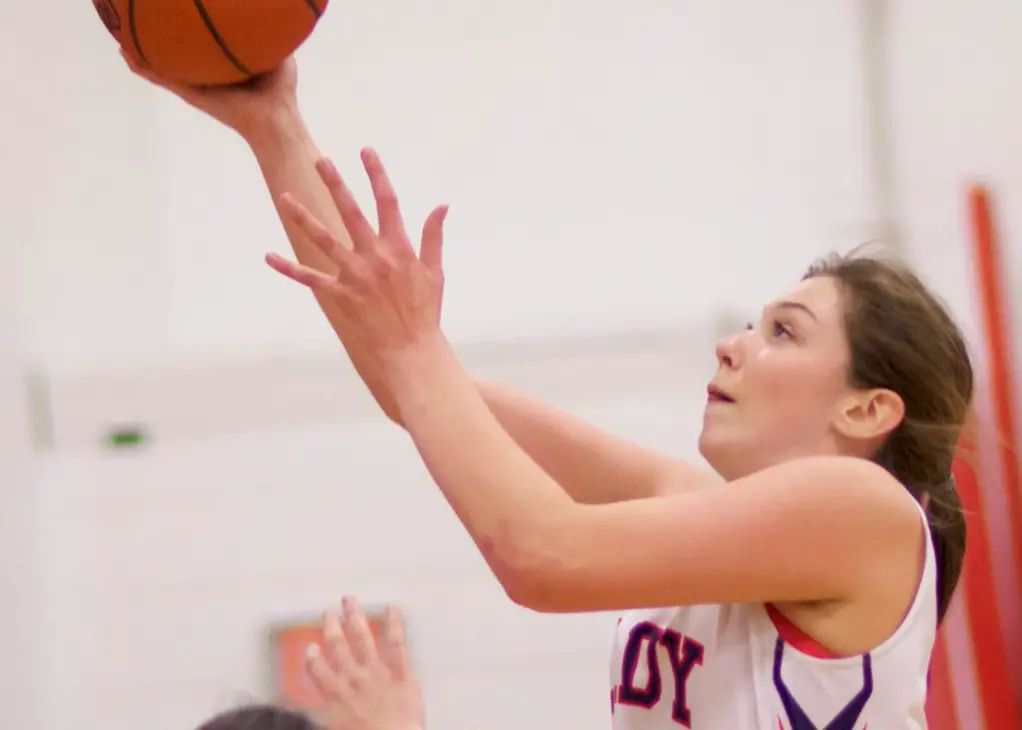 KANE 43, ELK COUNTY CATHOLIC 31
KANE, Pa. – Ella Marconi and Trinity Clark combined to score 21 points and grab 18 rebounds to lead Kane to a 43-31 win over visiting Elk County Catholic in AML action.
Marconi had 12 points, seven rebounds and five blocked shots, while Clark added nine points and 11 rebounds.
Sydney Dyne and Cameron Cummings each added six points and five assists for the Lady Wolves with Lindsey Hottel chipping in five points and five rebounds.
Kane raced out to an 11-2 lead at the end of the first quarter and never looked back.
Mackenzie Cashmer, Josie Smith and Reilly Herzing each scored nine points for ECC. Smith added seven rebounds, and Cashmer hit three 3-pointers.  
MONITEAU 53, REDBANK VALLEY 46
WEST SUNBURY, Pa. – Alazia Greaves and Kristina DeMatteis teamed up to pour in 39 points to lead Moniteau to a key 53-46 win over visiting Redbank Valley in KSAC South play.
Greaves netted a game-high 20 points with DeMatteis adding 19 points and six rebounds. Sara Hull chipped in six points in six boards for the Lady Warriors with Emma Bair scoring four points, all in the fourth quarter, helping Moniteau hold off a Redbank comeback attempt.
The Lady Warriors led 24-10 at halftime and still were up 13, 40-27, after three quarters before Redbank Valley made a run at them thanks to the play of Brooke Hinderliter, who had nine of her team-high 18 points in the fourth quarter and 16 points after halftime. Hinderliter was in first-half foul trouble with three. Becca Dougherty and Macy King each added 10 points for the Lady Bulldogs. Dougherty completed a double-double with 14 points.
KEYSTONE 45, BRADFORD 39
KNOX, Pa. – Josselin Geer scored 11 of her team-high 14 points in the fourth quarter to help Keystone rally past visiting Bradford, 45-39, in non-conference action.
The Lady Panthers trailed 31-25 going to the fourth quarter after being down 20-12 at halftime but outscored the Lady Owls 20-8 in the final eight minutes.
Josselin Geer added seven rebounds and four steals, while Taylor Geer had 13 points, 11 rebounds and four blocked shots for Keystone. Bri Wells led Bradford with a game-high 16 points to go with six rebounds. Brinya Moffett chipped in seven points for the Lady Owls.
FOREST HILLS 61, PUNXSUTAWNEY 36
SIDMAN, Pa. – Jill Scott poured in 22 points to lead homestanding Forest Hills to a 61-36 win over Punxsutawney.
Hope Bridge led the Lady Chucks with eight points with Kate Horner and Kylee Lingenfelter each scoring seven.
ST. MARYS 32, CLEARFIELD 30
ST. MARYS, Pa. – Trailing 21-15 at halftime, St. Marys outscored Clearfield 17-9 in the second to claim a 32-30 non-conference victory over the visiting Lady Bison. 
Rachel Bauer scored five of her team-high 13 points in the fourth quarter to help the Lady Dutch to an 11-8 advantage in the quarter after they got back in the game by outscoring Clearfield 6-1 in the third.
Rachelle Armanini added 10 points for St. Marys, while Rachel Glenney led all scorers with 15 for Clearfield. Emily Ryan chipped in eight tallies for the Lady Bison.
UNION 43, DUBOIS CENTRAL CATHOLIC 41
RIMERSBURG, Pa. – Overcoming a slow start, Union rolled off its seventh straight victory with a 43-41 downing of visiting DuBois Central Catholic.
The Golden Damsels trailed 10-2 at the end of the first quarter but were back within one, 22-21, at halftime before remaining down one, 34-33, going to the fourth quarter. In the final quarter, Union outscored the Lady Cardinals 10-7.
Kali Flick led Union with 11 points. Lexey Shick added 10 points, Frankee Remmick eight points and five rebounds and Shaley Shick seven points and seven boards.  
Riley Assalone led all scorers with 16 points for DCC with Stephanie Rossi adding seven.
KARNS CITY 61, BROOKVILLE 47
KARNS CITY, Pa. – Behind 18 points from Emily Hegedus, Karns City took care of visiting Brookville, 61-47, in non-conference play between two of the better District 9 Class AA teams.
LeeAnn Gibson added 14 points for the Lady Gremlins, who took a seven-point halftime lead, 30-23, and turned it into a 15-point advantage, 48-33, at the end of three quarters.
Alyssa Gibson and Mackenzie Craig each had six points during the third quarter for Karns City. Craig ended with 11 tallies, and Alyssa Gibson finished with 10 points.
Elaina Powell led Brookville with 18 points while hitting five 3-pointers while grabbing eight boards. Hali Olson chipped in 12 points and eight rebounds.