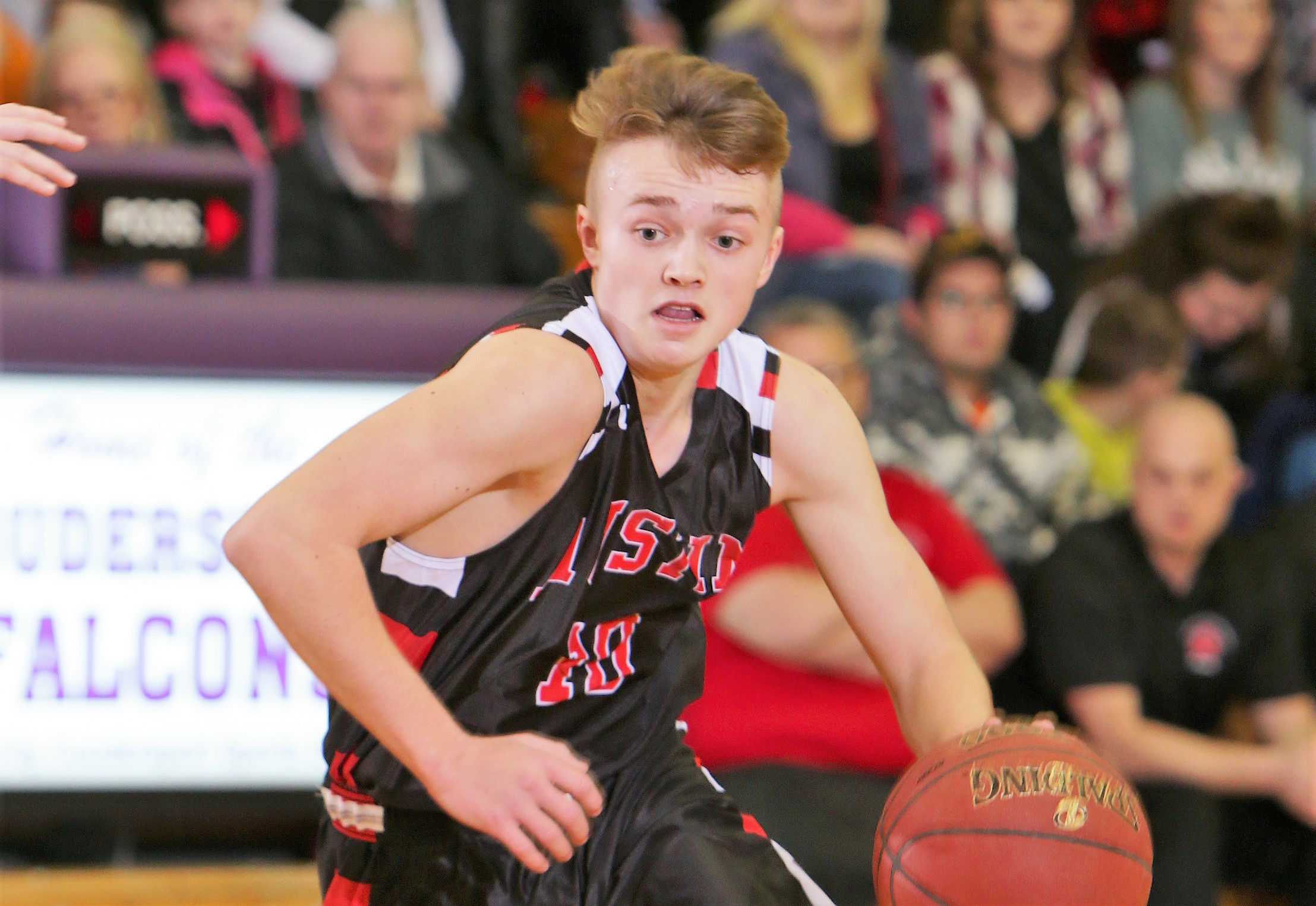 Jan. 18 recaps.
(Photo of Austin's Jackson Glover, who scored 15 of his team-best 17 points in the fourth quarter and two overtimes. Photo by Paul Burdick. Check out more of Burdick's work here)
AUSTIN, Pa. – Austin outscored visiting Galeton 8-7 in the second overtime to hold off the visiting Tigers, 68-67, in an epic North Tier League battle.
Galeton twice tied the game with late shots first knotting the contest at 51 at the end of regulation on a 3-pointer by Joel Griffen and then at 60 at the end of the first overtime on a 3-pointer by Isaiah Shuemaker. The Tigers nearly won the game in the last second of double overtime, but Noah Shutt missed as time expired.
The game was a back-and-forth affair throughout with Galeton leading 27-22 at halftime and 37-35 going into the fourth quarter.
But Jackson Glover got hot late for Austin hitting a pair of fourth-quarter 3-pointers while Dempsey Glover also scored six points in the quarter to help Austin take the 51-48 lead before Galeton tied the game on the Griffen shot.
Jackson Glover continued his hot play through the two overtimes scoring a combined nine points in the eight minutes of extra time to finish with 17 points, all after halftime and with 15 of them coming in the fourth quarter and the two overtimes.
Garrett Rees added 16 points for the Panthers with Dempsey Glover adding 13 and Mason Valenti and Blake Burgett 11 each. Dempsey Glover also had a team-high nine rebounds and three blocked shots with Burgett adding five boards, three steals and seven assists.
Evan Brooks had a game-high 28 points for Galeton, while Shuemaker adding 19, including 10 in the two overtimes when he hit a pair of 3-pointers. Griffen chipped in with 11, including seven in the fourth quarter.
OTTO-ELDRED 66, NORTHERN POTTER 31
DUKE CENTER, Pa. – Sawyer Drummond recorded his third consecutive double-double with 16 points and 12 rebounds to help Otto-Eldred to a 66-31 win over visiting Northern Potter in North Tier League action.
Dylan Close had a game-high 17 points to go with six assists for the Terrors, while Andrew Sheely chipped in 10 points and Cole Sebastian eight.
Carter Anderson led Northern Potter with 11 points with AJ Lehman and Tristan Byron each scoring seven.
SMETHPORT 59, PORT ALLEGANY 41
SMETHPORT, Pa. – Behind 20 Caleb Lutz points Smethport took care of visiting Port Allegany, 59-41, in North Tier League action.
Eric Szarowicz added 11 points for the Hubbers.
Howie Stuckey had a game-high 27 points for Port Allegany with David Talkington adding 11.
COUDERSPORT 88, OSWAYO VALLEY 50
COUDERSPORT, Pa. – Getting a game-high 29 points from Owen Chambers Coudersport rolled past visiting Oswayo Valley for an 88-50 North Tier League win.
Jared Green added 20 points for the Falcons, who remained unbeaten in league play. Hayden Keck chipped in 11 points in the victory with Hunter Ricke adding nine.
Gavin Babcock had 23 points to pace Oswayo Valley, and Theo Henry scored 12.
ELK COUNTY CATHOLIC 62, DUBOIS CENTRAL CATHOLIC 43
DUBOIS, Pa. – Ryan Newton exploded for 30 points to lift visiting Elk County Catholic to a 62-43 road AML win against DuBois Central Catholic.
Logan Hoffman added 11 points for the Crusaders with Alex Breindel chipping in seven.
Justin Miknis was the lone DCC player in double figures with 20 points.