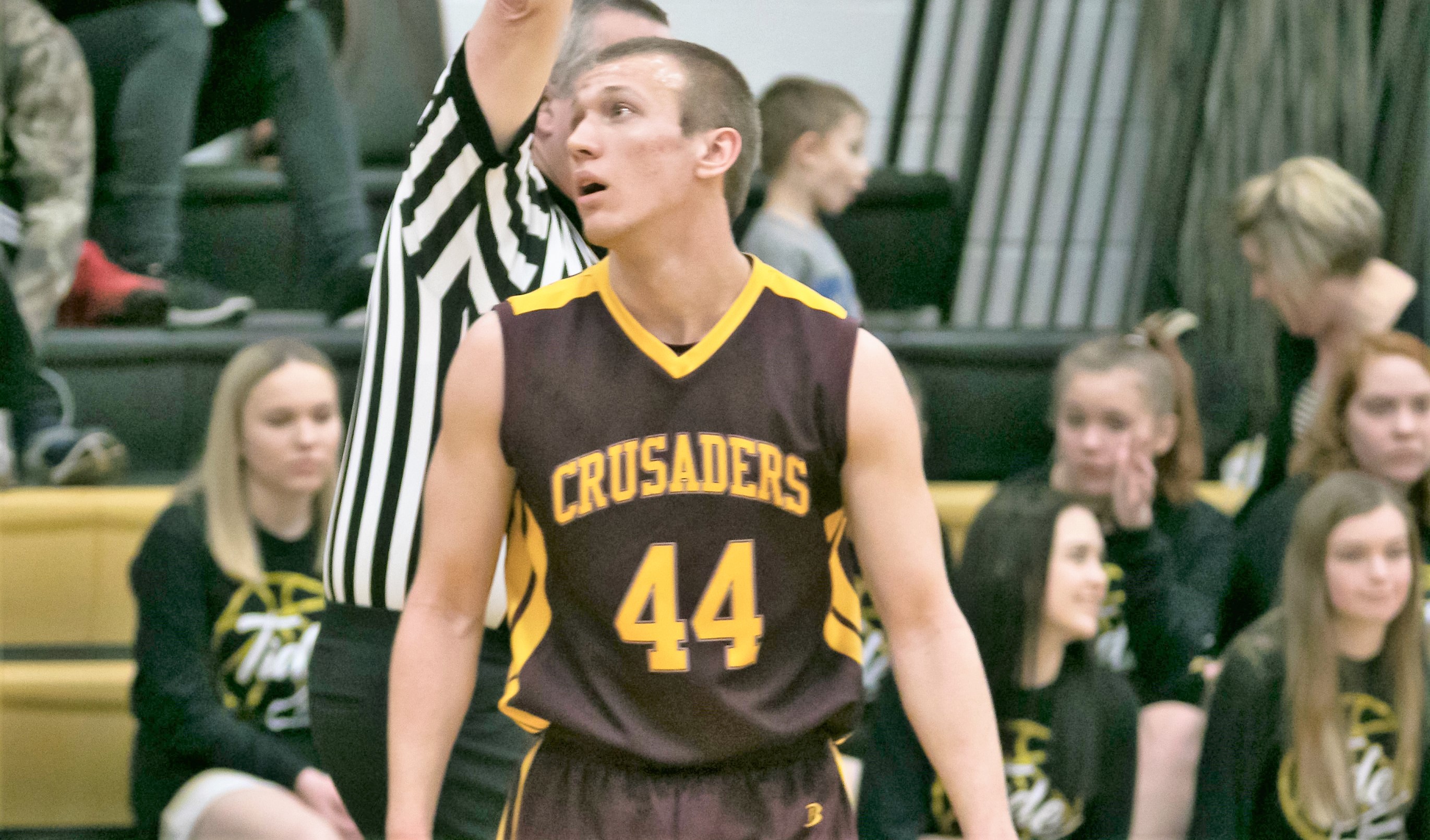 Jan. 19 boys' basketball recaps.
(Photo: Alex Breindel had a 13 points to help ECC beat Ridgway Friday. Photo by Jared Bakaysa of JB Graphics. See more of Bakaysa's work here)
ELK COUNTY CATHOLIC 44, RIDGWAY 38
RIDGWAY, Pa. – Elk County Catholic used a 9-0 run in the third quarter and strong free-throw shooting to knock off rival Ridgway, 44-38, in AML action at Ridgway.
The unbeaten Crusaders, who led by two, 24-22, at halftime, trailed 26-24, early in the third quarter before using the 9-0 spurt to take the lead for good.
Ridgway led by 10, 13-3, early on before ECC rallied to take a 24-19 lead late in the first half – a four-point play by Will Uberti broke a 19-all tie – before Parker Rohr hit a 3-pointer at the horn for Ridgway to make it a 2-point game at the break. Ridgway then scored the first four points of the second half to retake the lead before ECC answered.
After retaking the lead, 33-26, ECC saw Ridgway cut back into the advantage and get within two, 38-36, with just over five minutes to play. The Crusaders, though, ended the game on a 6-2 spurt to put the game away.
Alex Breindel and Regis Wortman each scored 13 points for ECC with Uberti adding seven points, all in the first half.
Jake Reynolds paced Ridgway with 16 points, nine of them coming on three first-quarter 3-pointers. Will Thompson added 10 points.
Free throws played a key role in the contest with ECC going 11 of 15 and Ridgway 5 of 13.
CLEARFIELD 57, BALD EAGLE AREA 55
WINGATE, Pa. – Trailing by seven heading to the fourth quarter, visiting Clearfield rode the hot hand of Karson Rumsky to a 57-55 Mountain League win over Bald Eagle Area.
The Bison trailed, 41-34, going to the fourth quarter before Rumsky scored 12 of his team-high 24 points in the quarter to rally the visitors.
Cade Walker added six of his 19 points in the final eight minutes for Clearfield.
Jaden Jones had a game-high 27 points for BEA with Nate Hoover chipping in 12 points.
KANE 62, CURWENSVILLE 43
KANE, Pa. – A 21-point effort from Chad Greville helped Kane knock off visiting Curwensville, 62-43, in AML action.
Alex Rezzelle added 14 points for the Wolves with Zuke Smith chipping in eight and Carson Whiteman seven.
Christian Bakaysa had 21 points for Curwensville.
REDBANK VALLEY 70, CRANBERRY 57
SENECA, Pa. – Behind 19 points, 11 rebounds and five assists from Bryson Bain, visiting Redbank Valley knocked off Cranberry, 70-57.
Keaton Kahle had a game-high 20 points for the Bulldogs with Nick Smith adding 13 and Chris Marshall 11.
JT Stahlman and Cameron Russell each had 16 points for Cranberry with Brandon Forrest chipping in with 13 tallies.
NORTH CLARION 72, A-C VALLEY 53
FRILLS CORNERS, Pa. – A 30-point, 20-rebound night from Kyle Mills helped North Clarion take care of visiting A-C Valley, 72-53.
Tyler McCord-Wolbert also had a double-double with 10 points and 10 rebounds while adding four assists for the Wolves with Sam and Logan Minich each scoring 10 points. Sam Minich also added five steals and four assists, and Korey Mills chipped in seven points, six rebounds and five assists for unbeaten North Clarion.
Levi Orton and Eddie Stevanus combined for 30 points for A-C Valley led by 18 from Orton with Stevanus contributing 12. Eli Penny chipped in eight. Orton finished a double-double with 10 boards, while Stevanus added eight rebounds.
KEYSTONE 67, FOREST AREA 18
TIONESTA, Pa. – Ten different Keystone players scored as the visiting Panthers rolled past Forest Area, 67-18.
Troy Johnson and Dawson Steele both scored 11 points for Keystone with Luke Hurrelbrink adding 10 and Marc Rearick and Brooks LaVan eight each.
Franklin Meals, Noah Burke and Luke Cussins each scored four points for Forest Area.
CLARION-LIMESTONE 64, MONITEAU 44
STRATTANVILLE, Pa. – Deion Deas and Ian Callen combined for 46 points to lift Clarion-Limestone to a 64-44 home win over Moniteau.
Deas had a game-high 26 points with Ian Callen adding 20 tallies. Hayden Callen also reached double digits for the Lions with 10 points and completed a double-double with 11 rebounds. Ian Callen chipped in seven rebounds and six steals.
Gage Neal paced Moniteau with 11 points with Ethan McDeavitt adding 10 and Jared Lomenski nine.
BRADFORD 56, PUNXSUTAWNEY 44
BRADFORD, Pa. – Tyler Gigliotti scored a team-best 20 points to give Bradford a 56-44 home D9 League victory over Punxsutawney.
Gavin Babcock added 13 points for the Owls with Steve Knowlton chipping in with nine.
Carter Newcome had a game-high 21 points for Punxsutawney, and Ethan Blose added 12 tallies for the Chucks.
CLARION 68, UNION 53
RIMERSBURG, Pa. – Cal German knocked down 11 shots on his way to a game-high 25 points to lead visiting Clarion past Union, 68-53.
Nick Frederick added 11 points for the Bobcats, Tijon Faulk-Taylor chipped in with eight points and Gavin Brinkley had seven.
Luke Bowser paced Union, which played for the second game in a row without leading scorer Caden Rainey and second-leading scorer Nolan Cumberland, with 14 points, Quintin Weaver added 10, Karter Vogle had nine, Truman Vereb eight and Brock Jordan seven.
KARNS CITY 62, VENANGO CATHOLIC 50
OIL CITY, Pa. – A combined 44 points and 18 rebounds from Austin Fahlor and Nathan Waltman helped visiting Karns City to a 62-50 win over Venango Catholic.
Fahlor led the Gremlins, who led 34-23 halftime and 49-31 after three quarters, with 23 points and nine rebounds with Waltman adding 21 points and nine boards. Chase Beighley chipped in nine points in the victory with Josh Wimer dishing out seven assists and scoring five points.
Andrew Burda had a team-high 19 points for Venango Catholic with Ben Gillispie adding 17 and Parker Slagle nine.
JOHNSONBURG 56, SMETHPORT 43
SMETHPORT, Pa. – An 18-point night from Austin Green helped visiting Johnsonburg knock off Smethport, 56-43.
Isaac Scholder added 15 points for the Rams.
Ian Woodruff paced Smethport with 14 points with Calen Lutz adding nine.
DUBOIS CENTRAL CATHOLIC 71, SHEFFIELD 41
SHEFFIELD, Pa. – Justin Miknis scored 23 points, hauled down 10 rebounds, came away with seven steals and dished out five assists to lift visiting DuBois Central Catholic to a 71-41 win over Sheffield in AML action.
Brandon Walker added 13 points for the Cardinals.
Tyler Hepinger netted 11 points for Sheffield with Tony Richard scoring eight.
OTTO-ELDRED 70, OSWAYO VALLEY 29
DUKE CENTER, Pa. – Andrew Sheeler scored 23 points to give Otto-Eldred a 70-29 home NTL win over Oswayo Valley.
Braden Maholic added 10 points for the Terrors with Cameron Grigsby scoring nine and Gavin Jimerson eight.
Carter Steadman paced Oswayo Valley with nine points and Gunner Bean added seven.