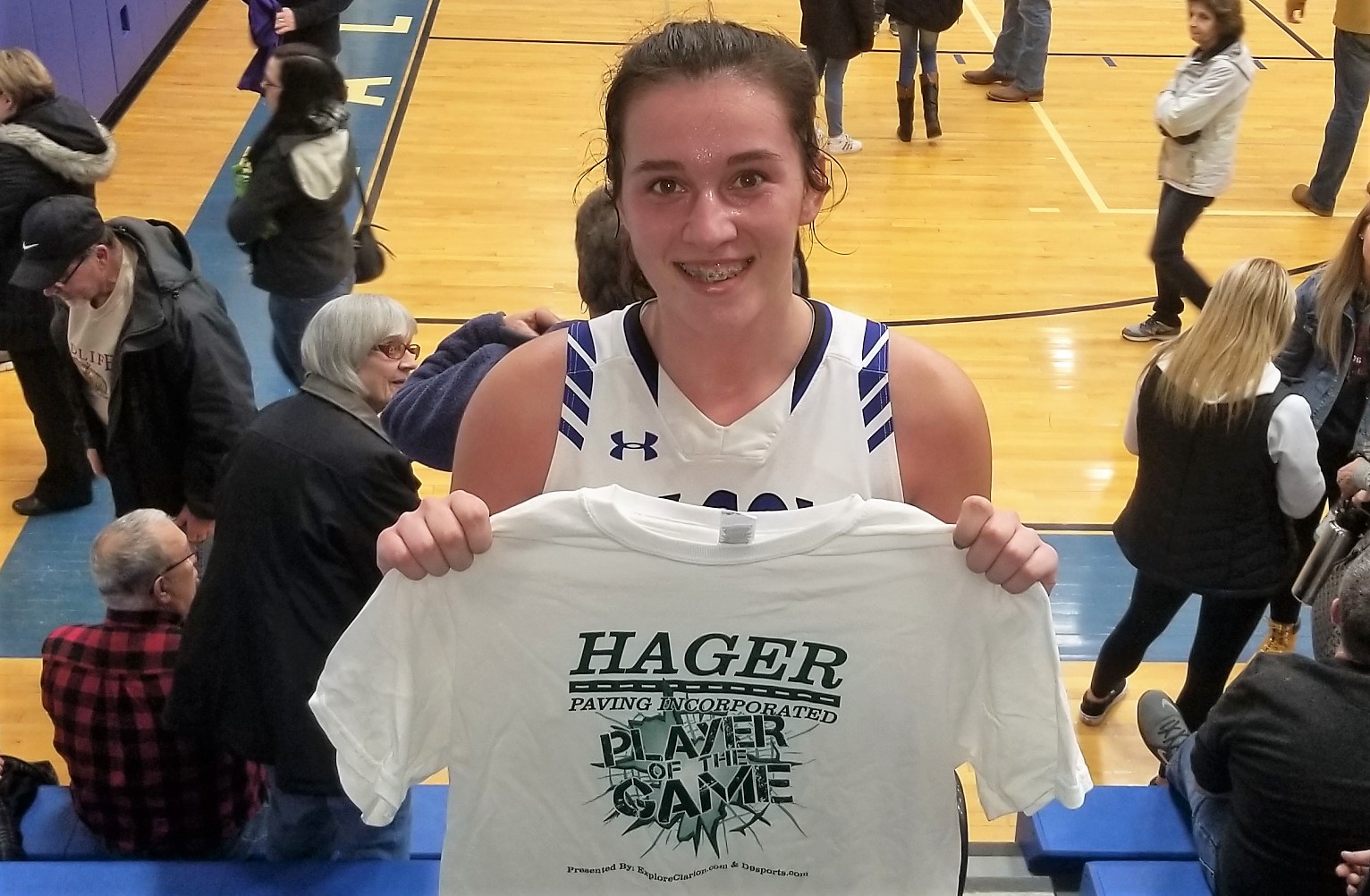 Jan. 18 girls' basketball recaps.
(Photo: Kylee Eaton had 15 points and 15 rebounds in A-C Valley's win over North Clarion Friday night)
A-C VALLEY 56, NORTH CLARION 38
FOXBURG, Pa. – Outscoring North Clarion by 18 points over the final three quarters, A-C Valley became the first KSAC team to beat the She-Wolves in two years with a 56-38 win in Foxburg.
Relisten to the game:
The Lady Falcons were the last KSAC team to defeat North Clarion, winning 65-64 Jan. 20, 2017, also at A-C Valley.
The game was tied at 15 at the end of the first quarter, but A-C Valley outscored the She-Wolves 15-3 in the second quarter to take a 30-18 halftime lead and never looked back.
Kylee Eaton paced the Lady Falcons with 15 points and 15 rebounds, while Olivia Boocks added 12 points, six steals and three rebounds and Cami McNany 13 points, four assists, three steals and two boards. Andrea Meals also scored nine points and hauled down five rebounds, and Rachel Cullen had seven points.
Eaton talked about the win.
Abby Gatesman paced North Clarion with 10 points, 11 rebounds and four assists. Mackenzie Bauer added 10 tallies, Haley Sherman chipped in eight points and seven rebounds and Gabby Carll scored seven points.
Turnovers proved costly for North Clarion, as the She-Wolves gave the ball away 16 times, including 13 in the middle two quarters. A-C Valley had just five turnovers in the contest.
Read a full report on the game at our sister site, exploreClarion.com.
BROOKVILLE 75, JOHNSONBURG 58
BROOKVILLE, Pa. – The twin duo of Morgan and Madison Johnson exploded for 39 points to lead Brookville past visiting Johnsonburg, 75-58.
Morgan lit the lamp for 24 points to lead the Lady Raiders, who scored their most points in the D9Sports.com era (2001 to present)  with sister Madison adding 15 points. Marcy Schindler also scored 14 for Brookville and Lauren Hergert added nine. Schindler had a double-double with 11 rebounds.
Cassidy King had a game-high 26 points for Johnsonburg with Lindsay Kocjancic scoring 16 and Maria Jones 11.
CLEARFIELD 48, BALD EAGLE AREA 38
HYDE, Pa. – A 29-point effort from Alayna Ryan helped Clearfield to a 48-38 Mountain League victory over visiting Bald Eagle Area.
Ryan hit 10 shots from the field, including a 3-pointer, and was 8 of 9 from the free-throw line.
Megan Durandetta hit three 3-pointers and finished with nine points for the Lady Bison.
Lacee Barnhart scored half of Bald Eagle's points finishing with 19.
DUBOIS CENTRAL CATHOLIC 57, SHEFFIELD 17
DUBOIS, Pa. – Martina Swalligan and Maia Cogley each scored 10 points to lead DuBois Central Catholic in a 57-17 home AML win over Sheffield.
Jordy Kosko added eight points for the Lady Cardinals with Abbey Pettenati chipping in seven.
Lilly Lauffenburger had four points for Sheffield.
SMETHPORT 29, AUSTIN 27
AUSTIN, Pa. – Kaleigh Sanderson's short jumper with 57 seconds to play lifted visiting Smethport to a 29-27 win over Austin in NTL action.
Sanderson finished the night with eight points and seven rebounds, while Mykayla Deyarmin hit 9 of 15 free throws on her way to a game-high 11 points for the Lady Hubbers.
Five of Deyarmin's points came in the third quarter, a quarter that saw the Lady Hubbers erase a 14-11 halftime deficit and take a 21-19 lead.
Danielle Nelson chipped in seven points for Smethport.
Taylor Brewer paced Austin with eight points with Kenda Valenti and Julia Latimore each scoring five.
MONITEAU 65, CLARION-LIMESTONE 24
WEST SUNBURY, Pa. – Kristin Auvil scored a game-high 23 points and Ivie Scott and Aslyn Pry both had double-doubles to lift Moniteau to a 65-24 win over visiting Clarion-Limestone.
Scott netted 18 points and grabbed 14 rebounds and Pry chipped in 15 points and 11 boards in the victory.
Janelle Pezzutti had a team-high 12 points for C-L.
CAMERON COUNTY 47, NORTHERN POTTER 27
ULYSSES, Pa. – Kaelee Bresslin and Hailey Hilfiger combined for 24 points to give visiting Cameron County a 47-27 win at Northern Potter in NTL play.
Bresslin led the Lady Raiders with 14 points with Hilfiger adding 10. Ten of Bresslin's points came in the fourth quarter when she hit a pair of 3-pointers.
Alyvia McKimm chipped in eight tallies for Cameron County.
Abbi Anderson netted 15 points for Northern Potter with Courtney Martin scoring eight.
KARNS CITY 44, WILMINGTON 43
WILMINGTON, Pa. – Alyssa Stitt scored six of her game-high 19 points in the fourth quarter, as Karns City edged Wilmington for a 44-43 road win, the Lady Gremlins second straight after starting the year 0-9.
The game was close throughout and the teams were tied at 29 going to the fourth quarter after Karns City trailed by one, 23-22, at halftime after being outscored 18-11 in the second quarter.
Emma Johns added 11 points in the victory.
Keegan McConahy led Wilmington with 15 points, Meredith Glavach added 12 and Nadia Huebner scored 11.
KANE 53, CURWENSVILLE 34
CURWENSVILLE, Pa. – Behind 26 points from Ella Marconi visiting Kane picked up a 53-34 AML victory over Curwensville.
Emily Bucheit added 11 points for the Lady Wolves with Hannah Buhl chipping in with eight.
Madi Weber had 15 points to pace Curwensville.
PUNXSUTAWNEY 55, BRADFORD 23
PUNXSUTAWNEY, Pa. – Riley Presloid scored 18 points and came away with four steals to lift Punxsutawney to a 55-23 D9 League victory over visiting Bradford.
Kate Horner chipped in 10 points, six steals, four assists and two rebounds for the Lady Chucks with Abby Gigliotti adding eight points, five steals and four rebounds and Sarah Weaver scoring eight points.
Hannah Lary scored nine points to lead Bradford.
COUDERSPORT 55, GALETON 14
GALETON, Pa. – Twenty-one points from Shae Black lifted Coudersport to a 55-14 win at Galeton in NTL action.
Sarah Chambers added 12 points for the Lady Falcons with Roselyn Page scoring nine.
Kate Pagano and Brielle Kalacinski each scored six points for Galeton.
PORT ALLEGANY 60, OSWAYO VALLEY 28
PORT ALLEGANY, Pa. – Cailey Barnett hit five 3-pointers on her way to a game-high 20 points, as Port Allegany picked up a 60-28 home NTL win over Oswayo Valley.
Bree Garzel added 16 points for the Lady Gators with Jenna Sprankle scoring seven.
Karina West scored 17 points for Oswayo Valley, which only dressed six players.
CRANBERRY 49, REDBANK VALLEY 40
NEW BETHLEHEM, Pa. – Maliah Schreck scored a game-high 32 points and hauled in 13 rebounds to lead visiting Cranberry past Redbank Valley, 49-40.
Maddie Cornelius added seven points for the Berries.
Tara Hinderliter scored 26 points for Redbank Valley with Kelsie Elmer chipping in seven.
CLARION 64, UNION 47
CLARION, Pa. – Kate Constantino scored 18 points to lead Clarion to a 64-47 win over visiting Union.
KK Girvan added 16 points in the win for the Lady Cats with Wendy Beveridge scoring 11.
Dominika Logue had a game-high 23 points for Union.