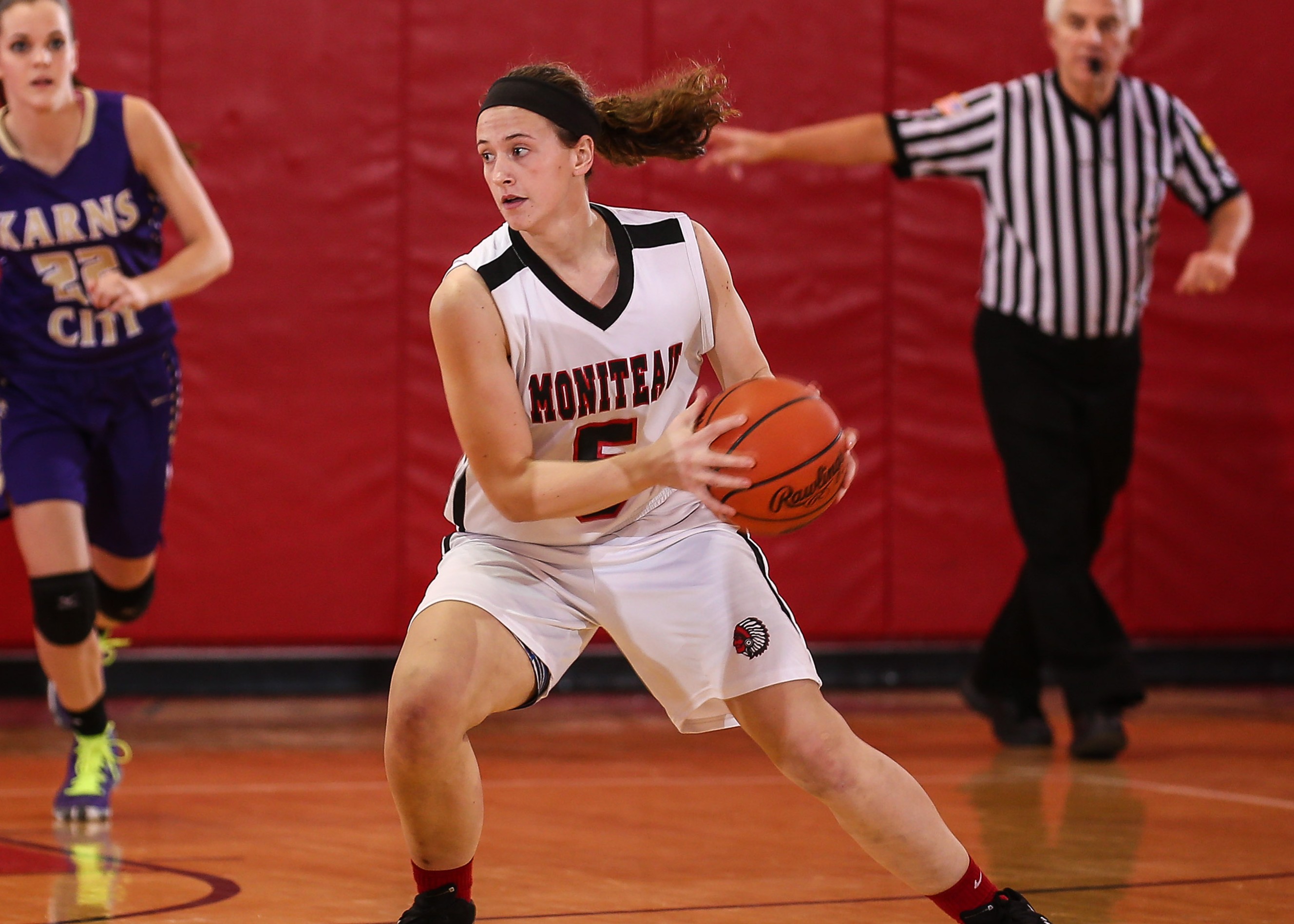 Jan. 18 girls' basketball recaps.
(Photo of Kristina DeMatteis. Photo by Mike Schnelle. Check out more of Schnelle's work here)
MONITEAU 52, NORTH CLARION 47
FRILLS CORNERS, Pa. – In a battle of two of the top girls' teams in District 9, Kristina DeMatteis scored 28 points, came up with seven steals and hauled down six rebounds to help visiting Moniteau hand North Clarion its first loss of the season, 52-47.
The She-Wolves, who won at Keystone Friday despite being without two starters and a key reserve because of the flu, still weren't completely healthy Wednesday with star forward Tori Obenrader, who went over 1,000 points Friday, not starting because of the flu.
But Obenrader did play most of the game and finished with a double-double of 22 points and 10 rebounds for North Clarion, and the She-Wolves led 14-12 with her missing time in the first quarter and 27-24 at halftime with Obenrader scoring 12 of her points in the second quarter.
DeMatteis, however, scored nine of her points in the third quarter, as Moniteau outscored North Clarion 17-5 in the quarter to take control of the game.
Alazia Greaves added 17 points for Moniteau with Emma Bair chipping in four points and eight rebounds.
Michaella Higgins added eight points for North Clarion with Cassie Wagner chipping in six points and 16 rebounds and Abby Gatesman six points.
Moniteau's defense caused North Clarion problems with the She-Wolves turning the ball over 25 times.
DUBOIS 62, BRADFORD 60
DUBOIS, Pa. – Despite recovering from the flu, Ashley Hallowell had 29 points and 25 rebounds to will DuBois to a 62-60 D9 League victory over visiting Bradford.
The Lady Beaver entered the fourth quarter trailing by two, 46-44, but rode the play of Hallowell, who scored eight fourth-quarter points to victory.
DuBois grabbed 59-58 lead, and Sarah Snyder hit one of two free throws to make it 60-58. Hallowell pulled down the board after the miss and hit the putback to make it 62-58 before Bri Wells, who also scored 29 points for Bradford, was allowed to go coast-to-coast to set the final score.
Chelsea DeSalve added 12 points for DuBois with Laura Fatula adding nine.
Brinya Moffett chipped in 11 for Bradford.
KEYSTONE 54, CLARION-LIMESTONE 19
STRATTANVILLE, Pa. – Taylor Geer scored 24 points and grabbed nine rebounds, as Keystone rolled to an easy, 54-19, win at Clarion-Limestone.
McKenzie Hovis added seven points for the Lady Panthers, who also got 11 points, six rebounds and four assists from Alyssa Beichner.
Jess Ball led the Lady Lions with six points.
KARNS CITY 57, FOREST AREA 19
TIONESTA, Pa. – Karns City used a hot start to roll to a 57-19 win over Forest Area at West Forest.
The Lady Gremlin shutout the Fires 27-0 in the first quarter.
Emily Hegedus led Karns City with 25 points while Mackenzie Craig added 14 and Alyssa Gibson 11.
Jasmine Ginnery, Glory Wagner and Destiny Ginnery each scored four points for Forest Area.
PUNXSUTAWNEY 54, ST. MARYS 40
ST. MARYS, Pa. – Punxsutawney got big scoring nights from Kate Horner and Leah Miller on the way to a 54-40 D9 League road win at St. Marys.
Horner led Punxsutawney with a game-high 25 points while Miller added 19 points and 12 rebounds.
Rachelle Armanini scored 21 for the Lady Dutch.
Punxsy led 16-9 after one quarter and 47-32 after three.
JOHNSONBURG 58, BROCKWAY 29
JOHNSONBURG, Pa. – The Brockway Lady Rovers entered their game at Johnsonburg on a two-game winning streak and held a 12-11 lead after one quarter, but all came crashing down after that.
The host Ramettes outscored Brockway 47-17 the rest of the way in cruising to a 58-29 win.
Cassidy King and Amanda Williams each tallied 14 points for Johnsonburg and Nicole Myers added 11.
Leah Lindemuth scored 13 for Brockway and Kaitlyn Morelli had 10.
OTTO-ELDRED 65, CAMERON COUNTY 59
EMPORIUM, Pa. – It was a shootout in Emporium as the visiting Otto-Eldred Lady Terrors outgunned the host Red Raiders of Cameron County, 65-59.
Otto's margin for victory came in the second quarter when the Lady Terrors outscored the Lady Raiders 16-8.
Camryn Thomas and Tiffany Bair each scored 15 points and Ali Cousins added 12 for O-E. Bair added nine assists, Cousins had seven rebounds and four steals and Thomas six rebounds.
Madi Guisto had a big night for Cameron, pouring in 26 points. Teammate Madison Harrier scored 17.
CENTRAL-MARTINSBURG 36, CLEARFIELD 23
CLEARFIELD, Pa. – A strong first half helped visiting Central-Martinsburg to a 36-23 Mountain League road win over Clearfield.
The Lady Dragons outscored the Lady Bison 25-10 in the first half on their way to victory.
Hannah Johnston led Central with 12 points with Cassie Mock adding 10.
Alayna Ryan paced Clearfield with nine points.
NORTHERN POTTER 67, AUSTIN 20
AUSTIN, Pa. – Kalie Cowburn and Gracie Hamilton each recorded double-doubles to help visiting Northern Potter to a 67-20 North Tier League victory over Austin.
Cowburn led NoPo with 18 points and 10 rebounds with Hamilton chipping in 15 points and 10 boards. Jenna Hyde also scored 13 points for the Lady Panthers.
Jordan Brewer led Austin with 10 points.
GALETON 56, PORT ALLEGANY 36
GALETON, Pa. – Cortney Parsell netted 18 points and Makaya Shadle and Katelyn Pagano each scored 13 to lead Galeton to a 56-36 North Tier League home win over Port Allegany.
Erin Stauffer led Port with 11 points with Autumn Buchsenschutz and Cailey Barnett each adding eight points.
COUDERSPORT 65, SMETHPORT 50
SMETHPORT, Pa. – Haley Keck and Skyler VanWagenen each reached double digits in a 65-50 North Tier League road win for Coudersport at Smethport.
Keck led the unbeaten Lady Falcons with 16 points with VanWagenen adding 14 points and four steals. Macy Gleason chipped in nine points, Ally Easton eight points and seven rebounds and Alyssa Wood five points, four steals and four assists.
Abbey Woodard led Smethport with 17 points, Emily Treat added 13 points and Katie Treat eight.
REDBANK VALLEY 36, CLARION 32
NEW BETHLEHEM, Pa. – Redbank Valley built an 11-point lead after three quarters and then held off a furious rally by visiting Clarion to claim a 36-32 win.
The Lady Bulldogs were up 29-18 going to the fourth quarter but watched as Clarion clawed back within a point, 33-32.
But Lexi Holt, who finished with 15 points and three steals, hit two free throws and Alyssa Wiant made one of two to restore the four-point cushion.
Macy King added a double-double for Redbank with 10 points and 14 rebounds.
Kate Constantino had her first career double-double for Clarion with 11 points and 10 rebounds. Alexis Constantino chipped in seven points.
CRANBERRY 57, A-C VALLEY 44
SENECA, Pa. – Strong nights from Erin Merryman and Malliah Schreck helped Cranberry to a 13-point, 57-44, win over visiting A-C Valley.
Merryman netted a game-high 21 points for the Berries with Schreck adding a double-double with 16 points and 14 rebounds. Bree Swartzfager and Hannah Duncan each added nine points.
Olivia Boocks paced A-C Valley with 15 points with Ellie Thompson chipping in 13.