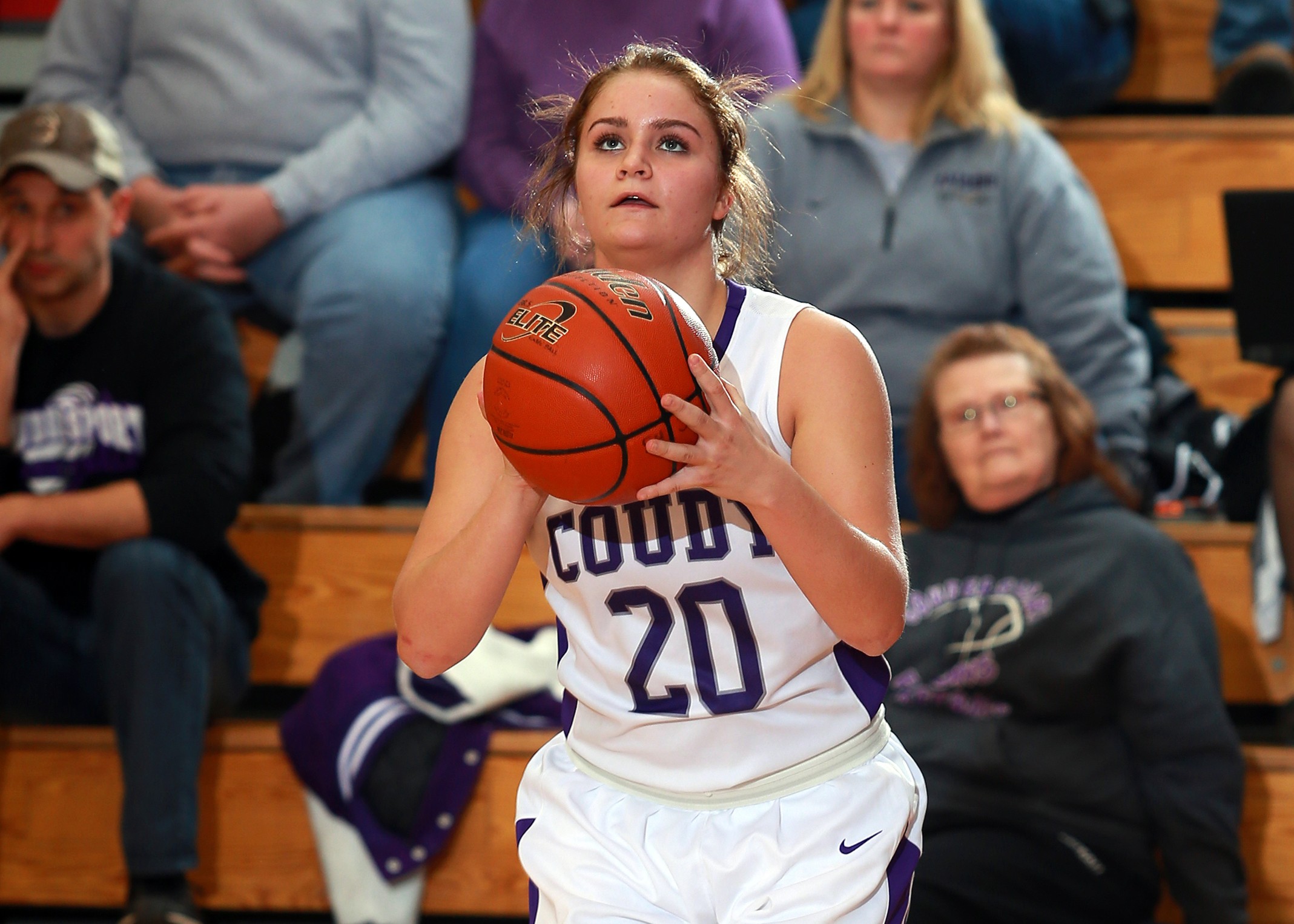 COUDERSPORT 58, PORT ALLEGANY 29
COUDERSPORT, Pa. – Macy Gleason had 12 points, six rebounds and five steals, as Coudersport rolled off its ninth straight win with a 58-29 victory over visiting Port Allegany in North Tier League play.
Ally Easton led the Lady Falcons with 15 points, while Haley Keck added 10. In all, nine different Coudersport players scored.
Autumn Buchsenschutz led all scorers with 17 points for Port Allegany.  
JOHNSONBURG 58, SHEFFIELD 12
SHEFFIELD, Pa. – Cassidy King had 13 points, eight steals and four rebounds to lead visiting Johnsonburg past Sheffield, 58-12, in AML action.
Brianna Quiggle added eight points, three steals and two rebounds for the Ramettes.
Katie Nelson and Eliza Davidson each had three points on a pair of 3-pointers for Sheffield.
HOLLIDAYSBURG 39, DUBOIS 30
HOLLIDAYSBURG, Pa. – Despite seven points each from Taylor Uplinger and Chelsea DeSalve, visiting DuBois dropped a 39-30 decision at Hollidaysburg in non-conference play.  
OSWAYO VALLEY 44, AUSTIN 26
AUSTIN, Pa. – Brianna Siebert netted 16 points to lead visiting Oswayo Valley to a 44-26 North Tier League victory at Austin.
Hope Howard added 10 points for the Green Wave, while Jade McKeirnan paced Austin with 14 points and Jordan Brewer had eight.  
GALETON 50, OTTO-ELDRED 34
GALETON, Pa. – Cortney Parsell dropped in 22 points to lead Galeton to a 50-34 win over visiting Otto-Eldred in North Tier League action.
Makaya Shadle added nine points for the Lady Tigers, who used a 14-2 third quarter to blow the game open.
Allison Cousins led Otto-Eldred with 16 points with Alyssa Shelander adding eight.  
NORTHERN POTTER 41, SMETHPORT 17
SMETHPORT, Pa. – Behind 17 points and 12 rebounds from Kali Cowburn, Northern Potter got a big North Tier League road win, 41-17, over Smethport.
Gracie Hamilton added eight points and Sarah Morgan and Tory McCutcheon six each for the Lady Panthers.
Kate Treat paced Smethport with 10 tallies.
RIDGWAY 61, CURWENSVILLE 27
RIDGWAY, Pa. – Jessica Kifer poured in a career-high 32 points to go with seven rebounds, five blocked shots and two steals to lead Ridgway to a 61-27 win over visiting Curwensville in AML action.
Emily Fullem added 16 points, 15 rebounds, nine blocked shots, eight steals and two assists for the Lady Elkers, while Kiersten Hinton had four points and seven assists.
Madison Weber led Curwensville with 14 points with Christine Limbert adding nine.
DUBOIS CENTRAL CATHOLIC 43, BROCKWAY 28
DUBOIS, Pa. – Stephanie Rossi and Gabby Caruso each scored 10 points to help DuBois Central Catholic down Brockway, 43-28, in AML action in DuBois.
Jordy Frank chipped in seven points for the well-balanced Lady Cardinals.
Leah Lindemuth led all scorers with 16 points for Brockway.
CLEARFIELD 47 HUNTINGDON 34
CLEARFIELD, Pa. – Rachel Glenny and Margo Castagnolo combined to score 30 points in a 47-34 Clearfield win over visiting Huntingdon in Mountain League action.
Glenny scored 17 points to lead the Lady Bison with Castagnolo adding 13. EMily Ryan chipped in with six.
Maddie Gearhart paced Huntingdon with 13 points.