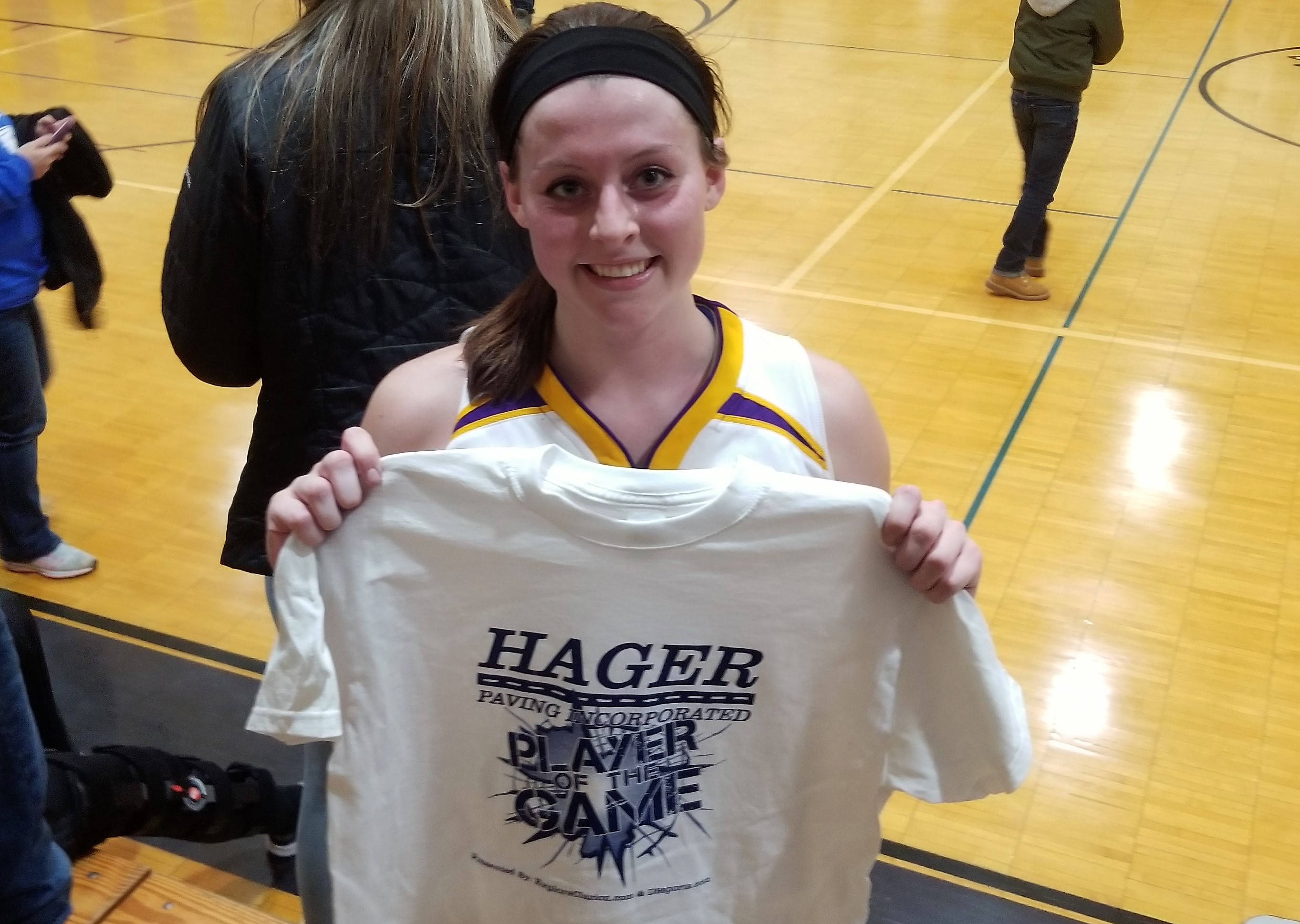 Jan. 19 recaps.
NORTH CLARION 43, A-C VALLEY 34
FRILLS CORNERS, Pa. – Behind 27 points, 16 rebounds and three steals from Tori Obenrader, North Clarion stayed unbeaten with a 43-34 win over visiting A-C Valley in a key midseason contest in District 9 Class 1A.
With Gannon head coach Jim Brunelli in attendance, Obenrader showed off for her future coach despite being under the weather and also rolling her ankle early in the second half. Despite the injury, which occurred in the first 15 seconds of the second half, Obenrader finished the half with 15 points and 12 rebounds after gathering 12 points and four boards in the first half to help North Clarion take a 19-16 halftime lead.
Obenrader talked about the win.
Gabby Schmader added five points for North Clarion with Haley Sherman adding nine rebounds and Abby Gatesman two points and seven rebounds.
Ellie Thompson had 11 points and four rebounds for A-C Valley with Cami McNany adding eight points and seven rebounds. Kylee Eaton chipped in six points and nine boards and Brooke Irwin added six points and eight rebounds.
CLARION 68, UNION 38
RIMERSBURG, Pa. – Ali Troese had a double-double with 11 points and 10 rebounds to help visiting Clarion to a 68-38 win over Union.
Kait Constantino led the Lady Cats with 21 points while adding nine assists and six steals. Wendy Beveridge chipped in 13 points, seven steals and six blocked shots, while Sadie Rudesyle had eight points, 10 rebounds and seven steals.
Bryn Davis paced Union with 10 points. Hannah Atzeni added nine tallies and Frankee Remmick eight.
CRANBERRY 69, REDBANK VALLEY 46
SENECA, Pa. – Malliah Schreck exploded for 32 points, 11 rebounds and five assists to lead Cranberry past visiting Redbank Valley, 69-46.
Ava Ferringer added 14 points for the Berries with Erin Merryman chipping in nine tallies and Hannah Duncan five points and seven assists.
Lexi Holt and Tara Hinderliter both scored 14 points to lead Redbank Valley with Kelsi Elmer chipping in 11 tallies.
KEYSTONE 58, FOREST AREA 23
MARIENVILLE, Pa. – Behind 27 Taylor Geer points visiting Keystone rolled to a 58-23 win over Forest Area at East Forest.
Makenzie Byerley chipped in with nine points for the Lady Panthers.
Bianca Hetrick led Forest Area with seven tallies.
MONITEAU 63, CLARION-LIMESTONE 20
STRATTANVILLE, Pa. – Emma Bair had a triple-double to lead visiting Moniteau to a 63-20 win over Clarion-Limestone.
Emma Bair had 14 points, 14 rebounds, 10 blocked shots and five steals, while Izzy Bair added a double-double with 14 points and 10 rebounds for the Lady Warriors. Andie Arblaster chipped in with nine points in the victory.
Maddy Craig paced C-L with seven points.
KANE 61, CURWENSVILLE 23
KANE, Pa. – Rachael Morgan had 15 points and seven rebounds to help Kane to a 61-23 win over visiting Curwensville in AML action.
Trinity Clark chipped in 13 points and four assists for the Lady Wolves with Ella Marconi adding 12 points and seven rebounds, Hannah Buhl seven points and five assists and Emily Bucheit five assists and four steals.
Madison Weber led Curwensville with 12 points.
DUBOIS CENTRAL CATHOLIC 50, SHEFFIELD 28
SHEFFIELD, Pa. – Shay Gulvas led a balanced DuBois Central Catholic attack with 13 points, as the visiting Lady Cardinals secured a 50-28 AML victory over Sheffield.
Jordan Kosko added 12 points for DCC with Alyssa Bittner chipping in seven.
Lexi Lyon led Sheffield with 13 points.
PUNXSUTAWNEY 49, BRADFORD 24
BRADFORD, Pa. – Thanks to 19 points, 10 rebounds, three steals and two assists from Leah Miller, Punxsutawney cruised to a 49-24 D9 League road win over Bradford.
Kate Horner added 15 points, three assists, four rebounds and a steal for the Lady Chucks with Abby Gigliotti chipping in four points, eight rebounds and three steals.
Hannah Lary had eight points for Bradford.
CENTRAL-MARTINSBURG 40, CLEARFIELD 26
HYDE, Pa. – Maddie Metzler paced a balanced attack for visiting Central-Martinsburg with 10 points in a 40-26 Mountain League win over Clearfield.
Lulie Metzger added nine points, Cassie Mock eight and Erin Brumbaugh seven in the win for the Lady Dragons.
Alyana Ryan led Clearfield with 10 points with Nicollette Brossard adding eight and Brooke Cline seven.
CAMERON COUNTY 56, OSWAYO VALLEY 18
SHINGLEHOUSE, Pa. – Kamme Guisto registered 14 points to help visiting Cameron County to a 56-18 North Tier League win over Oswayo Valley.
Alyvia McKimm and Amily Schatz each added eight points for the well-balanced Lady Raiders with Laila Smith and Kaelee Bresslin each chipping in with seven.
Shayla Bickel had 15 of Oswayo Valley's 18 points.
NORTHERN POTTER 63, SMETHPORT 31
ULYSSES, Pa. – Mikayla Lewis and Kalie Cowburn combined for 34 points to lift Northern Potter to a 63-31 North Tier League victory over visiting Smethport.
Lewis paced the Lady Panthers with a game-high 18 points with Cowburn adding 16. Jenna Hyde chipped in nine tallies, Becca Morgan eight and Abbie Anderson seven for NoPo.
Abbey Woodard led Smethport with 17 points. Hailey Wright added eight.
OTTO-ELDRED 62, GALETON 44
GALETON, Pa. – Camryn Thomas netted 20 points and grabbed 16 rebounds to help visiting Otto-Eldred to a 62-44 win in North Tier League action over Galeton.
Ali Cousins added 11 points and five steals for the unbeaten Lady Terrors with Jade Spinney also scoring 11 points in the victory.
Makaya Shade paced Galeton with a game-high 23 points.
COUDERSPORT 68, PORT ALLEGANY 38
PORT ALLEGANY, Pa. – Visiting Coudersport watched Haley Keck explode for 30 points in a 68-38 North Tier League victory over Port Allegany.
Shaelyn Black added 17 points and EmmaRae Easton 10 for the Lady Falcons.
Bree Garzel's 18 points paced Port Allegany.
WARREN 55, ST. MARYS 36
WARREN, Pa. – Junior guard Margo Loutzenhiser ripped the nets for 27 points to help Warren cruise to a 55-36 win over visiting St. Marys.
Kaylee Muccio led St. Marys with nine points with Lauren Eckert adding seven.
BROOKVILLE 47, BROCKWAY 39
BROCKWAY, Pa. – Visiting Brookville connected on 5 of 6 free throws down the stretch to hold off Brockway, 47-39.
Morgan Johnson led the Lady Raiders with 18 points, including 17 in the first three quarters and nine in the third quarter when Brookville outscored Brockway 17-10 to take the lead after trailing 23-21 at halftime.
Marcy Schindler, who was 5 of 7 from the line including 3 of 4 in the fourth quarter, added 11 points for the Lady Raiders.
Leah Lindemuth had a double-double for Brockway with 16 points and 14 rebounds, while Kaitlyn Morelli had a team-best 17 points.