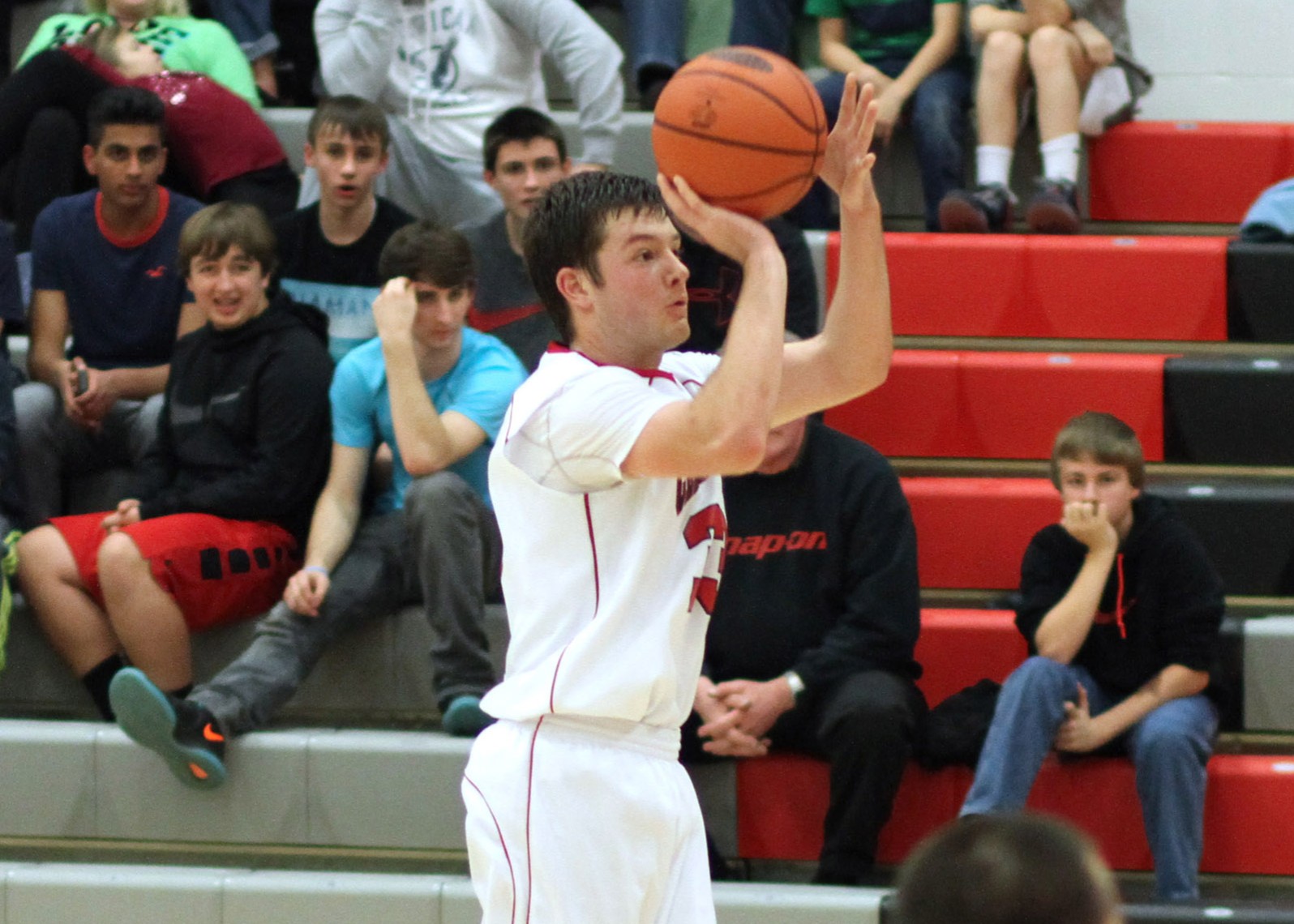 Jan. 19 boys' and girls' basketball recaps.
(Cover photo of Clearfield's Will Myers. Photo by Rick Evans)
BOYS' RECAPS
CLEARFIELD 82, CLARION-LIMESTONE 48
CLEARFIELD, Pa. – Tommy Hazel exploded for 16 first-quarter points, as Clearfield wasted little time in taking care of visiting Clarion-Limestone, 82-48.
Behind Hazel, who finished with 23 points, six rebounds, five steals and an assist, the Bison grabbed a 22-10 lead after one quarter that they expanded to 40-23 at halftime.
Will Myers then dropped 16 points of his own in the third quarter to push the lead to 25, 63-38, going into the fourth quarter.
Myers finished with a game-high 24 points to go with seven rebounds, four assists and a blocked shot.
Evan Brown added a double-double for Clearfield with 15 points and 11 rebounds and also had three assists and two steals.
Dan Callen paced C-L with 20 points with Deion Deas adding 11.
PORT ALLEGANY 44, SMETHPORT 40
SMETHPORT, Pa. – Visiting Port Allegany rallied from a slow start to beat Smethport, 44-40, in North Tier League action.
The Gators were down eight, 11-3, after one but got within six, 26-20, at halftime thanks to strong second quarters from Brandon McCaslin, who scored nine of his game-high 18 in the quarter, and Jordan Bell, who had six of his 10 in the frame.
Port then tied the game at 28 after three before riding the hot hand of Howie Stuckey, seven of his 11 points in the fourth quarter, to the victory.
Caleb Lutz led Smethport with 11 points, Justin Tanner added nine and Eric Szarowicz chipped in with eight.
GALETON 74, NORTHERN POTTER 37
GALETON, Pa. – Evan Brooks scored 10 of his game-high 19 points during a 23-1 first-quarter run that Galeton rode to a 74-37 North Tier League victory over visiting Northern Potter.
The Tigers led 23-1 at the end of one and 34-10 at halftime.
Brooks chipped in eight rebounds, while Joel Griffen had a double-double with 13 points and 11 rebounds while also dishing out six assists for Galeton, which had five players reach double digits.
Also in double figures for the Tigers were David Steadman with 12 points and eight rebounds, Isiah Shuemaker with 18 points and five assists and Tyler Reynolds with 10 points.
Tucker Kosa paced Northern Potter with 14 points and Holden Cowburn added 10.
CAMERON COUNTY 65, OSWAYO VALLEY 23
EMPORIUM, Pa. – Cameron County rode a barrage of seven 3-pointers to a 65-23 win over visiting Oswayo Valley in North Tier League play.
Adam Shaffer and Marcus Brown each hit three triples for the Red Raiders with Shaffer finishing with a game-high 20 points and Brown adding 11. Derek Rieder also scored 11 for Cameron, which outscored Oswayo Valley 46-11 in the final three quarters including 12-0 in the fourth and 28-5 after halftime.
Theo Henry had 11 points, all in the first half, for the Green Wave.
OTTO-ELDRED 62, AUSTIN 43
AUSTIN, Pa. – In the absence of second-leading Sawyer Drummond (ankle), Damien Palmer scored a season-high 15 points to help Otto-Eldred to a 62-43 win at Austin in North Tier League action.
Jordan Sherwood and Mark Miller each added 11 points for the Terrors.
Mason Valenti led Austin with 13 points with Brian Shupe adding 10.
ST. MARYS 56, BROCKWAY 52
ST. MARYS, Pa. – Nathan Schneider scored a game-high 28 points and Jeff Wehler either scored on assisted on 16 of St. Marys' 20 baskets in a 56-52 Dutch win over visiting Brockway.
In a game with an odd flow to it, St. Marys used a 20-4 second quarter advantage with nine of the 20 points coming from Schneider to build a 32-19 halftime lead.
But Brockway behind nine points from Jarrett Esposito in the third quarter and eight from Carter Adams in the frame turned the tables on the home team outscoring them 17-4 to tie the game at 36 going to the fourth quarter.
But Schneider continued to score in the fourth netting nine more points helping the Dutch to the win.
Wehler, meanwhile, had 10 points on four baskets – two twos and a three – and dished out 12 assists for a double-double.
Esposito paced Brockway with 21 points with Adams adding 13.
GIRLS' RECAPS
ELK COUNTY CATHOLIC 42, RIDGWAY 28
ST. MARYS, Pa. – Behind a balanced attack that was led by 10 points from Taylor Newton, Elk County Catholic picked up a 42-28 AML win over visiting Ridgway.
Cassidy Cunningham and Reilly Herzing both added nine points for the Lady Crusaders, who had scoring from seven different players.
Emily Fullem paced Ridgway with 10 points, nine rebounds, five blocked shots and two assists with Hannah Park adding nine points, four rebounds, four assists and a blocked shot.
DUBOIS CENTRAL CATHOLIC 60, SHEFFIELD 13
DUBOIS, Pa. – Thirteen different DuBois Central Catholic players scored, as the Lady Cardinals cruised to a 60-13 win over visiting Sheffield in AML action.
Gabby Caruso and Riley Assalone led DCC, which led 21-3 after a quarter, with 10 points apiece. Libby Maurer added six points and Caitlyn Drahushak five.
Sierra Grubbs and Mya Grubbs each scored four points to pace Sheffield.