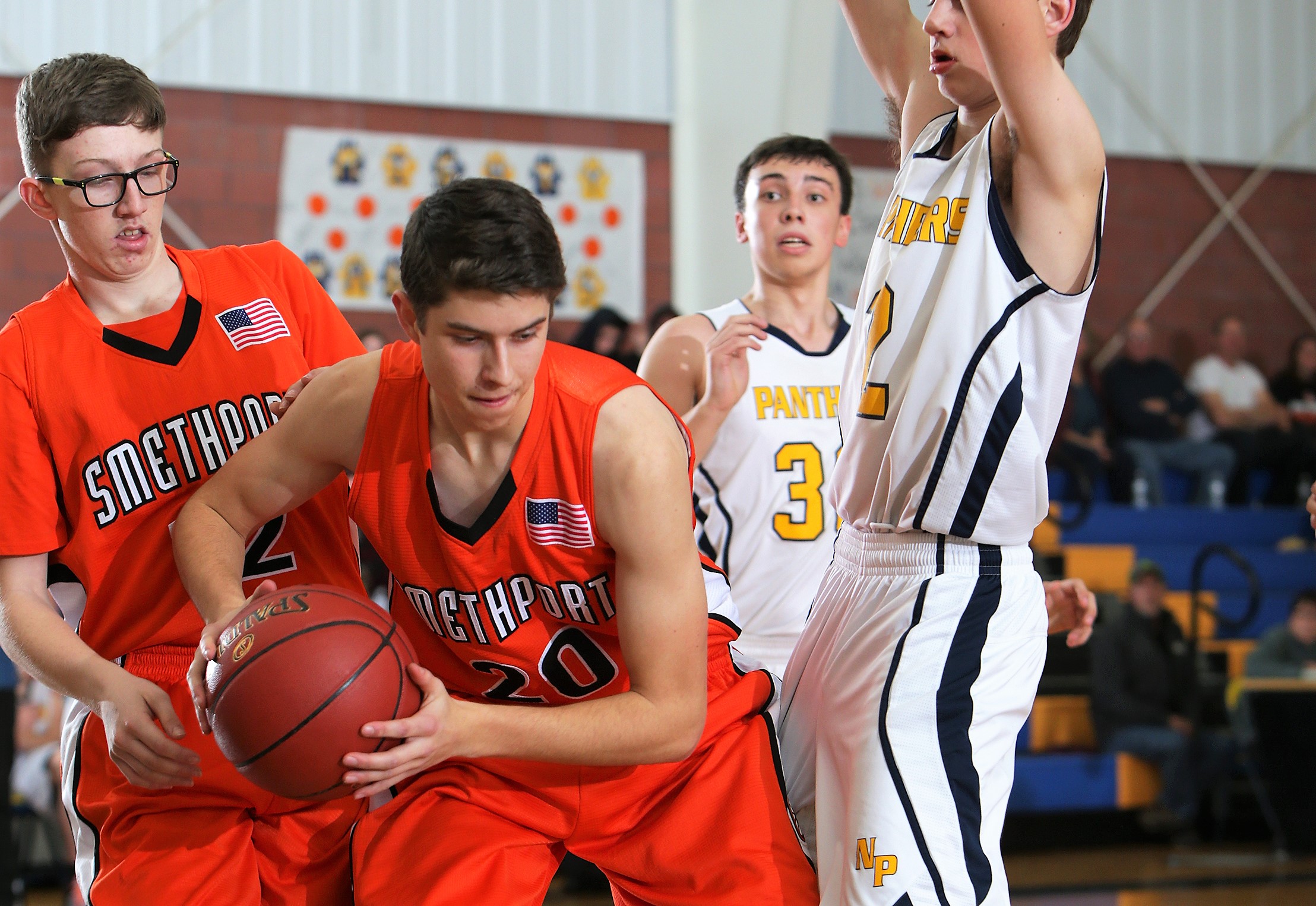 Jan. 2 recaps.
(Photo: Smethport's Eric Szarowicz (with ball) and Conner Alfieri (behind Szarowicz in orange) helped the Hubbers beat Austin Tuesday night. Photo by Paul Burdick. Check out more of Burdick's work here)
BOYS
SMETHPORT 53, AUSTIN 45
AUSTIN, Pa. – Eric Szarowicz and Conner Alfieri combined for 22 points to lead visiting Smethport to a 53-45 North Tier League win over Austin.
Szarowicz led the Hubbers with 12 points with Alfieri adding 10. Brandon Peterson and Braydon Southard each chipped in eight points for well-balanced Smethport.
Dempsey Glover led Austin with a game-high 17 points with Parker Glover adding 11 tallies.
CAMERON COUNTY 67, NORTHERN POTTER 29
ULYSSES, Pa. – Marcus Brown had 17 points and 15 rebounds to lift visiting Cameron County to a 67-29 win over Northern Potter in North Tier League action.
Dino Brown also scored 17 points for the Red Raiders while Adam Shaffer added 12 and Ty Bauer nine.
Holden Cowburn's eight points led Northern Potter.
OSWAYO VALLEY 53, PORT ALLEGANY 50
PORT ALLEGANY, Pa. – Theo Henry knocked down a pair of 3-pointers and went a perfect 7 of 7 from the free-throw line while scoring a team-high 21 points in a 53-50 Oswayo Valley win at Port Allegany in North Tier League play.
Gavin Babcock chipped in 15 points for the Green Wave with Jacob Karr scoring 10.
David Talkington led Port Allegany with a game-high 24 points while hitting with 3-pointers and Howie Stuckey chipped in with 18 points.
COUDERSPORT 79, GALETON 26
GALETON, Pa. – Hitting seven of his team's 15 3-pointers, Owen Chamber exploded for 27 points to lead visiting Coudersport to an easy 79-26 North Tier League win over Galeton.
Jared Green also popped in a pair of threes among his nine made shots and scored 20 points for the Falcons with Derek Keglovits hitting three triples on his way to nine points.
Joel Griffen led Galeton with 11 points with Evan Brooks adding nine.
GIRLS
KANE 51, ELK COUNTY CATHOLIC 32
KANE, Pa. – Ella Marconi's monster night of 20 points and 16 rebounds helped Kane hold serve on home court with a 51-32 AML win over Elk County Catholic.
Trinity Clark chipped in nine points, 10 rebounds and five steals for the Lady Wolves with Rachael Morgan adding nine points and eight rebounds, Hannah Buhl five points and five assists and Caitlin O'Hara four points and five helpers.
Josie Smith had a team-best 10 points for ECC with Taylor Newton chipping in with nine.
BROCKWAY 35, DUBOIS CENTRAL CATHOLIC 33
BROCKWAY, Pa. – Kaitlyn Morelli and Leah Lindemuth both recorded double-doubles to lift Brockway to a 35-33 AML win over visiting DuBois Central Catholic.
Morelli led the Lady Rovers, who picked up their first conference victory, with 17 points and 11 rebounds with Lindemuth chipping in 12 points and 10 boards.
Haley Pettanti paced DCC with 11 points with Alyssa Bittner adding eight and Ashley Wruble seven.
DUBOIS 54, BROOKVILLE 42
DUBOIS, Pa. – Thanks to 20 points and 14 rebounds from Ashley Hallowell, DuBois turned around a seven-point loss to Brookville five days ago by beating the visiting Lady Raiders, 54-42, in D9 League play.
Chelsea DeSalve added 17 points for the Lady Beavers, who led 32-17 at halftime.
Marcy Shindler paced Brookville with 15 points with Morgan Johnson adding 10 and Madison Johnson eight.
GALETON 65, BUCKTAIL 27
FARWELL, Pa. – ''Makaya Shadle recorded a triple-double to give visiting Galeton a 65-27 win over Bucktail.
Shadle, who scored her 1,000th career point just before Christmas, had 20 points, 12 assists and 10 rebounds in the victory.
Katie Pagano added 19 points for the Lady Tigers.
YOUNGSVILLE 34, FOREST AREA 22
TIONESTA, Pa. – Outscoring Forest Area 23-6 in the second half including 15-4 in the fourth quarter, visiting Youngsville claimed a 34-22 win over the Fires at West Forest.
Forest Area led 16-11 at halftime before trailing 19-18 going to the fourth quarter.
Caitlin Craig led the Lady Eagles with 15 points.
Jasmine Ginnery paced Forest Area with eight.