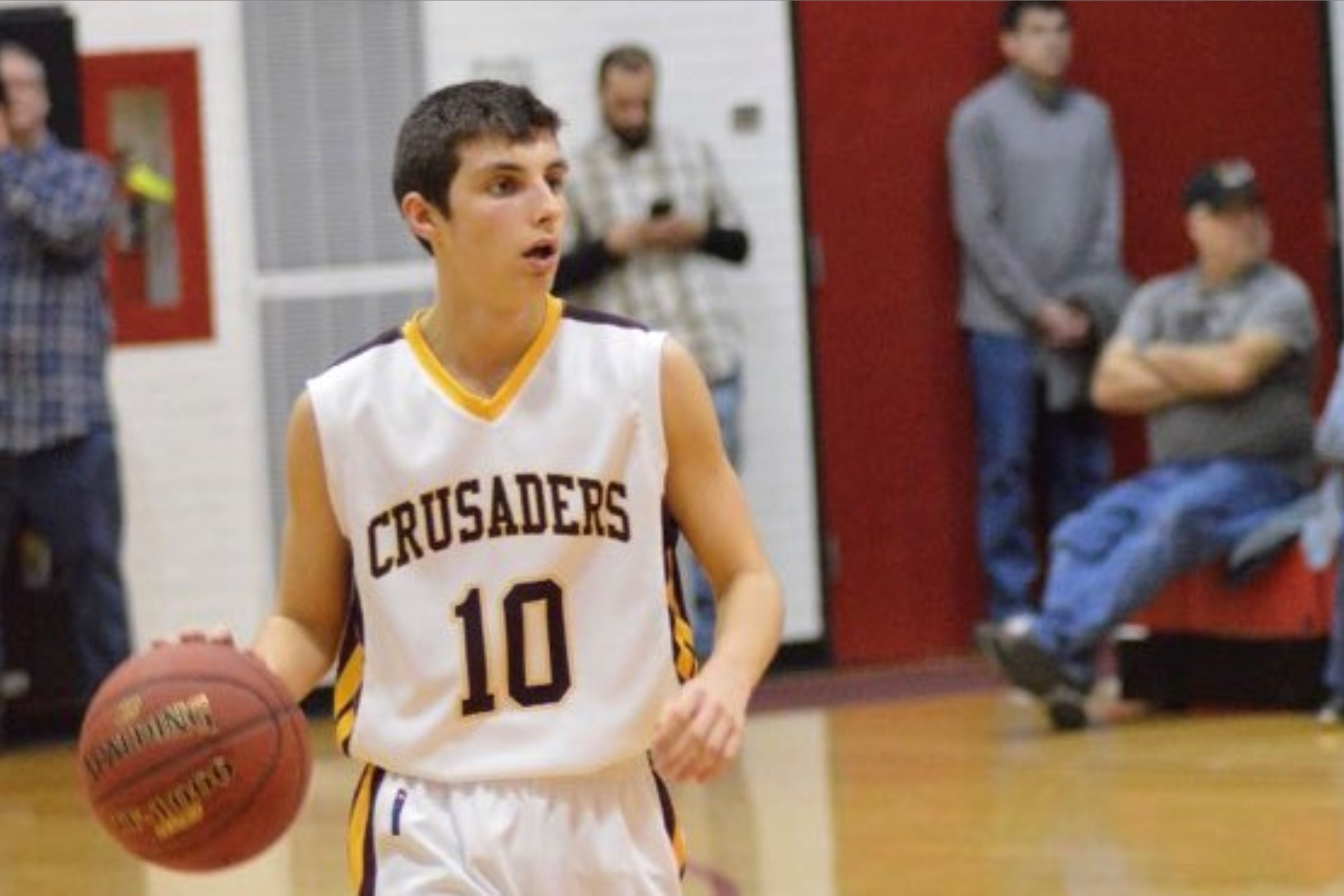 Jan. 2 boys' basketball recaps.
(Photo: Carter Lindemuth's layup with 1:10 to play helped ECC avoid an upset bid by Kane. Photo by Caleb Huntoon. Submitted photo)
ELK COUNTY CATHOLIC 59, KANE 58
KANE, Pa. – Carter Lindemuth's layup with 1:10 to play helped state-ranked Elk County Catholic avoid an upset at Kane with a 59-58 win over the Wolves in AML action.
Chad Greville gave Kane the lead, 58-57, when he hit a 3-pointer off a missed free-throw by the Wolves with 1:40 to play. But following a timeout, Lindemuth was able to give the fifth-ranked in Class 1A Crusaders the lead back for good.
After ECC got a stop, Kane followed Regis Wortman with about 24 seconds to play, but Wortman missed the front end of the one-and-one.
Greville then got a decent but well-contested look from about 10-feet out with five seconds left that was off the mark. Alex Rezzelle and Austin Pierson both got their hands on the ball in the last seconds but couldn't get the game-winning hoop.
Wortman netted a career-best 26 points, including 12 in the third quarter when he helped ECC turn a 32-30 halftime deficit into a 49-44 lead after three. A 10-0 run at the start of the second half helped the Crusaders turn things around.
Alex Breindel added 19 points for ECC.
Greville, who hit six 3-pointers, tied Wortman for game-high honors with 26 points to pace Kane. Zuke Smith added 10 points for the Wolves, who closed out the first half on a 12-0 run to take the halftime lead.
PORT ALLEGANY 76, BOLIVAR-RICHBURG (N.Y.) 62
BOLIVAR, N.Y. – Howie Stuckey nailed seven 3-pointers on his way to a game-high 39 points to give Port Allegany a 76-62 road win over Bolivar-Richburg (N.Y.).
Jordan Card added a 22-point night for the Gators.
Riley Danaher and Adam Jones each scored 15 points for Bolivar-Richburg with Jones hitting five first-half 3-pointers.
OSWAYO VALLEY 67, FRIENDSHIP CENTRAL (N.Y.) 42
FRIENDSHIP, N.Y. – It was a successful trip across the state line for Oswayo Valley, as Carter Steadman and Noah Wichert combined for 41 points in a 67-42 win at Friendship Central (N.Y.).
Steadman led all scorers with 21 points for the Green Wave with Wichert adding 20. Also for Oswayo Valley, Gunner Bean scored 12.
Blake Hewitt and Tyson Musselwhite each scored 12 points for Friendship.
BUCKTAIL 54, NORTHERN POTTER 53
ULYSSES, Pa. – Gabe Conway and Devin Serafini combined for 31 points to help visiting Bucktail edge Northern Potter, 54-53.
Conway led the Bucks with 16 points with Serafini adding 15.
Holden Cowburn led Northern Potter with a game-high 17 points with Ezra Sprow adding 10 and Tre Slawson nine.
DUBOIS CENTRAL CATHOLIC 58, BROCKWAY 46
BROCKWAY, Pa. – A 21-point effort from Justin Miknis helped DuBois Central Catholic gain a 58-46 road AML win over Brockway.
Harrison Starr chipped in 10 points for the Cardinals, who lost 59-52 to the Rovers in the opening round of the DuBois Holiday Tournament last week. Jonathan Kurtz also added nine tallies for DCC.
Zane Puhala's 15 points paced Brockway. Alec Freemer added 14 tallies for the Rovers with Marcus Copelli chipping in 11.