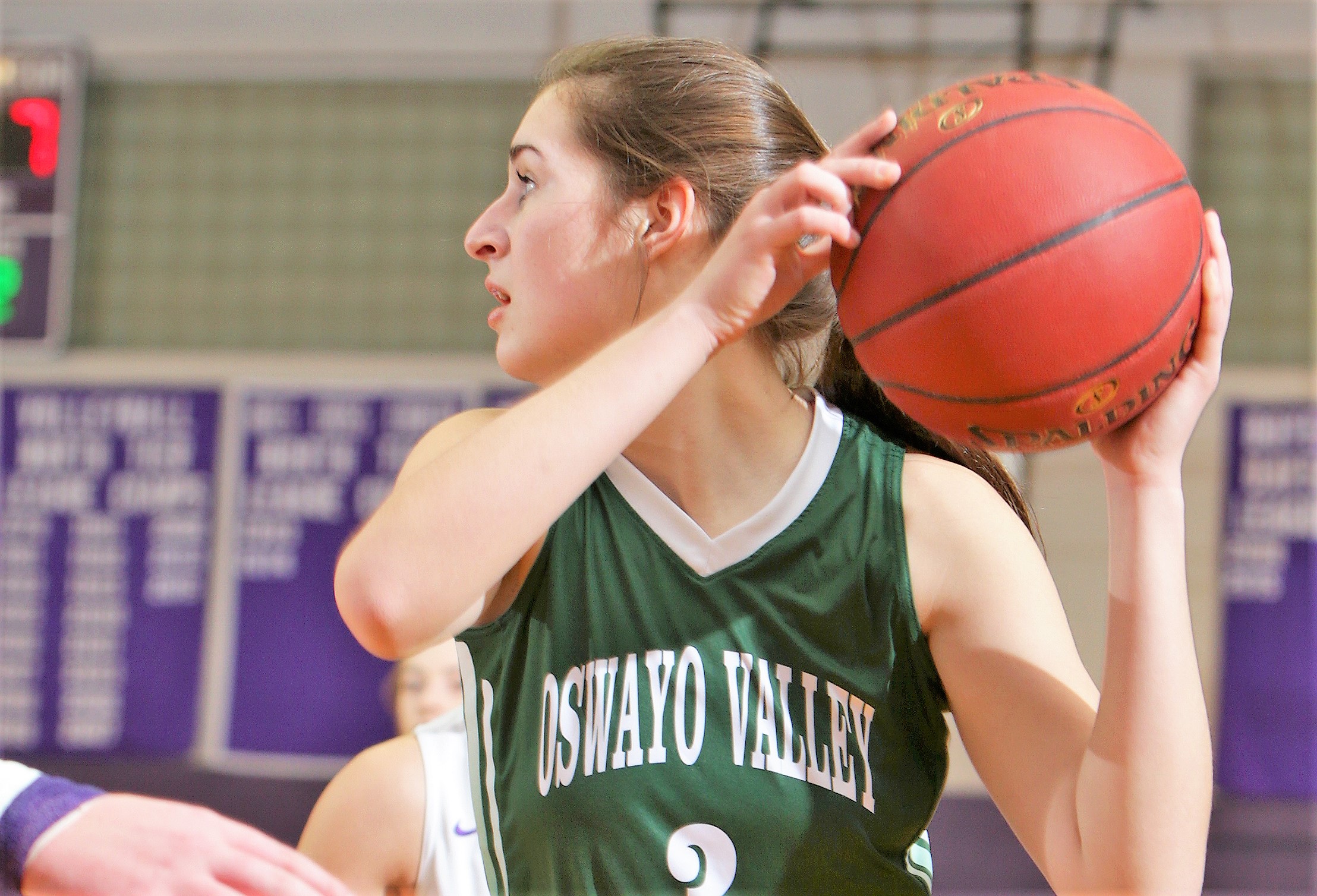 Jan. 2 girls' basketball recaps.
(Photo of Oswayo Valley's Karina West. Photo by Paul Burdick. Check out more of Burdick's work here)
GIRLS
OSWAYO VALLEY 58, AUSTIN 26
AUSTIN, Pa. – Karina West and McKenzie Gross combined for 41 points to lift Oswayo Valley to a 58-26 road NTL win over Austin.
West led the Green Wave with 21 points with Gross adding 20. Faith Coole chipped in 15 points for Oswayo Valley.
Taylor Brewer paced Austin with 10 points with Jordan Glover adding eight.
COUDERSPORT 42, SMETHPORT 21
SMETHPORT, Pa. – Shae Black netted a game-high 16 points to help visiting Coudersport double up Smethport, 42-21, in NTL action.
Roselyn Page added 10 points for the Lady Falcons with Mikayla Gunn chipping in seven tallies.
Erin Herzog led Smethport with nine points.
OTTO-ELDRED 51, CAMERON COUNTY 42
DUKE CENTER, Pa. – Thanks to 16 points and five steals from Haylee Frederick and 15 points from Autumn Smith, Otto-Eldred defended home court with a 51-42 NTL win over Cameron County.
Reilly Raught (four points, nine rebounds) and Britney Greeley (five assists, four steals, two points) also played key roles for the Lady Terrors.
Alyvia McKimm led Cameron County with 11 points with Kaelee Bresslin adding 10 points and Kamme Guisto eight.
PORT ALLEGANY 45, GALETON 30
GALETON, Pa. – Erin Stauffer scored 10 of her game-high 16 points from the free-throw line to lift Port Allegany to a 45-30 road NTL victory over Galeton.
Stauffer was 10 of 16 from the line helping the Lady Gators go 15 of 25 from the line as a team.
Cailey Barnett added 12 points while hitting three 3-pointers for Port Allegany with Cierra Lannager chipping in nine tallies.
Cara Parsell paced Galeton with nine points with Brielle Kalacinski adding six.
DUBOIS CENTRAL CATHOLIC 45, BROCKWAY 30
DUBOIS, Pa. – Ashley Wruble scored a game-high 13 points to give DuBois Central Catholic a 45-30 win over visiting Brockway in AML play.
Maia Cogley and Alyssa Bittner each added eight points for the Lady Cardinals.
Danielle Wood led Brockway with nine points with Macie Smith adding eight.
DUBOIS 51, BROOKVILLE 47
DUBOIS, Pa. – Six days after dropping a 16-point decision at Brookville, DuBois turned the tables on the visiting Lady Raiders and gutted out a 51-47 win.
Sophomore Olivia Johnson had a big night for the Lady Beavers with a career-high 24 points, including 10 in the third quarter. Another sophomore Abby Guiher added 12 points with Maddie Smith chipping in eight and Chelsea DeSalve seven.
Morgan Johnson scored 18 points to pace Brookville with Marcy Schindler chipping in 14 points.
Brookville beat DuBois, 63-47, Dec. 27, in the opening round of the Brookville Christmas Tournament.
EISENHOWER 47, SHEFFIELD 17
SHEFFIELD, Pa. – Emiley Wheeler exploded for 28 points to lead visiting Eisenhower to a 47-17 win over Sheffield.
Lydia Giannini added 13 points for the Lady Knights.
Mareena Bailey netted six points for Sheffield.
KANE 44, ELK COUNTY CATHOLIC 29
ST. MARYS, Pa. – Ella Marconi scored a game-high 26 points and added 12 rebounds to lead Kane to a 44-29 AML road win over Elk County Catholic.
Hannah Buhl chipped in six assists and four steals for the Lady Wolves with Emily Bucheit adding seven points, seven rebounds and four assists and Sierra Hillman six points and seven rebounds.
Taylor Newton led ECC with 11 points and 11 rebounds.