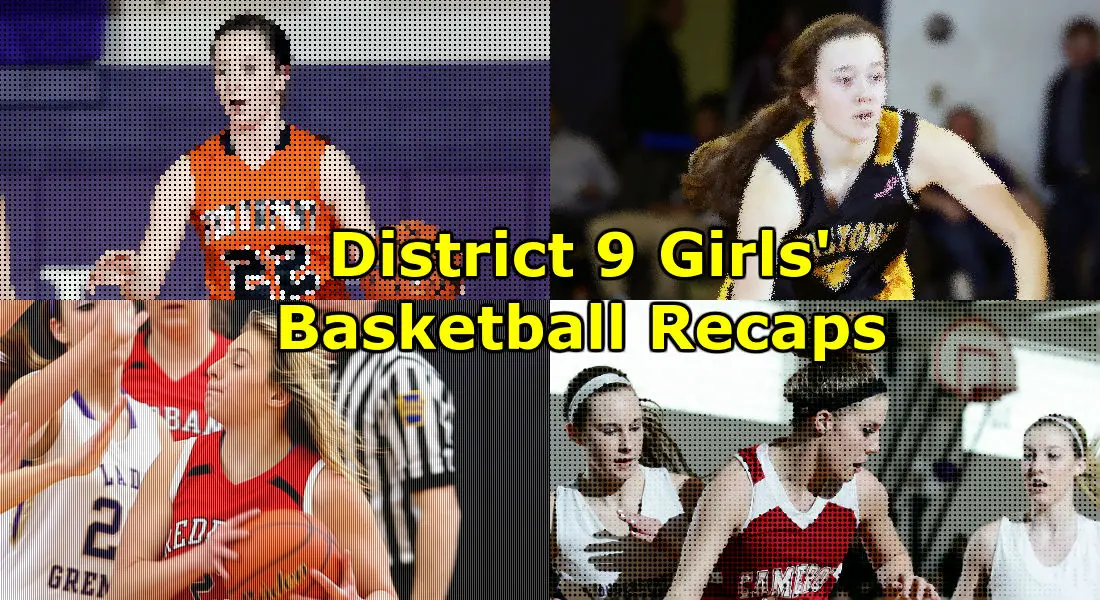 Note: Recaps only shown from games where coaches have submitted information. Have your coach submit his/her information today using our easy on-line form.  If there is a link to a box score, please click on the link to view box score
MONITEAU 40, REDBANK VALLEY 39
View images of the game from Mike Schenelle (@ApeximagingMike) http://apeximaging.zenfolio.com/p260566709
WEST SUNBURY, Pa. – Stephanie McCall hit one of two free throws with seven seconds left to give Moniteau a 40-39 win over previously unbeaten Redbank Valley in a KSAC South showdown Friday night at Moniteau.
With the game tied at 39, Moniteau forced a Redbank Valley turnover with 14 seconds left.
McCall then got the ball at the top of the key off an out-of-bounds play and drove hard to the basket past a Redbank Valley defender forcing the Lady Bulldogs Cassie Fink to foul her in help defense.
The senior then hit the first free throw as the ball rolled on the rim before going down. She missed the second one but got her own rebound, and Moniteau was able to roll the clock to one second before Alazia Greaves was fouled. Greaves missed both free throws, but there wasn't enough time left for Redbank to get a legitimate shot off.
Kristina Dematteis led Moniteau (6-4, 3-0 KSAC South), which moved into first place in the KSAC South, with a game-high 17 points, her second-best output of the season, while Greaves added 11.
Redbank Valley (8-1, 3-1) was paced by Brooke Hinderliter's 12 points, which was a season low for the junior who entered the game averaging 21.4 points per game. Becca Doughterty also had 12 points for the Lady Bulldogs.
Moniteau led 32-25 going to the fourth quarter only to see Redbank Valley go on a 14-7 run to tie the game prior to the final sequence.
VIEW THE FINAL 14 SECONDS. Video courtesy of Shane Lux (@luxy_aLLin) 
COUDERSPORT 40, GALETON 34
GALETON, Pa. – Liz Burd and Allie Easton paced a balanced effort for the Coudersport girls' basketball team in a 40-34 North Tier League win at Galeton Friday night.
Burd had a team-high 11 points for the Lady Falcons (5-3 overall, 2-1 NTL), while Easton added 10 tallies and Emily Morey eight.
Latascia Shadle led Galeton (3-5, 0-3) with a game-best 13 points, while Mataya Shadle added seven.
Galetone led 19-18 at halftime before Coudersport took a 26-25 lead at the end of three quarters. The Lady Falcons led outscored Galeton 14-9 in the last eight minutes to pick up the five-point win.
COUDERSPORT 40, GALETON 34
Score by Quarters
Coudersport 12 6 8 14 – 40
Galeton 10 9 8 9 – 34
Coudersport – 40
E Morey 3 2-7 8, K. Perkins 2 0-0 4, M. Gleason 2 0-0 4, A. Easton 5 0-0 10, L. Burd 5 1-4 11, H. Jeck 0 1-2 1, S. VanWagenee 1 0-0 2. Totals 18 4-13 40.
Galeton – 34
M Shadle 2 3-6 7, C. Parsell 0 3-4 3, A. Cizek 2 1-2 5, K. Akers 3 0-1 6, L. Shadle 6 1-2 13. Totals 13 8-15 34.
3-pointers – None
ELK COUNTY CATHOLIC 68, SHEFFIELD 19 
ST. MARYS – Behind 14 points from Erin Petrosky, Elk County Catholic stayed unbeaten with a 68-19 win over visiting Sheffield in AML action Friday night.
Macy Neureiter added 11 points for the Lady Crusaders (9-0 overall, 6-0 AML North), while Sheffield fell to 1-10 overall and 0-3 in the AML North.
No other information is available.
CLARION 52, CLARION-LIMESTONE 34
STRATTANVILLE, Pa. – Maci Thornton netted 25 points to lead Clarion to a 52-34 win over rival Clarion-Limestone Friday night at C-L.
It was the fourth straight game Thornton has scored at least 25 points in and the fifth time this season the senior, who is averaging 22.7 points per game, has netted at least 25. It also marked her seventh straight game of scoring at least 20.
With the win, Clarion moves to 6-3 overall and 2-0 in the KSAC North, while C-L drops to 1-9, 0-5 with the loss.
No other information is available.
DUBOIS CENTRAL CATHOLIC 40, CURWENSVILLE 30
| | | | | | |
| --- | --- | --- | --- | --- | --- |
| | | | | | |
| DCC | 8 | 9 | 8 | 15 | 40 |
| Curwensville | 5 | 6 | 11 | 8 | 30 |
| | | | | | |
| | | | | | |
| | | | | | |
| DCC | FG | FTA | FTM | TOTAL | |
| Cardamone | 0 | 2 | 2 | 2 | |
| M. Baronick | DNP | | | | |
| Curtis | 1 | 2 | 1 | 3 | |
| Caruso | DNP | | | | |
| Maurer | 3 | 0 | 0 | 6 | |
| Walters | DNP | | | | |
| Manduley | 3 | 3 | 0 | 6 | |
| K. Baronick | 0 | 0 | 0 | 0 | |
| Frank | 4 | 3 | 3 | 11 | |
| Hanes | 1 | 2 | 2 | 4 | |
| Assalone | 3 | 0 | 0 | 6 | |
| Drahushak | 0 | 2 | 2 | 2 | |
| | | | | | |
| TOTALS | 15 | 14 | 10 | 40 | |
| | | | | | |
| | | | | | |
| | | | | | |
| | | | | | |
| Punxsy | FG | FTA | FTM | TOTALS | |
| Thorp | 0 | 3 | 2 | 2 | |
| Dixon | 1 | 8 | 7 | 9 | |
| Limbert | 3 | 0 | 0 | 6 | |
| Strickland | 6 | 5 | 1 | 13 | |
| Guy | 0 | 3 | 0 | 0 | |
| Richards | 0 | 0 | 0 | 0 | |
| Sedgwick | 0 | 0 | 0 | 0 | |
| | | | | | |
| | | | | | |
| | | | | | |
| | | | | | |
| | | | | | |
| TOTALS | 10 | 19 | 10 | 30 | |
| | | | | | |
| | | | | | |
| | | | | | |