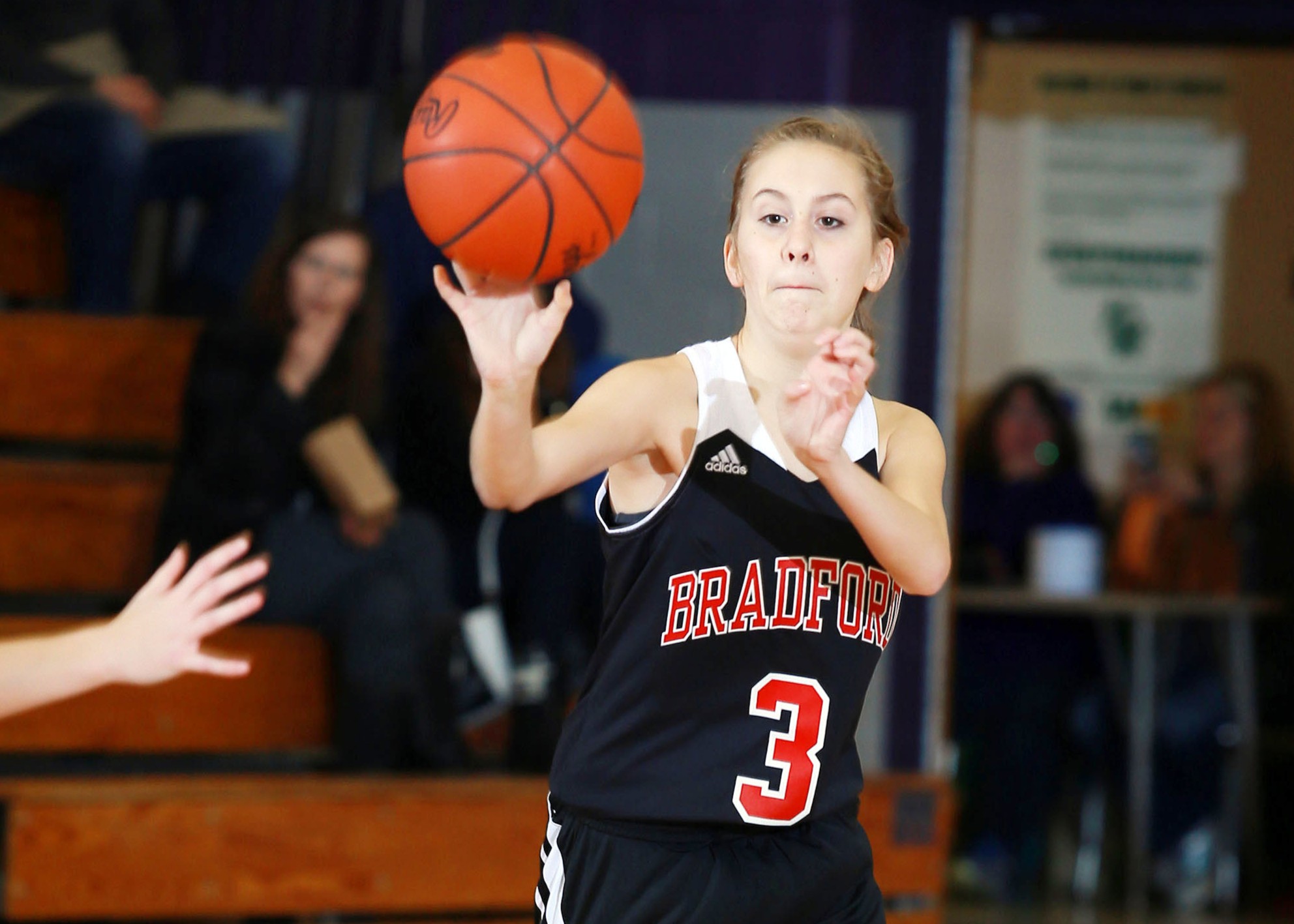 BRADFORD 54, ELK COUNTY CATHOLIC 53
ST. MARYS, Pa. – Lee Woodmansee scored eight of her team-high 16 points in the fourth quarter to help Bradford rally past Elk County Catholic, 54-53, in D9 League action at ECC.
The Lady Owls trailed 40-37 going to the fourth quarter, but with the help of Woodmansee outscored the Lady Crusaders 17-13 in the quarter to pull out the victory.
Kam Piscitelli hit a big 3-pointer in the final quarter for Bradford, one of four triples she hit on the night on her way to 12 points.
Cassidy Cunningham paced ECC with 22 points with Reilly Herzing adding 15 points. Mackenzie Gahr had a team-high 10 rebounds to go with two points for the Lady Crusaders.  
NORTH CLARION 61, REDBANK VALLEY 59
Read complete game story on ExploreClarion.com
NEW BETHLEHEM, Pa. – Tori Obenrader recorded another double-double with 24 points and 18 rebounds, as North Clarion withstood a late charge by Redbank Valley to gain a 61-59 KSAC Crossover victory at Redbank Valley.
The She-Wolves led by double digits in the second half, 39-29, only to watch Redbank Valley rally behind the play of Brooke Hinderliter to take a 49-48 lead with 5:12 left.
The lead then changed hands seven times with three before North Clarion went up for good, 61-58, on a free throws by Cassie Wagner followed by an offensive rebound of a missed Wagner charity shot and a putback by Abbie Schmader with 52 seconds left.
Redbank Valley had a chance to tie the game in the final seconds, but a pair of shots by Hinderliter, who finished with a game-high 31 points to go with six rebounds, four steals and three assists, were off the mark.
Schmader added 21 points and six rebounds for North Clarion.
Macy King had 11 points for Redbank Valley, which shot 64 percent (16 of 25) in the second half after a cold-shooting first half that saw the Lady Bulldogs connect on just 30.8 percent (8 of 26) of their shots.
CRANBERRY 52, UNION 50, OVERTIME
RIMERSBURG, Pa. – Cranberry outscored Union 7-5 in overtime to claim a 52-50 road win in KSAC Crossover action.
The Berries led 37-33 at the end of three quarters before UNion rallied to tie the game at 45 at the end of regulation.
Freshman Malliah Schreck led all scorers with 20 points for Cranberry, while Erin Merryman added 14.
Lexey Shick paced Union with 18 points, four steals, four rebounds and three assists. Kali Flick and Hailey Schrecengost each added 10 points for the Golden Damsels, who saw their seven-game winning streak come to an end.
Cranberry, meanwhile, has gone 6-5 since and 0-5 start.
KEYSTONE 53, VENANGO CATHOLIC 24
KNOX, Pa. – Behind an 18-point, 10-rebound double-double from Taylor Geer, Keystone toppled visiting Venango Catholic, 53-24, in KSAC Crossover play.
Amber Hess added 14 points, seven rebounds, three assists, two blocks and a steal for the Lady Panthers, who also got 10 points from McKenzie Hovis and six points, nine rebounds and three blocked shots from Tessa Weaver. Geer also threw in a pair of blocked shots on defense.
Ava Homan led Venango Catholic with 11 points.
MONITEAU 55, FOREST AREA 19
WEST SUNBURY, Pa. – Kristina DeMatteis outscored Forest Area all by herself when she netted 20 points in a 55-19 win for Moniteau over the visiting Fires in KSAC Crossover play.
DeMatteis scored 13 of her points in the opening quarter helping Moniteau take a 22-8 lead at the end of one.
Alazia Greaves added 13 points for the Lady Warriors with Emma Bair chipping in eight points, seven rebounds and three blocked shots.
Morgan Silvis scored 14 points to pace Forest Area.
A-C VALLEY 78, CLARION-LIMESTONE 31
FOXBURG, Pa. – Ellie Thompson scored 22 points, hauled down four rebounds, dished out four assists and came away with three steals, as A-C Valley sailed past visiting Clarion-Limestone, 78-31 in a KSAC Crossover game.
Morgan Cratty added 16 points for the Lady Falcons, who had 10 different players score including Kylee Eaton with eight and Cami McNany with seven. Lauren McNany chipped in six points, five steals and four rebounds.
Paige Aaron paced C-L with 12 points with freshman Maddy Craig adding a career-best nine tallies.    
KARNS CITY 60, CLARION 34
KARNS CITY, Pa. – LeeAnn Gibson and Emily Hegedus teamed up to score 37 points, as Karns City blitzed past visiting Clarion, 60-34, in KSAC Crossover action.
Gibson scored a game-high 21 points with Hegedus adding 16. The duo combined for 18 of Karns City's 24 first-quarter points helping the Lady Gremlins race out to a 24-6 lead at the end of one. Gibson had 10 in the opening eight minutes with Hegedus adding eight.
Alyssa Gibson also reached double digits for Karns City with 11 tallies.
Gloria Kroh had nine points for Clarion with Kelly Beveridge and Anna Reed each adding seven.
BROOKVILLE 38, KANE 28
BROOKVILLE, Pa. – Mackenzie Ganoe scored 11 points to pace Brookville to a 38-28 non-conference victory over visiting Kane.
Brooke Shattenberg added eight tallies for the Lady Raiders with Elaina Powell grabbing 10 rebounds and Hali Olson nine. Hannah Kirkwood and Kara Wonderling each had six steals for Brookville.  
Rachel Morgan had a double-double with 10 points and 10 rebounds for Kane with Trinity Clark adding 12 rebounds to go with eight points.