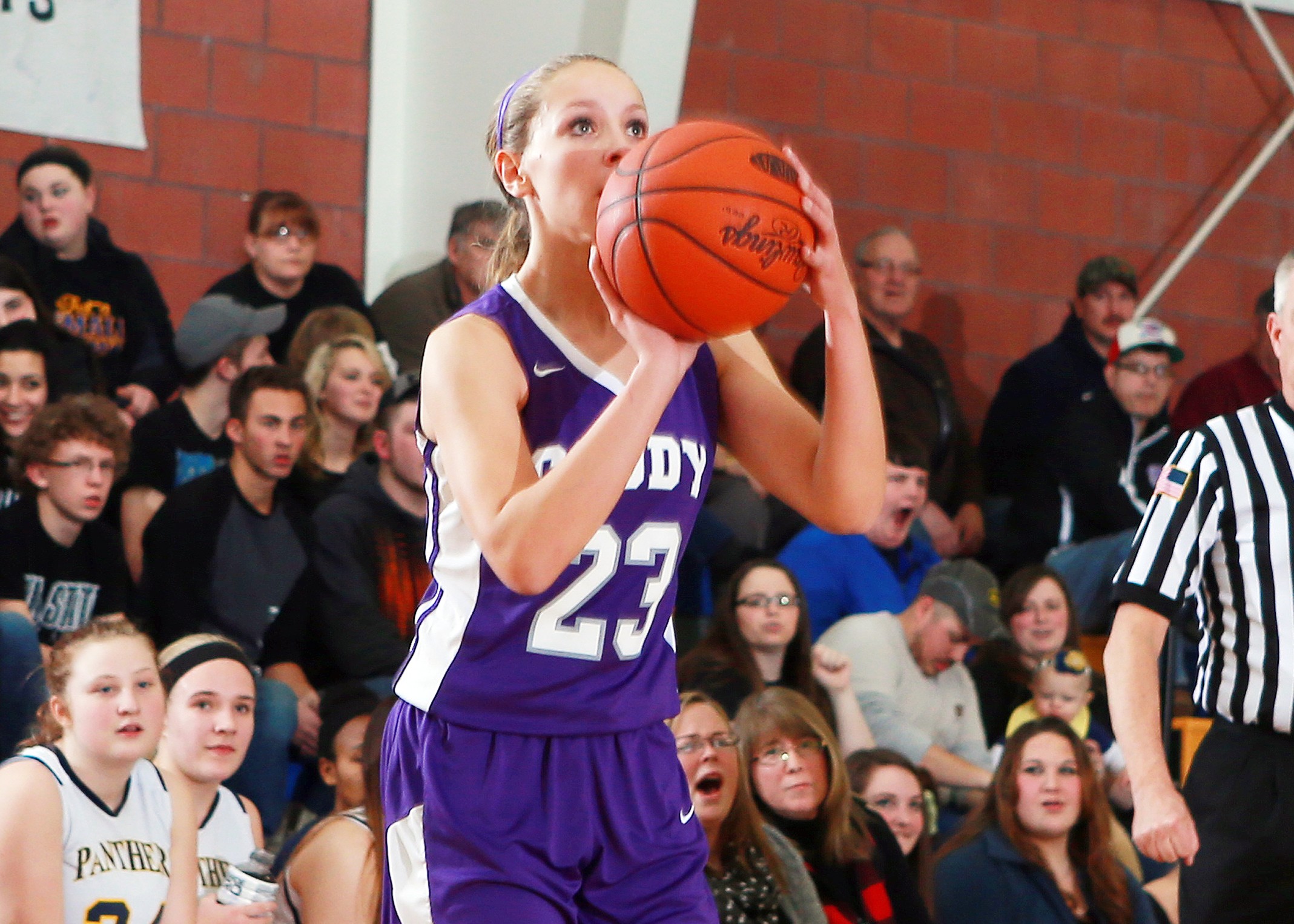 GIRLS
COUDERSPORT 60, NORTHERN POTTER 47
ULYSSES, Pa. – First-place Coudersport gave itself some breathing room in the North Tier League with a 60-47 win at second-place Northern Potter.
The Lady Falcons outscored the home squad 35-17 in the middle two quarters to get the victory with Haley Keck scoring eight of her team-high 12 points in the second and third quarters.
Overall, it was a balanced effort for Coudersport with nine different players scoring.
Ally Easton added 10 points and seven rebounds, while Emily Morey had nine points and four steals and Kiara Perkins eight points and seven rebounds.
Kalie Cowburn paced all scorers with 24 points, including 11 in the fourth quarter, for Northern Potter. She was 9 of 10 from the free-throw line in the game. Gracie Hamilton chipped in 10 points for the Lady Panthers.
The win moves Coudersport to 14-1 overall and 10-0 in the NTL. The Lady Falcons now have a two-game lead on Northern Potter, which fell to 12-4 overall and 8-2 in the league.  
PORT ALLEGANY 48, SHEFFIELD 5
PORT ALLEGANY, Pa. – Autumn Buchsenschutz hit seven 3-pointers on her way to a game-high 32 points, as Port Allegany topped visiting Sheffield, 48-5, in non-conference action.
Buchsenschutz scored 13 points in the first quarter and 20 in the first half for the Lady Gators.
Erica Isenberg and Emily Knowles each scored two points to lead the way for Sheffield.
OTTO-ELDRED 63, SMETHPORT 46
DUKE CENTER, Pa. – Ali Cousins exploded for a career-high 26 points to lead Otto-Eldred to a key 63-46 win over visiting Smethport in North Tier League action.
The victory evens the Lady Terrors record at 8-8 on the season.
Cousins, who added five steals, scored 14 of her points in the third quarter helping Otto outscored Smethport 19-13 in the quarter and expand on a 30-21 halftime lead.
Camryn Thomas added 16 points. 12 rebounds, three steals and three assists for Otto with Emily Smith chipping in six rebounds and three steals to go with five points.  
Abby Woodard paced Smethport with 21 points, and Emily Treat scored 18 for the Lady Hubbers on six 3-pointers.
CAMERON COUNTY 55, AUSTIN 20
EMPORIUM, Pa. – Behind 22 points, eight rebounds and four steals from Madison Harrier, Cameron County topped visiting Austin, 55-20, in North Tier League play.
Madi Guisto added eight points, 10 rebounds, three steals, three assists and three blocks for the Lady Raiders.
Jade McKernan led Austin with eight points, and Madison Hooftallen chipped in seven for the Lady Panthers.
GALETON 60, OSWAYO VALLEY 40
SHINGLEHOUSE, Pa. – Cortney Parsell scored a game-high 16 points to lead visiting Galeton to a 60-40 North Tier League win at Oswayo Valley.
Olivia Pagano added 15 points for the Lady Tigers with Makaya Shadle chipping in 12.
Five different Oswayo Valley players scored six points each.
PUNXSUTAWNEY 51, DUBOIS 30
DUBOIS, Pa. – Leah Miller and Morgan VanLeer combined to score 32 points to lead Punxsutawney to a 51-30 road win at DuBois in D9 League action.
Miller netted a game-high 19 points with VanLeer adding 13 points. Hope Bridge chipped in eight points for the Lady Chucks, who rode a 14-3 first quarter to a 24-7 halftime lead.
Ashley Hallowell led DuBois, which scored 14 of its points in the fourth quarter, with eight points. Dayna DeSalve and Taylore Uplinger each added six points.
BOYS
TITUSVILLE 63, CRANBERRY 47
SENECA, Pa. – Despite getting double-figure scoring from Evan Lutz, Brendan Zerbe and Dechlyn Sheffer, Cranberry dropped a 63-47 decision to visiting Titusville in non-conference action.
Lutz led the Berries with 15 points with Sheffer adding 13 while hitting three 3-pointers and Zerbe 10.
But Kai Skinner scored 22 points for Titusville, and Tyler Gates added 21 to lead the Rockets to the victory.