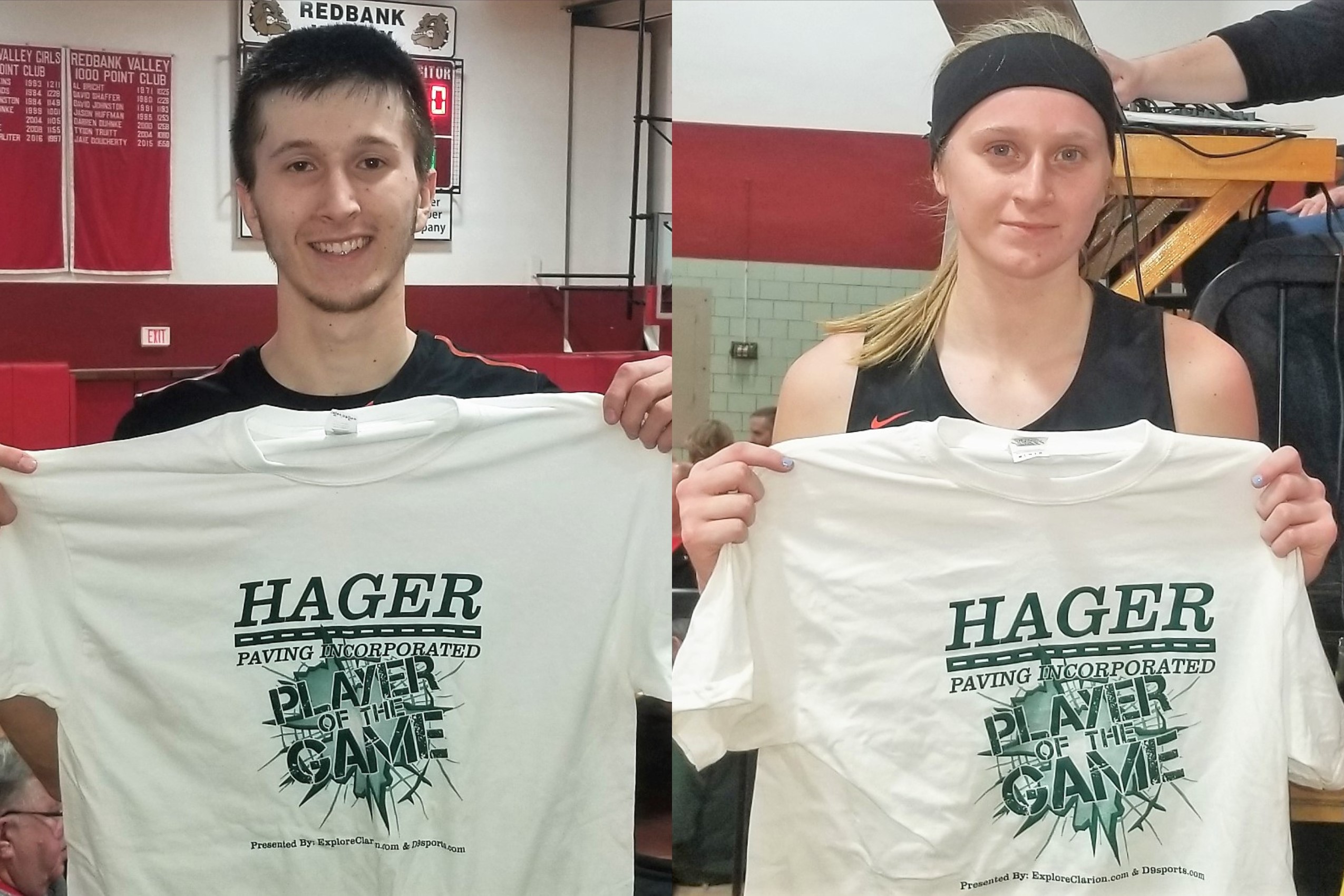 Jan. 21 boys' and girls' recaps.
(Photo of Clarion's Nick Frederick (left) and Wendy Beveridge (right) who helped both Bobcats teams to wins at Redbank Valley Monday)
BOYS
CLARION 63, REDBANK VALLEY 62
Read a full story at our sister site, exploreClarion.com
NEW BETHLEHEM, Pa. – After blowing a 14-point first-half lead, Clarion rallied from seven down to start the fourth quarter to pick up a 63-62 road win over Redbank Valley.
The Bobcats led 28-14 midway through the second quarter before the Bulldogs went on a half-ending 14-2 run to get within a point, 30-29, at halftime and then continued to roll going up 47-40 at the end of the third quarter.
But Clarion started the fourth quarter on a 10-2 run to take a 50-49 lead. The lead then changed hands two more times and the game was tied three additional times the latest at 56-all before Nick Frederick's foul-line jumper with 1:27 to play but Clarion up for good.
Frederick, who scored 17 points to go with seven rebounds while scoring six fourth-quarter points, talked about the win.
Cal German led Clarion with 24 points, including eight in the fourth quarter after scoring 14 in the first half.
Chris Marshall had a game-high 20 points for Redbank Valley with 10 of those coming in the fourth quarter. Keaton Kahle added 11 points and eight rebounds (all his rebounds were after halftime) with Nick Smith scoring 10 points, all in the first half, and Bryson Bain hitting three 3-pointers for nine tallies.
Rewatch the game.
CLEARFIELD 51, DUBOIS 49
DUBOIS, Pa. – Cade Walker scored six of his game-high 17 points in the fourth quarter to help Clearfield rally for a 51-49 road win over DuBois.
The Bison trailed 41-34 going to the fourth quarter after the game was tied at 19 at halftime but outscored the Beavers 17-8 in the final eight minutes.
In addition to Walker's six fourth-quarter points, Taye Lynch and Karson Rumsky each scored four in the frame and both players finished with 13 tallies.
Jonathan Cruz led DuBois with 15 points, Justin Manduley had 14 points while hitting four 3-pointers and Chase Husted added 12.
KEYSTONE 63, SAEGERTOWN 48
SAEGERTOWN, Pa. – Brooks LaVan hit five 3-pointers on his way to 15 points, as Keystone gave head coach Greg Heath his 599th career win with a 63-48 road victory over Saegertown.
Troy Johnson added 11 points for the well-balanced Panthers who also got nine points from Dawson Steele and eight apiece from Isaak Jones and Luke Hurrelbrink.
Eli Draa paced Saegertown with 12 points with Max Fuller chipping in 11 and Raef Rhoades and Ryan Sherry 10 apiece.
Heath, who is 599-277 in his 35th season at Keystone, will go for win No. 600 when the Panthers play host to Venango Catholic Wednesday.
NORTH CLARION 53, MONITEAU 39
WEST SUNBURY, Pa. – Overcoming a slow start, North Clarion stayed unbeaten with a 53-39 road win over Moniteau.
The Wolves trailed 7-4 after a quarter of play but outscored the Warriors 16-9 in the second quarter to take a 20-16 halftime lead. They then expanded the advantage to 35-27 after three quarters.
Korey Mills paced North Clarion with 14 points with Kyle Mills adding nine points and eight rebounds and Logan Minich and Tyler McCord-Wolbert seven points each.
Gage Neal tied for game-high honors with 14 points for Moniteau with Ethan McDeavitt adding 11 tallies and Tyler McFadden seven.
KARNS CITY 75, FOREST AREA 33
KARNS CITY, Pa. – Austin Fahlor netted 21 points and collected seven rebounds in a 75-33 home win for Karns City over Forest Area.
Chase Beighley added 15 points and six assists for the Gremlins with Nathan Waltman scoring 13 points and hauling down nine rebounds.
Franklin Meals scored 12 points to pace Forest Area with Aiden Quinn adding eight tallies. Noah Burke had a game-high 10 rebounds to go with five points.
GIRLS
CLARION 56, REDBANK VALLEY 48
Read a full story at our sister site, exploreClarion.com
NEW BETHLEHEM, Pa. – A quick 7-0 spurt near the start of the fourth quarter helped visiting Clarion pull out a 56-48 win at Redbank Valley.
The game was tied at 41 following a 3-pointer by Redbank Valley's Karlee Shoemaker at the start of the quarter, but Wendy Beveridge answered with a three moments later and Kate Constantino scored four quick points to give the Lady Cats a 48-41 lead.
The Lady Bulldogs, who trailed by 10 – 29-19 at halftime – before taking a 33-32 lead in the third quarter clawed back within four points on three different occasions after the Clarion run in the fourth quarter but could get no closer.
Kait Constantino led Clarion with 19 points and six rebounds with Wendy Beveridge adding 13 points, seven blocked shots, six rebounds and a steal.
Beveridge talked about the win.
Also for Clarion, Jordan Best added seven points, 10 rebounds and three steals and Ali Troese had seven points and a game-high 15 boards to go with a blocked shot.
Tara Hinderliter tied Constantino for game-high honors with 19 points while adding eight rebounds and five steals before fouling out late for Redbank Valley. Lauren Smith added nine points for the Lady Bulldogs with with Kaitleyn Davis chipping in eight points, all in the third quarter, and a team-high 11 rebounds. Emma Huffman also had 10 rebounds and three points.
There were 44 fouls called in the game – 28 on Redbank Valley – and the Lady Bulldogs had three players foul out. Clarion was 29 of 40 from the free-throw line with Redbank Valley going 11 of 20 from the charity stripe.
Rewatch the game – Part 1 (until late in the first quarter)
Rewatch the game – Part 2 (remainder of the game)
BRADFORD 49, OTTO-ELDRED 40
BRADFORD, Pa. – Jumping out to a 15-3 edge at the end of one quarter, Bradford went on to beat visiting Otto-Eldred, 49-40.
Hannah Lary scored 12 of her game-high 23 points in the opening eight minutes while hitting both of her 3-pointers in the quarter.
Erica Marshall added 17 points, all in the second half, for Bradford.
Haylee Frederick had a team-high 16 points for Otto-Eldred.
DUBOIS 39, BROCKWAY 30
BROCKWAY, Pa. – Chelsea DeSalve and Abby Guiher combined for 24 points to lead visiting DuBois to a 39-30 win over Brockway.
DeSalve had a team-high 13 points with Guiher adding 11.
Danielle Wood paced Brockway with a game-high 14 points with Selena Buttery collecting 12 rebounds to go with six points. Morgan Lindemuth chipped in with nine tallies.
SLIPPERY ROCK 73, MONITEAU 29
SLIPPERY ROCK, Pa. – Emma McDermott was one of four Slippery Rock players in double digits with a game-high 19 points, as the Lady Rockets defeated visiting Moniteau, 73-29.
Maryann Ackerman added 14 points, Hallie Raabe chipped in with 12 tallies and Anna Kadlubek had 11 points.
Kristin Auvil paced Moniteau with 10 points with Aslyn Pry adding six points and 10 rebounds and Haley Pry seven tallies.
MERCER 39, UNION 33
MERCER, Pa. – Darby Miller scored 13 points to lead Mercer to a 39-33 win over visiting Union.
Mackenzie Baker added 11 tallies in the win.
Hailey Kriebel paced Union with 11 points with Dominika Logue adding seven and Marli Hawk six on a pair of 3-pointers.