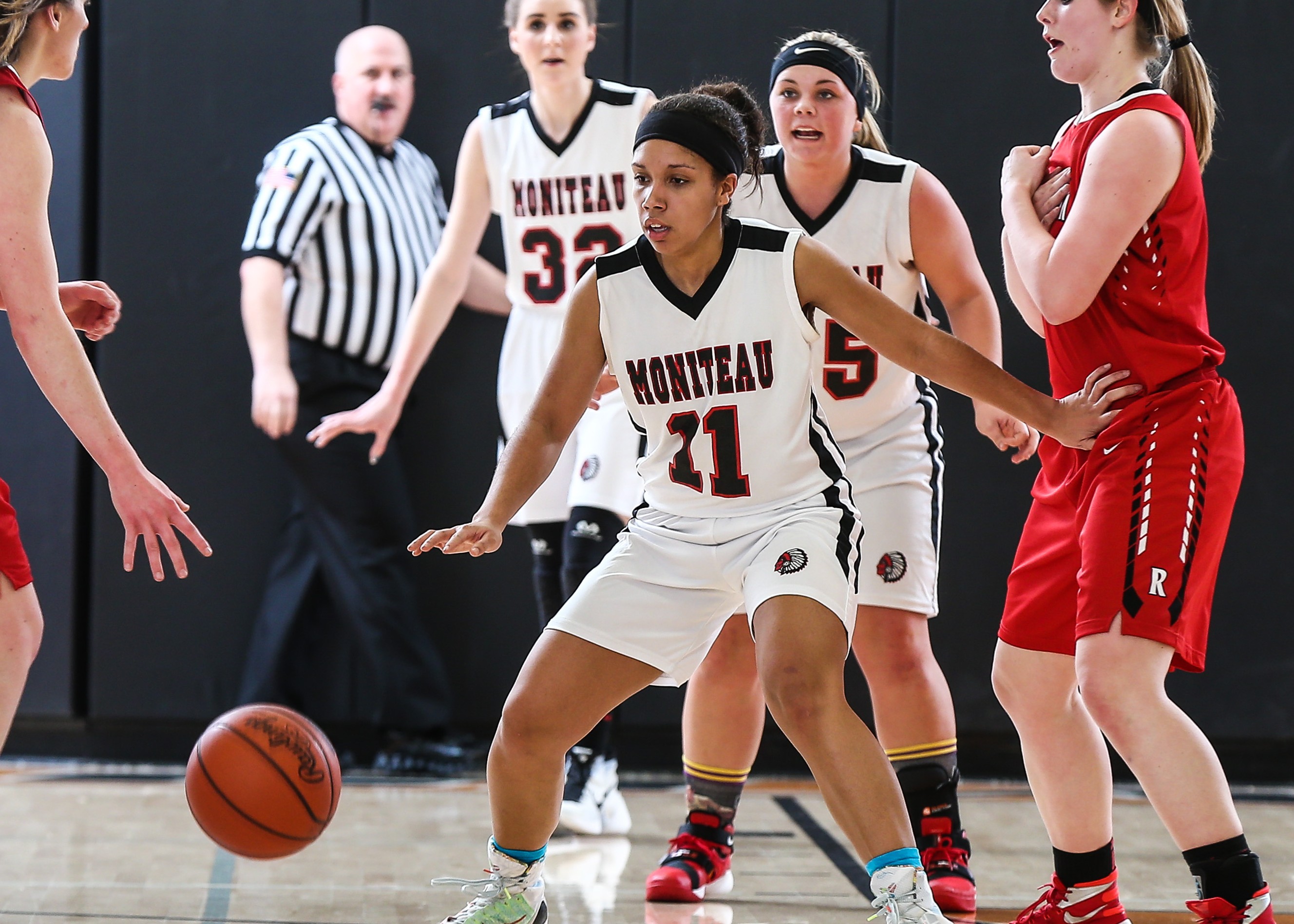 Jan. 21 basketball recaps.
(Cover photo of Moniteau's Alazia Greaves. Photo by Mike Schnelle. Check out more of Schnelle's work here)
GIRLS' RECAPS
MONITEAU 58, COUDERSPORT 50, overtime
COUDERSPORT, Pa. – Alazia Greaves scored eight of her 21 points in overtime including going 5 of 6 from the line in the extra session, as Moniteau handed a team its first loss of the season for the second time this week, 58-50 at Coudersport.
Macy Gleason had forced overtime when she buried a 3-pointer with six seconds left in regulation for Coudersport, her only basket of the game, that tied the game at 46, but Moniteau took over in the extra session outscoring the Lady Falcons, 12-4, to secure the win. Ally Easton, who had six points and five blocked shots, fouled out in the extra session and it was all Moniteau after that.
Kristina DeMatteis also scored 21 points for Moniteau while adding 12 rebounds and five steals. Emma Bair had a strong all-around game as well with six points, 10 rebounds, five blocked shots and four steals.
Haley Keck paced Coudersport with 22 points and three assists while hitting four 3-pointers. Kiara Perkins chipped in seven points and seven rebounds and EmmaRae Easton had two points and seven rebounds.
Coudersport dips to 12-1 on the year with Moniteau improving to 13-2. It was the second road win over a previously unbeaten team this week for the Lady Warriors who knocked off North Clarion, 52-47, Wednesday.
KANE 40, JOHNSONBURG 38
JOHNSONBURG, Pa. – Ella Marconi scored nine of her game-high 15 points in the fourth quarter to lift visiting Kane to a 40-38 win over Johnsonburg in AML action.
Marconi completed a double-double with 10 rebounds while also adding five blocked shots. Rachel Morgan also had a double-double with 10 points and 11 rebounds, while Camryn Cummings added four points, five assists and six rebounds and Hannah Buhl six points and six assists.
Skylar Sherry led Johnsonburg with 12 points, Cassidy King added 10 and Amanda Williams eight.
DUBOIS 57, BALD EAGLE AREA 31
DUBOIS, Pa. – Ashley Hallowell had 23 points and 22 rebounds despite only playing three quarters in a 57-31 DuBois win over visiting Bald Eagle Area.
It was the third consecutive 20-rebound game of the year for Hallowell, who sat out the fourth quarter because of the score, her fifth in her last six games and her sixth of the season. She is averaging 16.9 points and 19.0 rebounds per game.
Chelsea DeSalve added 15 points for DuBois.
SMETHPORT 61, AUSTIN 24
AUSTIN, Pa. – Abbey Woodard knocked down 10 shots from the field on her way to a game-high 22 points to help Smethport to a 61-24 North Tier League road victory over Austin.
Brittany Szarowicz added 11 points for the Lady Hubbers who also got 10 from Marissa Jack.
Cerissa Glover and Madison Hooftallen each scored seven points to pace Austin.
BOYS' RECAPS
COWANESQUE VALLEY 55, AUSTIN 44
AUSTIN, Pa. – Tyler Vargerson scored 13 points to help visiting Cowanesque Valley to a 55-44 win at Austin.
Mason Valenti had a game-high 16 points while also collecting eight rebounds for Austin. Brian Shupe chipped in nine rebounds, five assists and three points for the Panthers.
DUBOIS 62, BALD EAGLES AREA 33
DUBOIS, Pa. – Nick LaBrasca had 22 points and 11 rebounds and DuBois shot 9 of 15 from 3-point land in picking up a 62-33 win over visiting Bald Eagle Area.
Kenny Garvey added 10 points for the Beavers, who have won four straight.
Jordan Jones paced Bald Eagle Area with 12 points.
KANE 46, JOHNSONBURG 41
JOHNSONBURG, Pa. – Andrew Bucheit had 14 points and 13 rebounds to help Kane hold on for a 46-41 win at Johnsonburg in AML action.
Davis Garnder added 12 points and Chad Greville 11 while hitting three 3-pointers for the Wolves, who led 24-19 at halftime and 32-29 going into the fourth quarter.
Jake Sheldon had nine points to pace Johnsonburg with Drew Akers adding eight.