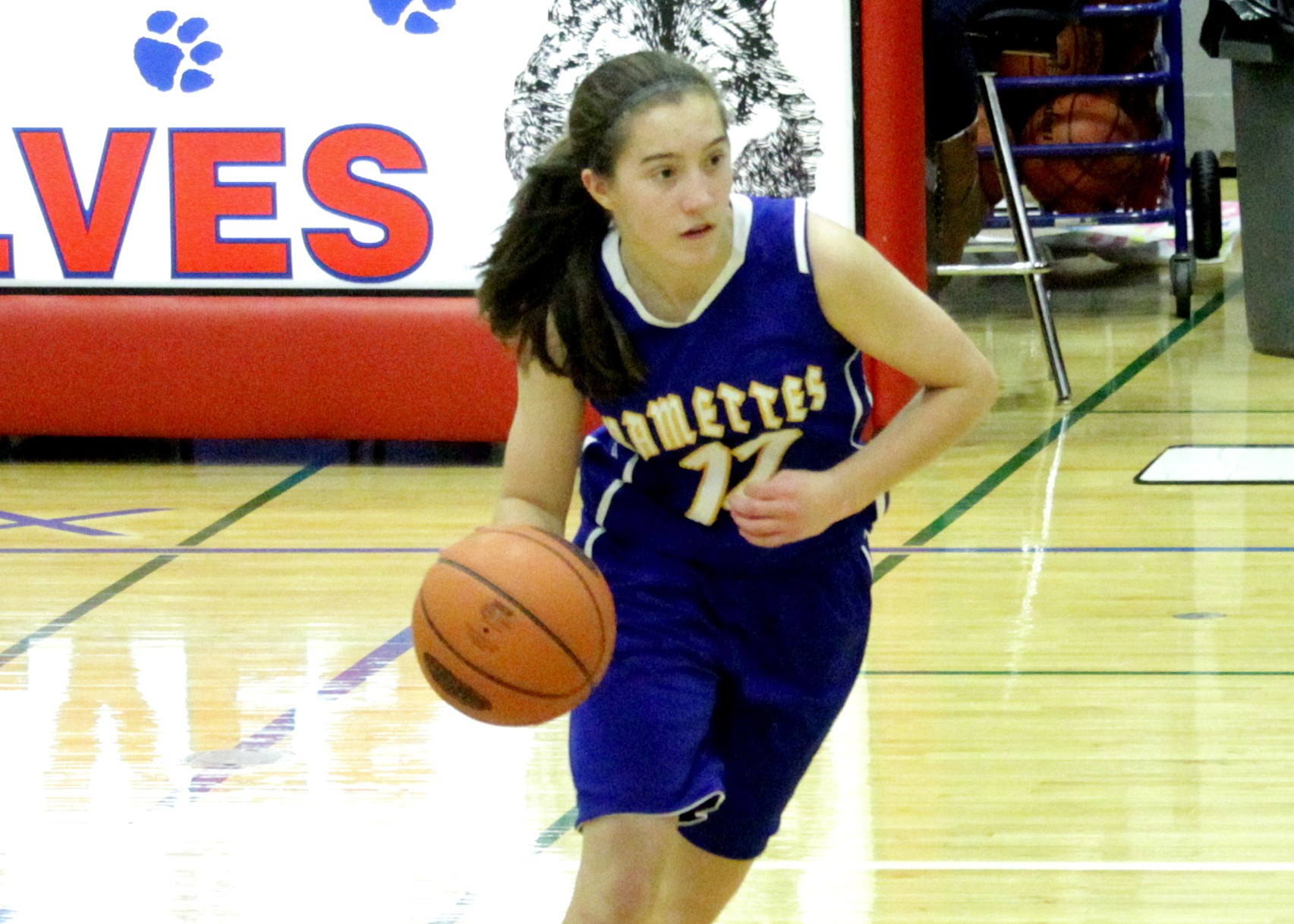 JOHNSONBURG 37, ELK COUNTY CATHOLIC 30
JOHNSONBURG, Pa. – Cassidy King had 13 points and seven steals with Nicole Myers adding 10 points, seven rebounds and four steals, as Johnsonburg toppled Elk County Catholic, 37-30, in AML action.
The victory put the Rams a game up in the loss column on ECC for the second AML playoff spot awarded to the AML North.
A 13-7 third-quarter advantage for the Ramettes proved to be the difference. King scored eight of her points in the third quarter.
Mackenzie Cashmer and Cassidy Cunningham led ECC with nine points each.  
NORTH CLARION 67, UNION 60
FRILLS CORNERS, Pa. – North Clarion need a strong fourth quarter to rally past upset-minded Union, 67-60, in KSAC Crossover action at North Clarion.
The She-Wolves, who have now won five straight to move to 15-2, were trailing 45-44 after three quarters before outscoring Union 23-15 in the final eight minutes.
It was a team-wide effort in the final quarter for North Clarion with Abbie Schmader scoring seven points, Tori Obenrader and Cassie Wagner five each, Michaela Higgins four including a big 3-pointers and Taylor Gatesman two.
Schmader finished with a game-high 25 points to go with 13 rebounds, while Obenrader added yet another double-double with 18 points and 19 rebounds.
Union, which trailed 30-28 at halftime, got 17 points from Shaley Shick, 15 from Kali Flick and 10 each from Frankee Remmick and Lexi Shick.  
CLEARFIELD 52, BELLEFONTE 43
CLEARFIELD, Pa. – Clearfield was a perfect 15 of 15 from the free-throw line while picking up a 52-43 win over visiting Bellefonte in Mountain League play.
Rachel Glenny was a big reason why the Bison were perfect from the line going 10 of 10 on her way to a game-tying high of 20 points. Emily Ryan added 12 points and Ally Lindstrom eight for Clearfield.
Jess Boox led Bellefonte with 20 points.
BROCKWAY 42, CURWENSVILLE 32
CURWENSVILLE, Pa. – Kaitlyn Morelli and Leah Lindemuth combined to score 27 of Brockway's 42 points in a 42-32 AML road win at Curwensville.
Morelli led the way for the Lady Rovers with 15 points with Lindemuth adding 12.
Hannah Dixon paced Curwensville with 15 points with Christine Limbert adding eight points and 11 rebounds.  
DUBOIS CENTRAL CATHOLIC 45, RIDGWAY 32
RIDGWAY, Pa. – Riley Assalone netted 15 points as visiting DuBois Central Catholic beat Ridgway, 45-32, in AML action.
Jordy Frank and Libby Maurer added eight points each for the Lady Cardinals.
Emily Fullem paced Ridgway with 11 points with Jessica Kifer adding nine.
BROOKVILLE 47, ST. MARYS 32
BROOKVILLE, Pa. — Leading from start to finish, Brookville avenged an early-season 25-point loss to St. Marys and beat the Lady Dutch 47-32 in D9 League action.
Hali Olson scored 17 points with 11 and six assists and she scored all of those points in the first three quarters for the Lady Raiders. Brooke Shattenberg scored 12 points. Elaina Powell added eight points while Kara Wondering scored four points with nine assists.
Rachel Bauer scored 10 points for St. Marys.
KANE 56, SHEFFIELD 13
SHEFFIELD, Pa. – Twelve different players scored for Kane led by 16 points from Trinity Clark, as the visiting Lady Wolves downed Sheffield, 56-13, in AML action.
Clark completed a double-double with 15 rebounds. Ella Marconi also had a double-double with 11 points and 13 rebounds, while Rachel Morgan added six points and seven rebounds and Camryn Cummings four points and five assists.
Destiny Wynn, Mya Grubbs and Lexi Lyon each scored three points to lead Sheffield.
KARNS CITY 60, CRANBERRY 22
SENECA, Pa. – LeeAnn Gibson outscored Cranberry all by herself, as visiting Karns City rolled to a 60-22 KSAC Crossover victory.
Gibson had a game-high 23 points to lead the Lady Gremlins with Emily Hegedus adding 14 points.  
Malliah Schreck led Cranberry with seven points.
KEYSTONE 49, CLARION 35
CLARION, Pa. – Shorthanded Keystone took care of business with a 49-35 KSAC Crossover road win at Clarion.
The Lady Panthers, who were down to eight healthy bodies, got 12 points, nine rebounds, five blocks and three assists from Taylor Geer and 12 points, eight rebounds, four steals, three blocks and three helpers from Amber Hess in the victory.
MaKenzie Byerly added 10 points Keystone, which has already lost Alyssa Beichner for the year with knee injury and was also without Josselin Geer (sprained ankle). An eight additional points, five rebounds and two blocks came from Tessa Weaver and seven points from Kaci Weaver.
Freshman Wendy Beveridge led Clarion with 12 points and five rebounds. Kelly Beveridge chipped in seven points.  
A-C VALLEY 68, FOREST AREA 31
MARIENVILLE, Pa. – Ellie Thompson poured in 25 points to go with seven rebounds, four steals and two assists, as visiting A-C Valley rolled past Forest Area, 68-31, at East Forest.
Morgan Cratty added 16 points and Olivia Boocks 10 points, seven assists and three steals for the Lady Falcons, who got back to .500 (8-8) with the win.
Morgan Silvis had seven tallies to lead the Fires.  
REDBANK VALLEY 53, CLARION-LIMESTONE 24
STRATTANVILLE, Pa. – Brooke Hinderliter scored 12 of her game-high 21 points in the first quarter to lead Redbank Valley to a 53-24 win at Clarion-Limestone in KSAC Crossover action.
Hinderliter added six steals and six rebounds for the Lady Bulldogs, while Macy King chipped in eight points and Becca Dougherty six points and eight rebounds.
Karleigh Aaron led C-L with eight tallies, and Maddy Craig added five.