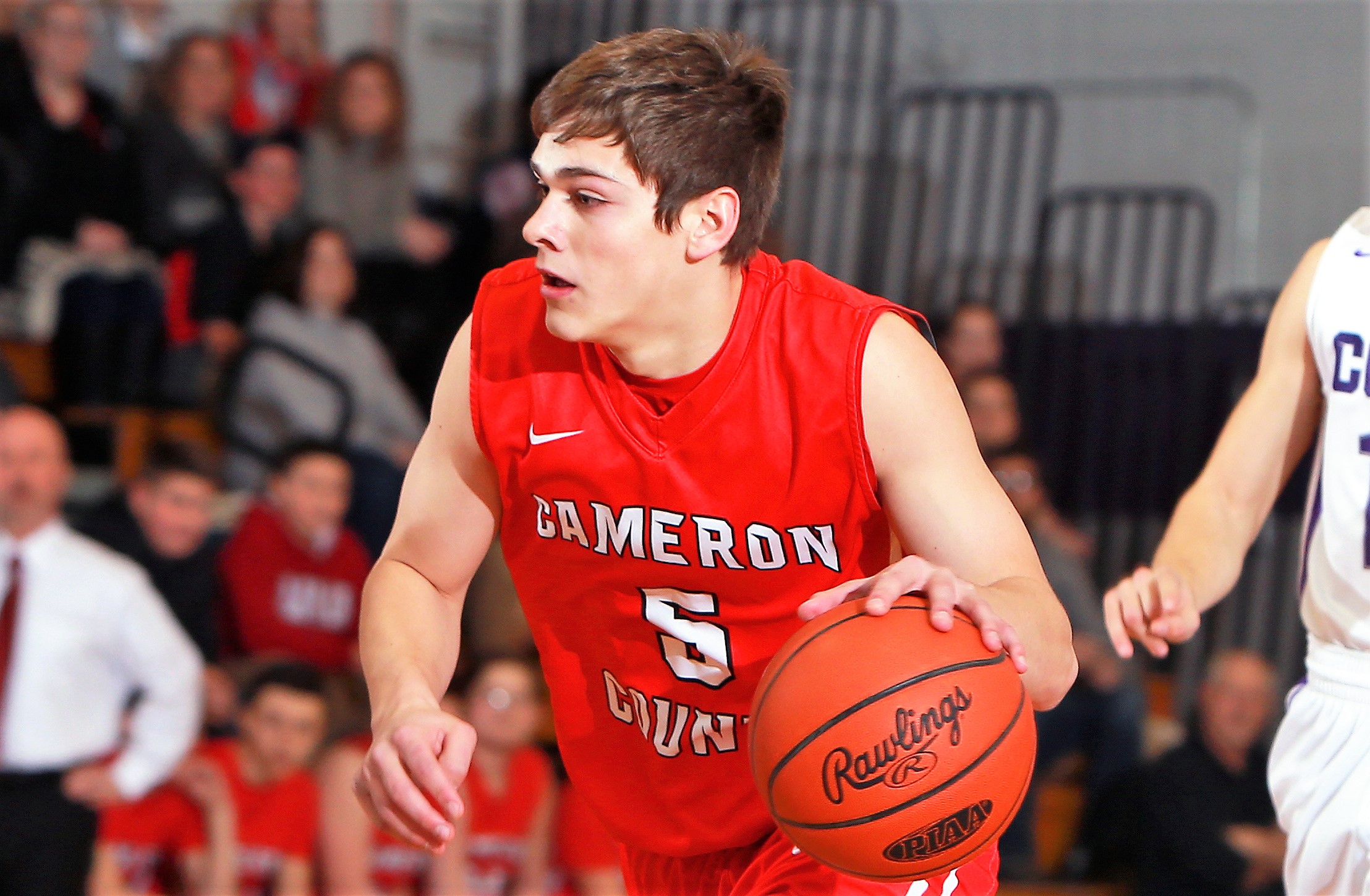 Jan. 22 recaps.
(Photo: Adam Shaffer, Cameron County. Photo by Paul Burdick. Check out more of Burdick's work here)
CAMERON COUNTY 51, OSWAYO VALLEY 44
EMPORIUM, Pa. – Adam Shaffer tickled the twine for 27 points while hitting four 3-pointers to help Cameron County to 51-44 win over visiting Oswayo Valley in North Tier League play.
Ty Bauer added seven points for the Red Raiders with Dino Brown chipping in with six.
Theo Henry had 18 to pace Oswayo Valley. Garren Black added 10 for the Green Wave and Gavin Babcock had eight.
OTTO-ELDRED 51, GALETON 39
DUKE CENTER, Pa. – Otto-Eldred built a 21-point lead and then held on for a 51-39 win over visiting Galeton in North Tier League action.
The Terrors were up 34-18 at halftime and 42-25 at the end of three before Isaiah Shuemaker hit three of his six 3-pointers in the fourth quarter to get the Tigers back in the game. Shuemaker finished with 18 points with Evan Brooks adding 14.
Sawyer Drummond had a double-double of 15 points and 13 rebounds for Otto-Eldred with Dylan Close adding nine points, eight assists and six rebounds. Trey Dalton and Jordan Sherwood each chipped in with eight points.
SMETHPORT 64, NORTHERN POTTER 42
SMETHPORT, Pa. – Caleb Lutz and Brandon Peterson combined to hit five 3-pointers and score 30 points to help Smethport to a 64-42 home North Tier League win over Northern Potter.
Lutz led the way for the Hubbers with 16 points, all in an 18-point second quarter for Smethport, while Peterson hit three triples and scored 14 points. Ian Woodruff chipped in 12 tallies for Smethport.
Holden Cowburn paced Northern Potter with 16 points.
COUDERSPORT 98, PORT ALLEGANY 42
COUDERSPORT, Pa. – Owen Chambers exploded for 35 points, all in the first three quarters, as Coudersport rolled to a 98-42 win over visiting Port Allegany.
Chambers hit 12 shots from the field, including three 3-pointers, and was also 8 of 9 from the free-throw line. He has 22 points by halftime.
Jared Green also had a monster game for the Falcons with 25 points, also all in the first three quarters, including 19 in the first half to help Coudersport to take a 57-27 halftime lead. Hayden Keck also chipped in with nine points for the Falcons.
Howie Stuckey had 24 points to lead Port Allegany including 11 in the fourth quarter and 11 in the first quarter when he hit three of his five 3-pointers.
PUNXSUTAWNEY 59, MARION CENTER 45
PUNXSUTAWNEY, Pa. – Brandon Matthews hit five 3-pointers on his way to a game-high 29 points to help Punxsutawney to a 59-45 win over visiting Marion Center.
Nineteen of Matthews points came after halftime including 14 in the third quarter when the Chucks outscored the visitors 23-12 to expand on a 25-19 halftime lead.
CLEARFIELD 69, DUBOIS 60, OVERTIME
HYDE, Pa. – Hitting 10 of 13 free throws in overtime, Clearfield pulled away from DuBois in the extra session to get a 69-60 win over the visiting Beavers.
The game, which was close throughout, was tied at 54 at the end of regulation before Ryan Chew scored six of his 16 points in overtime hitting 3-pointer and going 3 of 4 from the line.
Reese Wilson, who had 21 points to lead Clearfield, was 4 of 6 from the line in the extra session after scoring nine of the Bison's 12 fourth-quarter points. Jon Gates, who hit a pair of overtime free throws, added 19 points for Clearfield.
Jonathan Cruz led DuBois with 21 points while hitting five 3-pointers. Chase Husted added 15 points.
DuBois led 34-32 at halftime and 43-42 after three quarters.
CURWENSVILLE 60, MOSHANNON VALLEY 53
CURWENSVILLE, Pa. – Josh Terry and Devon Barrett combined for 41 points to help Curwensville to a 60-53 win over visiting Moshannon Valley in Moshannon Valley League play.
Terry led the Golden Tide with 21 points with Barrett adding 20. Avery Francisco also had eight tallies for Curwensville.
CLARION-LIMESTONE 77, REDBANK VALLEY 55
NEW BETHLEHEM, Pa. – Ian Callen's quadruple-double of 26 points, 13 rebounds, 11 steals and 11 assists lifted visiting Clarion-Limestone to a 77-55 win over Redbank Valley.
Christian Smith added 19 points for the Lions with Hayden Callen chipping in 14 points and nine rebounds.
Logan Wadding scored 10 points to pace Redbank Valley with Nick Smith, Brock Barrett and Tanner Kerle each adding eight points.
MONITEAU 51, VENANGO CATHOLIC 41
WEST SUNBURY, Pa. – Ethan McDeavitt returned from a four-game absence to score a game-high 20 points to lead Moniteau to a 51-41 win over visiting Venango Catholic.
Jared Lominski added 17 points for the Warriors.
Ben Gillispie led Venango Catholic with 17 points with Josh Puleo adding 15.
COMMODORE PERRY 47, CRANBERRY 43
SENECA, Pa. – Jared Mink and Keane Cropp combined for 35 points to help visiting Commodore Perry edge Cranberry, 47-43.
Mink led the Panthers with 18 points with Cropp adding 17.
Tommy Flinspach had a season-high 20 points for Cranberry with Dan McQuaide adding 12.
ELK COUNTY CATHOLIC 71, KANE 26
KANE, Pa. – Ryan Newton, Alex Breindel and Brady Schneider all reached double digits to help visiting Elk County Catholic to a 71-26 AML win over Kane.
Newton led the Crusaders with 17 points, Breindel added 12 and Schneider 10. In all 12 ECC players scored.
Aaron Pierson had eight points to lead Kane, as ECC held the Wolves' leading scorer, Chad Greville, to just three points.