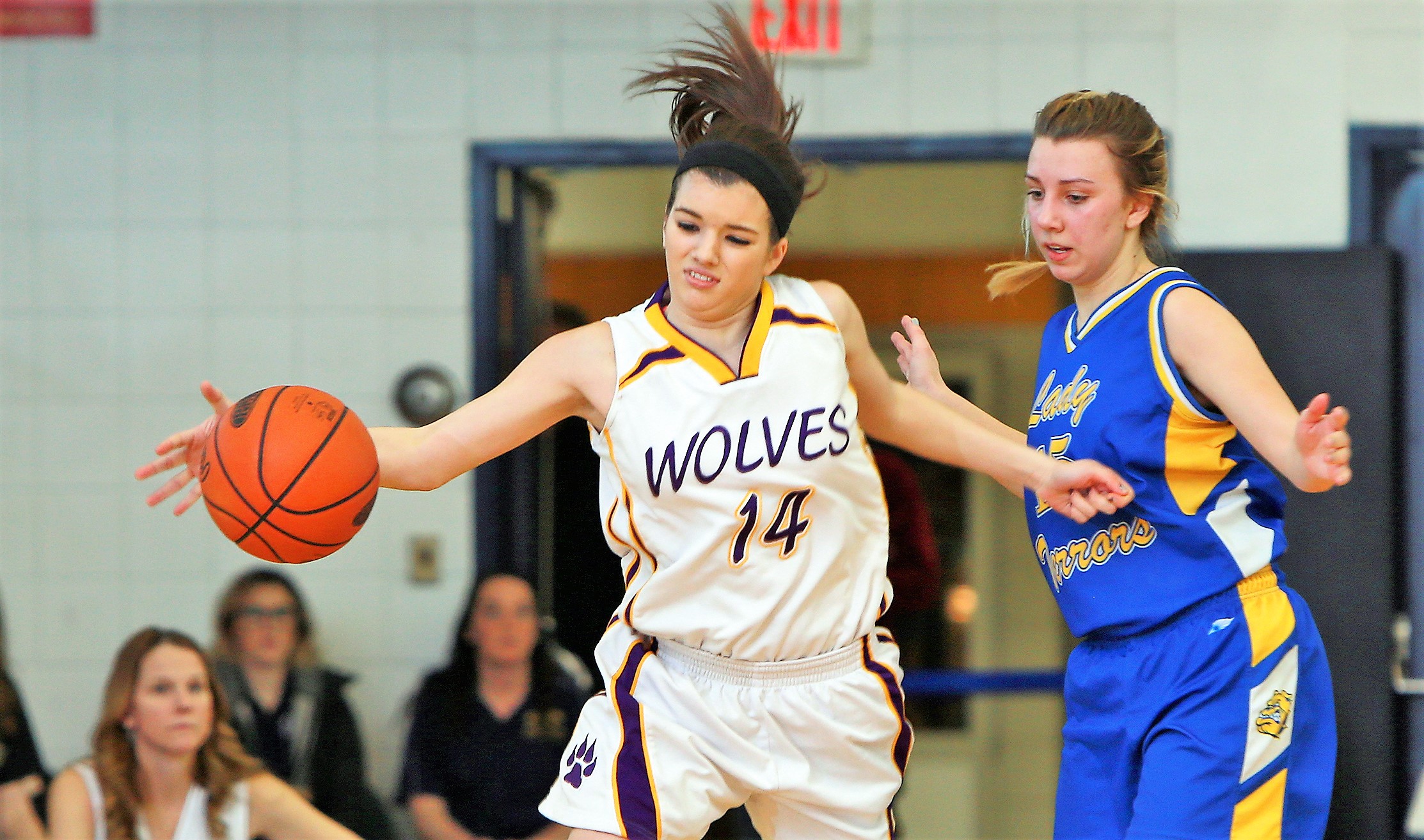 Jan. 22 recaps.
(Photo of North Clarion's Gabby Carll. Photo by Paul Burdick. Check out more of Burdick's work here)
NORTH CLARION 46, KEYSTONE 44
KNOX, Pa. – Gabby Carll hit a 3-pointer with 1:26 left to erase a two-point deficit and help visiting North Clarion survive a scare from Keystone, 44-42.
The She-Wolves trailed by six, 29-23, 2:44 left in the third quarter but went on a quarter-ending 11-1 run to take a 34-30 lead going into the fourth quarter. Tori Obenrader had seven of her game-high 25 points during the run that included North Clarion scoring seven points in the final 25 seconds of the quarter. Obenrader, who hit a buzzer beater at the end of the quarter, added 18 rebounds.
Keystone, which led 16-15 at halftime, rallied in the fourth quarter to take the 44-42 lead with under two minutes to play before Carll stepped up with her second 3-pointer of the game.
Obenrader, who scored 19 points in the second half including 12 in the third quarter, then hit a free throw with 4.2 seconds to play to make it 46-44. Obenrader missed the second free throw, but Abby Gatesman grabbed the rebound and pushed it out to Carll who was fouled with under a second left. Although Carll missed both free throws, Keystone wasn't able to get a shot off at the end.
Carll added eight points for North Clarion with Mackenzie Bauer and Ciearah Manross chipping in six each.
Taylor Geer led Keystone with 22 points. Emily Lauer added seven.
UNION 44, CLARION-LIMESTONE 38
STRATTANVILLE, Pa. – Frankee Remmick scored 13 of her game-high 22 points after halftime as visiting Union rallied from a nine-point halftime deficit to defeat Clarion-Limestone, 44-38.
The Golden Damsels trailed 25-16 at the break but held C-L without a field goal for the first 11:16 of the second half while going on an 18-2 run to start the half.
Remmick scored seven of Union's 13 third-quarter points with the Golden Damsels going up 29-27 after three quarters. The senior finished with 10 rebounds to complete a double-double.
Remmick talked about the win.
Hannah Atzeni also reached double digits for Union with 11 points, seven in the fourth quarter and nine in the second half. She was 5 of 8 from the free-throw line in the fourth quarter.
Morgan Cumberland chipped in two points and seven rebounds for Union.
Morgan Clark had a career-high 20 points to go with 13 rebounds for Clarion-Limestone. It was her fourth double-digit game in six outings. Maddy Craig added six points, 10 rebounds and two assists for the Lady Lions, while Anna Kennemuth chipped in seven tallies.
A-C VALLEY 63, CLARION 39
CLARION, Pa. – Ellie Thompson scored 23 points to lead visiting A-C Valley to a 63-39 win over Clarion.
Thompson is now just three points shy of the school record of 1,265 held by Hillary McCall. She gets her next crack at the record Wednesday at home against Clarion-Limestone.
Cami McNany added 17 points for the Lady Falcons with Kylee Eaton chipping in 13 points.
Wendy Beveridge paced Clarion with 11 points with Kait Constantino and Ali Troese each adding nine.
DUBOIS CENTRAL CATHOLIC 41, BRADFORD 40
BRADFORD, Pa. – Ashley Wruble scored all seven of her points in the fourth quarter to help visiting DuBois Central Catholic rally past Bradford, 41-40.
The Lady Cardinals trailed 34-29 going the fourth quarter but rallied behind a pair of 3-pointers from Wruble to pull out the win.
Wruble was one of three DCC players with seven points, as eight Lady Cardinals scored in the game. Abbey Pettenati and Alyssa Bittner each scored seven points as well with Maia Cogley and Haley Pettenati each adding five tallies.
Hannah Lary had a game-high 12 points for Bradford with Morgan Tyger adding eight and Brinya Moffett seven.
KANE 45, ELK COUNTY CATHOLIC 38
ST. MARYS, Pa. – Behind 15 points and nine rebounds from Ella Marconi visiting Kane held off Elk County Catholic, 45-38.
The Lady Wolves led comfortably, 34-19, going to the fourth quarter but were outscored 19-11 in the final eight minutes.
Trinity Clark had a double-double for Kane with 10 points and 10 rebounds, and Hannah Buhl added five points and five assists.
Taylor Newton paced ECC with 12 points with Josie Smith adding 10.
BROOKVILLE 67, CURWENSVILLE 23
BROOKVILLE, Pa. – Putting 12 players in the scoring column with no player reaching double figures, Brookville routed Curwensville, 67-23, in a non-league matchup Monday night.
Kira Powell led the Lady Raiders with nine points with three 3-pointers. Leah Kammerdeiner had eight points off the bench. Marcy Schindler and Lexis Hatzinikolas each finished with seven rebounds.
Brookville led 36-11 at halftime and outscored Curwensville, 31-12, in the second half.
Madi Weber led Curwensville with 14 points and 11 rebounds.
DUBOIS 54, BROCKWAY 31
DUBOIS, Pa. – Sarah Snyder hit four 3-pointers on her way to a game-high 20 points to lead DuBois to a 54-31 over visiting Brockway.
Ashley Hallowell added a double-double of 17 points and 14 rebounds for the Lady Beavers with Chelsea DeSalve adding 11 points.
Leah Lindemuth had eight points to lead Brockway with Maggie Schmader adding six points.
CAMERON COUNTY 56, AUSTIN 27
EMPORIUM, Pa. – Kaelee Bresslin had a game-high 16 points to lift Cameron County to a 56-27 win over visiting Austin at the Woodland Elementary School Gym.
Alyvia McKimm added 11 points for the Lady Raiders.
Jordan Brewer paced Austin with 10 tallies.
OTTO-ELDRED 77, JOHNSONBURG 57
JOHNSONBURG, Pa. – Behind big games from Camryn Thomas and Ali Cousins visiting Otto-Eldred stayed unbeaten with a 77-57 win over Johnsonburg.
Thomas had another double-double, her third straight and fourth of the season, with 24 points and 14 rebounds with Cousins adding 19 points, five steals and five assists.
Also for the Lady Terrors, Alyssa Shelander had 12 points and Britney Greeley added four points, four rebounds and three steals.
Cassidy King led Johnsonburg with 20 points, Marian Jones added 15 points and Rylee Casilio 11.
COWANESQUE VALLEY 54, OSWAYO VALLEY 32
SHINGLEHOUSE, Pa. – Makayla Vargason netted 15 points to help visiting Cowanesque Valley to a 54-32 win over Oswayo Valley.
Shayla Bickel had a game-high 23 points for the Green Wave with Karina West adding five points, 12 rebounds and four blocked shots.