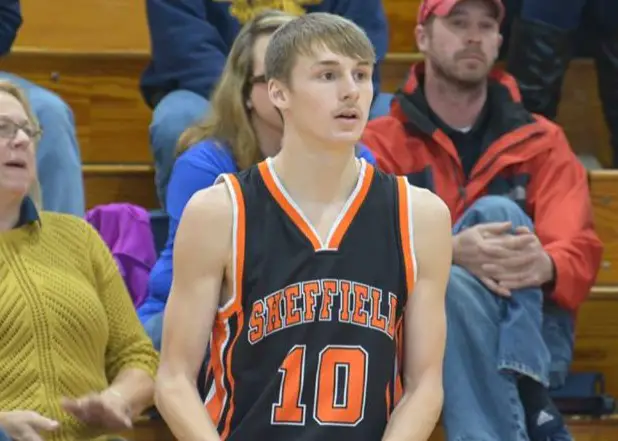 BOYS
SHEFFIELD 42, NORTHERN POTTER 34
SHEFFIELD, Pa. – Logan Connolly recorded a triple-double with 21 points, 10 rebounds and 10 blocked shot to lead Sheffield to a 42-34 win over visiting Northern Potter in non-conference action.
Tucker Kosa led Northern Potter with 12 points.
ST. MARYS 28, PORT ALLEGANY 27
ST. MARYS, Pa. – Nate Schneider hit two free throws with about 13 seconds left to help St. Marys stave off an upset bid by Port Allegany and gain a 28-27 non-conference win at the Dutch Oven in St. Marys Saturday.
The Dutch, who trailed 16-15 at halftime, led 22-20 going to the fourth quarter but were down 27-26 when Schneider, a sophomore, hit the biggest free throws of his young career.
Matt Marconi led St. Marys with 10 points. Brady Bauer added five.
Tre Garzel led all scorers with 16 points for Port Allegany, which was able to control the tempo according to head coach Jason Luther. Jordan Seefeldt added seven points for the Gators and now needs seven for 1,000 in his career.
BRADFORD 38, EISENHOWER 34
BRADFORD, Pa. – Andy Pantuso and Deondre Terwilliger keyed a 27-9 run to close the game as Bradford rallied past Eisenhower 38-34 in non-league action.
Pantuso scored 11 of his 13 points in the second half, as the Owls (7-8) erased a 25-11 deficit and took their first lead since 2-0 on a runner by the sophomore guard with 4:05 remaining.
Eisenhower's Jack Reynolds gave the Knights (10-5) a 34-33 lead on a triple with 1:15 to play, but Terwilliger, who scored six of his eight points in the fourth quarter, came right back down the floor and converted a baseline drive with just over a minute left.
Reynolds and Jake Harvey both had good looks at a three and the lead for Eisenhower on the ensuing possession, but neither could convert, forcing a foul on the Owls' Nate Higbie, who made the front end of a one-and-one to make it 36-34 but missed the second. Tyler Nuzzo collected the offensive rebound and converted both ensuing free throws to seal the win for
Bradford.
Higbie also had eight points for the Owls, while Casey Vincent led Eisenhower with 14. Bradford held Eisenhower's leading scorer, sophomore Jaydon Hayes (13.3 ppg.), scoreless.
GENESEE VALLEY (NY) 63, OSWAYO VALLEY 53
BELMONT, N.Y. – A 15-point halftime deficit proved to be too much for Oswayo Valley to overcome in a 63-53 interstate loss at Genesee (N.Y.).
The Green Wave trailed 36-21 at the break but rallied within four, 42-38, at the end of three quarters.  
But the Jaguars were able to hold off the comeback attempt by outscoring the visitors from Pennsylvania, 21-15, in the final eight minutes thanks to nine points from Carter Schneider and eight from Tate Scott. Schneider finished with 21 points and Scott 17.
Brandon Brabham led all scorers with 22 for Oswayo Valley including 10 in the fourth quarter when he hit two of his four 3-pointers. Brabham also had four steals. Ty Sturdevant added 12 points and six rebounds.
COWANESQUE VALLEY 85, AUSTIN 41
WESTFIELD, Pa. – Tyler Melko exploded for 35 points to lead Cowanesque Valley to an 85-41 win over visiting Austin in non-conference action.
Bryant Painter added 24 points for the Indians.
Anderson Nicka led Austin with 15 points, and Mason Valenti added 12.
GIRLS
OIL CITY, Pa. – Sara Hull recorded a double-double with 13 points and 13 rebounds to help Moniteau top Venango Catholic, 59-27, in KSAC Crossover action at VC.
Alazia Greaves led the Lady Warriors with 16 points with Kristina DeMatteis adding 15.
Ava Homan scored 25 of the 27 points for Venango Catholic.