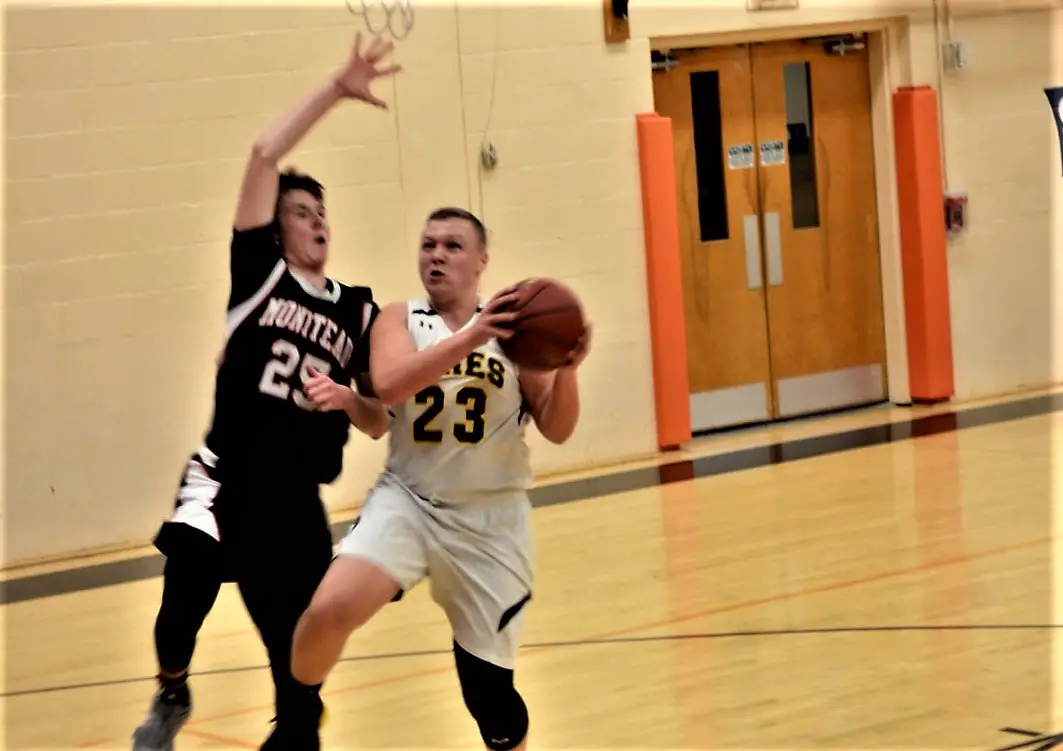 Jan. 23 recaps.
(Photo: Forest Area's Dillon DiCorpo, who had 17 points, 3 assists and 3 steals in a win over Moniteau, goes in for a layup Tuesday while being guarded by Moniteau's Tyler McFadden. Photo by Deb Arner)
FOREST AREA 56, MONITEAU 47
MARIENVILLE, Pa. – Seth Berlin had 17 points and 27 rebounds and Dillon DiCorpo added 17 points, three assists and three steals to help the Forest Fires burn visiting Moniteau, 56-47, on Senior Night at East Forest.
Jarrett Kahle added nine tallies for Forest Area, which used an 11-6 third quarter to break a 22-all halftime tie.
Ethan McDeavitt led a trio of Moniteau players in double digits with 13 points. Jared Lominski added 12 and Tyler McFadden 10.
DUBOIS CENTRAL CATHOLIC 61, PENNS MANOR 55
DUBOIS, Pa. – Justin Miknis tickled the twine for a game-high 23 points to help DuBois Central Catholic take care of visiting Penns Manor, 61-55.
Miknis and Brandon Walker, who finished with 11 points, both scored six fourth-quarter points to help the Cardinals break a 47-all tie going to the final eight minutes by outscoring the Comets 14-8 in the fourth. Walker his a pair of fourth-quarter 3-pointers.
Josh Solnosky added 12 points for DCC.
Brandon Baird led Penns Manor with 12 points with Tommy Hamilton and Zack Busovicki each adding 11 tallies.
RIDGWAY 57, CURWENSVILLE 44
CURWENSVILLE, Pa. – In a chippy affair, Ridgway pulled away late from Curwensville to grab a 57-44 road AML victory.
The unbeaten Elkers led by just six with five minutes to play before pulling away for the 13-point win.
Andy Breier led Ridgway with a game-high 21 points with Neil MacDonald adding 14 and Daunte Allegretto eight.
Devon Barrett paced Curwensville with 19 tallies and Avery Francisco added 12.
JOHNSONBURG 65, SHEFFIELD 37
SHEFFIELD, Pa. – Kacey Raubenstrauch and Tyler Singer combined for 23 points to lift visiting Johnsonburg to a 65-37 AML win over Sheffield.
Raubenstrauch led the Rams with 12 points with Singer adding 11. Austin Green, Trevor Lobaugh and Dilen Surra each added eight tallies for Johnsonburg.
Cale Albaugh paced Sheffield with 12 points and seven rebounds. Tyler Hepinger added nine points and Matt Dunham two points and six assists for the Wolverines.
CRANBERRY 68, UNION 64
SENECA, Pa. – The McQuaide boys exploded for a combined 44 points to lead Cranberry past visiting Union, 68-64.
Dan McQuaide led Cranberry with 24 points and 10 rebounds with younger brother Dan adding 20 tallies. Tommy Flinspach pitched in eight points and 12 rebounds.
Lucas Bowser led all scorers with 30 points for Union with Nolan Cumberland adding nine and Hunter Johnson eight. Bowser also had seven rebounds and three steals while Johnson added five assists, four rebounds and two steals.
CLARION 76, KARNS CITY 59
CLARION, Pa. – Behind the trio of Austin Hummell, Cam Craig and Spencer Miller, Clarion won its eighth straight and for the 10th time in 11 games with a 76-59 victory over visiting Karns City.
Craig led the Bobcats with 18 points with Hummell and Miller each adding 15 tallies. Nick Frederick chipped in with nine points and Calvin German with eight.
Logan Pistorius had a game-high 19 points for Karns City with Austin Fahlor adding 12.
KEYSTONE 62, VENANGO CATHOLIC 46
OIL CITY, Pa. – Dalton and Isaak Jones combined for 40 points to pace a 62-46 Keystone win at Venango Catholic.
Dalton Jones led the Panthers, who have won nine in a row and 12 of 13, with 23 points with Isaak Jones adding 17 points. Nate Wingard had an all-around solid game with nine points, 10 rebounds and five assists, and Corey Rapp chipped in four points and four steals.
Josh Puleo had 19 points to lead Venango Catholic with Andrew Burda chipping in 14 tallies.
NORTH CLARION 67, REDBANK VALLEY 27
FRILLS CORNERS, Pa. – Nathan Banner and Sam Minich teamed up to score 31 points, as North Clarion rolled past visiting Redbank Valley, 67-27.
Banner led the Wolves with 16 points with Sam Minich adding 15. Zander Hargenrader also reached double digits for North Clarion with 11 points, while Kyle Mills had eight tallies.
Keaton Kahle paced Redbank Valley with 11 points.
CLARION-LIMESTONE 84, A-C VALLEY 44
STRATTANVILLE, Pa. – After losing two in a row last week, Clarion-Limestone has regained its footing taking home its third straight win, this time 84-44 over visiting A-C Valley.
Christian Smith had a season-high 24 points to go with eight rebounds for the Lions, while Ian Callen also added 24 points and chipped in 10 steals, nine rebounds and six assists. Deion Deas also had a double-double for C-L with 14 points and 10 assists, and Hayden Callen chipped in seven points and 11 rebounds.
Russ Carr paced A-C Valley with 14 points, Eddie Stevanus added 12 and Levi Orton 10.