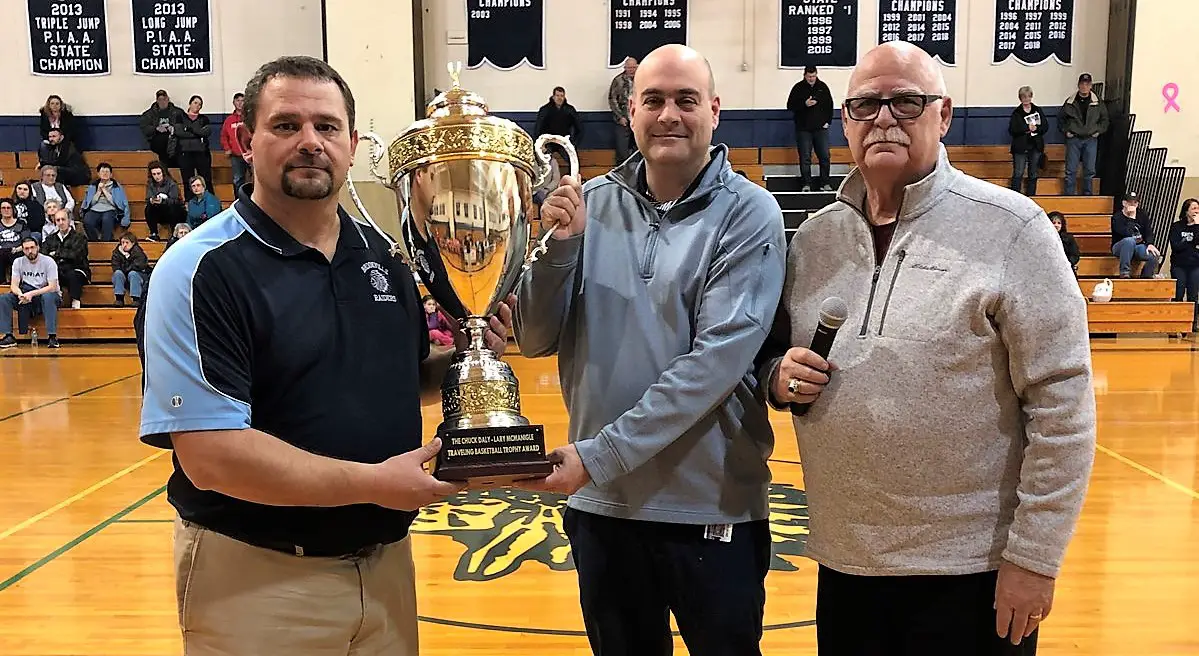 Jan. 23 boys'/girls' recaps.
(Photo: Butch White Chairman of the Chuck Daly Foundation in Punxsutawney (right) presents Brookville head coach Dalton Park (left) and Brookville AD Dave Osborne with the Chuck Daly/Larry McManigle Traveling Trophy following the Raiders 53-38 win over Punxsutawney Wednesday. Submitted photo)
BOYS
BROOKVILLE 53, PUNXSUTAWNEY 38
BROOKVILLE, Pa. – Logan Byerly had a double-double to help Brookville claim possession of the Chuck Daly/Larry McManigle Traveling Trophy with a 53-38 win over visiting Punxsutawney.
Byerly had 10 points and 10 rebounds for the Raiders, who have won eight in a row.
Jack Krug chipped in 11 points for Brookville
Ethan Blose led Punxsutawney with a game-high 14 points.
Chuck Daly, the legendary Hall of Fame Coach of the Detroit Pistons and the first coach of the Olympics "Dream Team" in 1992, is a Kane graduate who started his coaching career at Punxsutawney. McManigle was the long-time coach at Brookville. The two forged a friendship that lasted through the years. The Daly/McManigle Traveling Trophy is sponsored by the Chuck Daly Foundation of Punxsutawney and is to be shared between the schools in their annual basketball matchups. The win Wednesday completed a season sweep of the Chucks by Brookville.
ST. MARYS 45, JOHNSONBURG 35
ST. MARYS, Pa. – Behind 14 points from Cahil Parrish, St. Marys topped visiting Johnsonburg, 45-35.
Nick Catalone added eight points in the win for the Dutch.
Austin Green and Isaac Schloder did most of the heavy lifting for Johnsonburg combining to score 28 points with Green netting 15 and Schloder 13.
GIRLS
ST. MARYS 43, CLEARFIELD 31
HYDE, Pa. – Kyla Johnson's 10 points led a balanced St. Marys attack in a 43-31 road win at Clearfield.
Kaylee Muccio chipped in eight points for the Lady Dutch with Lauren Eckert and Britney Shaw each adding six tallies.
Alayna Ryan had a game-high 14 points for Clearfield with Tesa Miller adding eight.