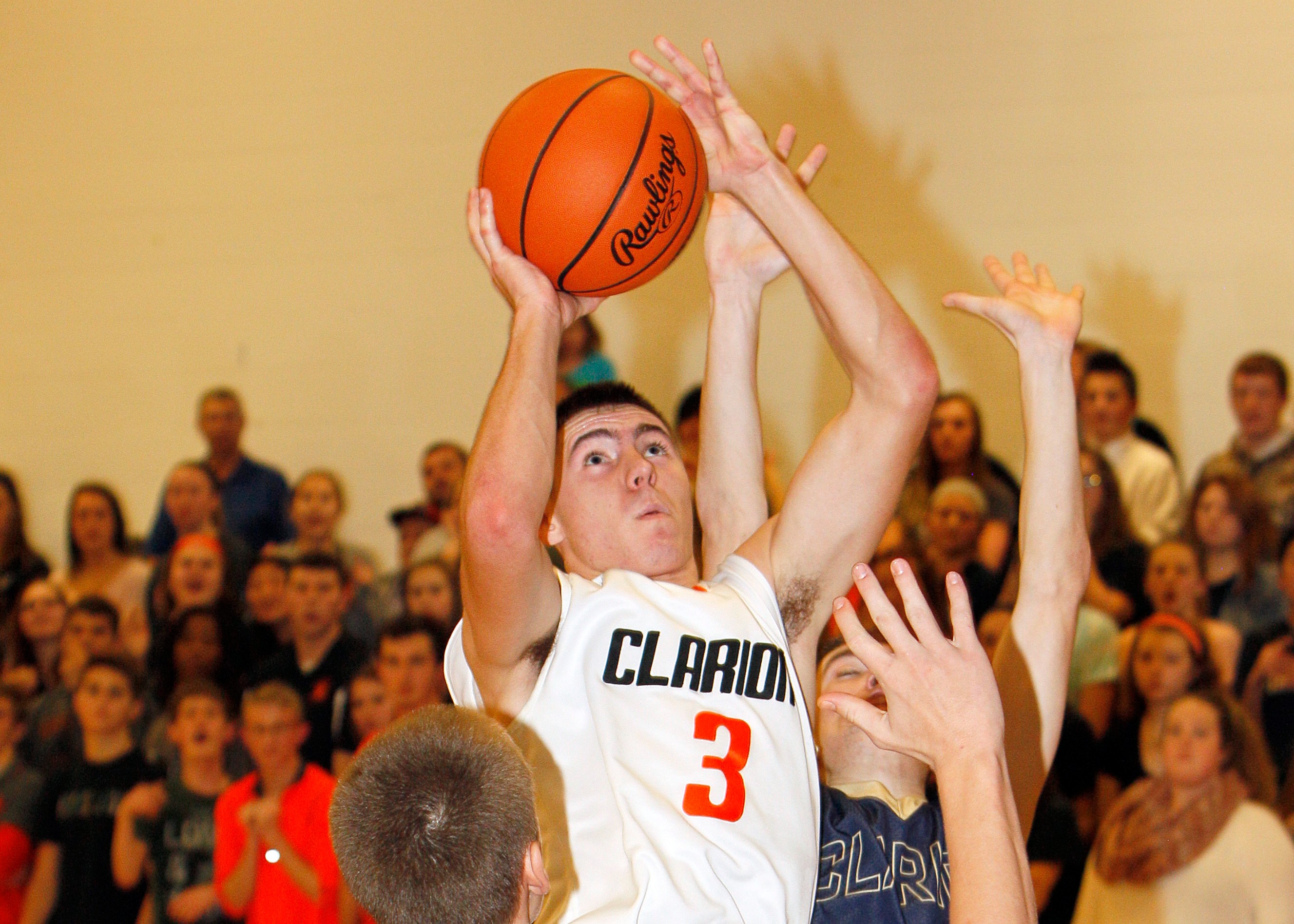 CLARION 62, KEYSTONE 61, 2 overtimes
Read a full-game story on ExploreClarion.com
KNOX, Pa. – Clarion outscored Keystone 9-8 in the second overtime to squeak out a 62-61 win over the homestanding Panthers.
Keystone hit a pair of game-tying shots, one at the end of regulation and one at the end of the first overtime, before Clarion used a 9-0 run in the second overtime to grab the win.
Mason Rearick scored on an inbound pass from Brayden Shick with two seconds to play in regulation to tie the game at at 48. Then, Austin Ion hit a 3-pointer with nine seconds to go in the first overtime to force the second.
Clarion, which led by as many as 10 in the first half, trailed by seven, early in the fourth quarter before taking a 48-46 lead on a Ceventh Lynch-Skunda jumper with 15 seconds left in regulation.
Keystone came down and missed a shot, but the rebound went out of bounds off Jonathan Smith. After a timeout, Keystone got Rearick open on the inbounds for the game-tying basket.
Smith led the Bobcats with 19 points, 16 rebounds and five blocked shots off the bench.
Bo Miller added 15 points and eight rebounds for Clarion with Cam Craig chipping in 15 points and five rebounds.
Ion led all scorers with 24 points for Keystone. Rearick added 16 points and four steals.
It was the second multi-overtime game of the year for Clarion, which beat Brockway in triple overtime early this month.
MONITEAU 73, VENANGO CATHOLIC 67, overtime  
WEST SUNBURY, Pa. – Moniteau scored seven of its 11 overtime points from the free-throw line to outscore visiting Venango Catholic, 11-5, in the extra session grabbing a 73-67 KSAC Crossover victory.
Brady Kingston, who scored a career-high 37 points, sent the game to overtime tie at 62 when he drilled a shot with under 10 seconds to play in regulation.
Jake Jewart led Moniteau with 20 points with Aaron Marterella adding 15, Luke Pry 13 and Derek Boben 11.  
Tim Wagner added 14 points for the Vikings.
DUBOIS 68, PUNXSUTAWNEY 64
PUNXSUTAWNEY, Pa. – Zach Sloan started strong then finished strong to help DuBois knock off Punxsutawney, 68-64, in D9 League action at Punxsy.
Sloan finished with a game-high 28 points and scored 24 of them in the first and fourth quarters combined.
He had 11 tallies in a critical fourth quarter for the Beavers, who trailed by two, 52-50, going to the quarter but outscored the Chucks 18-12 to get the win.
Sloan also scored 13 points in the first quarter to stake DuBois to a 20-12 lead at the end of one.  
But Punxsutawney fought back in the second quarter outscoring the visitors 20-11 to take a 32-31 halftime lead.
Nick Labrasca kept the Beavers in the game in the third quarter scoring 11 of his 13 points in the quarter.  
John Oberlin added 12 tallies for DuBois on four 3-pointers. Bradyn Schwabenbauer chipped in 11 rebounds to go with five points.  
Devin Kelly led Punxsy with 15 points. Brandon Matthews and Ethan Riley each added 13.
RIDGWAY 32, DUBOIS CENTRAL CATHOLIC 28, 2 overtimes
DUBOIS, Pa. – Ridgway outscored DuBois Central Catholic 4-0 in the second overtime to take home and ugly but effective, 32-28, road win in AML play.
After decent first half that saw Ridgway lead 21-16, the Elkers scored just five points in the second half allowing the Cardinals to rally to tie the game at 26-all at the end of regulation.
Both teams scored two points in the opening overtime before Ridgway won second overtime.
Andy Breier led the Elkers with 10 points with Justin Kasmierski  adding eight and Jeremy Breier seven
Christian LaParne paced everyone with 22 points for DCC.   
NORTH CLARION 45, UNION 43
RIMERSBURG, Pa. – In a game featuring teams headed in the opposite direction, North Clarion outscored Union 27-22 in the second half to claim a 45-43 road win in KSAC Crossover play.
The Wolves, who have won seven of 10 since starting 0-6, trailed 21-18 at halftime but took a 32-28 lead at the end of three quarters.
Nathan Banner led North Clarion with 11 points, while Zayn Hargenrader added 10 and Griffin Schmader eight.
Union, which has lost five of seven after an 8-1 start, got 23 points from Cole Morris and 11 from Hank Murphy. Lucas Bowser was the only other Golden Knight to score with nine points.  
KARNS CITY 34, CRANBERRY 33
KARNS CITY, Pa. – Chandler Turner hit two free throws with 10.4 seconds to go to lift Karns City to a 34-33 win over visiting Cranberry in KSAC Crossover play.
Cranberry, which trailed 21-14 at halftime and 26-22 at the end of three quarters,  grabbed its first lead of the game, 33-32, on a Dechlyn Sheffer free throw with 1:02 to play.
Turner finished with seven points and 11 rebounds to lead the Gremlins, while Ian McElroy had a team-best eight points.
Evan Lutz led Cranberry with nine points with Caleb McCandless adding eight.
Karns City has now won three of four after losing four in a row following its win over Clarion-LImestone in the West Shamokin Holiday Tournament to move to 6-7 on the season.
Cranberry, which has lost two in a row after a seven-game win streak, falls to 10-6.
CAMERON COUNTY 55, GALETON 51
EMPORIUM, Pa. – Cameron County outscored visiting Galeton 27-23 in the second half to break a tie game at the half and get a 55-51 North Tier League win.
The teams were deadlocked at 28 at halftime before the Red Raiders took the lead, 41-39, at the end of three quarters.
Trae Smith paced Cameron County with a game-high 26 points including scoring 12 of the Red Raiders 14 points in the second quarter. He hit four 3-pointers. Derek Rieder added 13 points.
Mitchell Smith led Galeton with 17 points and added five assists, while McKinley Ward had 12 points and 10 rebounds.
ST. MARYS 79, BROOKVILLE 64
ST. MARYS, Pa. – Jeff Wehler and Brady Bauer poured in a combined 40 points to lead St. Marys to a 79-64 win over visiting Brookville in D9 League action.
Wehler had 21 points to lead the Dutch with Bauer adding 19. Matt Marconi chipped in nine for St. Marys.
Jimmy Moore led all scorers with 27 points for Brookville while hitting five 3-pointers. Kurt Schindler added 14 points.
KANE 68, SHEFFIELD 28
KANE, Pa. – Andrew Bucheit had 27 points and 15 rebounds to lead Kane to a 68-28 win over visiting Sheffield in AML action.
Andy Bundy added 11 points for the Wolves.
Drew Higby led Sheffield with eight points.
A-C VALLEY 66, FOREST AREA 39
FOXBURG, Pa. – Kody Wolfe netted a career-high 23 points to go with seven assists and five steals to lead A-C Valley to a 66-39 win over visiting Forest Area in KSAC crossover action.
Austin Heeter chipped in 15 points and nine rebounds for the Falcons, who also got 12 points and nine boards from Joe Manculich and 10 points and seven steals from John Anderson.
Andrew Schwab had a double-double with 13 points and 11 rebounds to lead Forest Area. Nic Smail added 11 points with Seth Berlin chipping in eight for the Fires.
CLARION-LIMESTONE 72, REDBANK VALLEY 36
STRATTANVILLE, Pa. – Noah Rankin, Dan Callen and Taylor Smith all scored in double digits, as Clarion-Limestone invoked the Mercy Rule while beating visiting Redbank Valley, 72-36, in KSAC Crossover play.
Rankin led the Lions with 15 points, while Smith had 13 and Callen 12. Ian Callen chipped in nine.
Dalton Dougherty led Redbank Valley with 16 points, but C-L held Redbank Valley's leading scorer Sam Heeter to just two points, on a fourth-quarter basket.
PORT ALLEGANY 52, NORTHERN POTTER 40
ULYSSES, Pa. – Jordan Seefeldt scored 17 points, leaving him 14 shy of 1,000 in his career, to lead Port Allegany to a 52-40 North Tier League road win at Northern Potter.
Dylan Kio and Tre Garzel each added 12 points for the Gators.
Blaker Jeffers led all scorers with 18 points for Northern Potter with Frank Gardner adding 12 for the Panthers.
COUDERSPORT 71, OTTO-ELDRED 32
DUKE CENTER, Pa. – Owen Chambers exploded for 25 points, as Coudersport got back on the winning track with a 71-32 win at Otto-Eldred in North Tier League action.
Darren Keglovits added 18 points for the Falcons, who played for the second straight game without starting point guard Zach Layag. Jared Green did return to the Coudy lineup and added eight tallies.
Dylan Close's 12 points paced the Terrors.
BROCKWAY 56, CURWENSVILLE 27
BROCKWAY, Pa. – Brockway used a balanced scoring attack to top Curwensville, 56-27, in AML play at Brockway.
Quade Lundberg led the Rovers with 12 points. He was one of 11 Brockway players to score. Jake Wineberg chipped in 10 points and Corey Carr nine.
RJ Olson scored 12 to pace the Golden Tide.
OSWAYO VALLEY 44, SMETHPORT 31
SHINGLEHOUSE, Pa. – Brandon Brabham had 24 points, five rebounds, three assists, two steals and a blocked shot to help Oswayo Valley dispatch of visiting Smethport, 44-31, in North Tier League action.
Ty Sturdevant chipped in eight points, five rebounds, two steals, two assists and a block for the Green Wave.
Austin Crooks led Smethport with 14 points.  
ELK COUNTY CATHOLIC 49, JOHNSONBURG 27
ST. MARYS, Pa. – Nate DaCanal scored 12 points and Benji Hoffman added 11 to help Elk County Catholic top visiting Johnsonburg, 49-27, in AML action.
Frank Singer and Kyle Huff each added nine tallies for the Crusaders.
Kevin Benson's 16 points led all scorers for Johnsonburg.