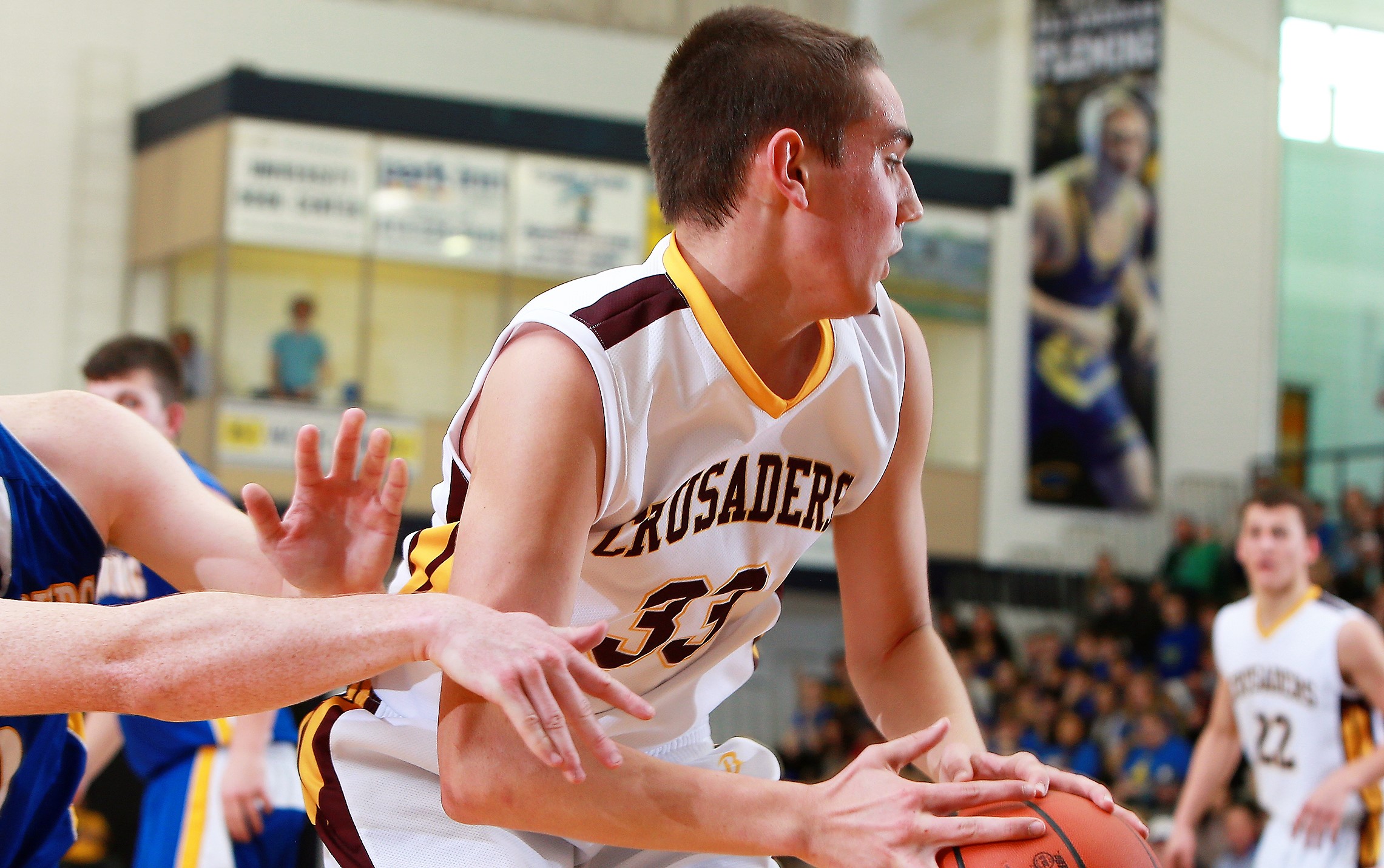 Jan. 24 recaps.
(Photo of ECC's Ryan Newton. Photo by Paul Burdick. Check out more of Burdick's work here)
ELK COUNTY CATHOLIC 47, BRADFORD 44
BRADFORD, Pa. – Elk County Catholic outscored Bradford 6-3 in the second overtime to escape Bradford with a 47-44 double-overtime victory in D9 League action.
The Crusaders led 19-11 at halftime but watched as Bradford roared back in the second half to force overtime tied at 37. The big quarter for the Owls was the third when Bradford outscored ECC 18-11 behind 11 points from Deondre Terwilliger.
Ryan Newton led ECC with 26 points, including 11 points in the fourth quarter and the two overtimes. Alex Breindel added eight points for the Crusaders.
Terwilliger paced Bradford with 17 points with Tyler Gigliotti 12 points. Terwilliger also had five rebounds, four assists and two steals.
JOHNSONBURG 44, ST. MARYS 43
JOHNSONBURG, Pa. – Kacey Raubenstrauch hit a 3-pointer with about 10 seconds left to lift Johnsonburg to a 44-43 win over visiting St. Marys.
St. Marys led by five, 31-26, going to the fourth quarter before Johnsonburg rallied behind Austin Green, who hit three 3-pointers on his way to 15 fourth-quarter points.
But the Dutch still led 43-41 with time winding down when Raubenstrauch, who hadn't scored all game hit the game-winning shot.
St. Marys had a shot near the horn but it was off the mark and time expired as the rebound was fought for.
Green led Johnsonburg with 19 points.
Nathan Schneider paced all scorers with 23 points for St. Marys.
CLEARFIELD 70, HUNTINGDON 53
HYDE, Pa. – Reese Wilson netted 20 points as Clearfield stunned Mountain League leader Huntingdon, 70-53, at Clearfield.
The Bearcats came into play Wednesday unbeaten in league play at 8-0 and had handled Clearfield 85-62 in December at Clearfield.
The Bison trailed 27-24 at halftime but outscored Huntingdon 44-26 in the second half including 27-19 in the fourth quarter. Wilson scored 10 of his points in the fourth quarter, as Clearfield went 16 of 21 from the line in the fourth quarter and 20 of 29 for the game.
Jon Gates added 12 points for Clearfield with Taye Lynch adding nine and Ryan Chew and Wyatt Porter eight.
BROOKVILLE 49, PUNXSUTAWNEY 36
BROOKVILLE, Pa. – Putting three players in double figures, Brookville notched a 49-36 D9 League win at home against Punxsutawney in D9 League play.
Bryan Dworek hit 8 of 12 shots to finish with 16 points while Aaron Park scored 11 points with nine rebounds and Trenton Gilhousen had 10 points and seven rebounds.
The Raiders led for most of the game, 28-15 at halftime and playing the Chucks even the rest of the way.
Brandon Matthews led the Chucks with 16 points. Tyler Richardson came off the bench to score eight points and grab a team-high seven rebounds.
BROCKWAY 62, DUBOIS CENTRAL CATHOLIC 48
BROCKWAY, Pa. – Carter Adams tickled the twine for 24 points to lead Brockway to a 62-48 win over visiting DuBois Central Catholic in AML action.
Noah Vokes added 12 points and Zane Puhala 10 for the Rovers.
Justin Miknis paced DCC with 21 points. Thomas Grecco added 10 points and Jonathan Kurtz eight.
OTTO-ELDRED 68, AUSTIN 45
AUSTIN, Pa. – Sawyer Drummond recorded his fifth straight double-double with 11 points and 13 rebounds to lead Otto-Eldred to a 68-45 win at Austin in North Tier League play.
Jordan Sherwood had a game-high 19 points for the Terrors while Trey Dalton added 16 points. Dylan Close had nine points and eight assists.
CAMERON COUNTY 74, PORT ALLEGANY 60
PORT ALLEGANY, Pa. – Marcus Brown exploded for 31 points and 11 rebounds to lead Cameron County to a 74-60 win at Port Allegany in North Tier League action.
Adam Shaffer added 20 points and 11 rebounds for the Red Raiders with Dino Brown adding nine points and Caden Beldin eight points.
Howie Stuckey had a game-high 33 points for Port Allegany with Jordan Card adding 12 points and David Talkington 10 points.
COUDERSPORT 69, NORTHERN POTTER 28
ULYSSES, Pa. – Owen Chambers netted 22 points to lead visiting Coudersport to a 69-28 win over Northern Potter.
Jared Green added 17 points with Derek Keglovits chipping in 10 points and Hunter Ricke eight.
Tristan Byron had 10 points to lead Northern Potter.