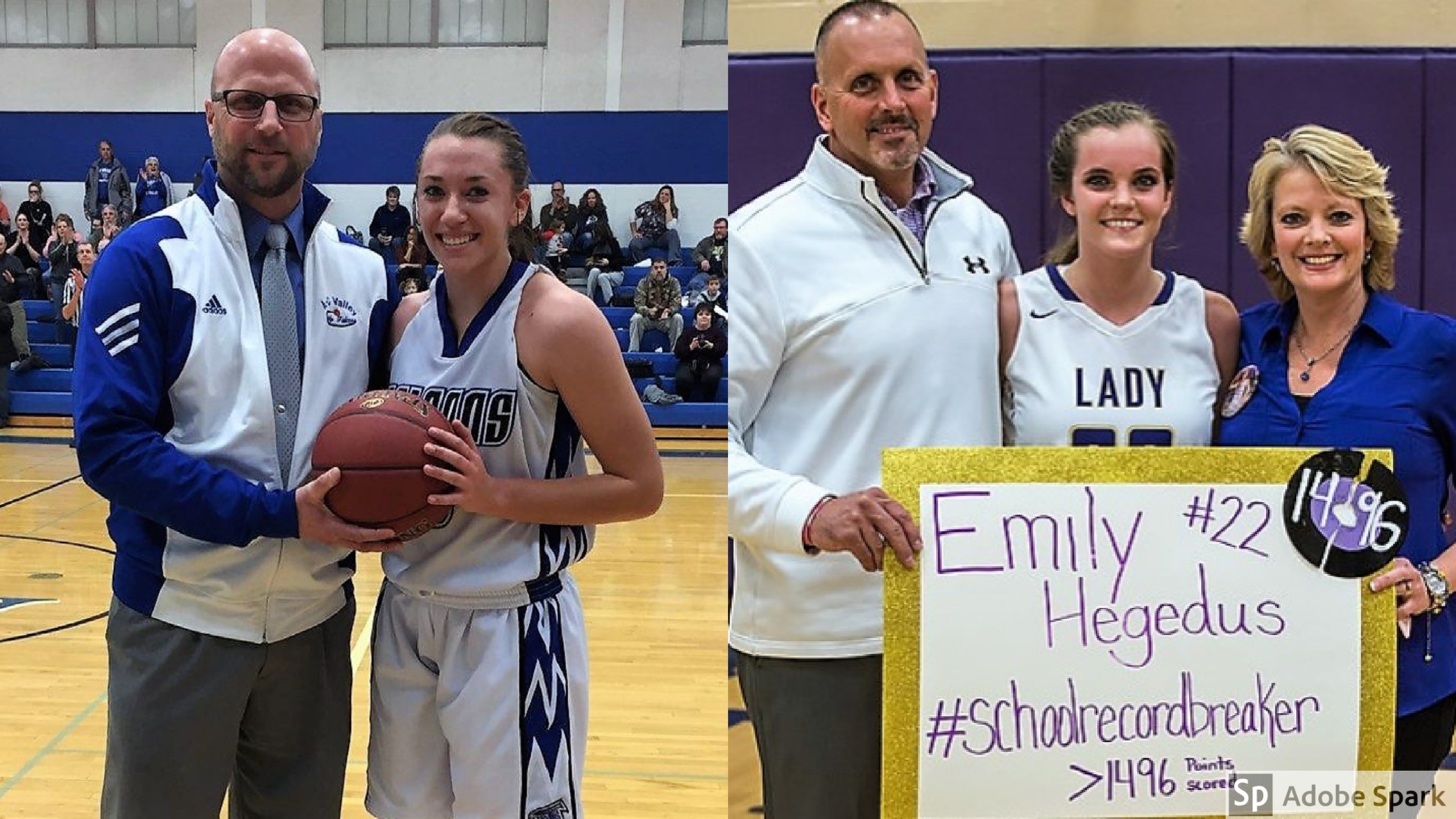 Jan. 24 recaps.
(A-C Valley's Ellie Thompson with head coach Dave Sherman (left) and Karns City's Emily Hegedus with her parents Mike, an assistant coach, and Molly both set their respective school records Wednesday night)
A pair of District 9 school records were broken in girls' basketball Wednesday night with A-C Valley's Ellie Thompson claiming the Lady Falcons mark and Karns City's Emily Hegedus setting the Lady Gremlins record.
In addition, one of the District's two unbeaten teams going into the night, Otto-Eldred, was knocked from the ranks of the unbeaten by Kane, while the other, North Clarion, had to rally from a halftime deficit to knock off Redbank Valley.
The District also saw an overtime contest with DuBois Central Catholic beating Brockway in overtime.
Here is a look at all of the night's action.
A-C VALLEY 73, CLARION-LIMESTONE 32
FOXBURG, Pa. – Needing four points to beat Hilary McCall's school record 1,265 points, Thompson connected on a pair of free throws and then netted the record-breaking basket in the first quarter on a layup of the Lady Falcons 73-32 win over visiting Clarion-Limestone.
Watch Thompson's record-setting basket.
Thompson kept scoring from there finishing with a game-high 26 points giving her 1,288 in her career.
"I would have never have dreamt I would be the one to break it," Thompson said. "My unselfish teammates are the ones who helped me accomplish this goal. This record is just as much theirs as it is mine."
Three of those teammates also reached double digits in the win over the visiting Lady Lions.
Cami McNany scored 15 points, Kylee Eaton had 14 and Annie Viertel 10.
Anna Burns led C-L with 12 points with Morgan Clark adding eight.
KARNS CITY 53, CLARION 37
KARNS CITY, Pa. – Going into Karns City's game with visiting Clarion, Hegedus had a bit more heavy lifting to do than Thompson needing 23 points to top a record that had stood for 31 years.
The record of 1,496, which had stood since 1987, was set by Elizabeth Whitmer. Hegedus broke the mark on a 3-pointer early in the third quarter of a 53-37 Karns City win and finished with a game-high 29 points.
"It means a lot," Hegedus, who now has 1,503 career points, said. "Coming into this, I didn't think I would break it. It really means a lot that it hasn't been broken in so long. (Whitmer) was a great player, so it means a lot to be able to take that."
Watch Hegedus set the record and the ceremony that followed.
Livia Andreassi added nine points and Sarah Knox eight in the victory.
Wendy Beveridge paced Clarion with 18 points with Kait Constantino adding 13.
KANE 55, OTTO-ELDRED 51
DUKE CENTER, Pa. – In a battle of two of the top teams in girls' basketball in District 9, visiting Kane raced out to an early lead and then hung on to beat Otto-Eldred, 55-51.
The Lady Wolves jumped out to an eight-point, 19-11, advantage at the end of a quarter thanks to six points from Rachael Morgan. The lead then grew to 30-20 at halftime with Ella Marconi scoring eight of Kane's 11 second-quarter points.
Still up 10, 40-30, after three quarters, Kane had to hold off a charge by Otto-Eldred that saw the Lady Terrors outscore the Lady Wolves, 21-15, in the fourth quarter with O-E hitting four 3-pointers in the frame, including a pair from Emily Smith.
But Trinity Clark hit a pair of her own triples in the final eight minutes to help Kane grab the win.
Morgan led the Lady Wolves with 18 points and 13 rebounds, Marconi added 16 points, eight rebounds and three blocks and Clark 11 points. Hannah Buhl chipped in six points, four assists and four steals.
Camryn Thomas had a team-best 16 points for Otto-Eldred, 12 after halftime. Jade Spinney added 13 points, Emily Smith eight and Ali Cousins seven. Thomas also had seven rebounds and four steals and Cousins five steals.
It was the first loss of the year for Otto-Eldred (14-1) leaving North Clarion as the lone unbeaten District 9 girls' team. North Clarion handed Kane its only loss of the year at the Kane Christmas Tournament, 61-49. Since then, the Lady Wolves (13-1) have won nine in a row.
The teams came into the game tied for No. 2 in the Jan. 22 Allegheny Grille of Foxburg D9Sports.com District 9 Power Ratings behind North Clarion.
NORTH CLARION 58, REDBANK VALLEY 52
NEW BETHLEHEM, Pa. – In a physical game that saw Redbank Valley whistled for 26 fouls, have three players foul out and North Clarion shot 26 free throws, the visiting She-Wolves overcame a slow start to remain unbeaten with a 58-52 win.
Redbank Valley led 15-10 after a quarter and 24-22 at halftime, the second straight game the She-Wolves have trailed at the break.
But North Clarion, behind nine Tori Obenrader points, took a 38-34 lead after three quarters and then outscored Redbank Valley 20-18 in the fourth with Abby Gatesman scoring eight points in the quarter while going 6 of 7 from the free-throw line.
Obenrader had 23 points to pace the She-Wolves, while Gatesman broke out of a four-game scoring slump to add 19 points, including going 11 of 19 from the free-throw line. Gabby Schmader also scored 10 points. Obenrader finished her eighth straight double-double and her 14th in 15 games with 14 rebounds and also had five steals. Gatesman also had five steals, dished out five assists and grabbed 12 rebounds.
Lexi Holt had a game-high 24 points for Redbank Valley with Tara Hinderliter adding 13. Holt hit six 3-pointers on the night.
As a team, North Clarion was 15 of 26 from the line, while Redbank Valley was 3 of 4.
DUBOIS CENTRAL CATHOLIC 58, BROCKWAY 50, OVERTIME
DUBOIS, Pa. – Led by four points from Abbey Pettenati, five different DuBois Central Catholic players scored in overtime to lift the Lady Cardinals to a 58-50 win over visiting Brockway in AML action.
In a game that was tight throughout, Brockway outscored DCC 13-11 in the fourth quarter to forge a 46-all tie at the end of regulation.
But in overtime, Abbey Pettenati, Haley Pettenati (1 points), Ashley Wruble (2 points), Alyssa Bittner (2 points) and Jordan Kosko (3 points) all scored to help DCC outscored the Lady Rovers, 12-4, in the extra four points.
Bittner had a team-high 19 points, while Abbey Pettenati added 13 points, Haley Pettenati 10 and Wruble nine.
Kaitlyn Morelli led Brockway with 21 points and 10 rebounds, while Leah Lindemuth also had a double-double with 11 points and 13 boards. Nine of Morelli's points came in the fourth quarter to help Brockway forced the overtime.
ELK COUNTY CATHOLIC 67, BRADFORD 54
ST. MARYS, Pa. – Josie Smith led a foursome of Elk County Catholic players in double digits with 23 points, as the Lady Crusaders picked up a 67-54 win over visiting Bradford.
Taylor Newton added 17 points, Makayla Wilson 13 and Makenzie Cashmer 10 for ECC.
Hannah Lary's 21 points paced Bradford with Erica Marshall adding 17.
MONITEAU 62, FOREST AREA 15
WEST SUNBURY, Pa. – Emma Bair had 16 points and 11 rebounds to lead Moniteau to a 62-15 win over visiting Forest Area.
Andie Arblaster and Kristin Auvil each added 13 points and Izzy Bair 12 for the Lady Warriors.
Jasmine Ginnery had four points to lead Forest Area.
CRANBERRY 55, UNION 42
RIMERSBURG, Pa. – Malliah Schreck had 26 points and 15 rebounds to lead visiting Cranberry to a 55-42 win over Union.
Erin Merryman added 15 points and eight steals for the Berries.
Frankee Remmick had 22 points to lead Union.
EISENHOWER 44, SHEFFIELD 29
RUSSELL, Pa. – Lydia Giannini scored 17 points to lead Eisenhower to a 44-29 win over visiting Sheffield.
Emily Wheeler added 12 points for Eisenhower.
Lexi Lyon paced Sheffield with 10 points with Marissa Grubbs adding seven tallies.