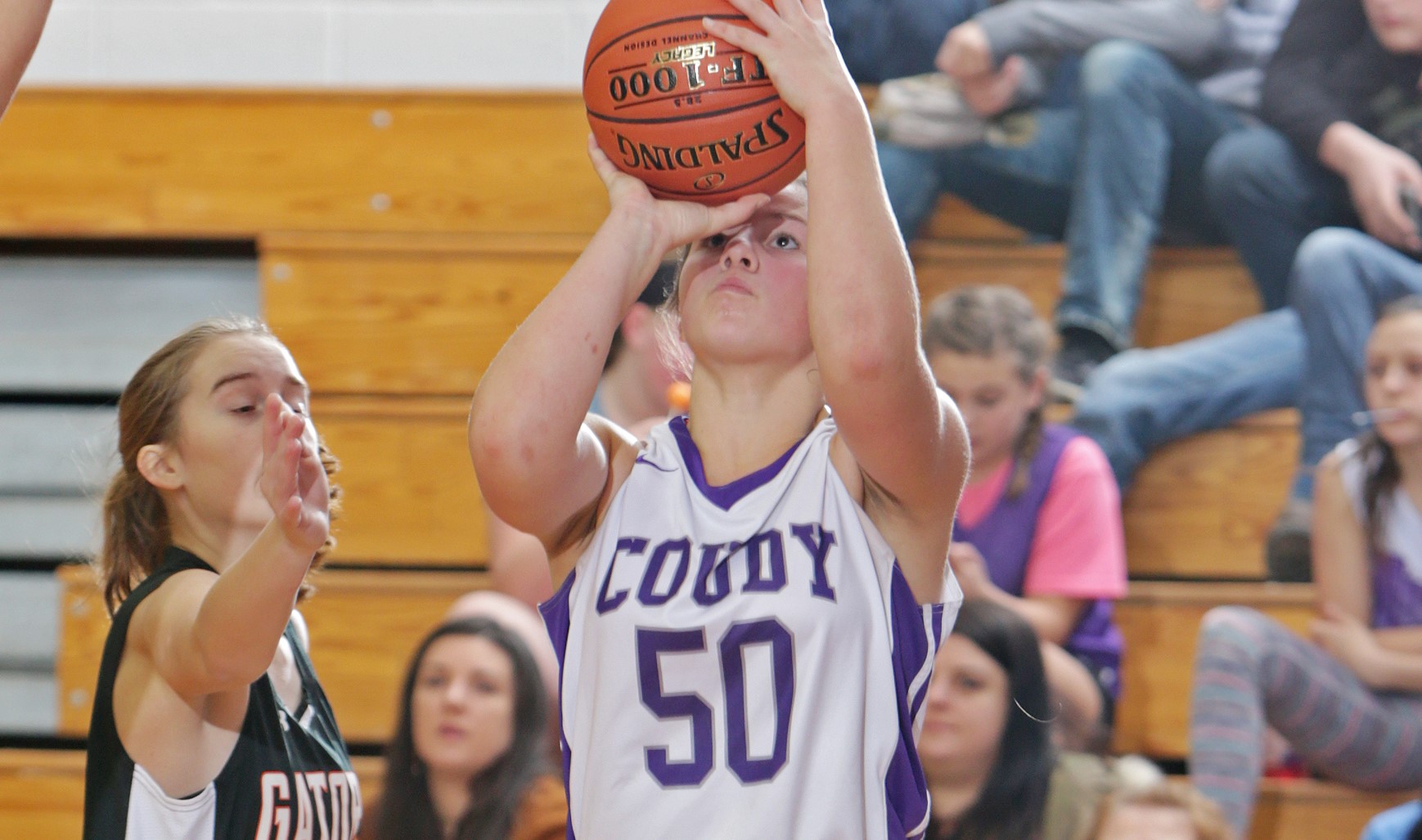 Jan. 24 girls' and boys' recaps.
(Photo: Roselyn Page scored 14 points to help Coudersport take control of the NTL with a win at Otto-Eldred Thursday. Photo by Paul Burdick. Check out more of Burdick's work here)
GIRLS
COUDERSPORT 50, OTTO-ELDRED 36
DUKE CENTER, Pa. – Coudersport used a balanced attack to take control of the NTL with a 50-36 win at Otto-Eldred.
The Lady Falcons, who are looking for their fourth straight NTL title, now control their own destiny in conference play with a record of 12-1 in the NTL. Otto-Eldred, which came into the night only a ½ game back of Coudersport, fell to 10-2 in conference play. Cameron County is 11-2 in league action.
Roselyn Page led Coudersport with 14 points with Mikayla Dunn and Shae Black each adding 12 tallies.
The Lady Falcons used a big third quarter to break open the game, which was tied at 19 at halftime.
Page scored eight of her 14 in the third quarter, a quarter that saw Coudersport outscore the Lady Terrors, 20-8. Black adding six tallies in the frame.
Britney Greeley paced Otto-Eldred with nine points with Reilly Raught adding eight.
The win completed a sweep of the season series by Coudersport over Otto-Eldred.
CAMERON COUNTY 55, AUSTIN 17
AUSTIN, Pa. – Kaelee Bresslin and Kamme Guisto each scored 14 points to lead visiting Cameron County to a 55-17 win at Austin in NTL action.
Bresslin completed a double-double with 10 rebounds with Guisto adding three assists.
Alyvia McKimm also hit three 3-pointers for the Lady Raiders on her way to 11 tallies while chipping in three assists and three steals.
Two players scored all of Austin's points with Taylor Brewer netting a team-high nine points and Julia Latimore adding eight.
PORT ALLEGANY 60, NORTHERN POTTER 28
ULYSSES. Pa. – Cailey Barnett had a team-high 17 points while adding eight steals and six rebounds to lead Port Allegany to a 60-28 road victory over Northern Potter in NTL action.
Bree Garzel also added 13 points and four assists for the Lady Gators with Jenna Sprankle and Cierra Lannager each posting six tallies. Shannon Curfman chipped in four points and six rebounds and Erin Stauffer four points and four steals in the win.
Northern Potter's Abbi Anderson paced her team with a game-high 19 points on the night.
PUNXSUTAWNEY 47, DUBOIS 18
PUNXSUTAWNEY, Pa. – Kate Horner and Sarah Weaver each scored 12 points, as Punxsutawney rolled past visiting DuBois, 47-18, in D9 League action.
Horner added six steals, five assists and three rebounds. Abby Gigliotti also had four points, four steals and three assists for the Lady Chucks with Riley Presloid scoring 10 points and coming away with three steals.
Chelsea DeSalve hit a pair of 3-pointers and scored eight points to pace DuBois.
KANE 44, NORTH CLARION 39
FRILLS CORNERS, Pa. – Kane avenged one of its three losses on the season with a 44-39 road win over North Clarion.
The Lady Wolves, who fell at home to the She-Wolves, 54-46, Dec. 28, raced out to a 27-12 halftime lead and then held off a North Clarion comeback that saw the She-Wolves get within a point with about two minutes to play.
Ella Marconi led Kane, which has won eight in a row since the December loss to North Clarion, with 17 points. Emily Bucheit added 12 tallies and Hannah Buhl 10.
Abby Gatesman had 17 points for North Clarion, all in the second half while going 9 of 9 from the free-throw line. Gabby Schmader and Mackenzie Bauer each chipped in eight points for the She-Wolves.
CRANBERRY 31, UNION 25
SENECA, Pa. – Carly Wice scored all six of her points in the fourth quarter to help Cranberry rally past visiting Union, 31-25.
A slow start – Cranberry trailed 12-3 after one quarter – found the Berries fighting back from the get-go and it wasn't until the fourth quarter that Cranberry pulled ahead for good.
After the fast start, Union led 16-11 at halftime and 21-17 going to the fourth quarter but was outscored 16-4 in the final eight minutes.
In addition to Wice's six points, Kaylie Bruce scored five of her nine in the final eight minutes.
Malliah Schreck led the Berries with 12 points and 17 rebounds.
Union featured balanced scoring led by eight points from Bryn Davis. Dominika Logue, Marli Hawk and Hailey Kriebel each scored five points.
BOYS
ELK COUNTY CATHOLIC 55, BRADFORD 31
ST. MARYS, Pa. – Alec Wehler and Regis Wortman each netted 13 points to lift Elk County Catholic to a 55-31 D9 League home win over Bradford.
Alex Breindel added 11 points for the Crusaders with Leo Gregory chipping in seven.
Tyler Gigliotti paced Bradford with 10 points with Caleb Nuzzo adding seven.
RIDGWAY 48, SMETHPORT 22
RIDGWAY, Pa. – Getting balanced scoring from Jake Reynolds, Parker Rohr, Daunte Allegretto and Will Thompson, Ridgway vanquished visiting Smethport, 48-22.
Reynolds led the Elkers with a game-high 13 points, Rohr and Allegretto each added 10 tallies and Thompson chipped in with nine points.
Conner Alfieri led Smethport with seven points with Ian Woodruff adding six.