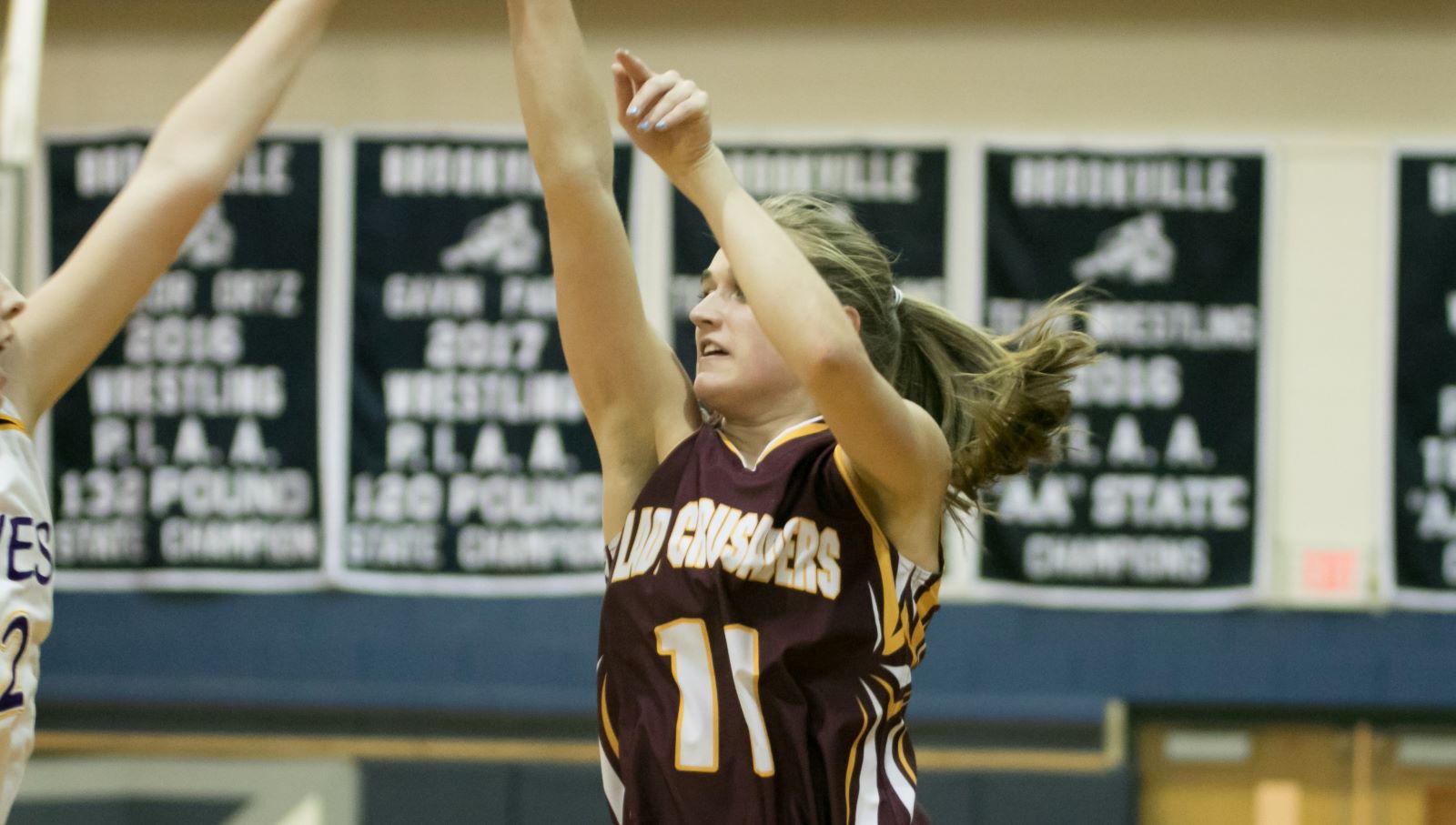 Jan. 24 girls' basketball recaps.
Also see Clarion, Clearfield, DCC Girls Win
(Photo of Taylor Newton of ECC. Photo by Jared Bakaysa of JB Graphics. See more of Bakaysa's work here)
ELK COUNTY CATHOLIC 47, JOHNSONBURG 31
JOHNSONBURG, Pa. – Twenty points from Taylor Newton lifted visiting Elk County Catholic over Johnsonburg, 47-32.
Newton completed the double-double with 12 rebounds for the Lady Crusaders. Tami Geci added 13 tallies and seven steals while Brooke Bauer hit a pair of 3-pointers to finish with six.
Emma King paced the Rammettes offense with nine points. Kaci Stelene added eight and Julia Jones chipped in seven.
CRANBERRY 42, MONITEAU 36
SENECA, Pa. – Ava Ferringer went 7-for-8 at the free-throw line and finished with nine points in the fourth quarter as Cranberry rallied past Moniteau, 42-36.
The Berries trailed 28-24 entering the fourth quarter but outscored the Lady Warriors, 18-8, to close the game. Ferringer had a game-high 17 points and finished 9-for-10 at the line. Maddie Cornelius added nine points while Kaia Dean and Kaylie Bruce each chipped in six.
Ashlyn Pry had a double-double of 12 points and 14 rebounds while adding seven steals to pace the Lady Warriors. Kristin Auvil hit a pair of 3-pointers and was a perfect 4-for-4 at the free-throw line to finish with 12 points.
KANE 42, SHEFFIELD 11
SHEFFIELD, Pa. – Hannah Braun scored 13 points, including a pair of 3-pointers, as Kane picked up a 42-11 road victory over Sheffield.
Ainsley Saf drained two 3-pointers to finish with six points for the Lady Wolves. Emily Buchiet tallied four points while Madi Koza, Rainee Wright, Sarri Swanson and Sadie Walter all contributed three points.
Lilly Lauffenburger had four points to pace the Lady Wolverines.
BROCKWAY 51, CURWENSVILLE 33
CURWENSVILLE, Pa. – Morgan Lindemuth exploded for 26 points, including five 3-pointers, to help Brockway earn a 51-33 road victory over Curwensville.
Lindemuth also had 12 rebounds to complete the double-double and was 9-for-10 at the free-throw line for the Lady Rovers. Danielle Wood hit a pair of 3-pointers and finished with 11 points and four steals while Selena Buttery chipped in seven tallies.
Alyssa Bakaysa paced the Lady Tide offense with 11 points. Tarah Jacobson and Briana Swindell each had six tallies.
A-C VALLEY 46, CLARION-LIMESTONE 29
FOXBURG, Pa. – Baylee Blauser scored 11 of her game-high 15 points in the second half to lead A-C Valley to a 46-29 victory over visiting Clarion-Limestone.
Rachel Cullen and Avah Burke each netted 10 points for the Lady Falcons. Andrea Meals had eight tallies with Mia Sherman chipping in five, including a 3-pointer.
The Lady Lions were paced by Anna Kennemuth's 10 points. Frances Milliron scored all seven of her points from the free-throw line.
REDBANK VALLEY 54, KARNS CITY 27
NEW BETHLEHEM, Pa. – Tara Hinderliter scored a game-high 27 points, including 10 in the fourth quarter, to help Redbank Valley roll past Karns City, 54-27.
Madison Foringer chipped in eight points for the Lady Bulldogs, who took over sole possession of first place in the KSAC South thanks to the win and Keystone's loss to Clarion.
Emma Johns led Karns City with 13 points with Abby Callihan adding seven tallies.
NORTH CLARION 82, FOREST AREA 20
TIONESTA, Pa. – North Clarion had four players in double digits led by Abby Gatesman's 18 points as North Clarion had no problem defeating Forest Area on the road, 82-20.
Gatesman scored 12 of her points from beyond the 3-point arc for the She-Wolves. Hayley Sherman added 16 points while Gabby Schmader hit four 3-pointers and finished with 14. Mackenzie Bauer had 11 tallies and was a perfect 5-for-5 at the charity stripe.
Megan Clow paced the Fires offense with 12 points.
GALETON 45, OSWAYO VALLEY 34
GALETON, Pa. – Behind 28 points from Cara Parsell and Jessie Evans, Galeton rolled past Oswayo Valley, 45-34.
Parsell scored 16 points to lead the Lady Tigers offense with Evans adding 12. Alli Macensky had nine tallies while Lauren Sauley and Sandy bliss each chipped in four.
Joclyn Brabham had a game-high 17 points in the loss for Oswayo Valley.
CAMERON COUNTY 48, AUSTIN 20
EMPORIUM, Pa. – Kaylee Bresslin exploded for 26 points with three 3-pointers to help Cameron County defeat Austin, 48-20.
Mallory McKimm hit three straight 3-pointers to start the game and finished with 15 points, eight rebounds and an assist for the Lady Raiders.
Shae Setzer had eight points to pace the Lady Panthers.