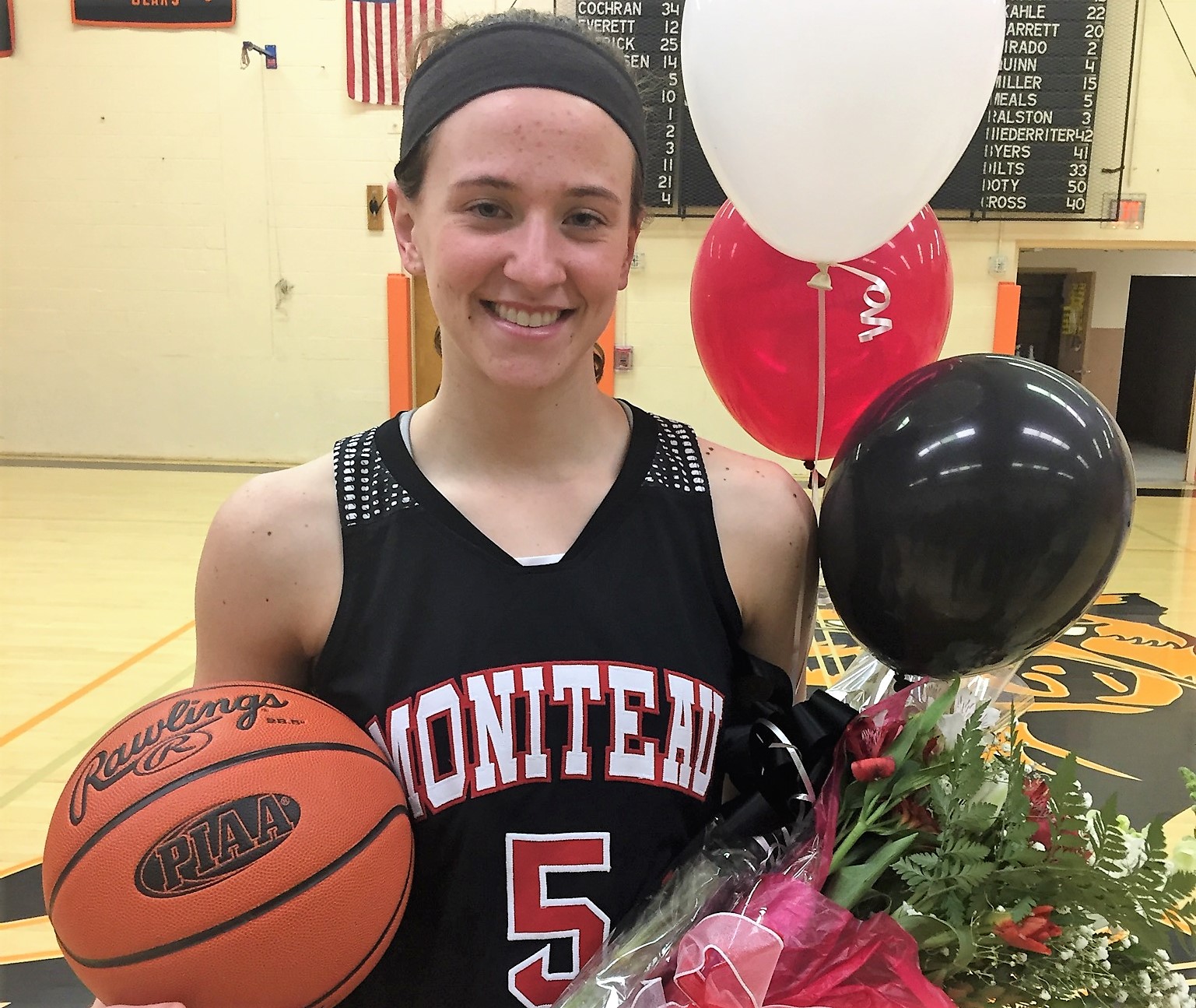 Jan. 24 girls' and boys' basketball roundup.
MONITEAU 73, FOREST AREA 11
MARIENVILLE, Pa. – Needing 18 points to become the sixth player in Moniteau girls' basketball history to reach 1,000 points, Kristina DeMatteis hit the plateau on her final basket of the game in a 73-11 win over Forest Area at East Forest.
DeMatteis, who now has 1,000 career points and is the first Lady Warrior to hit 1,000 points since all-time leading scorer Alyssa Deal (1,445) in 2006, added 12 rebounds and five blocked shots.
Alazia Greaves had a game-high 27 points for Moniteau. She scored 11 of those in the fourth quarter with the Lady Warriors ahead 60-11.
Emma Bair added 14 points, 10 rebounds and five blocked shots, as Moniteau raced to a 27-2 lead at the end of the first quarter and 46-9 at halftime.
Jasmine Ginnery paced Forest Area with six points.
NORTHERN POTTER 55, SMETHPORT 52, overtime
ULYSSES, Pa. – Down 17 at halftime, Northern Potter rallied for a 55-52 overtime victory over visiting Smethport in North Tier League action.
The Lady Panthers trailed 34-17 but outscored the Lady Hubbers 31-14 in the third and fourth quarters to tie the game and force overtime. Then in the extra session Tory McCutcheon scored four points and Abbi Anderson added three points as NoPo outscored Smethport 7-4 in overtime.
Kalie Cowburn led Northern Potter with 20 points and 10 rebounds, including 12 second-half points, while McCutcheon added 10 points, eight after halftime, and Anderson nine points and Gracie Hamilton nine points and 10 rebounds.
A-C VALLEY 80, CLARION-LIMESTONE 25
STRATTANVILLE, Pa. – A-C Valley welcomed back head coach Dave Sherman in a big way with an 80-25 road win at Clarion-Limestone.
Sherman, who was in a car accident hours prior to the Lady Falcons season opener and subsequently was found to have a benign tumor in the brain that forced him to miss six weeks, was cleared to return to coaching Tuesday.
Ellie Thompson and Olivia Boocks welcomed their coach back by combining to score 52 points in the win with Thompson netting a game- and career-high 29 and Boocks chipping in a career-high 23.
Morgan Clark led C-L with seven points.
CRANBERRY 48, UNION 35
SENECA, Pa. – Behind Erin Merryman and Malliah Schreck, Cranberry topped Union, 48-35, on Senior Night at Cranberry.
Merryman scored 15 points, came up with five steals and handed out four assists, while Schreck had 14 points and nine rebounds for the Berries, who honored Andrea Altman, Nicole Hutchinson and Bree Swartzfager before the game. Hutchinson added six points and eight rebounds, Swartzfager had four points and Altman two.
Lexey Shick led Union with 17 points.
NORTH CLARION 56, REDBANK VALLEY 37
FRILLS CORNERS, Pa. – Tori Obenrader netted a game-high 28 points and grabbed 15 rebounds to help North Clarion break a two-game losing streak with a 56-37 win over visiting Redbank Valley.
Ten different She-Wolves scored in the game with Cassie Wagner chipping in eight points.
Lexi Holt's 21 points paced Redbank Valley.
KARNS CITY 62, CLARION 35
CLARION, Pa. – Mackenzie Craig exploded for a career-high 32 points to lift visiting Karns City to a 62-35 win over Clarion.
Emily Hegedus added 16 points for the Gremlins and now needs 33 for 1,000 in her career.
Alexis Constantino had 15 points for Clarion with 11 of those coming in the fourth quarter.
DUBOIS CENTRAL CATHOLIC 39, BROCKWAY 29
BROCKWAY, Pa. – Visiting DuBois Central Catholic got 14 points each from Gabby Caruso and Riley Assalone in a 39-29 AML victory over Brockway.
DCC used a 13-4 first quarter edge to set the tone and still led 19-14 at halftime before outscoring the Lady Rovers 13-9 in the fourth quarter.
Leah Lindemuth netted 14 to pace Brockway with Katlyn Cappetta adding 10.
JOHNSONBURG 54, SHEFFIELD 16
SHEFFIELD, Pa. – Cassidy King had a double-double with 10 points and 10 assists to help visiting Johnsonburg to a 54-16 AML win over Sheffield.
Nicole Myers scored a game-high 18 points for the Ramettes.
Lexi Lyon led Sheffield with seven points.
PUNXSUTAWNEY 58, BROOKVILLE 23
BROOKVILLE, Pa. – Leah Miller led a shorthanded Punxsutawney team to a 58-23 D9 League road win at Brookville by scoring 25 points and hauling down 20 rebounds.
Miller had 21 points and 12 rebounds by halftime, as Punxsutawney, who was without Alli Lunger and Morgan Vanleer, built a 42-10 halftime lead.
Kaitlyn Ray added 12 points for the Lady Chucks, who also got 10 from Laney Monroe.
Morgan Johnson paced Brookville with six points.
COUDERSPORT 53, PORT ALLEGANY 38
PORT ALLEGANY, Pa. – Haley Keck netted 22 points, grabbed seven rebounds and came away with four steals to help Coudersport to a 53-38 NTL road win over Port Allegany.
Ally Easton added 13 points and seven rebounds for the Lady Falcons, who rebounded nicely from their first loss of the season Saturday to Moniteau, while EmmaRae Easton had seven rebounds and Tory Crosby 10 points.
Autumn Buchsenschutz paced Port Allegany with 16 points and seven rebounds. Hannah Lathrop added seven boards and two points.
OSWAYO VALLEY 57, AUSTIN 34
SHINGLEHOUSE, Pa. – Shayla Bickel and Sarah Malogrino each had double-doubles to help Oswayo Valley to a 57-34 North Tier League victory over visiting Austin.
Bickel led the Green Wave with 18 points and 10 rebounds with Malogrino adding 10 points and 10 boards. Karina West just missed a double-double with eight points and 10 rebounds.
Jordan Brewer led Austin with 15 points.
BOYS' RECAPS
JOHNSONBURG 64, SHEFFIELD 38
JOHNSONBURG, Pa. – Behind 19 points from Drew Akers Johnsonburg claimed a 64-38 AML victory over visiting Sheffield.
Ryan Kilhoffer added nine points for the Rams with Dilen Surra adding eight.
RIDGWAY 53, CURWENSVILLE 42
RIDGWAY, Pa. – Neal MacDonald and Andy Breier combined for 30 points to help Ridgway to a 53-42 win over visiting Curwensville in AML action.
Both MacDonald and Breier scored 15 points for the Elkers, while Devan Barnett paced Curwensville with 11 points.
Noah VonGunden and Josh Terry each added nine points for the Golden Tide with Terry hitting three of Curwensville's eight 3-pointers in the game.