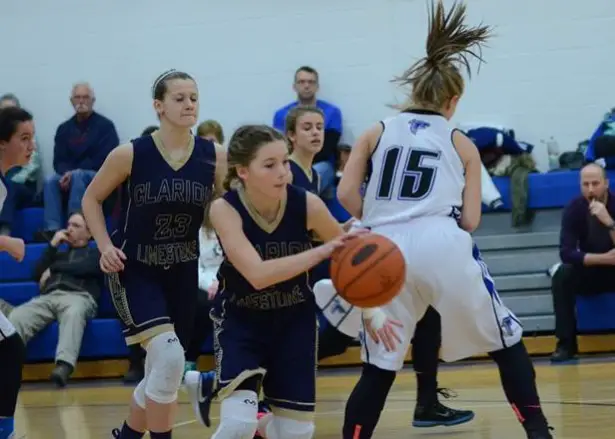 CLARION-LIMESTONE 61, TIDIOUTE CHARTER 30
TIDIOUTE, Pa. – Freshman Maddy Craig poured in a career-high 25 points to go with a career-best 10 rebounds to lead Clarion-Limestone to its first win of the season, 61-30 at Tidioute Charter.
Craig scored 16 points in the first half helping C-L grab a 37-18 halftime lead.
Josie Stitt also had a double-double for the Lady Lions with 16 points and 14 rebounds while adding eight steals.
JOHNSONBURG 43, KANE 37
KANE, Pa. – Behind 16 points, six steals and five rebounds from Nicole Myers, Johnsonburg moved a half game ahead of Kane in the race for the AML North Title with a 43-37 road victory.
Cassidy King added 13 points, nine rebounds and six steals for the Ramettes, who outscored Kane 16-7 in the second quarter to take a 21-15 halftime lead that grew to 31-23 at the end of three quarters.
Ashton Watts chipped in five points and nine rebounds for Johnsonburg (8-8 overall, 5-2 AML North), which moved a ½ game ahead of Kane (10-7, 4-2) in the AML North standings. ECC (9-8, 7-3) is a game back of both in the loss column, but the Lady Crusaders have completed AML play for the season.   
Trinity Clark led Kane with 14 points and 10 rebounds. Ella Marconi added nine points, 10 rebounds and five blocked shots and Rachel Morgan had nine points and eight rebounds.
ELK COUNTY CATHOLIC 56, SHEFFIELD 6
ST. MARYS, Pa. – Reilly Herzing had 10 points and nine rebounds to pace a balanced Elk County Catholic effort in a 56-6 AML win over visiting Sheffield.
Maggie Dinsmore and Sammie Fedus each added eight points for the Lady Crusaders with Mackenzie Gahr chipping in six points and nine rebounds.  Josie Smith added seven points and five steals, Cassidy Cunningham had six points on a pair of 3-pointers and five steals and McKayla Wilson had four points and nine rebounds.
Lexi Lyon led Sheffield with four points.
DUBOIS CENTRAL CATHOLIC 68, CURWENSVILLE 33
CURWENSVILLE, Pa. – Riley Assalone and Alyssa Bittner combined for 26 points in a 68-33 win by DuBois Central Catholic on the road at Curwensville in AML action.
Assalone scored 14 points to lead the Lady Cardinals with Bittner adding 12, all in the fourth quarter. Eleven different DCC players scored.
Madison Weber led Curwensville with 12 points with Christine Limbert adding nine.
PUNXSUTAWNEY 54, ST. MARYS 48
PUNXSUTAWNEY, Pa. – Alli Lunger scored all seven of her points during an 18-4 second-quarter run that helped Punxsutawney grab a key D9 League win over visiting St. Marys, 54-48.
The Lady Chucks led 14-13 at the end of a quarter but expanded the lead to 15 points, 32-17, at halftime.
St. Marys rallied hard in the second half and got within eight, 41-33, by the end of the third quarter before closing the gap even more in the final eight minutes.
Leah Miller had a double-double for Punxsy with 10 points and 14 rebounds. Hope Bridge had 12 tallies for the Lady Chucks with Kate Horner adding 10.
Rachel Bauer led all scorers with 21 points for the Lady Dutch including 10 in the fourth quarter and 15 in the second half. Kaitlyn Barackman added 10 points.
NORTHERN POTTER 40, PORT ALLEGANY 30
PORT ALLEGANY, Pa. – Northern Potter had four players score between seven and 12 points in a 40-30 win at Port Allegany in North Tier League action.
Kalie Cowburn led the Lady Panthers with 12 points. Gracie Hamilton added nine and Tory McCutcheon and Sarah Morgan each had seven.
Autumn Buchsenschutz paced all scorers with 16 points for Port Allegany. Kendra Pelchy had a double-double with 11 points and 10 rebounds.  
COUDERSPORT 54, OTTO-ELDRED 35
COUDERSPORT, Pa. – Emily Morey had 10 points, six steals and four assists to lead Coudersport in a 54-35 win over visiting Otto-Eldred in North Tier League play.  
Haley Keck added nine points, six rebounds and five assists for the Lady Falcons, who saw 11 players etch their names in the scorebook.
Camryn Thomas had a double-double with 15 points and 10 rebounds to pace Otto-Eldred. Emily Smith added nine points.
GALETON 44, CAMERON COUNTY 41
GALETON, Pa. –  Galeton outscored visiting Cameron County by six in the second half to gain a 44-41 victory in North Tier League action.
The Lady Tigers trailed 22-19 at the break but outscored the Lady Raiders 25-19 in the second half.
Cortney Parsell led the victors with a game-high 15 points. Ashley Cizek added 12 points,.
Maddison Harrier tied for game-high honors with 15 points to Cameron County. Madi Guisto added 10.
COWANESQUE VALLEY 35, AUSTIN 10
AUSTIN, Pa. – Bryn Williams scored 14 points to help visiting Cowanesque Valley get a 35-10 win at Austin in non-conference action.
Jade McKeirnan led the Lady Panthers with seven points.
BROCKWAY 38, RIDGWAY 36
BROCKWAY, Pa. – Leah Lindemuth and Kaitlyn Morelli each recorded double-doubles to lead Brockway to a 38-36 AML win over visiting Ridgway.
Lindemuth had 11 points and 10 rebounds while adding six steals for the Lady Rovers, while Morelli added 10 points, 10 rebounds and seven steals.
Hannah Park and Jessica Kifer each scored 10 points for Ridgway.
SMETHPORT 51, OSWAYO VALLEY 26
SMETHPORT, Pa. – Abbey Woodard scored 21 points to lead Smethport to a 51-26 win over visiting Oswayo Valley in North Tier League action.