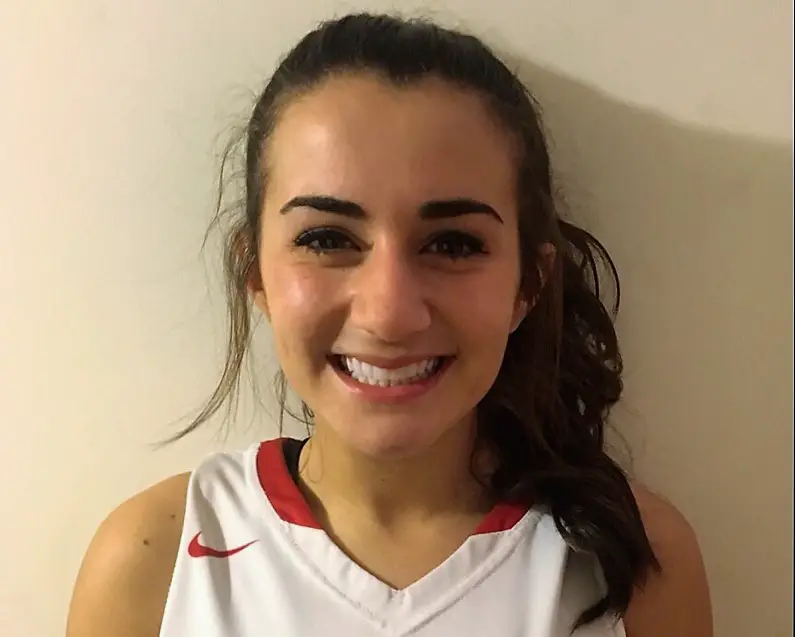 Jan. 25 recaps.
(Photo: Kate Horner, Punxsutawney)
GIRLS
PUNXSUTAWNEY 39, DUBOIS 32
DUBOIS, Pa. – Sarah Weaver and Kate Horner combined to score 27 points to lift visiting Punxsutawney to a 39-32 come-from-behind win over DuBois in a showdown for first-place in the D9 League.
Weaver led the Lady Chucks with 15 points, three assists and three steals with Horner adding 12 points and two steals. Leah Miller chipped in six points and 18 rebounds for the Lady Chucks. Miller also had four steals, three assists and a blocked shot.
Ashley Hallowell had nine points and nine rebounds for DuBois with Chelsea DeSalve scoring 11 points.
Punxsutawney trailed 11-4 after a quarter, led 16-15 at halftime and trailed 20-18 going to the fourth quarter before outscoring the Lady Beavers 21-12 in the fourth quarter behind eight points each from Weaver and Horner.
Punxsutawney improves to 9-5 overall and 4-0 in league play. DuBois drops to 11-4 and 4-1 in the league.
BROOKVILLE 46, ST. MARYS 28
ST. MARYS, Pa. – Kira Powell led a trio of Brookville players in double digits with 13 points to lead Brookville to a 46-28 D9 League road win over St. Marys.
Madison and Morgan Johnson each added 10 points for the Lady Raiders, while Marcy Schindler had eight.
Lauren Eckert paced St. Marys with eight points.
SMETHPORT 54, AUSTIN 27
AUSTIN, Pa. – Abbey Woodard exploded for 25 points to lead Smethport to a 54-27 win at Austin in North Tier League play.
Hailey Wright added eight points and Emily Treat seven.
Julia Latimore paced Austin with eight points and Jordan Brewer chipped in seven points.
PORT ALLEGANY 54, OSWAYO VALLEY 43
PORT ALLEGANY, Pa. – Cailey Barnett netted 19 points to lead Port Allegany to a 54-43 North Tier League win over visiting Oswayo Valley.
Bree Garzel added 14 points for the Lady Gators, and Jenna Sprankle added eight points.
Shayla Bickel paced Oswayo Valley with 18 points.
COUDERSPORT 87, GALETON 41
GALETON, Pa. – Shaelyn Black had 26 points and 14 rebounds as visiting Coudersport rolled to an 87-41 win at Galeton.
Haley Keck added a game-high 31 points and five assists for the Lady Falcons with Sarah Chambers chipping in 11 points and EmmaRae Easton eight points and eight rebounds.
Cara Parsell led Galeton with 11 points and Brielle Kalacinski 10.
CAMERON COUNTY 50, NORTHERN POTTER 39
ULYSSES, Pa. – Amily Schatz had a double-double to help visiting Cameron County defeat Northern Potter, 50-39, in Northern Tier League action.
Schatz had 10 points and 14 rebounds, while Alyvia McKimm had a game-high 19 points. Kaelee Bresslin chipped in eight points and three assists and Kamme Guisto six points and three helpers.
Mikayla Lewis led Northern Potter with 14 points with Kalie Cowburn adding 11 points.
BOYS
RIDGWAY 51, KANE 26
RIDGWAY, Pa. – Josh Thorwart led a balanced Ridgway effort with 11 points, as the Elkers knocked off visiting Kane, 51-26, in non-conference play.
Johnny Mitchell added 10 points for Ridgway with Andy Breier contributing nine tallies.
Tommy Holt and Chad Greville each had six points for Kane.
NORTH CLARION 63, TIDIOUTE CHARTER 25
FRILLS CORNERS, Pa. – Thanks in part to 13 points, 10 rebounds and five assists from Nathan Banner, North Clarion dispatched visiting Tidioute Charter, 63-25.
Kyle Mills chipped in 12 points for the Wolves with Zander Hargenrader adding eight and Sam Minich seven.