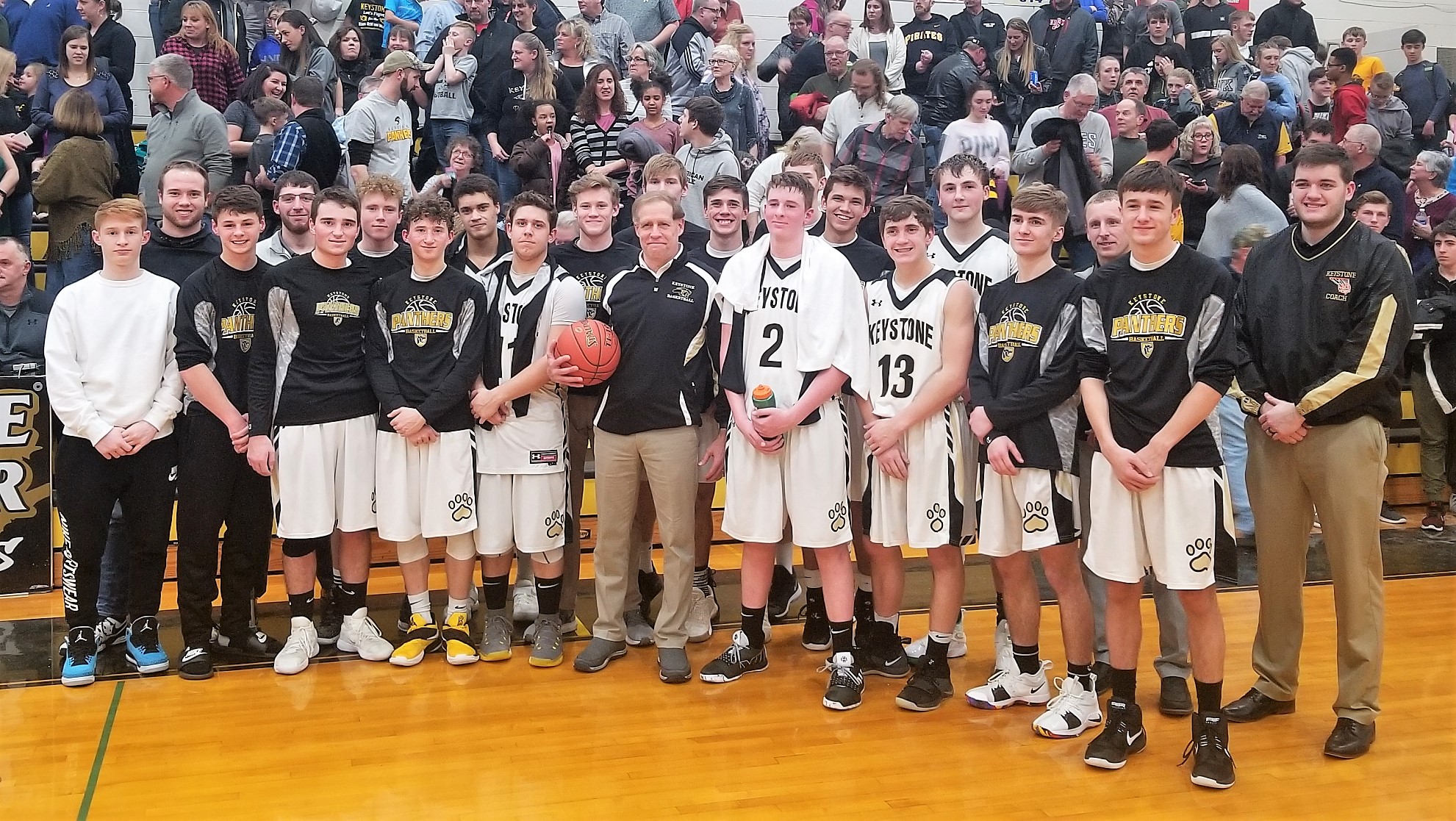 Jan. 25 boys' basketball recaps.
(Photo: Greg Heath with his team after picking up the 600th win of his career)
KEYSTONE 56, A-C VALLEY 38
Read the full story on this game at our sister site exploreClarion.com
KNOX, Pa. – Keystone's 35th-year head coach Greg Heath became just the third coach in District 9 history to 600 career wins when the Panthers topped visiting A-C Valley, 56-38, in KSAC South action.
Relisten to the game:
Heath is 600-277 in a career that started at Keystone during the 1984-85 season. He joins Elk County Catholic's Aaron Straub (832-236 in 37th season as ECC's boys' coach and 853-257 in 39th year as a head coach having coached ECC girls for two seasons) and Union's Don Stemmerich (636 wins in 38 seasons) as the only D9 coaches to win 600 career games.
Heath talked about the accomplishment.
Dawson Steele led Keystone with 17 points while adding four rebounds, while Andrew Lauer added 14 points and seven boards and Troy Johnson 11 points for Keystone.
Lauer talked about the victory, which coupled with Karns City's loss to Redbank Valley put the Panthers in sole possession of first place in the KSAC South.
Eddie Stevanus (11 points, 11 rebounds) and Levi Orton (10 points, 10 rebounds) had double-doubles for A-C Valley with Eli Penny leading the Falcons with a team-high 14 points, 12 in the third quarter.
PORT ALLEGANY 70, NORTHERN POTTER 68
PORT ALLEGANY, Pa. – Drake Amell's layup as time expired lifted Port Allegany to an incredible, 70-68, win over visiting Northern Potter in NTL action.
The Gators trailed by 16 at halftime and 20 in the third quarter but rallied in the second half to tie the game before taking possession with 25 seconds left. Drew Benson then worked the ball inside to Amell, who made his only shot of the game for the game-winner (he did hit a free throw and finished with three points).
The game featured 52 fouls and 64 free throws with Northern Potter going 30 of 35 from the line, including Carter Anderson's 16 of 20 performance.
Anderson scored a game-high 34 points for the Panthers, while Howie Stuckey led the Gators with 28 points.
Jordan Card chipped in 16 points for Port Allegany with Dominic Guerrero adding 11.
Tre Slawson added 12 points for Northern Potter with Foster Kosa scoring eight.
REDBANK VALLEY 64, KARNS CITY 55
KARNS CITY, PA. – Behind the play of Nick Smith and Chris Marshall, visiting Redbank Valley stunned Karns City, 64-55.
Smith scored 19 points and came away with five steals with Marshall adding 16 points and six steals. Keaton Kahle chipped in with nine points and Declan Fricko with eight for the Bulldogs.
Karns City, which came into the game in a first-place tie in the KSAC South with Keystone but is now a game back of the Panthers, got a monster game from Nathan Waltman who had 31 points and 18 rebounds. Chase Beighley added nine points and Austin Fahlor eight for the Gremlins.
RIDGWAY 61, DUBOIS CENTRAL CATHOLIC 34
DUBOIS, Pa. – Parker Rohr netted 17 points to lead visiting Ridgway past DuBois Central Catholic, 61-34, in AML action.
Will Thompson and Jake Reynolds each tallied 13 points for the Elkers.
Jonathan Kurtz paced the Cardinals with 10 points.
With the win, Ridgway retook first place in the AML South.
DUBOIS 61, PUNXSUTAWNEY 52
DUBOIS, Pa. – Chase Husted exploded for 26 points to lead DuBois to a 61-52 win over Punxsutawney in D9 League action.
Alex Beers added 11 points and Jonathan Cruz, Lennon Lindholm and Justin Manduley combined for 24 points. The trio had eight points apiece.
Ethan Blose paced Punxsutawney with 15 points while Nick Humble chipped in 12.
COUDERSPORT 74, OTTO-ELDRED 46
COUDERSPORT, Pa. – Behind a 30-point performance from Owen Chambers, Coudersport beat Otto-Eldred 74-46 in NTL action.
Hayden Keck added 16 tallies and Daniel Frame chipped in 10 to display a balanced offensive attack for the Falcons.
Jake Merry had a team-high 15 points for Otto-Eldred while Braden Maholic added 12.
CURWENSVILLE 63, BROCKWAY 60
CURWENSVILLE, Pa. – Christian Bakaysa had a 30-point night as Curwensville edged Brockway, 63-60, in AML South action.
Ty Terry was also in double-figures finishing with 14 points for the Golden Tide.
Brockway's Alec Freemer had a red-hot offensive performance posting a career-high 35 points. Jon Wood and Marcus Copelli each chipped in seven points apiece for the Rovers.
ELK COUNTY CATHOLIC 36, JOHNSONBURG 34
JOHNSONBURG, Pa. – Carter Lindemuth and Regis Wortman each scored 10 points, as visiting Elk County Catholic squeaked past Johnsonburg, 36-34, to remain unbeaten in AML play and on the season as a whole.
Will Uberti chipped in six points for the Crusaders.
Austin Green had a game-high 16 points for Johnsonburg with Nick Bliss adding six.
The win wrapped up the AML North title for ECC.
KANE 73, SHEFFIELD 46
KANE, Pa. – A 23-point night from Chad Greville helped Kane to a 73-46 AML home win over Sheffield.
Mason Zuzek added 10 points for the Wolves with Carson Whiteman adding nine and Zuke Smith eight.
Jakob Vinopal paced Sheffield with 15 points with Tyler Hepinger adding 14.
CRANBERRY 60, VENANGO CATHOLIC 46
SENECA, Pa.- J.T. Stahlman had a team-high 18 points as Cranberry picked up a 60-46 win over Venango Catholic in KSAC North action.
Cameron Russell posted nine tallies while Daniel Fisher had eight for the Berries.
Ben Gillispie paced Venango Catholic with 18 points and 17 rebounds and Parker Slagle added nine points.
CLARION-LIMESTONE 74, CLARION 55
CLARION, Pa. – Visiting Clarion-Limestone pulled away from Clarion in the second half to pick up a 74-55 KSAC North victory.
The Lions led 39-31 at halftime before outscoring the Bobcats 21-11 in the third quarter to take control of the game.
Deion Deas scored 11 of his 13 points in the third quarter for C-L.
Ian Callen led the Lions with a game-high 26 points while adding nine steals and his younger brother, Hayden Callen, had 18 points and nine rebounds.
Cal German paced Clarion with 22 points with Nick Frederick adding 12 and Jake Burns 10.
MONITEAU 71, UNION 65
WEST SUNBURY, Pa. – Ethan McDeavitt's 16 points and 10 rebounds paced Moniteau past Union, 71-65, in KSAC South action.
The Warriors had a balanced attack with Gage Neal netting 14 points, Tyler McFadden adding 11 and Bob Mathews 10.
Union also had a trio of players scoring in double-digits starting with Karter Vogle posting a team-high 17 points, while Caden Rainey chipped in 13 tallies and Luke Bowser 12.
NORTH CLARION 79, FOREST AREA 44
FRILLS CORNERS, Pa. – Korey Mills scored a game-high 21 points and Kyle Mills added a double-double to lead unbeaten North Clarion to a 79-44 win over Forest Area.
Kyle Mills had 19 points and 11 rebounds. Logan Minich also reached double digits with 10 points while dishing out five assists, Sam Minich had seven points and 10 assists, Preston Schamder scored nine points and Tyler McCord-Wolbert added two points and eight rebounds.
Franklin Meals paced Forest Area with 16 points, Noah Burke added 11 tallies and Aiden Quinn had 10.
CLEARFIELD 59, PHILIPSBURG-OSCEOLA 50
HYDE, Pa. – Trailing by four going to the fourth quarter, Clearfield rallied for a 59-50 win over visiting Philipsburg-Osceola in Mountain League action.
Karson Rumsky scored nine of his 19 points in the fourth quarter to help the Bison rally from a deficit after 24 minutes of play for the third time in two weeks. Rumsky added five rebounds and three steals in the wins.
Cade Walker chipped in 18 points and five rebounds for Clearfield with Taye Lynch scoring five points and to go with six rebounds, Matt Pallo hitting three 3-pointers for nine points and Andrew Lopez scoring five tallies and dishing out four helpers.
Ryan Whitehead had a game-high 29 points for P-O.
ST. MARYS 50, BROOKVILLE 43
ST. MARYS, Pa. – Cahil Parrish and Mitchell Reiter each scored 14 points as St. Marys avenged an early-season loss to Brookville with a 50-43 D9 League win.
Nick Catalone's three-point play with 3:04 left broke a 38-38 tie and started a game-ending 12-5 run to finish off the win for the Dutch.
Anthony Cortina added seven points and six rebounds for St. Marys.
Jack Krug scored 14 points and grabbed seven rebounds to lead Brookville. Aaron Park finished with 11 points.