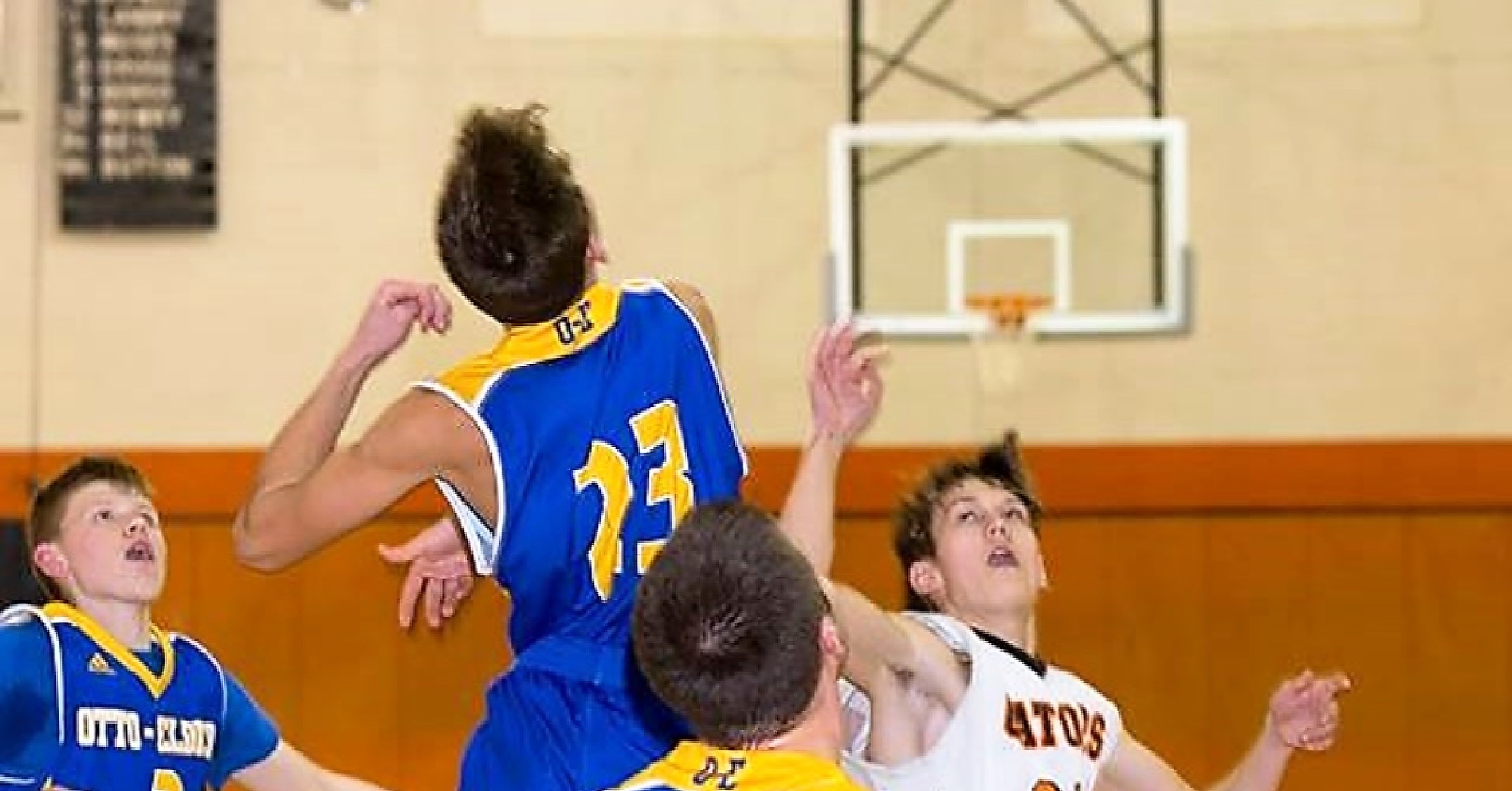 Jan. 26 recaps.
(Cole Sebastian (No. 23) hit the game-winning 3-pointer at the horn for Otto-Eldred. Photo by Patrick Crants. Check out more of Crants' work here.)
OTTO-ELDRED 46, BRADFORD 45
DUKE CENTER, Pa. – Freshman Cole Sebastian hit a fadeaway 3-pointer at the horn, and Otto-Eldred stunned visiting Bradford, 46-45.
The Terrors trailed by four, 45-41, in the waning seconds before Andrew Sheeler hit a layup and was fouled to make it 45-43.
Sheeler missed the free throw but the rebound was tipped out to Otto-Eldred, and the Terrors called timeout with 3.3 seconds left.
On the inbound, Bradford took away Otto-Eldred's first look, but Jordan Sherwood found Sebastian who drained the game-winning shot.
The game-winner saved the Terrors from blowing a nine-point lead going to the fourth quarter.
Otto-Eldred, on the strength of a 13-6 third-quarter advantage, led 35-26 with eight minutes to play before Bradford roared back behind nine points from Deondre Terwilliger and seven from Alec Kuzmeskas to go on a 19-6 run to take the lead.
The game started out strong for O-E, who led 17-9 at the end of a quarter. But Bradford closed within two, 22-20, at halftime before the Terrors again separated in the third quarter.
Trey Dalton led Otto-Eldred with 13 points. Dylan Close added 12 for the Terrors with Cole Sebastian chipping in eight thanks in large part to a pair of 3-pointers.
Terwilliger had 18 points to pace Bradford with Kuzmeskas adding 14 points and 11 rebounds.
CLARION-LIMESTONE 52, CLARION 44
STRATTANVILLE, Pa. – Ian Callen delivered an all-around solid game with nine points, 12 rebounds, four steals, four assists and three blocked shots to help Clarion-Limestone hold off visiting Clarion, 52-44, in KSAC North action.
Ian Calle talks about the win.
Christian Smith had a game-high 17 points while adding eight rebounds for the Lions, who built a 13-point lead, 43-30, early in the fourth quarter before Clarion closed within four on a couple of occasions late, including 48-44, with 1:18 to play. Smith hit four crucial free throws in the final 11.9 seconds to secure the victory.
Also for the Lions, who remain unbeaten in KSAC North play as they seek their fifth straight KSAC North title, Deion Deas had 13 points and Hayden Callen 11 points and nine rebounds.
Austin Hummell had a strong game for Clarion with 16 points, 16 rebounds, four steals, an assist and a blocked shot. Josh Craig added nine points on three 3-pointers, and his older brother, Cam Craig, had seven points, nine rebounds, three steals and two assists.
Clarion took 30 more shots than C-L (72 to 42) but the Bobcats made just 17 of them (23.3 percent) compared to 45.2 percent (19 of 42) for C-L. Clarion had an incredible 31 offensive rebounds led by eight from Hummell. C-L had just five offensive boards and was outrebounded 55-35.
ELK COUNTY CATHOLIC 43, JOHNSONBURG 36
ST. MARYS, Pa. – Winning an AML North game at home, Elk County Catholic held off Johnsonburg for a 43-36 win.
Ryan Newton scored eight of his team-high 12 points in the first quarter, helping the Crusaders build a 19-10 lead by halftime. Logan Hoffman scored 11 points.
For Johnsonburg, Kacey Raubenstrauch scored 11 of his 13 points in the fourth quarter.
BROCKWAY 53, CURWENSVILLE 48
BROCKWAY, Pa. – Brockway trailed visiting Curwensville by nine points at halftime, then rallied in the second half for a 53-48 win in AML South action.
Jon Wood scored 16 points to lead the Rovers, who outscored the Golden Tide 34-20 in the second half. Noah Vokes scored 12 of his 14 points after halftime.
Josh Terry and Christian Bakaysa scored 21 and 14 points respectively to lead Curwensville.
DUBOIS 58, PUNXSUTAWNEY 54
PUNXSUTAWNEY, Pa. – DuBois notched a road win in the D9 League by putting four players in double-figure scoring in a 58-54 win at Punxsutawney.
Jonathan Cruz and Chase Husted shared high-game honors for the Beavers with 16 points apiece. Justin Manduley and Alex Beers each scored 10 points.
The Beavers led 33-29 at halftime and played the Chucks even in the second half.
Brandon Matthews scored 10 of his 20 points in the fourth quarter. Willie Hoover and Kevin Constant scored 14 and 10 points respectively.
CLEARFIELD 42, BELLEFONTE 35
HYDE, Pa. – Rallying from a four-point deficit going into the fourth quarter, Clearfield notched a 42-35 Mountain League win at home against Bellefonte.
The Bison outscored the Red Raiders, 19-8, in the fourth quarter to put away with the win. Reese Wilson and Wyatt Porter scored 15 and 12 points respectively.
Ben McCartney and Bailey Decker each scored nine points for Bellefonte.
KANE 55, SHEFFIELD 26
KANE, Pa. – Chad Greville and Al Rezzelle combined to outscore visiting Sheffield as Kane grabbed a big lead early and cruised to a 55-26 rout in AML North action.
Greville and Rezzelle scored 19 and 12 points respectively for the Wolves, who led 33-7 at halftime.
Cale Albaugh and Luke Davidson each scored nine points to lead the Wolverines.
BROOKVILLE 67, ST. MARYS 54
BROOKVILLE, Pa. – Reversing a 26-point loss to its D9 League rivals back in December, Brookville avenged its first meeting with a 67-54 win over St. Marys in Brookville.
The Raiders shot 63 percent (26-of-41) from the field and put four players in double-figure scoring with Bryan Dworek leading the way with 16 points on 6-of-8 shooting. Aaron Park had 15 points and eight rebounds. Trenton Gilhousen finished with 12 points and Jack Krug came off the bench to score all 10 of his points in the fourth quarter.
St. Marys was led by Nathan Schneider's 26 points. Cahil Parrish had 10 points.
The Raiders trailed St. Marys, 17-12, after the first quarter before a 14-2 edge in the second quarter put them up for good at 26-19 by halftime.
RIDGWAY 60, DUBOIS CENTRAL CATHOLIC 31
RIDGWAY, Pa. – Johnny Mitchell exploded for 24 points, including 12 in the first quarter, as Ridgway rolled past visiting DuBois Central Catholic, 60-31, in AML South play.
Andy Breier added eight points for Ridgway.
Nick Felix had seven points to lead DCC, but Ridgway completely took away the Cardinals leading scorer, Justin Miknis, limiting Miknis to two points on a first-quarter basket.
COUDERSPORT 89, GALETON 49
COUDERSPORT, Pa. – Led by 24 points from Hunter Ricke, Coudersport put four players in double figures in cruising to an 89-49 North Tier League win over visiting Galeton.
Owen Chambers added 19 points for the Falcons with Derek Keglovits chipping in 17 tallies and Jared Green 13.
Evan Brooks led Galeton with 20 points with Isaiah Shuemaker adding 16.
AUSTIN 53, SMETHPORT 43
SMETHPORT, Pa. – Dempsey Glover had a double-double to help Austin pick up its ninth win of the season, 53-43, at Smethport in North Tier League action.
Dempsey Glover had 10 points and 10 rebounds for the Panthers, who are enjoying their best season in a number of years, while Blake Burgett led the way with 17 points. Jackson Glove chipped in 14 for Austin.
Caleb Lutz had 13 points to lead Smethport.
OSWAYO VALLEY 85, PORT ALLEGANY 53
SHINGLEHOUSE, Pa. – Theo Henry and Gavin Babcock combined for 50 points to lead Oswayo Valley to an 85-53 home North Tier League victory over Port Allegany.
Henry led the Green Wave with 28 points with Babcock adding 22. Jack Karr also reached double digits with 10 points, Taige Bryant added nine tallies and Nathan Prouty eight.
David Talkington paced Port Allegany with 21 points while hitting four 3-pointers. Howie Stuckey chipped in 11 points.
CAMERON COUNTY 91, NORTHERN POTTER 21
EMPORIUM, Pa. – Cameron County scored more first-quarter points than Northern Potter scored in the game, as the Red Raiders beat the visiting Panthers by 70, 91-21.
Cameron County led 30-2 at the end of a quarter and 59-10 at halftime.
Adam Shaffer had a game-high 27 points for Cameron County with Marcus Brown and Dino Brown each adding 15. All 15 of Marcus Brown's came on five 3-pointers. Bryce Bauer chipped in with eight points and Justin Bush with nine.
Tristan Bryon and Holden Cowburn each had five points for Northern Potter.
KEYSTONE 64, A-C VALLEY 52
FOXBURG, Pa. – A 17-9 third-quarter advantage helped visiting Keystone pull out a 64-52 KSAC South win over A-C Valley.
The first-place Panthers led by four, 30-26, at halftime but extended that lead to 47-35 by the end of the third quarter.
Corey Rapp had a game-high 20 points for Keystone with Isaak Jones adding 14 and Dalton Jones 10. Nate Wingard handed out six assists and also scored four points.
Eddie Stevanus paced A-C Valley with 16 points, seven rebounds and three steals. Jeff Ginn had 10 points and seven rebounds, Levi Orton 11 points and Dalton Callander five points, six assists and six rebounds.
NORTH CLARION 88, FOREST AREA 59
TIONESTA, Pa. – Behind Nathan Banner's all-around game of 22 points, eight rebounds, eight assists and five steals, visiting North Clarion stayed within range of first-place Clarion-Limestone in the KSAC North with an 88-59 win over Forest Area at West Forest.
Jesse Schmader and Zander Hargenrader both added 13 points for the Wolves with Sam Minich chipping in 10 points.
Seth Berlin had another monster game for Forest Area with 31 points, 16 rebounds, three steals and three blocked shots. Jarrett Kahle added 12 points and Dillon DiCorpo had nine points, five rebounds and four steals.
North Clarion is a game back of C-L for first place in the North.
KARNS CITY 72, REDBANK VALLEY 43
KARNS CITY, Pa. – Freshman Chase Beighley poured in a season-best 28 points to lead Karns City to a 72-43 win over visiting Redbank Valley in KSAC South action.
Austin Fahlor added 11 points and seven assists for the Gremlins with Nolan Riley grabbing 10 rebounds to go with seven points and Nathan Waltman eight boards and four points.
Nick Smith (14 points) and Keaton Kahle (13 points) combined for 27 tallies for Redbank Valley.
MONITEAU 51, UNION 46
RIMERSBURG, Pa. – Jared Lominski and Ethan McDevitt combined for 30 points, as Moniteau rebounded from a tough loss at Forest Area earlier in the week to pick up a 51-46 road KSAC South win against Union.
Lominski led the Warriors with 16 points while McDevitt added 14. Ross Tenney also scored nine for Moniteau.
Lucas Bowser had 16 points to lead Union with Luke Bowser adding 12 and Hunter Johnston nine.
CRANBERRY 67, VENANGO CATHOLIC 50
OIL CITY, Pa. – Matt McQuaide netted 24 points while hitting three 3-pointers to lift visiting Cranberry to a 67-50 win over Venango Catholic in KSAC North action.
Tommy Flinspach added 13 points for the Berries with Dan McQuaide scoring 16.
Ben Gillispie had 15 points to pace Venango Catholic with Andrew Burda adding 13.