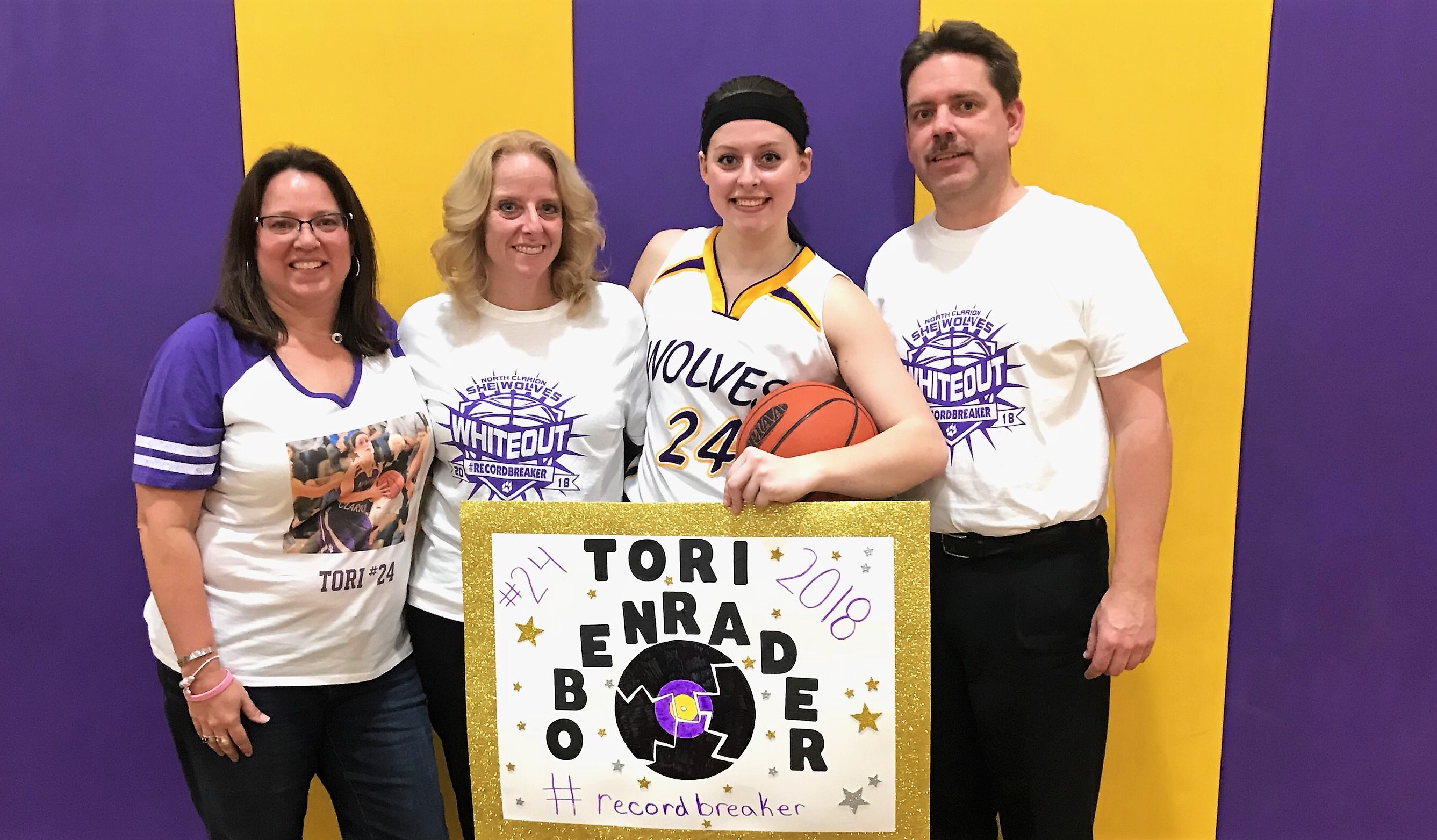 Jan. 26 recaps.
(Photo: North Clarion's Tori Obenrader (2nd from right) with head coach Terry Dreihaup (far right), assistant coach Terri Obenrader, her mom, (2nd from left) and her cousin Wendy Obenrader Franty (far left) after Tori Obenrader broke Wendy Obenrader Franty's school record for career scoring Friday night. Submitted photo.)
A 27-year old school record being broke, a last-second shot, a double overtime game and a 32-point first quarter highlighted District 9 girls' basketball action Friday night.
At North Clarion, Tori Obenrader added to her legacy by becoming the school's all-time leading scorer in a win over Forest Area, while in DuBois Shay Gulvas knocked down the game-winning shot as time expired to give DuBois Central Catholic a win over Ridgway and in Johnsonburg visiting Elk County Catholic went double overtime to beat the Ramettes. Meanwhile, Clearfield scored 32 first-quarter points and then had to hang on for dear life to beat Bellefonte by two.
Those games and the rest of the action from Friday night in District 9 are recapped below.
NORTH CLARION 61, FOREST AREA 35
FRILLS CORNERS, Pa. – Keeping it in the family.
Wendy Obenrader Franty's North Clarion school record of 1,822 points had stood since 1991 and seemed to be unbreakable until her youngest cousin, Tori Obenrader came along.
And Friday night, Tori Obenrader, who needed 18 points coming into the night to tie her cousin and 19 to top the mark, dropped in 29 points in a 61-35 KSAC North win over visiting Forest Area with her second 3-pointer of the second quarter accounting for points number 18, 19 and 20 on the night breaking Wendy Obenrader's record. Tori Obenrader finished the night with 1,833 career points, which is the ninth-most points in District 9 history.
Watch Obenrader set the record.
Tori Obenrader also completed her ninth-straight double-double and her 15th in 16 games with 16 rebounds. She is averaging 24.7 points and 15.5 rebounds per game.
"I want to thank all of my teammates and coaches over the past four years," Tori Obenrader said. "This wouldn't be possible without any of them. And this night was made extra special by my cousin Wendy coming home from Texas to be here for this. I also want to thank my family and our fans who have supported me."
Also for North Clarion, Gabby Carll had eight points and Abby Gatesman seven.
Jasmine Ginnery paced Forest Area with eight points with Emily Everett and Maikiya Bellotti each adding six.
DISTRICT 9'S ALL-TIME LEADING GIRLS' SCORERS
1. Sheana Mosch (DCC) 3,066
2. Kim Tingley (Coudersport) 2,905
3. Kayla Hoohuli (St. Marys) 2,604
4. Melinda Martin (Northern Potter) 2,123
5. Geena Sneeringer (West Forest) 2,030
6. Brooke Hinderliter (Redbank Valley) 1,997
7. Joyce Wensel (Union) 1,963
8. Emily Merryman (Cranberry) 1,914
9. Tori Obenrader (North Clarion) 1,833
10, Wendy Obenrader (North Clarion), 1,822
DUBOIS CENTRAL CATHOLIC 35, RIDGWAY 33
DUBOIS, Pa. – With the game tied at 33, DuBois Central Catholic's Shay Gulvas drained a shot from just inside the 3-point arc as time expired to lift the Lady Cardinals to a 35-33 AML win over visiting Ridgway.
Watch Gulvas drain the game-winner.
The win was the fourth in a row for DCC and the Lady Cardinals sixth win in seven games after starting the year 1-7.
Alyssa Bittner led DCC with eight points, Ashley Wruble added seven and Gulvas had six.
Emily Fullem had her eighth consecutive double-double and her 13th in 15 games for Ridgway with 12 points and 18 rebounds while adding three blocked shots, three steals and an assist.
Alyssa Kasmerski chipped in 10 points, five rebounds, three steals and three assists for the Lady Elkers with Casey Woodford contributing six points, four rebounds and a steal.
ELK COUNTY CATHOLIC 54, JOHNSONBURG 48, 2 OVERTIMES
JOHNSONBURG, Pa. – Visiting Elk County Catholic outscored Johnsonburg, 6-0, in the second overtime to give the Lady Crusaders a 54-48 win in AML action.
The game was tied at 39 at the end of regulation and at 48 after one extra four-minute period before ECC was able to take advantage of Cassidy King fouling out of the game for Johnsonburg to secure the victory.
Taylor Newton scored 10 of her game-high 24 points in the two overtime periods, while Josie Smith added 13 points for ECC.
King had a double-double for Johnsonburg with 22 points and 11 rebounds, while Rylee Casilio added 20 points.
The game was tight throughout with the contest tied at 11 after one quarter, ECC leading 17-15 at halftime and 29-28 at the end of three.
CLEARFIELD 62, BELLEFONTE 60
BELLEFONTE, Pa. – Alyana Ryan went 4 of 5 from the free-throw line in the fourth quarter and scored 16 points to lift visiting Clearfield to a 62-60 Mountain League win over Bellefonte.
The Lady Bison came out like gangbusters scoring an incredible 32 first-quarter points, including 10 by Ryan and eight from Brooke Cline, who had 20 in the game, to take a 32-17 lead after a quarter.
Clearfield still led 39-24 at halftime before Bellefonte started cutting into the lead in the third quarter by outscoring the Lady Bison 16-11 to get within 10, 50-40. The Lady Raiders continued the surge in the fourth quarter, but Ryan's free throws helped Clearfield hold on for the win.
Megan Durandetta hit four 3-pointers and added 13 points for Clearfield.
Mai Smith paced Bellefonte with 21 points while Maddie Steiner had 15 and Maddie Tice 14.
BROCKWAY 53, CURWENSVILLE 36
CURWENSVILLE, Pa. – Kaitlyn Morelli netted 21 points and came away with eight steals to help visiting Brockway secure a 53-36 AML win over Curwensville.
Leah Lindemuth had a double-double for the Lady Rovers with 14 points and 12 rebounds, while Shaughny Richardson added nine rebounds to go with six points.
Madi Weber led Curwensville with 18 points with Sabrina Spencer adding eight.
KANE 64, SHEFFIELD 15
SHEFFIELD, Pa. – Ella Marconi and Rachael Morgan each had double-doubles to help visiting Kane cruise to a 64-15 win over Sheffield in AML play.
Ella Marconi had a big night with 11 points, 10 rebounds, seven blocks and four assists, while Morgan added 12 points and 10 rebounds. Trinity Clark led the Lady Wolves with 18 points while adding six rebounds and five steals, Audri Marconi chipped in 10 points and Hannah Buhl had three points and five assists.
Eliza Davidson's six points led Sheffield.
A-C VALLEY 51, KEYSTONE 35
KNOX, Pa. – Behind 23 Ellie Thompson points visiting A-C Valley knocked off Keystone, 51-35, in KSAC South action.
Kylee Eaton added 10 points for the Lady Falcons, who led 28-X at halftime, while Brooke Irwin chipped in with seven tallies.
Mackenzie Byerley and Kenzie Hovis paced Keystone with nine points each, but A-C Valley limited the Lady Falcons leading scorer, Taylor Geer, to just five points. Emily Lauer chipped in seven for Keystone.
CLARION 67, CLARION-LIMESTONE 46
CLARION, Pa. – Wendy Beveridge scored a career-high 30 points and added six assists and five blocks to lead Clarion to a 67-46 win over visiting Clarion-Limestone in KSAC North play.
Beveridge netted 14 points in the first quarter to help Clarion jump out to a 25-12 lead after a quarter.
Kait Constantino added 17 points and five assists added five points and 11 rebounds and Sadie Rudesyle eight points.
Maddy Craig and Morgan Clark each scored 16 points for C-L.
KARNS CITY 55, REDBANK VALLEY 42
KARNS CITY, Pa. – Emily Hegedus and Livia Andreassi each had double-doubles to lead Karns City to a 55-42 win over visiting Redbank Valley in KSAC South action.
Hegedus had 24 points and 12 rebounds with Andreassi adding 16 points and 11 boards. Alyssa Stitt also scored 12 points for the Lady Gremlins.
Lexi Holt had a game-high 22 points for Redbank Valley with Tara Hinderliter adding 14 tallies.
MONITEAU 59, UNION 25
WEST SUNBURY, Pa. – Emma Bair had 18 points, 10 rebounds and five steals to lift Moniteau to a 59-25 KSAC South win over visiting Union.
Izzy Bair added 11 points for the Lady Warriors while Kristin Auvil had seven points and six rebounds and Aslyn Pry 11 points and six steals.
Bryn Davis led Union with nine points with Frankee Remmick adding eight.
WARREN 44, BRADFORD 36
BRADFORD, Pa. – Visiting Warren rallied in the second half to avoid being upset by Bradford pulling out a 44-36 win over the Lady Owls.
Bradford led 25-19 at halftime but was outscored 25-11 in the second half including 10-2 in the third quarter.
Margo Loutzenhiser scored 14 of her game-high 22 points after halftime, including eight in the fourth quarter, to pace the Lady Dragons. Autumn Hultberg chipped in nine points.
Brinya Moffett led Bradford with 10 points with Erica Marshall adding nine.