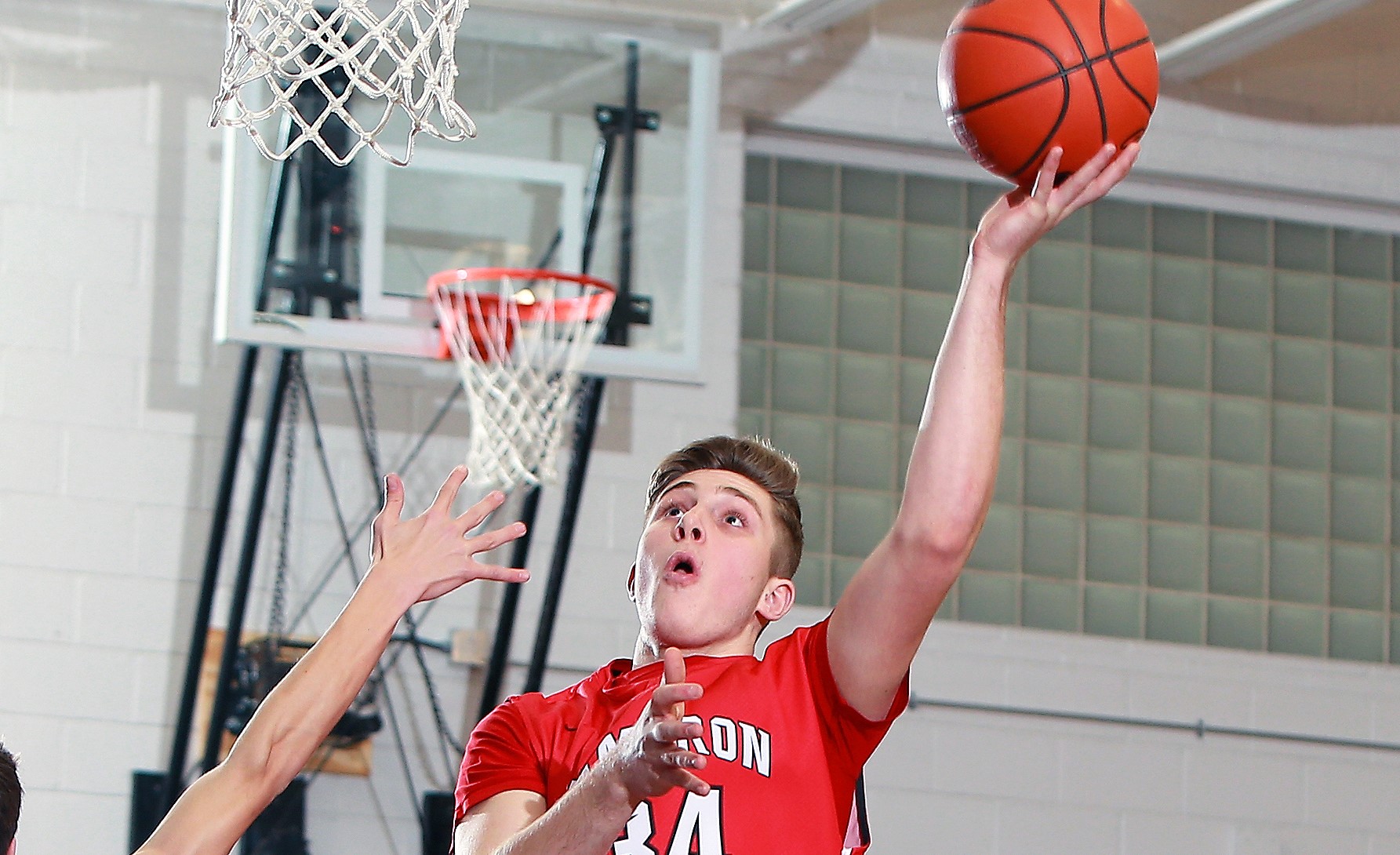 Jan. 26 boys' and girls' recaps.
(Photo: Jake Walters had 22 points and 10 rebounds in Cameron County's win over Austin Saturday. Photo by Paul Burdick. Check out more of Burdick's work here. Note photo is from Walters' sophomore year)
CAMERON COUNTY 62, AUSTIN 50
EMPORIUM, Pa. – Jake Walters had a double-double of 22 points and 10 rebounds to lead Cameron County to a 62-50 home NTL win over Austin.
Dino Brown also went 4 of 5 from 3-point range on his way to 14 points for the Red Raiders, while Caden Beldin was 5 of 7 from the field for 11 tallies and Marcus Brown chipped in with eight points.
Dempsey Glove paced Austin with 17 points with Mason Valenti adding 11 and Garrett Rees and Blake Burgett eight each.
KARNS CITY 51, WEST SHAMOKIN 49
KARNS CITY, Pa. – Chase Beighley scored 14 points and Nathan Waltman had a double-double, as Karns City shook off its loss to Redbank Valley Friday night by beating visiting West Shamokin, 51-49.
Waltman had 10 points and 10 rebounds for his second double-double in as many nights for the Gremlins, while Austin Fahlor added nine points and Ethan McElroy eight.
Carson DeWitt scored a game-high 16 points for West Shamokin.
SLIPPERY ROCK 50, MONITEAU 49, OVERTIME
SLIPPERY ROCK, Pa. – Logan Croll hit two free throws with 1.3 seconds left in overtime to lift Slippery Rock past visiting Moniteau, 50-49.
Croll scored four of his 10 points in the extra session to help the Rockets outscore the Warriors, 9-8, in overtime after the game was tied at 41 after regulation.
Mitch Houston also hit a big 3-pointer in OT for Slippery Rock and scored four of his 12 points in those four minutes, while Judith Roth had a team-high 13 points for the Rockets.
Moniteau, which trailed 34-28 going to the fourth quarter rallied in the fourth to force the extra session thanks to seven fourth-quarter points from Gage Neal, who finished with a game-high 21 tallies, including 12 in the fourth quarter and overtime. Ethan McDeavitt added 16 points for the Warriors with Bobby Mathews scoring eight.
GIRLS
COUDERSPORT 69, CLARION-LIMESTONE 21
COUDERSPORT, Pa. – Led by 19 points from Roselyn Page, nine different Coudersport players scored in a 69-21 rout of visiting Clarion-Limestone.
Sarah Chambers added 15 points for the Lady Falcons with Shae Black scoring 12.
The game also featured this basket from Lauren Loveland, a Coudersport player with Down Syndrome, who has now scored 10 points on the season. The video is courtesy of Sarah Chambers.
Francis Milliron scored six points for C-L with Maddy Craig adding four.
TOWANDA 56, NORTHERN POTTER 47
ULYSSES, Pa. – Hannah Chandler scored 12 of her 22 points in the third quarter to help visiting Towanda past Northern Potter, 56-47.
Cearra McLinko hit three 3-pointers, including a pair in the third quarter, on her way to 16 points for the Black Knights.
Abbi Anderson scored 10 of her game-high 27 points in the third quarter for Northern Potter Mirissa Bliss added seven tallies for the Lady Panthers.
ROCKY GROVE 40, SHEFFIELD 20
SUGARCREEK BOROUGH, Pa. – Amy Ruditis scored 13 points, 10 of them in the second half, to help Rocky Grove double up visiting Sheffield, 40-20.
It was a slow start for the Orioles, who led 10- 6 at halftime, but Rocky Grove outscored Sheffield 30-14 in the second half including 21-4 in the third quarter.
Emily Ekis scored six of her seven points in that third quarter for Rocky Grove.
Emily Lichtenberger paced Sheffield with eight points with Alyssa Dunham adding six.
BALD EAGLE AREA 27, DUBOIS 23
DUBOIS, Pa. – Visiting Bald Eagle Area held DuBois to just four second-half points on its way to a 27-23 win over the Lady Beavers.
DuBois led 19-13 at halftime before being outscored 14-4 in the second half – 7-2 in each quarter.
Lacee Barnhart led the Lady Eagles with 11 points, all in the first half with Rachel Veneziano adding seven tallies, five after halftime.
Chelsea DeSalve paced DuBois with seven points with Maddie Smith scoring six.