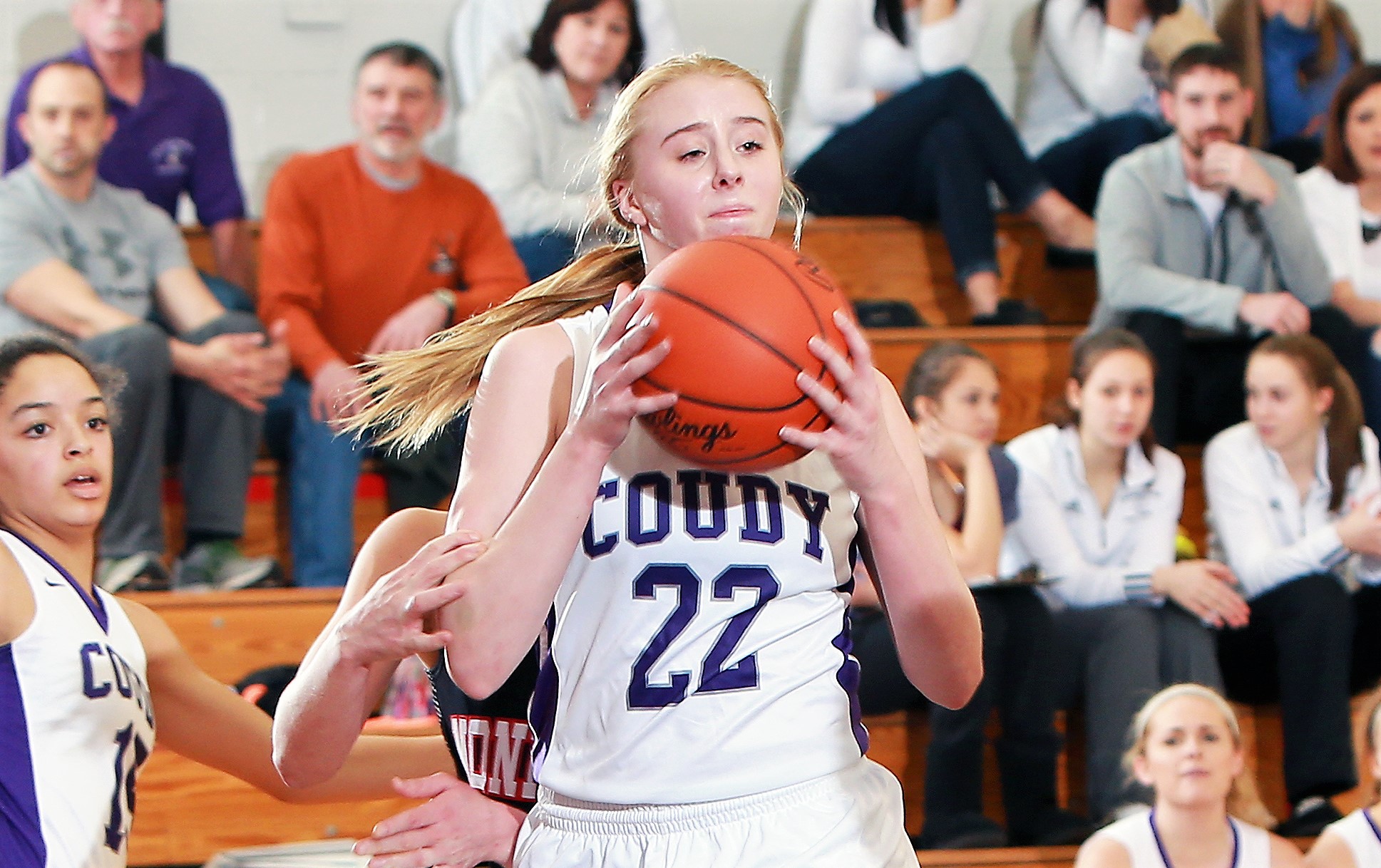 Jan. 26 girls' basketball roundup.
(Cover photo of Ally Easton of Coudersport. Photo by Paul Burdick. Check out more of Burdick's work here)
Kane's Bucheit scores 56 vs. Youngsville to finish night with 1,003 career points
COUDERSPORT 66, NORTHERN POTTER 52
ULYSSES, Pa. – In a game pitting the two top teams in the North Tier League, visiting Coudersport got 21 points, eight rebounds and five blocked shots from Ally Easton in handing Northern Potter its second loss of the season, 66-52.
Skyler VanWagenen and Haley Keck each added 16 points for the Lady Falcons (14-1 overall, 9-0 NTL), who took a two-game lead in the NTL race over both Northern Potter and Otto-Eldred. Macy Gleason chipped in eight points, six rebounds, three steals and two assists.
Northern Potter, whose two losses have both come against Coudersport, got a game-high 27 points to go with 12 rebounds from Kalie Cowburn. Gracie Hamilton chipped in 14 points and 10 rebounds for the Lady Panthers (12-2, 7-2), who fared much better at home against the Lady Falcons than on the road Dec. 27 when they lost 65-38.
SMETHPORT 53, OTTO-ELDRED 32
SMETHPORT, Pa. – Behind double-doubles from Katie Treat and Abbey Woodard, Smethport rolled to a 53-32 North Tier League victory over visiting Otto-Eldred.
Woodard had 26 points and 11 rebounds with Treat adding 20 points and 12 boards for the Lady Hubbers.
Tiffany Bair led Otto-Eldred, which was again without Ali Cousins (injury) with eight points. Emily Smith added six.
GALETON 74, OSWAYO VALLEY 27
GALETON, Pa. – Makaya Shadle led a trio of Galeton players in double digits with 18 points, as the Lady Tigers rolled past visiting Oswayo Valley, 74-27, in North Tier League action.
Cortney Parsell added 17 points for Galeton with Katelyn Pagano adding 11.
Shayla Bickel paced Oswayo Valley with 11 points.
CAMERON COUNTY 63, AUSTIN 29
AUSTIN, Pa. – Madison Harrier and Madi Guisto combined to score 35 points in a 63-29 North Tier League road victory for Cameron County over Austin.
Harrier led the Lady Raiders with 18 points with Guisto adding 17. Amily Schatz chipped in with nine points.
Jordan Brewer paced Austin with eight points. Madison Hooftallen added six points on a pair of 3-pointers and 11 rebounds with Jade McKeirnan chipping in two points and 10 rebounds.
PUNXSUTAWNEY 68, DUBOIS 40
PUNXSUTAWNEY, Pa. – With Leah Miller in first-half foul trouble, Katie Horner scored 18 of her game-high 27 points before halftime to help Punxsutawney to a 68-40 win over visiting DuBois in D9 League play.
Miller, who still scored eight first-half points, finished with 19 points and seven rebounds.
Ashley Hallowell led DuBois with 17 points and 12 rebounds. Chelsea DeSalve added nine points.
MONITEAU 52, HICKORY 32
HERMITAGE, Pa. – Emma Bair scored a career-high 18 points to go with seven rebounds, five blocks and five steals to help visiting Moniteau to a 52-32 win over Hickory.
Alazia Greaves added 17 points for the Lady Warriors who also got nine points and 10 rebounds from Kristina DeMatteis.
Hannah Crow paced Hickory with 13 points.
ST. MARYS 43, BROOKVILLE 23
BROOKVILLE, Pa. – Using a strong first-half start, St. Marys finished off a season sweep of Brookville in a 43-23 D9 League win.
The Lady Dutch led 24-8 by halftime and cruised to the 20-point win, putting three players in double-figure scoring. Michelle Bauer led the way with 14 points, Rachelle Armanini had 12 points and eight rebounds and Caitlyn Bankovich turned in a double-double with 11 points and 16 rebounds.
Kira Powell led Brookville with 10 points.