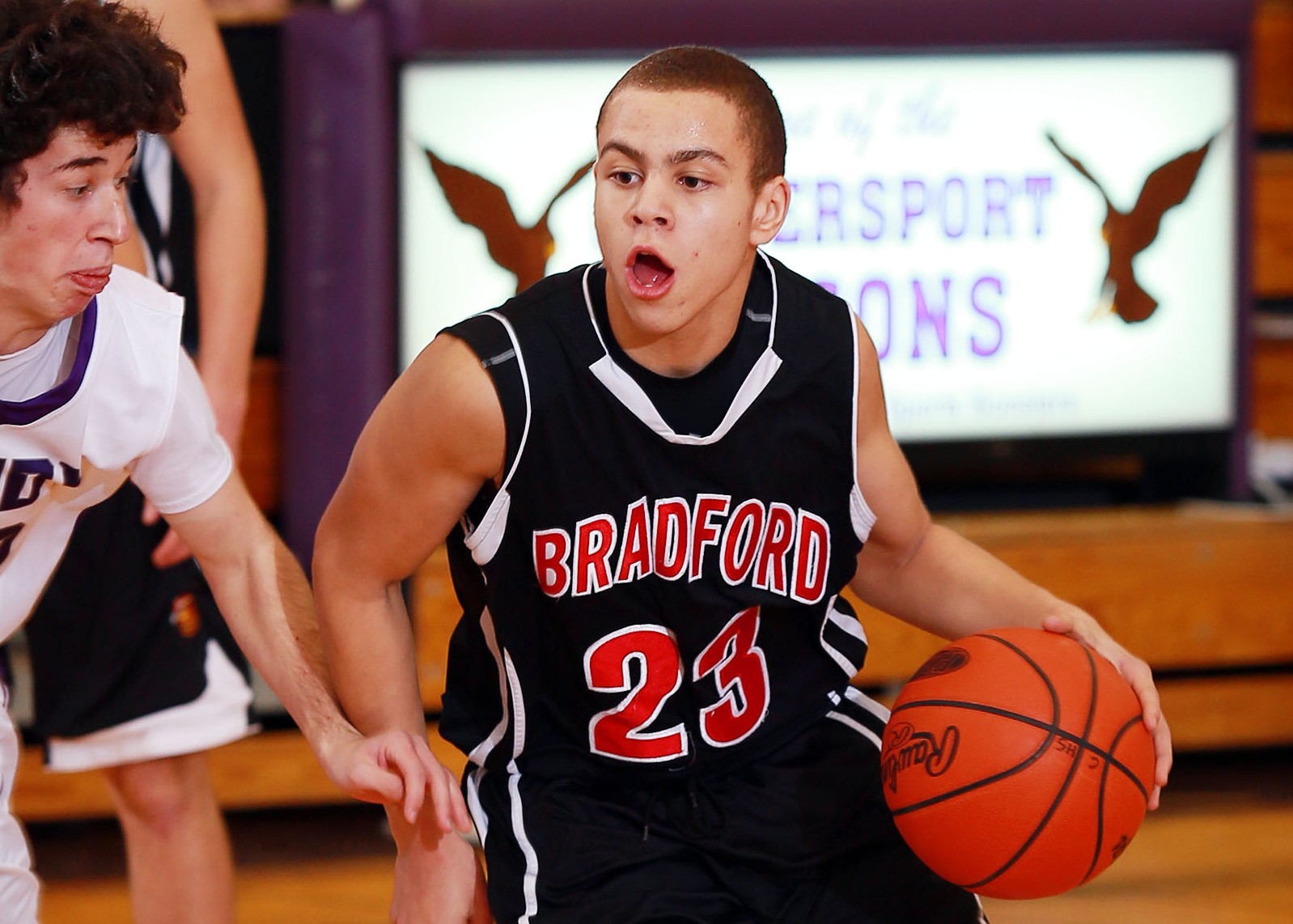 BRADFORD 69, ST. MARYS 65, OVERTIME
ST. MARYS, Pa. – Bradford scored 8 of its 12 overtime points from the free-throw line to grab a 69-65 road D9 League victory at St. Marys.
St. Marys had rallied from a six-point, 51-45, deficit entering the fourth quarter to force overtime with the teams tied at 57.
But in the extra session, Deondre Terwilliger scored five points, all from the line, and sophomore Dan Manion hit a pair of baskets to help the Owls get the win.
Tyler Nuzzo led Bradford with 16 points and nine rebounds with Terwilliger and Nate Higbie each adding 14 points and John Eakin 13 points and seven boards. Andy Pantuso had eight points, seven rebounds, three assists and two steals for the Owls.
Parker Housler led St. Marys with a game-high 19 points while hitting five 3-pointers, four in the first half. Brady Bauer added 17 points, 15 after halftime including 11 in the third quarter. Bryce Lanzel chipped in with 10 points.
CRANBERRY 62, NORTH CLARION 58, OVERTIME
FRILLS CORNERS, Pa. – Evan Lutz scored six of his game-high 26 points in overtime to help Cranberry pull out a 62-58 win at North Clarion in KSAC North action.
The team were tied at 50 at the end of regulation before Cranberry outscored the Wolves 12-8 in the extra four minutes.
Lutz added 10 rebounds to complete a double-double while Nick Varsek chipped in 13 points, Dechlyn Sheffer 10 and Brendan Zerbe six points and nine rebounds for the Berries.
Nathan Banner had 19 points and Zayn Hargenrader 15 for North Clarion.  
BROCKWAY 66, SHEFFIELD 18
SHEFFIELD, Pa. – Jake Wineberg scored 14 points to pace Brockway to a 66-18 win at Sheffield in AML action.
Wineberg was one of 11 Rovers to score in the game. Carter Adams and Corey Carr each chipped in with nine points.
Roger Dunham and Drew Higby each scored six points for Sheffield.
ELK COUNTY CATHOLIC 58, DUBOIS 35
DUBOIS, Pa. – Nate DaCanal and Kyle Huff combined to score 31 points, as Elk County Catholic stayed unbeaten with a 58-35 road D9 League win at DuBois.
DaCanal scored a game-high 16 points for the Crusaders with Huff adding 15. Gabe Kraus also reached double digits for ECC with 10 tallies.
Nick LaBrasca paced DuBois with 14 points with Zach Sloan adding nine.
ECC led 15-11 at the end of the first quarter but built the lead to 28-17 by halftime.
HOLLIDAYSBURG 65, PUNXSUTAWNEY 43
PUNXSUTAWNEY, Pa. – Visiting Hollidaysburg outscored Punxsutawney by 23 in the middle two quarters to gain a 65-43 win in non-conference action.
The Chucks led 16-12 at the end of the first quarter but were outscored 40-17 over the next 16 minutes.
Ryan Adams led Hollidaysburg with 25 points. Devin Kelly paced Punxsutawney with 16.
CURWENSVILLE 47, HARMONY 46
WESTOVER, Pa. – Jake Terry's 3-pointer with 8.9 seconds left lifted Curwensville to a 47-46 win at Harmony in Moshannon Valley play.
Terry's game-winning shot capped a fantastic fourth quarter for the Golden Tide senior, who scored 10 of his 12 points in the final eight minutes helping Curwensville rally from a 5-point deficit entering the quarter to get the victory.
RJ Olson had a team-high 13 points for Curwensville, while Quamone Newkirk added nine, including five in the fourth quarter.
Curwensville, which trailed 16-6 after one, led, 23-22, at halftime before falling behind 36-31, at the end of three quarters.
Mike Koblosky led all scorers with 15 points for Harmony.
KARNS CITY 53, KEYSTONE 36
KARNS CITY, Pa. – Karns City connected on 18 of 20 fourth-quarter free throws in a 53-36 win over visiting Keystone in KSAC South action.
Holden Martin was a perfect 10 of 10 from the line in the fourth quarter for the Gremlins, who were 22 of 25 from the line in the game.
Karns City entered the fourth quarter holding a 33-21 lead after outscoring Keystone 12-4 in the third quarter.
Chandler Turner had a double-double for the Gremlins with 11 points and 12 rebounds. Martin added 10 points. Jimmy Thompson and Noah Pollock had eight each.
Tanner Wilson led Keystone with 11 points. Mason Rearick had nine.
UNION 77, REDBANK VALLEY 65
NEW BETHLEHEM, Pa. – Cole Morris exploded for 34 points, 10 assists and seven rebounds to lead visiting Union to a close-than-it-really-was 77-65 win at Redbank Valley in KSAC South action.
The Golden Knights led by 25, 54-29, going to the fourth quarter before Redbank Valley exploded for 36 points in the final eight minutes thanks to 17 from Sam Heeter, who finished with a game-high 36 points while hitting 10 3-pointers.  
Hank Murphy and Lucas Bowser also had double-doubles for Union with Murphy scoring 20 points to go with 12 rebounds and Bowser adding 11 points and 11 boards.
Kaleb Reed added eight points for Redbank Valley.
CLARION-LIMESTONE 85, FOREST AREA 41
MARIENVILLE, Pa. – Freshman Ian Callen hit 13 shots on his way to a career-high 26 points to go with 10 steals, as visiting Clarion-Limestone doubled up Forest Area, 85-41, in KSAC North play.
Taylor Smith added 16 points, Dan Callen 15 and Christian Smith 11 for the Lions.
Seth Berlin had 15 points and 12 rebounds for Forest Area with Andrew Schwab adding eight points and seven boards for the Fires.
RIDGWAY 50, KANE 37
KANE, Pa. – Jeremy Breier scored 14 of his game-high 23 points after halftime to help visiting Ridgway rally past Kane, 50-37, in AML play.
The Elkers trailed 21-17 at halftime but outscored the Wolves 18-8 in the third quarter and 33-16 in the second half.
Andy Breier added 11 points for Ridgway.
Andrew Bucheit led Kane with 15 points. Chris Udovich and Frank Truden each chipped in nine.  
JOHNSONBURG 41, DUBOIS CENTRAL CATHOLIC 40
JOHNSONBURG, Pa. – Drew Akers and Kevin Benson combined to score 28 to help Johnsonburg inch past DuBois Central Catholic, 41-40, in AML action at Johnsonburg.
Akers had a team-high 15 points with Benson adding 13.
The Rams led 33-27 at the end of three quarters before holding off the Cardinals in the final eight minutes.
Christian LaParne scored 16 points to lead DCC, who also got 10 points from Joey Varischetti.
CLARION 91, VENANGO CATHOLIC 81
CLARION, Pa. – In a game that featured 59 fourth-quarter points, Clarion outraced Venango Catholic to a 91-81 KSAC North win at Clarion.
The Bobcats led 58-55 at the end of three quarters before outscoring the Vikings 33-26 in the fourth quarter.
Jonathan Smith netted 27 points and added 18 rebound and six assists to lead Clarion, who had five players reach double digits.
Cam Craig chipped in 14 points, Ty Burford 13, Bo Miller 12 and Reed Anthony 11 while Ceventh Lynch-Skunda finished with nine.
Brady Kingston led Venango Catholic with 31 points and 13 rebounds. Ian Hidinger added a career-high 19 points while Noah Puleo chipped in 13.  
MONITEAU 66, A-C VALLEY 44
WEST SUNBURY, Pa. – Lake Pry led four Moniteau players in double digits with 13 points, as the Warriors dispatched of visiting A-C Valley, 66-44, in KSAC South play.
Aaron Marterella added 11 points and Derek Boben and Ross Tenney had 10 points each.
Kody Wolfe and Joe Manculich each scored 11 to pace A-C Valley.